Lafayette has a new, easier way to report nonemergency crimes and public nuisances.
Last week, Lafayette Consolidated Government launched an online site, 311lafayette.services, where people can report things such as panhandling, illegal parking and abandoned vehicles, as well as suspected drug activity and prostitution.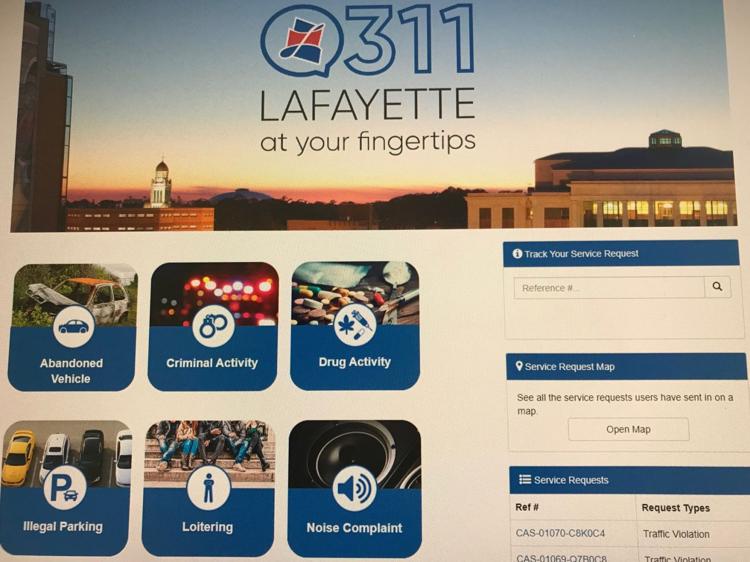 "Moving toward this digital 311 format will improve our responsiveness, create efficiencies in government and help us give attention where it's needed," interim Chief Administrative Officer Cydra Wingerter said. "Maybe we need more drainage crews in an area or extra police patrols in another area."
Before the digital 311 project launched, residents with problems often didn't know whom to call for various services.
"It was slow and clunky," Wingerter said. "Sometimes they had to come in and fill out a form. Everything was manual."
With digital 311, citizens can report problems or concerns online and track the status of their request.
LCG hired KPMG, a worldwide consulting firm that builds digital 311 systems for local governments, Randy Gray, LCG's chief information officer, said.
The service launched Oct. 15. Phase 1 cost roughly $478,000.
The system is geocoded, Gray said, so users can click a map to mark the location of the problem.
"It's very easy to use," he said.
Work is expected to begin any day on Phase 2, which will allow citizens to report things such as potholes and garbage collection problems. Gray said he hopes Phase 2 is working by the end of the year. That phase is estimated to cost about $323,000.
In February, Wingerter said, $478,380 was moved from the city general fund balance to pay for the initial build-out of the 311 digital system. On Oct. 1, the City-Parish Council approved $500,000 from a revolving loan fund that was never utilized to pay for future phases, she said.