No matter how one regards the seriousness of the novel coronavirus, there is no disputing the pandemic is straining hospitals in communities across the country and world.
In Lafayette, for example, the region's largest hospital, Lafayette General Medical Center, has halted non-emergency inpatient surgeries to manage the intensive care surge. Also on hiatus is inpatient pediatric care, since that unit is on the top floor, and the roof provides a convenient spot to install negative air pressure machines.
What is normally the intermediate care area for patients needing extra attention, but not intensive care, is now full of intensive care patients. The hospital expanded intensive care staffing from 34 to 42 beds, and they are all full, mostly with COVID-19 patients. These patients range in age from 17 to 89, and their average age is getting younger — it is currently about 60, down from 72 in June.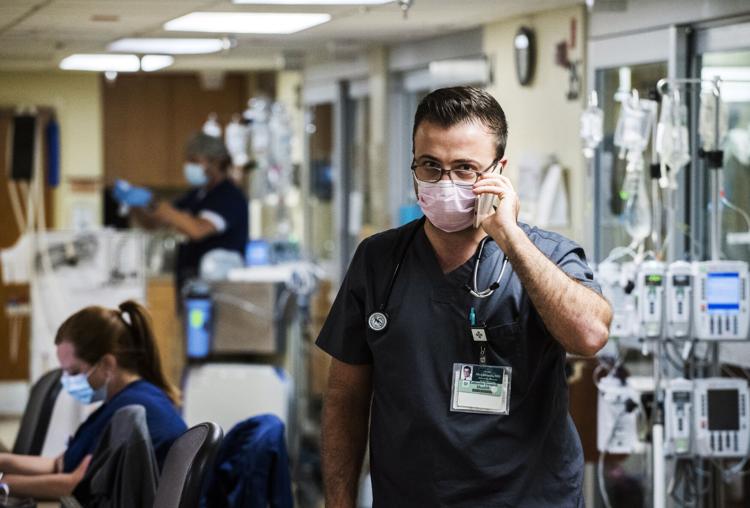 The infectious disease director, Garo Akoghlanian, decided to take week of vacation in mid-June, after months without a day off. By then the number of Covid patients had stabilized at a tolerable level. The new surge began over his last weekend away.
"I came back that Monday, and that's when we realized we were in trouble," Akoghlanian said.   
Within three weeks the Covid patient volume quintupled, from about 20 to more than 100. Across the Lafayette General Health system, which includes five hospitals treating Covid patients, there had not been more than 72 at any time prior .
The summer virus spike has been far more devastating in the Lafayette area than the earlier one. On June 1, the seven-parish Acadiana region, which has a population of a little more than 600,000, had seen 2,321 confirmed cases. Less than two months later, that number has grown to 14,235.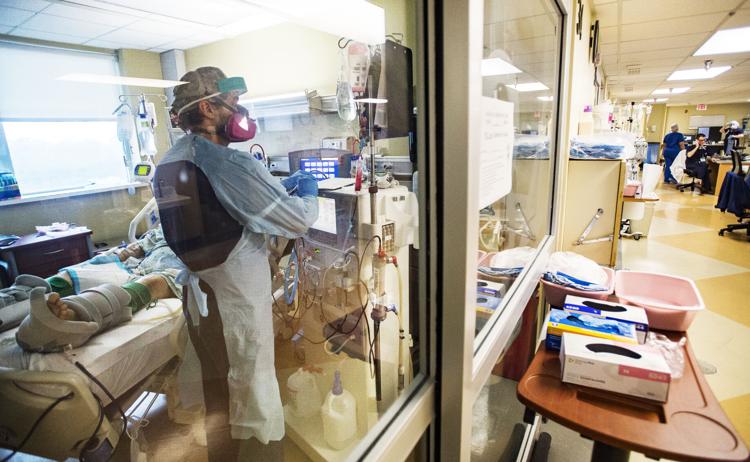 Covid hospitalizations across the region peaked at 125 in the spring. On Thursday there were 304, the most ever, though the last two days of the week saw a slight decline.
While daily data tells an important part of the pandemic story, it does not capture the virus's crippling power. To that end, Lafayette General Health officials granted an Advocate photographer access to its Covid units on Tuesday, July 21.
Photographing patients with identifying details was not allowed, but the specialists who work with patients suffering the most severe cases allowed themselves to be photographed as they went about their jobs. Three of those specialists spoke with a reporter afterward.
Medical specialists who work in acute care routinely make life and death judgments. But those interviewed said the unpredictable virus has forced them to walk unfamiliar tightropes, since Covid patients can deteriorate quickly, without warning. Progress can be deceiving, whether it is in the first few hours after removal from ventilator, or in the anxiety-filled period of physical recovery.
A physical therapist cannot exert her Covid patients as she might others with breathing difficulty, such as those with emphysema or pneumonia. When those patients lose oxygen, they usually recover by stopping and breathing deeply. Not so for many Covid patients. Simple tasks such as getting out of bed can be excruciating. 
An anesthetist cannot provide the same breathing support when intubating Covid patients as he would for other patients. As a result, Covid patients already low on oxygen reserves cannot breathe for a few tense moments prior to ventilation.
A respiratory therapist has refined a technique for yelling critical information to a nurse on the other side of a glass door during intubation, when the room is very loud and machines are sucking out air pressure.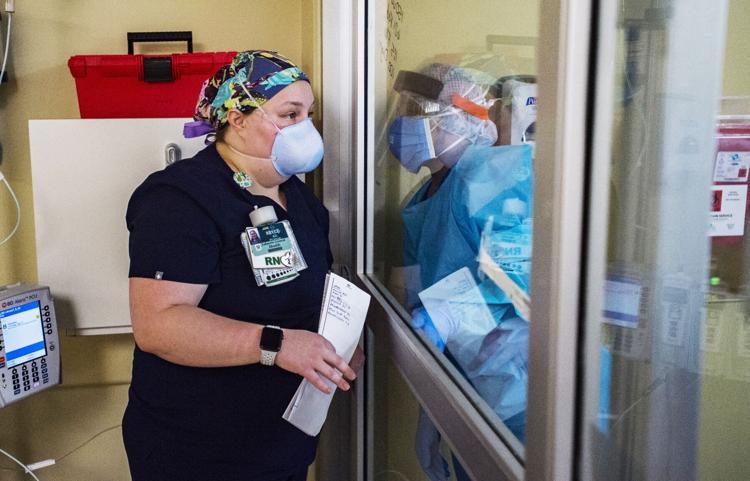 "That's placing your whole body up against the door. You have the N95 mask on, which is very hard to talk and breathe through. Then you have the face shield," said the respiratory therapist, Kyestle Thomas. "Even though the door is shut, you can position yourself just right so you can hear the other person."
Thomas conducted this routine Tuesday, during an intubation. The patient was removed from a ventilator earlier in the day, and it was Thomas's job to monitor the patient's progress. About four hours passed, and the patient's vital signs looked strong. By then, Thomas figured the patient would not need the breathing tube again.
But then the patient started breathing fast and losing oxygen.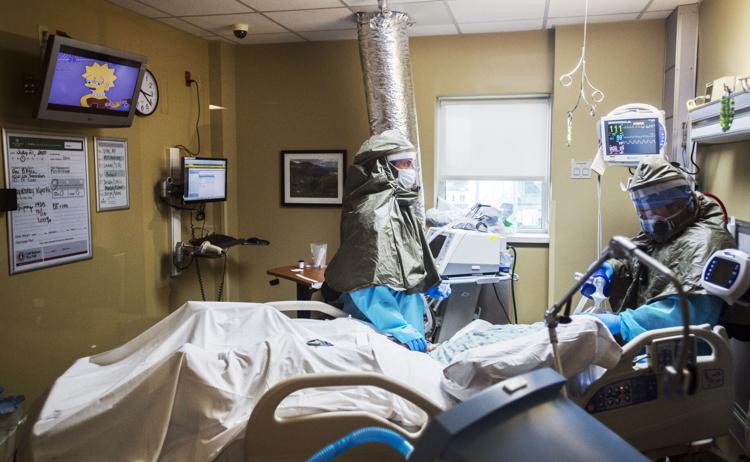 "That's the thing with Covid patients, you just never know. When they go down, they go down fast. They look great, and then they don't," Thomas said.
The doctor was called in, and the patient put back on the breathing machine. But since the patient had Covid, this intubation was riskier than others.  
Anesthetist Josh Ramsey first saturated the patient with oxygen using a bag valve mask, which, he said, is like an untied balloon filled with air. Ramsey usually squeezes the bag to push oxygen into patients before giving them anesthesia, which prevents breathing while the tube is inserted. That is not tenable with Covid patients.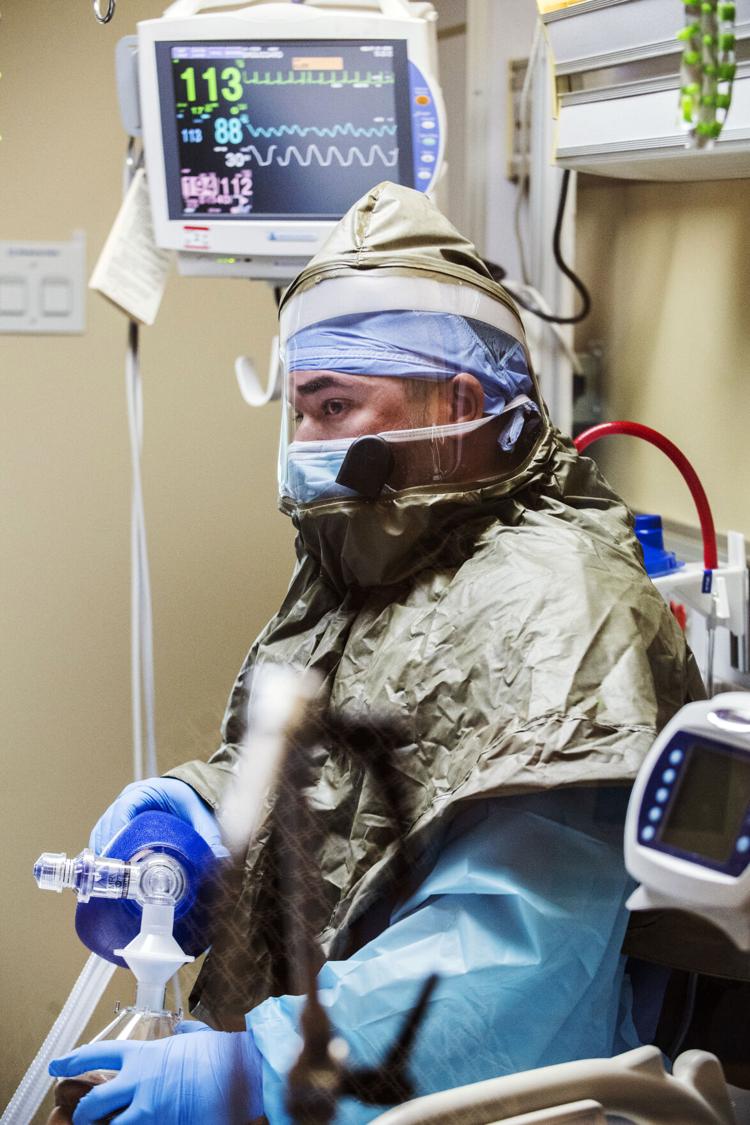 "When you are squeezing that bag, giving positive pressure, it kind of pushes the particles out," Ramsey said. "Basically, it's just like you're blowing virus-infected air out."
Instead of squeezing the bag, Ramsey can only let air flow to the patient without applying pressure. That helps build oxygen reserves, but many Covid patients do not build strong reserves, since their lungs are full of fluid and inflammation.
Any oxygen these patients receive during intubation happens passively, without breathing, and they cannot last long that way. 
"During that short amount of time, their oxygen saturation can drop very quickly. That's what decompensation is. Covid patients, they decompensate very quickly," Ramsey said. "You've got a ticking clock, and you've got to get it in."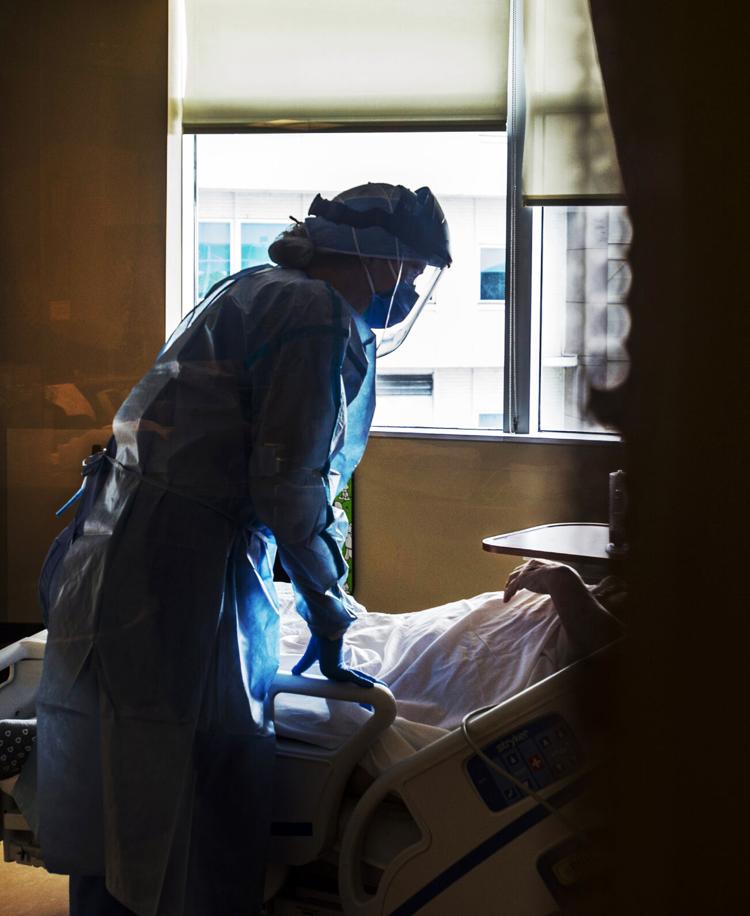 Physical therapist Maggie Vilar encounters patients at a different treatment juncture, when they are medically healthier but as physically weak as they have ever been. By the time Vilar sees Covid patients, doctors have cleared them for physical movement after days, weeks or even months of bed confinement.
But they cannot move, not even to lift a leg off the bed, Vilar said. And with physical incapacity comes psychological stress.
"They are so, so, so weak from the virus," Vilar said. "It can lead to a lot of anxiety, a lot of depression."  
Vilar's objective is to instill hope in patients while helping them accomplish increasingly complex movements, and the daily goals vary by the patient. Sitting up in bed, moving to a nearby recliner or walking to the bathroom are milestones of progress.
Vilar is familiar with patients whose lungs are compromised. But some of her Covid patients are unlike any others: Once they start to lose oxygen, they have difficulty recovering it. Breathing difficulty can cause panic, which only makes it harder to breathe.
"I've never worked with patients that when their oxygen starts dropping, it keeps dropping and it's very difficult for it to go back up," Vilar said. "It can be a little terrifying."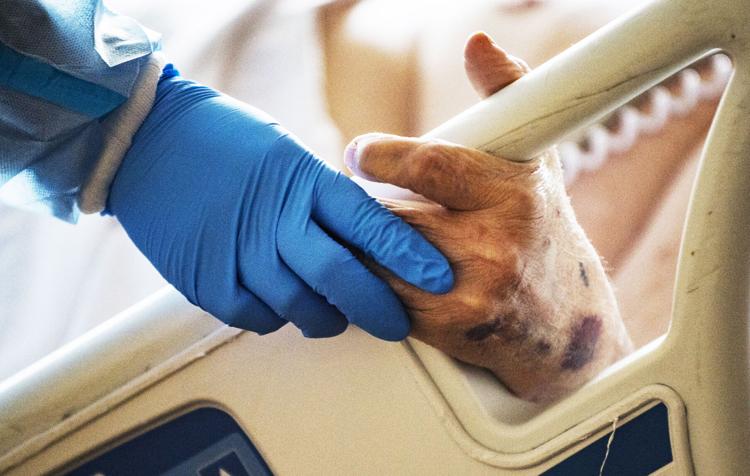 While medical specialists are redefining their jobs every day they care for Covid patients, they are also contending with new challenges when the workday ends. Thomas, the respiratory therapist who presses herself against glass doors and yells out information during intubations, comes home with work-related physical exhaustion she has not felt before.
As new challenges go, Thomas said the fatigue pales next to serving as a proxy family member for dying Covid patients, whose isolation from loved ones can extend to their final moments.
"We watch patients die. That is part of working in a hospital, being a respiratory therapist, being a nurse, being a doctor," Thomas said. "This is something totally different."
Acadiana Business Today: An inside look at coronavirus' strain on Lafayette General: Halted surgeries, expanded ICU, more; Car wash to be built on site of old La Promenade Mall