MONCTON, NEW BRUNSWICK, CANADA — The cities of Lafayette and Moncton commemorated their twinning Friday in a tangible way with the unveiling of a mural painted by Lafayette artist Robert Dafford for display on a Moncton building.
The mural, commissioned by the city of Moncton and Lafayette Consolidated Government, is the latest in a series of "Flying Violin" paintings by Dafford.
He told those gathered for the unveiling he came up with the idea at the first Festival International de Louisiane in Lafayette. The violin breaks through the walls it's painted on, connecting all the people in each of the cities that host it, he said.
This is the first "Flying Violin" mural that includes a depiction of the city.
In October 1971, the city councils of Moncton and Lafayette voted to twin, according to Clint Bruce, a Shreveport native who is an assistant professor at St. Anne University in Nova Scotia and studies city twinnings.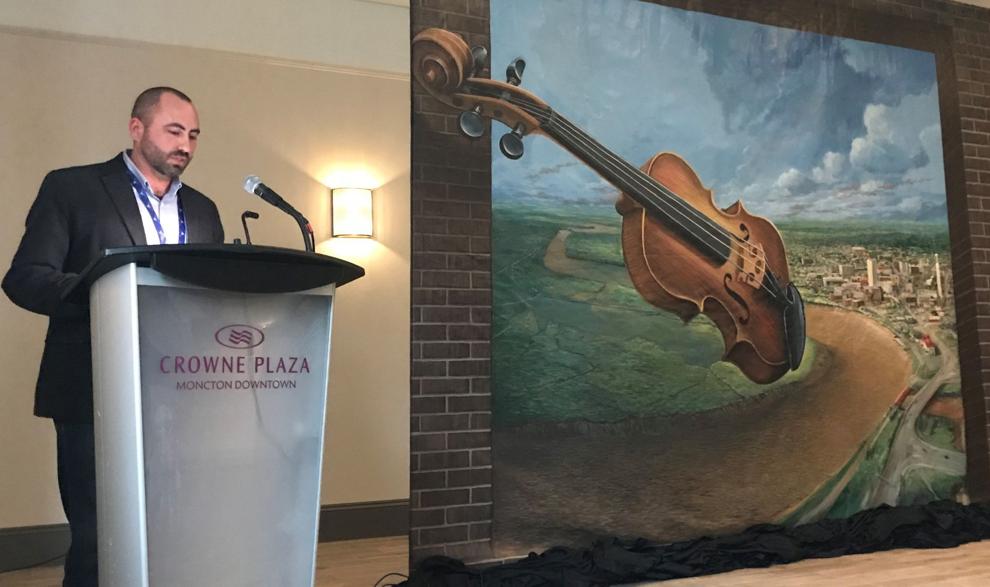 "Moncton, at that time, looked like  battleground" because of competing cultures and languages — the French Acadians and English, Bruce said.
The mayor of Moncton at the time, Leonard Jones, had strong opinions on some things, one of them being the language issue. According to newspaper accounts of the time, Bruce said, "he wasn't kind to Acadians," having shooed away French-speaking students and telling a resident at a council meeting to sit down until he speaks English.
In 1972, a professor at Lafayette's University of Southwestern Louisiana gave Moncton City Council members and Jones a certificate making them honorary Cajuns because of the twinning. It was a symbolic gesture, Bruce said.
But a member of the equivalent of the state legislature from Moncton, Bruce said, gave a speech suggesting Moncton become bilingual and sarcastically said how wonderful it was that Jones was honored by USL over the Acadian issue.
Jones returned the certificate to the USL professor.