When Lafayette Mayor-President Joel Robideaux promoted three employees in October related to an internal investigation of the utilities system's fiber operations, they received large raises — one an increase of $122,000 a year or $58 an hour — for what may be a two- or three-month gig.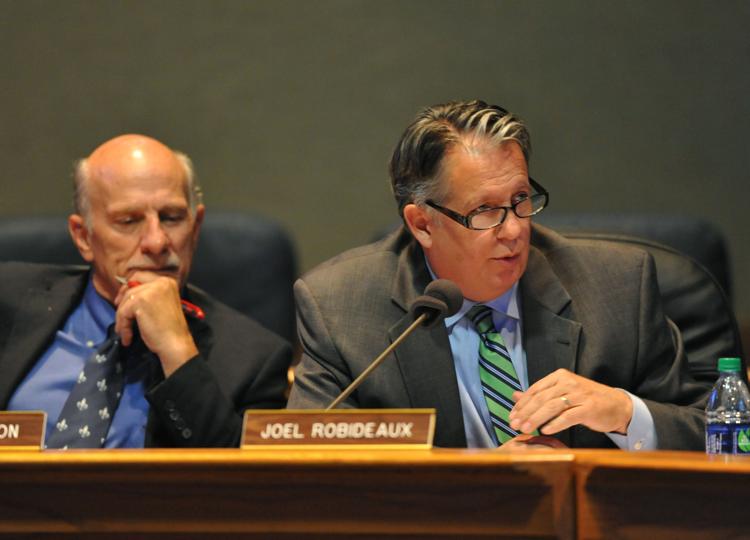 That could mean larger payouts for accrued, unused vacation leave and severance pay if the three are let go when the new mayor-president takes office in early January. Accrued vacation days and severance pay are based on the employee's current hourly wage, so an increase of $58 an hour can mean thousands of extra dollars to an employee if they are not retained by the new mayor-president.
The day before the Oct. 12 primary election for Robideaux's replacement, he announced in a news release the promotion of three people "to facilitate an internal review on behalf of the Public Service Commission."
Chief Administrative Officer Lowell Duhon was promoted to interim director of Lafayette Utilities System, replacing Jeffery Stewart, who Robideaux named interim LUS director in July 2018 following the retirement of longtime director Terry Huval. Stewart, who has worked at LUS more than 17 years, was paid $73.55 an hour, which is $153,000 a year, for the 14 months he served as LUS interim director. As of Oct. 13, after being replaced by Duhon, his salary has been reduced to $64.22 an hour, $133,586 a year.
Duhon, Robideaux's second interim LUS director, is being paid $120 an hour, $46 more per hour than Stewart had been paid. If Duhon were to stay in the post, that would make his annual salary $250,000, a $122,000 increase. Duhon's pay jumped by $58 an hour when he was named LUS director.
If Duhon is dismissed in January by the new mayor-president while still serving as interim LUS director, he would be paid vacation and severance based on his new salary. For example, if he has accrued 100 hours of vacation time, he would receive $12,000 instead of the $6,153 he would have received at his previous pay rate. If he has saved 192 hours of his vacation leave over four years, plus two weeks of severance pay, Duhon could walk away with $32,000 instead of the $16,700 he would have received at his previous pay rate.
Huval, who served as LUS director for 23 years, had an engineering degree and more than 25 years of experience at LUS. The highest-paid employee at Lafayette Consolidated Government, Huval served as director of LUS and its fiber division until last year when Robideaux and the council split the position and salary in two. That was part of the reason Huval said he retired early. If he stayed on at a reduced salary of $150,000 instead of $250,000, he would have lost thousands of dollars in accrued sick leave and annual leave.
Duhon's education and work experience is in business, banking, finance and executive management, according to his biography on the Lafayette Consolidated Government website.
Since the split of the two divisions, the council has adjusted the LUS director's salary back above $150,000 a year to be competitive with the market salary for a utilities director.
Former LCG employees said the policy for years has been that an employee who is let go and is not eligible to retire is paid for unused vacation time, but not sick leave. In the past, the employee also would receive one month's salary as severance. If the dismissed employee is eligible for retirement, he or she would be paid for unused sick days, vacation days and severance.
 "Employees only get this benefit if they are retirement eligible and retire," Robideaux said via email Friday, "not when they are fired. Terry retired to ensure that his sick and accrued leave check of $372,096.42 would not be reduced."
The three temporarily promoted employees are not retirement eligible and would not benefit as Huval did, Robideaux added.
Cydra Wingerter, who was earning $71,400 a year as chief communications officer prior to Oct. 14, saw her salary increase to $128,000 when she was named CAO, an increase of $56,600 annually. Her hourly pay grew from $34.32 to $61.53, an increase of $27.20 an hour.
When Kayla Brooks was promoted from LUS Fiber's business manager to interim director, her salary went from $83,142 a year to $117,300 a year, an annual pay hike of $34,158, or an hourly increase $17 an hour. She replaced Teles Fremin as interim director. Fremin was paid the same as Brooks when she was in that position.
Wingerter said Friday she hadn't thought about the salary attached to her temporary promotion.
"We're just trying to keep operations going as usual," she said, "Hoping the next mayor-president keeps us because we're doing a good job."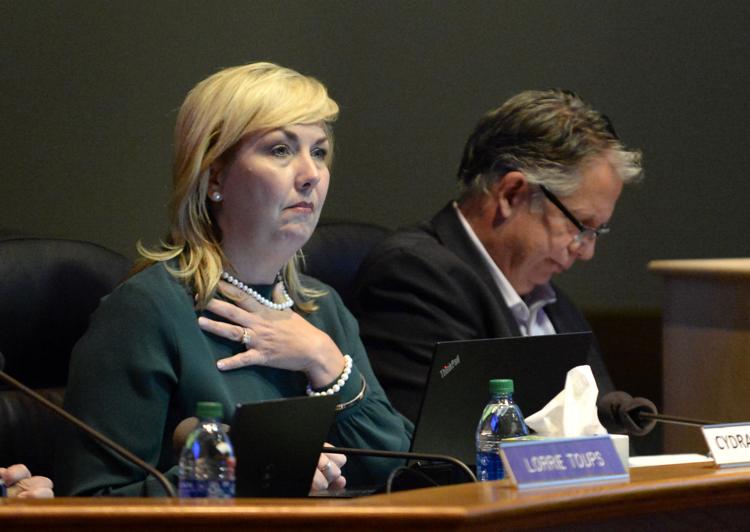 Wingerter, Duhon and Brooks are at-will employees and may be dismissed by the new mayor-president who will be elected Nov. 16.
The candidates are Carlee Alm-LaBar, no party affiliation, who served as an at-will employee of LCG under Robideaux and former City-Parish President Joey Durel. Alm-LaBar resigned from LCG in 2018 and launched her bid to challenge Robideaux for mayor-president in March. In April, Robideaux announced he would not seek a second term.
The candidate facing Alm-LaBar in the runoff is Josh Guillory, who unsuccessfully challenged U.S. Rep. Clay Higgins, R-Lafayette, in 2018. While Robideaux has not formally endorsed Guillory, a fellow Republican, Guillory said he is receiving advice from Robideaux and assistance from state Sen. Page Cortez of Lafayette, along with help from Hillary "Joe" Castille, Robideaux's former campaign manager whom Robideaux continued to pay until June $3,000 a month for consulting.
Wingerter said she, Duhon and Brooks continue to do some of their previous work in addition to that of their interim positions. No one was appointed to do Wingerter's communications job in the interim. That salary is being saved, she said.
The internal review that prompted the interim appointments was initiated "on behalf of the PSC," according to the Oct. 11 LCG news release. As first  reported by The Current, this is not backed up by the PSC. 
"LUS and LUS Fiber are currently under review by the PSC for two self-reported findings of potential violations," the Oct. 11 news release states. "Subsequent to the self-reports, the PSC requested that a more in-depth and internally unbiased review of all LUS Fiber inter-agency transactions be performed, necessitating the staff changes."
Colby Cook, PSC spokesman, told The Acadiana Advocate on Friday if the commission requested an internal review there would be a record of it and there is none. The PSC, he said, also does not make recommendations regarding personnel at utilities, so it did not request the interim appointments.
In April 2018, LCG self-reported to the PSC that LUS had paid about $1.7 million to its fiber operations for service to sewer lift stations and some electric operations for several years even though the final connection between the fiber lift stations was not complete by LUS. Wingerter said LCG reviewed all operations receiving LUS fiber after the discovery to make sure all similar problems were found. The fiber division repaid LUS the $1.7 million.
In July 2019, Robideaux hand-delivered a letter to the PSC reporting what may be $8 million in improper payments by LUS to LUS fiber for power outage monitoring. The potential problem in this instance is the way LUS fiber calculated the cost of the service. Wingerter said the current internal review being conducted by Duhon as interim LUS director and Miles is similar to a review conducted after the April 2018 discovery. However, there were no employee changes during that review.
The internal review, Wingerter said, could be wrapped up before the new mayor-president is installed. As such, she, Duhon and Miles would return to their prior jobs, she said. Results of the internal review, she said, will be turned over to attorneys to prepare a report to the PSC.
At the heart of the allegations is whether LUS fiber violated the Local Government Fair Competition Act that prohibits the fiber division from charging LUS or LCG less than market prices for its services, a law designed to prohibit the government-owned telecommunications division from undercutting private companies offering the same service.