Dustin Viator, a line worker supervisor for Lafayette Utilities System, can't remember the last time he had a day off. And even though crews restored power to all remaining LUS customers on Tuesday, the work is far from over.
Viator has worked from 5 a.m. to 9 p.m. each day since Hurricane Delta made landfall, but he was busy long before the storm wreaked havoc on the LUS infrastructure. He and his team have spent the better part of two months on the road helping small utilities systems restore power to customers after Hurricane Laura made landfall in southwest Louisiana in August and Hurricane Sally made landfall in Alabama in September.
"Our families haven't been seeing us too much," Viator said while breaking for lunch on Tuesday. "It's not just my family. It's all linemen families in the whole United States. We got people all through the U.S. and even Canada coming to Louisiana, Mississippi, Alabama, Texas to help out. People are giving up their lives to come help others get back to theirs."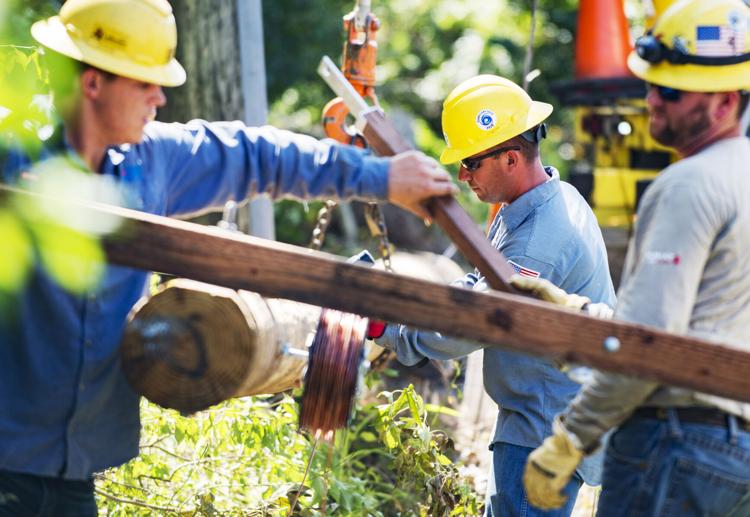 Viator lives in St. Martin Parish with his wife and two children. He said he's thankful for extended family that has helped out during his absence.
Line workers, including Viator, stayed at the Cajundome Friday night during Hurricane Delta and hit the streets around 1 a.m. Saturday to begin power restoration efforts as high winds continued to whip around them.
"We lost the transmission lines," Viator said. "That's why pretty much all of Lafayette went out. We were trying to hook up all of our substations to get some lights back on as soon as possible."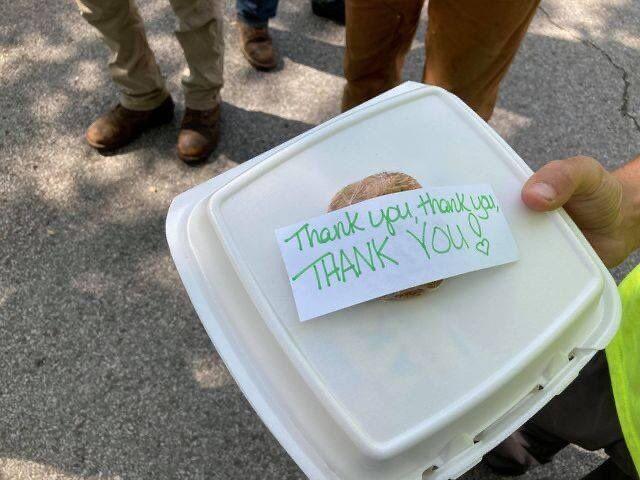 It's exhausting work that's sometimes dangerous and oftentimes thankless. That's why it means so much when ordinary people go out of their way to show their appreciation.
Children approached workers with freshly baked cookies and thank you notes as a crew worked on Monday. A cookie cake decorated with a line worker awaited out-of-town crews at a hotel on Tuesday. Local and visiting utilities workers are also treated to three hearty, homecooked meals each day.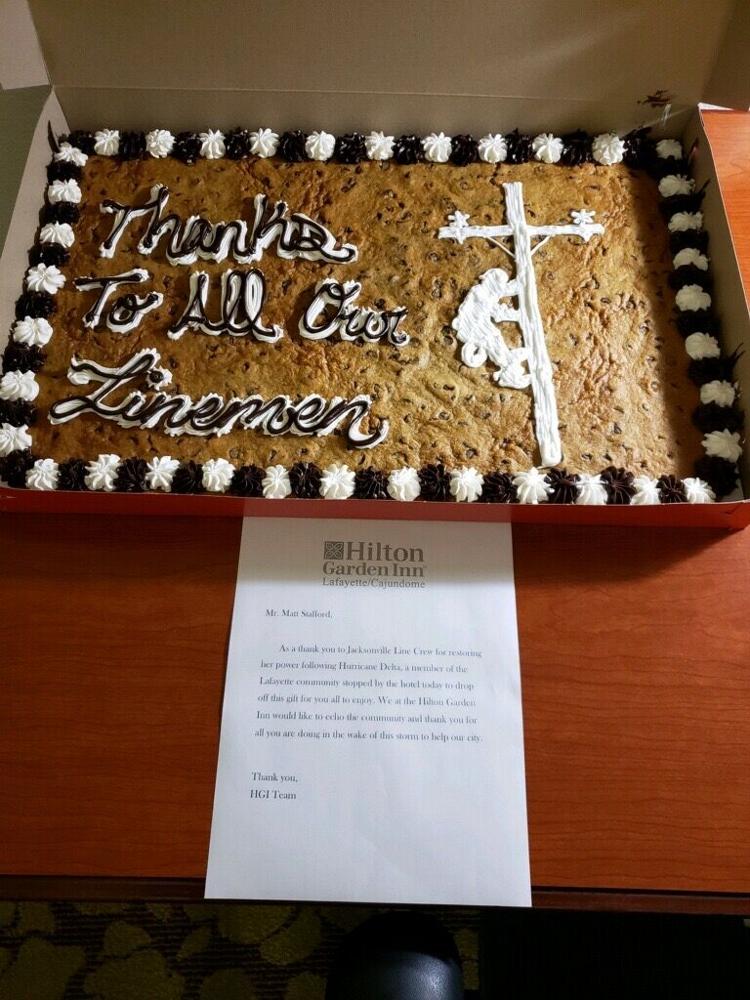 "Sometimes, you'll see little kids running up with water, candy, little thank you notes that say 'We love linemen' and all of that," Viator said. "There's some good stuff. I think there's more good than bad, especially if you stay off of social media."
Even offline, Viator and his team sometimes serve as a sounding board for frustrated customers who want their electricity back. 
Viator said his crew recently had to cut off power in an area soon after restoring it because of a hazardous situation that put a worker's life on the line. One resident became irate and shouted at his team as they were working outside of his home.
"I had to kill the power, and I had to tell him that I'm not killing somebody for your comfort," Viator said. "I'm sorry. That's not our job."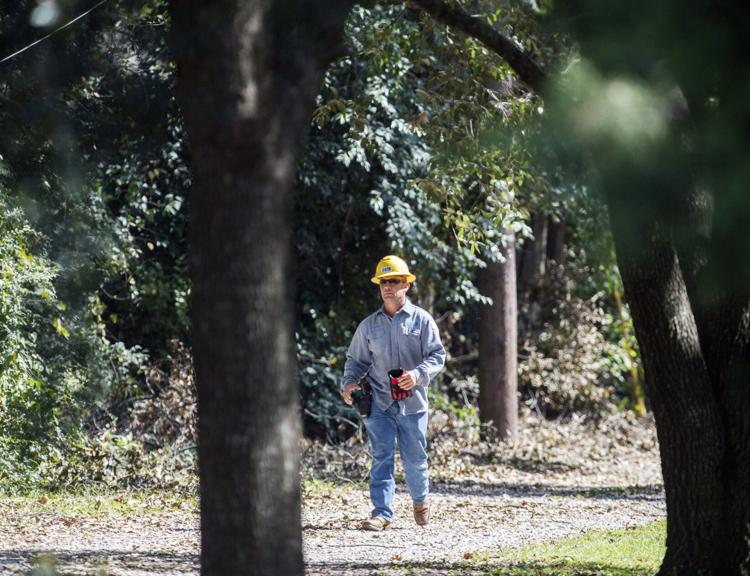 After long days of manual labor, many workers are returning to homes without power. Viator said most of his line workers live outside of Lafayette and rely on other companies to restore their electricity.
They're understanding, of course, because they knows well what goes into restoring electricity.
Workers must verify that every single piece of equipment — from substations and transformers to individual powerlines — is in good condition after a major storm. Otherwise, a smaller storm could rip down a line and catch a home on fire, Viator said.
"We'd like to thank people for being patient and understanding," he said. "We try our best. There are no linemen in this area who are not trying their best."
Viator said in general, he and his team are treated better by residents of other communities than they are while working in their own backyard.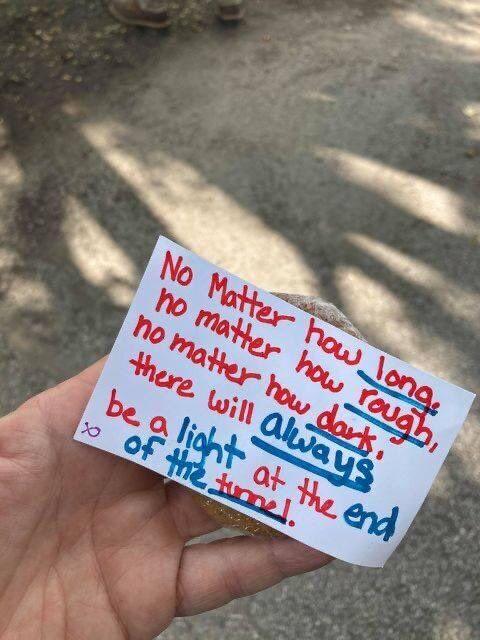 Maybe it's because they're more visible in other areas, where they sometimes sleep in their vehicles or stay in hotels without electricity. 
"When we go out, people will stop to give us food or thank you notes or things like that. One guy in Alabama gave me cash, and I gave it back to him. He started crying. He said, 'Don't take away my blessing.' I said, 'Alright, I'll make sure our guys get a treat,'" Viator said.
"In Lafayette though, they normally look at us differently as the home team. They don't seem to think we're doing a whole lot."
Now that LUS workers have restored power to all customers, they will work on street lights and assist smaller communities with their efforts.
"When you're a small town, you kind of get overlooked sometimes," said Alex Antonowitsch, spokesperson for LUS. "We end up helping the smaller utilities systems for that reason."
LUS workers were treated to a parade of sorts while helping out in Vinton after Hurricane Laura. With lights and sirens, firetrucks and police units led LUS trucks through the Calcasieu Parish community's main stretch where residents waved and thanked the workers.
Now, in the aftermath of Delta, the line workers are preparing to travel once more.
"We're spreading the wealth around to help others," Antonowitsch said. "It's not over yet."
As of 4:30 p.m. Tuesday, all LUS customers had power restored. About 50,000 of the total 70,000 LUS customers were without power at one point following the storm.
"Everybody who can have power restored now has power," Antonowitsch said. "There might be a few people who remain who need to have work done by an electrician before power can be restored. Sometimes storm debris can affect something at the household level."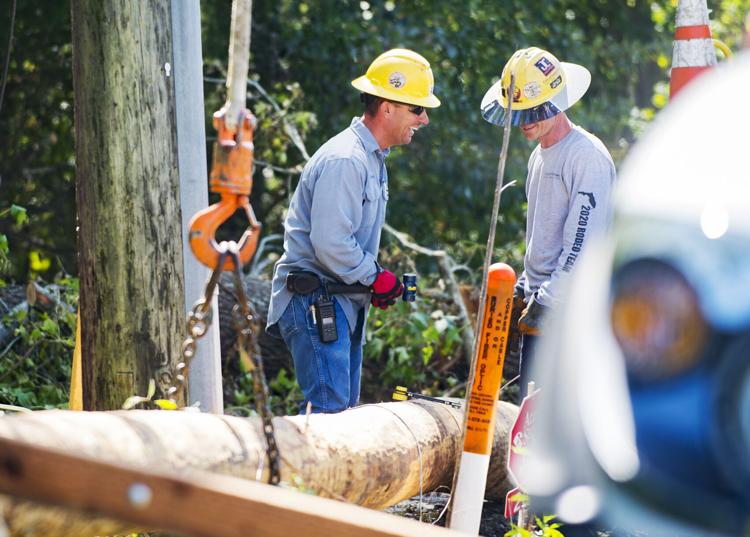 More than 30,000 customers serviced by other utilities companies in Acadiana, including over 7,000 in Lafayette Parish, were still without power Tuesday afternoon.
There were 16,481 customers without power across SLEMCO's service area, including 5,300 in Lafayette Parish, as of 3 p.m. Tuesday. At the peak, 98% of SLEMCO's 110,000 customers were without power.
There were 13,913 customers without power in Entergy's Acadiana region, including 1,735 in Lafayette Parish, as of 4 p.m. Tuesday. At the peak, Entergy Louisiana had 320,000 customers without power.
Acadiana Business Today: Brown Skillet to open second location in former Reggie's space downtown