Lafayette Parish Sheriff Mark Garber's request for an additional $1.75 million to operate the jail, which Mayor-President Joel Robideaux excluded from the proposed 2019-20 parish budget, led the sheriff's chief deputy, Carlos Stout, to say Thursday it's "a flat-out lie" for Robideaux and his administrators to claim they only learned a few months ago about a budget shortfall in the Sheriff's Office.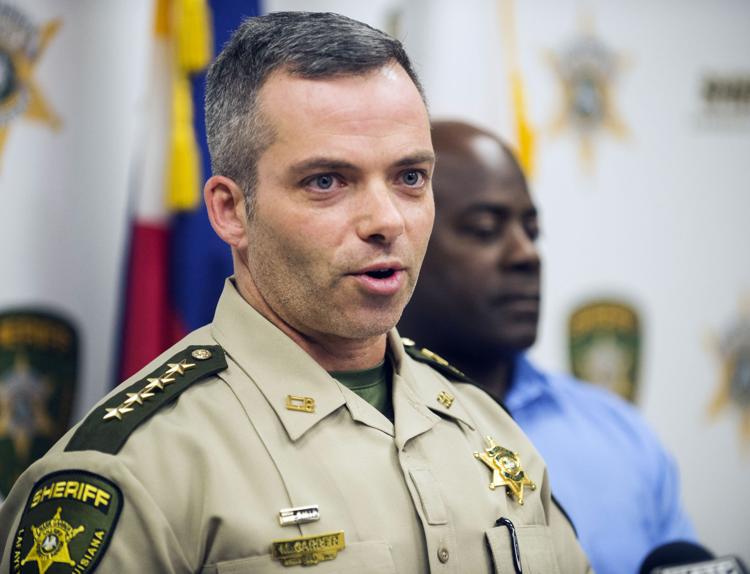 The statement was made Thursday at the City-Parish Council's final hearing on the proposed budget for the fiscal year that begins Nov. 1.
Lafayette City-Parish Councilman Kevin Naquin also took a shot at Robideaux for publicly opposing a tax increase for the jail and courthouse that the council proposed in 2018, which voters rejected. The mayor, Naquin said, publicly said the tax increase wasn't needed because the money was there.
"If the money was there, this budget should have come to us with that money in it," he said. "The fact is, we don't have the money."
Naquin and Councilman Jay Castille, who supported the failed tax increase, said they support providing $1.75 million for jail operations requested by Garber.
At a budget wrap-up meeting Thursday, Garber and his staff made the case for using $1.75 million from the parish jail and courthouse complex fund to pay for 35 deputies at the jail who take care of maintenance, laundry, meals, and medical care. The parish, he said, is required by state law to pay those expenses. Attorney T.J. Seale of Hammond said the law is clear regarding obligations of parish governments to provide for a jail, maintenance, medical and other expenses.
"These are clear mandates and that's why I am here asking for them," Garber said.
Assistant City-Parish Attorney Ed Barousse referred to an Aug. 27 memo from Assistant City-Parish Attorney Joy Rabalais that detailed various court cases and attorney general opinions about the obligations of parish government to pay for jail expenses, and the separation of expenses based on fixed costs and variable costs. The memo says the parish is not obligated to pay expenses that are directly attributed to non-parish prisoners, which raised a discussion about the number of inmates in the jail that are parish prisoners, city prisoners, Louisiana Department of Corrections prisoners and U.S. Marshal Service prisoners. 
The city of Lafayette has an agreement with the sheriff's office to pay a flat $1 million a year to house city prisoners, Barousse said. The sheriff wants to revisit that agreement. Parish government pays the Sheriff's Office $3.50 per day per prisoner to house parish inmates.
As of Thursday morning, 110  prisoners at the jail were state Department of Corrections prisoners, which the Sheriff's Office receives $24 a day to house; 40 were parish prisoners; 24 were sentenced city prisoners and 520 were unsentenced city and parish prisoners, Maj. Paula Smith, warden, said. Eighty-eight parish prisoners, she said, are housed in other parishes because of overcrowding.
The parish pays $24 per day to other parishes to house each of Lafayette Parish's 88 prisoners compared to $3.50 a day to house them at the Lafayette Parish Correctional Center, Stout said. But no other jails will take the Department of Corrections inmates housed in Lafayette to make room for Lafayette Parish's own inmates, he said.
Stout said some state inmates are housed at the Willow Street facility and used for grass cutting crews. The Sheriff's Office pays for their food, medicine and other costs, he said, not the parish government.
Garber said a state supreme court case made it clear that fixed costs include medical care and food. Those things must be provided regardless of the number of prisoners in the jail, he said.
The Sheriff's Office, Castille said, pays for programs that reduce the amount the parish has to pay for jail operations, including a program to provide HIV-positive patients with medication. If some of those programs go away, he said, ""it will break the parish."
Castille, Garber and Stout said funding problems with the jail have been the subject of reports since at least 1992. Garber said he wasn't aware that his office was paying for some expenses the law required the parish to pay until the increased tax proposal went before voters and Robideaux went on the news saying there was plenty of money in the courthouse and jail fund.
"Why now?" Council Chairman Jared Bellard asked.
Garber said he's being squeezed financially and that wouldn't be happening if a tax he proposed last year had passed. He has 27 vacancies in the jail operations he can't fill and said he loses people as soon as they are certified.
Several in the Robideaux administration, Stout said, were included in a memo from several years ago warning about the financial crisis at the jail.
"To sit here and say 'we had no idea, we only found out a month before the budget was due' is a flat-out lie," Stout said.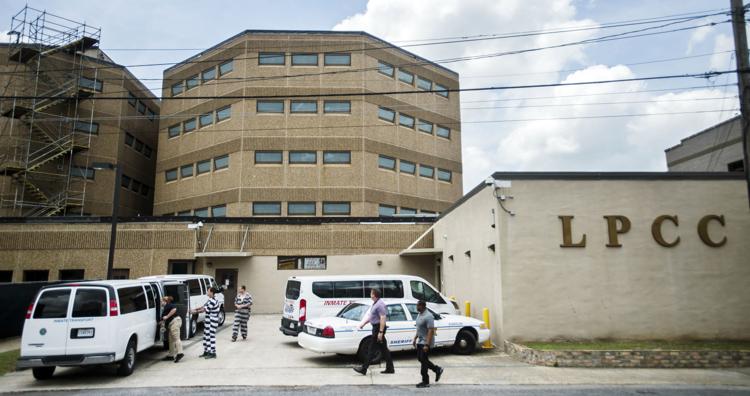 Robideaux, who is not seeking a second term, left the budget meeting before the jail discussion. Chief Administrative Officer Lowell Duhon said it's not a lie. 
"We did have enough money. At the time, we were doing fine," Duhon said.
Robideaux, who returned to the meeting as soon as the jail discussion was over, told The Acadiana Advocate the council wanted to double the tax millages even though the council did not roll forward millages. Lafayette's economy has been growing, increasing tax collections about 1.4 times in seven years, from generating $6.6 million for the jail and courthouse in 2008 to generating $9.2 million seven years later. That's why he opposed the increased taxes, he said.
His team, Robideaux said, is researching laws, attorney general opinions and court decisions to determine what the parish is required to fund. He said the budget can be approved without the extra jail funding. The budget, he said, can be amended later to add funding if they find it is required.
The Sheriff's Office started sending parish inmates to jails outside the parish just last year, Robideaux said. His staff, in scrutinizing invoices from the Sheriff's Office, has found discrepancies, including some invoices containing charges to house inmates that have not been in jail for decades. The fiscally responsible thing for the council to do, he said, is wait until these issues are resolved before budgeting the extra money.