For the second time in as many months, the Lafayette City-Parish Council rejected a request from Mayor-President Joel Robideaux for $18 million in library funds to be transferred to roads and drainage, with voter approval.
Instead, the council doubled-down on an April decision to place before voters Oct. 12 the transfer of $10 million in library funds to roads, bridges, drainage and parish recreation. 
The vote was 7-2, with Councilmen Jared Bellard and William Theriot supporting the transfer of $18 million.
Robideaux resurrected the request for $18 million last week after learning how much the library system paid for some pieces of furniture for the new West Regional Library that will open in Scott on May 13, including more than $10,000 for half a booth made out of the front of a real classic Ford Mustang, $3,800 for an ice maker to serve four meeting rooms and $8,500 for a custom-made computer work station with storage designed like a tool box. Library Director Teresa Elberson said the library system took bids for the furnishings in accordance with local and state bid laws and was within its budget.
The library's leadership has been under scrutiny since a 1.61-mill property tax renewal was placed on an April 2018 ballot and opponents criticized the library board for sitting on a $26 million fund balance. Voters rejected the renewal, costing the library system more than $3 million a year. Property owners still pay two property taxes to fund public libraries, including a 2-mill tax renewed in 2012 and a 2.91-mill tax renewed in 2016.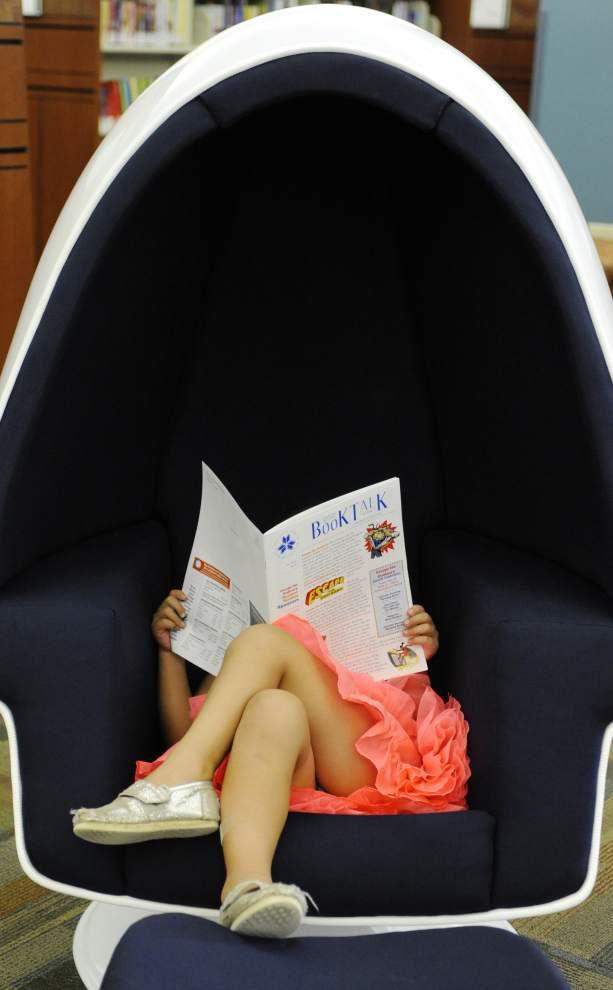 Robideaux said Tuesday the library operated 15 years or so on two of the millages, placing revenue from the third in a savings account that accrued $42 million. That, he said, may be why voters rejected the renewal in 2018.
"I feel like we have at least gotten the attention of the people whose money we're talking about," Robideaux said. "They're paying attention. The library board is paying attention" as of last night.
The library board Monday adopted a resolution opposing Robideaux's request for $18 million of library fund balance. Finance Committee Chairman Andrew Duhon noted even the $10 million transfer, if approved by voters, coupled with planned construction of a Northeast Regional Library east of Evangeline Thruway and expansion of the North Regional Library in Carencro, will leave the library system with negative fund balances. The library system may be short operation and maintenance funds by 2020 since voters rejected the tax renewal in 2018.
At Tuesday's council meeting, a couple of residents suggested the council call an election asking voters to approve a new tax to fund roads and drainage, since so many people are saying those are top needs in the parish.
Councilman Kevin Naquin agreed. The public approved more taxes for the library system than for roads, bridges and drainage combined, he said.
"If you want better roads, bridges and drainage, if you want better fire protection," he said, "the public is going to have to decide, 'do I want to pay more?'"
Speaker Robert Bixeman asked the council to consider offering voters multiple choices Oct. 12: a $10 million transfer of funds and an $18 million transfer.
City-Parish Attorney Paul Escott said he believes there is an attorney general opinion allowing for a multiple choice ballot, but it would need to include the option 'none of the above."
Councilman William Theriot said a danger in having three choices on the ballot is the vote could be split evenly three ways.
One supporter of Robideaux's resolution was George Armbruster III who said it's more important to stop water from flooding homes than to expand libraries, even if it means curtailing library programs.
"The money at issue," he told the council, "doesn't belong to the library staff, doesn't belong to the library board and doesn't belong to you, the council members. Until that money is spent, it belongs to the taxpayers."
Most speakers opposed Robideaux's resolution. 
St. Landry Parish resident Hannah Boni, who takes her children to Lafayette's libraries because they're much better than St. Landry's, asked why no one complained when the new library was built and furnished in the Youngsville area, where the population is wealthier. She suggested maybe Robideaux's measure is payback for the controversial Drag Queen Story Time issue.