Like many college students, JonTerez Broussard hoped to go viral online by creating a witty TikTok video.
It wasn't until her Nov. 4 funeral, however, that the 20-year-old attracted the virtual attention she craved during her life.
"All my friends say that JonTerez is the patron saint of social media," said her mom, Mary Broussard. "She went viral. I'm like, 'If anybody could make that happen from heaven, it would have been her.'"
Now, as the darkly humorous funeral video nears 10 million views on TikTok, the Broussard family is ready to share their devastating reality in the hopes of keeping the young woman's spirit alive and saving others from the same fate.
Can't see the TikTok video below? Click here.
@annmariee.20

My little sister died… she would appreciate the dark humor💀 I love you Jaja❤️🕊@jonterez #darkhumor #lilsister #funeral #fyp

♬ original sound - ItsVyvica
JonTerez Broussard, affectionately known as JaJa by family and friends, suffered the fatal consequence of taking a recreational drug she didn't realize was laced with fentanyl.
"Fentanyl-laced recreational drugs are a crisis affecting young people across this country," said JonTerez's father, Bob Broussard. "What we're about is saving lives and raising the level of consciousness of high school and college students locally, statewide and nationally about the presence and dangers of fentanyl in commonly used recreational drugs that were previously thought safe and nonlethal.
"That's our focus — to save lives — to save as many as possible, as quickly as possible. If JonTerez would have had the benefit of this information, she would still be alive today. No doubt."
***
JonTerez Broussard should have celebrated her 21st birthday on Nov. 13.
Instead, her family burned dried flowers from her memorial service and ate at Central Pizza, where they shared her favorite appetizer — a dip with leeks, bacon and parmesan — and dipped the crust of her favorite pie — the Paulie with pepperoni, jalapeño and honey — into her favorite basil ranch dip.
The downtown Lafayette restaurant isn't far from the last place JonTerez Broussard was fully conscious.
The University of Louisiana at Lafayette student was among friends downtown on a Friday night three weeks before her birthday when she unknowingly took fentanyl, a potent synthetic opioid that's increasingly being mixed with other recreational drugs to cut costs and increase euphoric effects. She would never regain consciousness during the week she spent at Ochsner Lafayette General Medical Center, where she ultimately died on Oct. 30.
The tune of "Amazing Grace" echoed throughout the hospital that afternoon as her organs were donated to improve the quality of life for others in need. The Broussard family would later learn that four people had benefited from JonTerez's decision to be an organ donor.
The young woman also influenced the lives of others in recent weeks in another way.
As a result of JonTerez Broussard's death, a UL professor was inspired to teach her freshmen students about the risks of recreational drugs and how to reduce harm to those who use them. Linda Fairchild also printed and handed out pocket cards with information for students in her other classes, including the graduate course that JonTerez Broussard's mom is taking.
"I just thought it was an urgent matter," Fairchild said. "We need to talk about this issue because it is not going away."
Fairchild said her students were engaged in the lesson and even provided feedback afterward that they had used some of the harm reduction tenets she shared in class.
One student emailed Fairchild to say she had shared the harm reduction tenets with others and was thankful for them after losing a friend to an overdose. Another student told Fairchild she decided to carry Narcan as a result of the lesson and soon afterward ended up administering it to someone who overdosed.
"I think it's all about education," Fairchild said. "The more our students know, the better prepared they'll be."
***
Harm reduction tenets include easy access to fentanyl testing strips, clean syringes and Narcan — the brand name for naloxone, which can rapidly reverse an opioid overdose.
All are available for free to anyone through Acadiana Harm Reduction.
Kady Douglas informally started the organization in 2019 by purchasing and distributing Narcan after her best friend died of an overdose while pregnant.
"It hit me harder than others I've lost to overdose," Douglas said. "The best way I could put it is that I felt survivor's guilt. If I couldn't help this person, let me help the next person."
Acadiana Harm Reduction has seen an overwhelming demand for services.
Douglas hands out 100 to 200 doses of Narcan per month compared to just four doses per month she averaged in 2019. When she first began handing out fentanyl testing strips last year, a box of 100 strips would last about four months. Now, a box of 100 doesn't last a week.
"The reality of the situation is that fentanyl is here in Lafayette, Louisiana," Douglas said. "Harm reduction works and can help people who use drugs survive this opiate crisis safely."
***
Lafayette Parish, like the rest of the nation, has seen an exponential increase in the number of people dying from fentanyl-related overdoses in recent years.
A total of 102 people in Lafayette Parish have died of drug overdoses from January through September this year, with fentanyl contributing to 66 of those, according to data from the Lafayette Parish Coroner's Office.
Things looked quite different a few years ago.
There were just five cases involving fentanyl out of the 43 overdoses in Lafayette Parish documented by the coroner's office in 2017. A year later, in 2018, a total of 13 of the 46 fatal overdoses involved fentanyl.
By 2019, the cases involving fentanyl shot up to 25 out of a total of 55 fatal overdoses in the parish. The number doubled again last year, with 50 out of 83 overdoses involving fentanyl.
Fatal fentanyl overdoses recorded this year in Lafayette Parish have already far surpassed those in 2020, based on coroner's office data compiled through September.
***
Regulatory agencies overwhelmingly use the term overdose to describe anyone who requires emergency care or dies as a result of fentanyl, whether its ingestion was intended or not.
JonTerez Broussard's family doesn't like using the word "overdose" to describe what happened because they believe she never would have willingly consumed any amount of fentanyl. Doctors said JonTerez Broussard did not take the synthetic opioid intentionally but instead was poisoned by it, according to her father.
"By all accounts, this was a recreational event involving a miniscule amount of a recreational drug that otherwise would not have poisoned her, nor killed her. The fentanyl lacing is what did it," Bob Broussard said, adding that his family does not want to discuss at this time what she took that was laced with fentanyl because it is irrelevant to setting up the foundation to save lives. "Suffice it to say that what happened to her could happen to any unsuspecting high school or college student. There is no safe recreational drug due to fentanyl poisoning, which has crept into commonly used recreational drugs, including marijuana."
Although marijuana tainted with fentanyl has been reported for years by law enforcement agencies, many on opioid crisis task forces have disputed those claims.
Earlier this month, however, Connecticut authorities reported what could be the first documented case of widespread fentanyl overdose among marijuana users.
The U.S. Office of National Drug Control Policy's New England division issued a Nov. 15 bulletin concerning 39 cases between July and October of people who public health authorities say "exhibited opioid overdose symptoms" and "claimed to have only smoked marijuana." Police in Plymouth, Connecticut, sent cannabis from one of the overdosing patients to the state's crime lab for analysis, where it tested positive for fentanyl.
Fentanyl is 50 to 100 times more potent than morphine, according to the U.S. Centers for Disease Control and Prevention.
Rates of overdose deaths involving fentanyl were nearly 12 times higher in 2019 than in 2013, the CDC reports, and the 2020 provisional death counts suggest an acceleration during the pandemic.
The CDC distributed an advisory last December to alert public health departments, health care professionals, first responders, harm reduction organizations, laboratories, medical examiners and coroners to the substantial increases in drug overdose deaths attributed primarily to illicitly manufactured fentanyl.
"The issue is that there's no opportunity for informed consent," said JonTerez's sister, Lexxi Broussard. "This fentanyl? She did not choose to take it. Regardless, her life was taken by it."
***
JonTerez Broussard, the youngest of five children, is remembered for her passion and tenacity.
She especially loved tickling people and pets, traveling the world, cultivating relationships and creating funny social media videos. She was studying marketing at UL.
Lexxi and AnnMarie Broussard captured some of their younger sister's sense of humor in the viral TikTok video featuring clips of an elaborate flower arrangement at the cemetery where JonTerez Broussard was buried.
"My little sister died," AnnMarie Broussard wrote when she posted the video. "She would appreciate the dark humor. I love you JaJa."
The Nov. 4 video had amassed more than 9.9 million views on the social media platform by Wednesday.
Now, using the viral following, JonTerez Broussard's family wants to spread the word about a nonprofit organization they're starting in her memory.
They've tentatively named the organization JaJa Saves Lives "to represent the hundreds of thousands of lives that will be saved in her name" and "the fact that she lives in that effort," her father said.
The Broussard family is planning to solicit tax-exempt donations through the nonprofit to fund a national campaign to educate and raise awareness of the presence and dangers of fentanyl-laced recreational drugs once considered safe. Anyone interested in participating in the campaign or donating to the cause can reach out via email to JaJaSavesLives@gmail.com.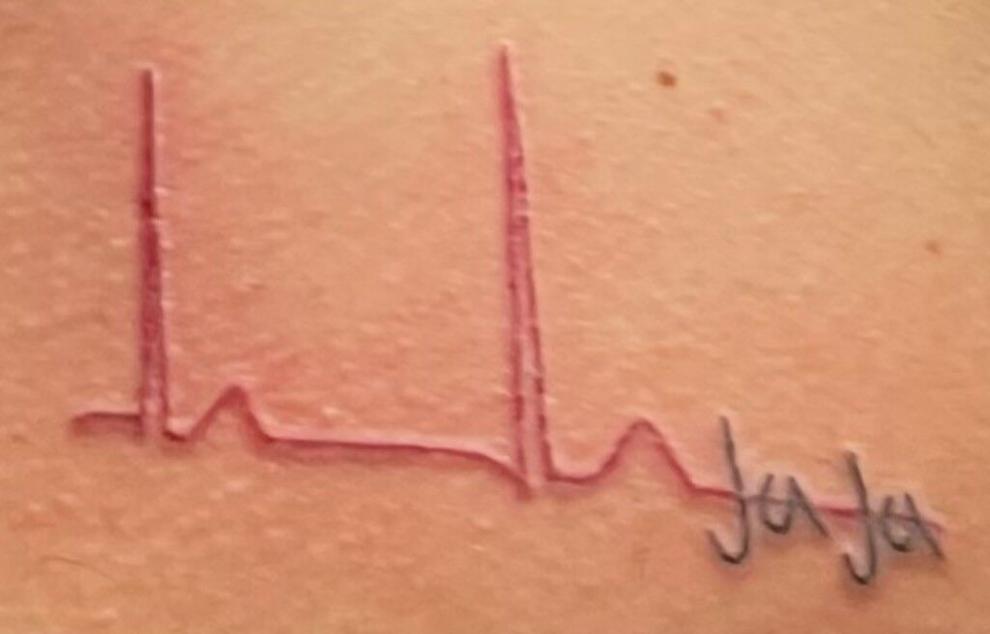 AnnMarie Broussard, who was often referred to as JonTerez's twin since the sisters were close in age and in spirit, designed a logo alongside her cousin for the organization that her family has also had tattooed on their bodies. The design incorporates JonTerez Broussard's heartbeat and nickname by using red ink to depict her electrocardiogram and black ink to replicate her signature.
Bobby Broussard said he has no doubt about whether his sister would approve of what her family is doing because she always wanted to be a social media influencer.
"The way she would feel about what we're doing in her name — we're influencing," Bobby Broussard said. "And I think that there's no greater honor than to influence change for the betterment of life."