When Maegan Adkins-Barras watched a video of a fight that happened at Acadiana High School, she instantly felt sick to her stomach.
The video, which her son obtained from another student, showed a fight in which a teenage boy's head hit a concrete bench on the school's campus. The 32-year-old mom of three worried about injuries the boy suffered as a result of the fight.
Adkins-Barras knows all too well what a traumatic head injury can do to a person. Her husband, Joshua, has been in a vegetative state since November because of one, and she considers it to be "worse than death."
That's why she decided to post the video to her personal Facebook page — to show how violent the fight at her son's school was.
"I posted it as a concerned parent because of my son and my husband," Adkins-Barras said. "This isn't the first video of a fight I've seen, but that fight jumped out at me because of how severe it was. That could have been my child."
She never expected to spend the night in jail — the same place where her husband suffered self-inflicted brain trauma three months earlier — for expressing her concerns online.
Now, almost a month later, she is considering suing law enforcement for allegedly violating her civil rights.
A Broussard mom's civil rights may have been violated Wednesday when police arrested her for posting a video to social media that shows a figh…
A call from the school
Adkins-Barras had no idea life as she knew it would change after her 14-year-old son shared a video with her of a Feb. 19 fight at Acadiana High School.
Her son, a freshman at the school, obtained the video from another student on the social media app, Snapchat. (Early reports that her son recorded the fight were inaccurate, according to Adkins-Barras and the police report.) 
Like so many parents in 2019, the mother took to social media to share her feelings about the video. These are the words Adkins-Barras wrote when she posted the video, according to the report prepared by law enforcement for the district attorney's office:
"This was at our local High School today. This should NOT be happening. Why do we have to worry so much about our kids at SCHOOL? Listen to his head hitting the concrete bench. I Can't Even."
The capitalization emphasis is hers. She also included a "feeling concerned" tag with her Facebook post and an angry face emoji before the final sentence. She shared the video and words with her Facebook friends initially, but she said she changed her privacy settings to public at the request of others who wanted to share the post.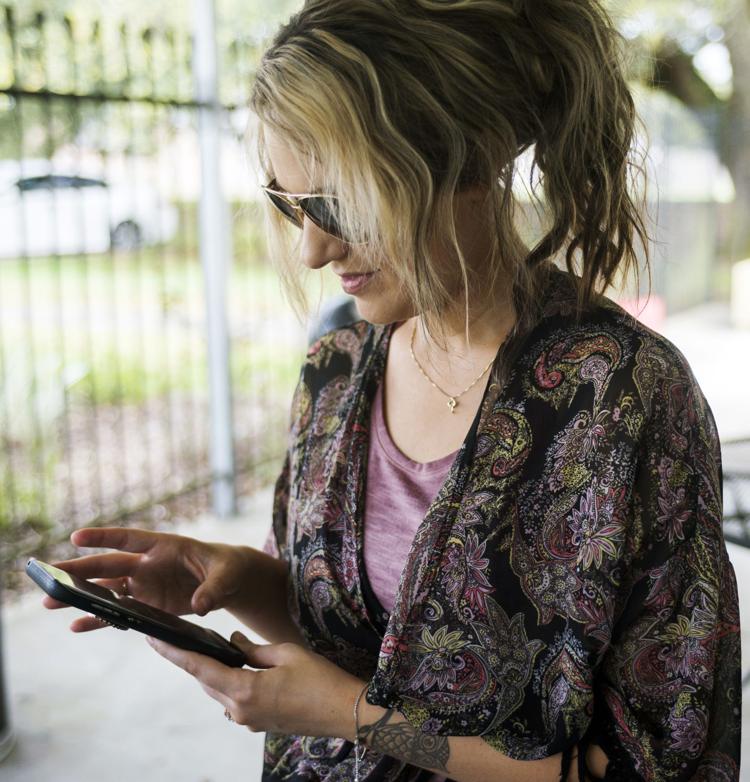 "The mom whose son hit his head thanked me for posting the video," Adkins-Barras said. "She had no idea how hard he'd hit his head until she saw it, and she took him to another doctor the next day."
That was Feb. 20, which is also the day an Acadiana High school resource officer with the Scott Police Department learned about the infamous video, according to a police report sent to Keith Stutes, district attorney for the 15th Judicial Court District.
Adkins-Barras said she received a call from the school because law enforcement wanted to question her son about the fight but needed her to be present since he is a minor. 
"When I got there, I realized they weren't questioning my son," Adkins-Barras said. "They already had the arrest affidavit, and they read me my rights."
Her video had disappeared from Facebook by the time she arrived at the school. Although the police report said Adkins-Barras removed it herself, she denied this and said someone reported it and Facebook removed it.
The resource officer handcuffed Adkins-Barras on the campus and told her she was under arrest for "unlawful posting of criminal activity for notoriety and publicity."
Adkins-Barras told the officer she could not go to the Lafayette Parish Correctional Center because her husband tried to hang himself there, according to the police report. She was booked in the jail anyway.
"That was the hardest part," Adkins-Barras said, allowing a sob escape before speaking again. "That was the hardest part about everything."
The Acadiana High School mother who posted a video of a fight last week on the school's campus won't be prosecuted, Keith Stutes, district att…
A night in jail
Adkins-Barras said she became physically ill when she learned she would be going to the place where her husband, Joshua, attempted suicide in November.
"I just didn't want to go in. I just didn't want to be there," Adkins-Barras said. "It was just a constant reminder of what happened. All I could ask myself is, 'What was he thinking? What happened?'"
Joshua Barras tried to hang himself Nov. 2 by using a shoestring tied to the handicap rail in a bathroom, according to an incident report from the jail. He was serving time for illegal possession of Xanax, a prescription sedative used to treat anxiety, court records show. Jail staff who found him were able to save Joshua's life, but he suffered brain trauma from oxygen deprivation. 
Adkins-Barras said she was treated like "some kind of criminal" when she shouldn't have been in jail to begin with.
"I was throwing up and sick and had the worst headache, and they'd just walk past," she said. "Right when I got there, they made me put on the orange jumpsuit. And I asked why, and they said I wouldn't have a bond until later. I kept asking why I couldn't get a bond. I didn't want to go upstairs. I had a mattress on the floor. All night long that's what I had."
She was booked into the jail Feb. 20 and released from custody the next day.
That's when she realized her photo and the details surrounding her arrest had been posted to the Scott Police Department's Facebook page and made local and national headlines. Adkins-Barras tried to make sense of it all as messages from friends, family and strangers poured in.
She reassured her children, who stayed with family after her arrest, that everything was going to be OK.
"My little ones told me they saw the news and were scared I was going to stay in jail forever," Adkins-Barras said.
Her oldest, the freshman at Acadiana High, had a different reaction. He's been in "defensive mode" since her arrest because his classmates have been talking about his mother, she said.
"My son was all mad and felt guilty because he thought it was all his fault," Adkins-Barras said. "I can see why he'd feel that way, but I've had to explain to him it's not his fault. Of course, I didn't get to talk to him about it for a while because I was in jail."
With a sound decision from District Attorney Keith Stutes, an Acadiana High School mother won't be prosecuted because she posted a video of a …
A potential civil rights lawsuit
Adkins-Barras said she's spent the last few weeks defending herself, her husband and children. 
Her controversial arrest sparked widespread speculation that her civil rights may have been violated because the law she was charged with breaking appears to only apply to someone who was involved in the criminal activity that was the focus of the video.
On Feb. 26, Stutes, Lafayette's district attorney, announced his office would not prosecute the case because "the circumstances do not support the proof necessary to establish all of the elements of the offense beyond a reasonable doubt."
When asked Monday if she was planning to file a civil rights lawsuit against the Scott Police Department for unlawful arrest, Adkins-Barras replied, "I think so."
"I'm just a mom and a wife," she said. "I don't understand the lawyer aspect of it all, but that arrest went everywhere to the point where people are digging into my personal life and Josh's personal life, and I don't find it to be fair because I didn't do anything wrong to where my face should be everywhere."
Adkins-Barras is represented by Lafayette lawyers Kevin Stockstill and L. Clayton Burgess and California lawyer Brian Carlin. 
Her legal team postponed interviews twice and did not respond to questions sent via email Thursday morning for this story.
Adkins-Barras said she hasn't heard from anyone at the Scott Police Department since her arrest.
Scott Police Chief Chad Leger has not responded since February to calls and emails, including questions sent in writing to him and his agency's lawyer for this story.
Maegan Adkins-Barras, the Acadiana High School mom who was arrested for posting a video of a student fight on social media, is questioning a M…
A chance to help her husband
Adkins-Barras has used her time in the spotlight to raise more money for her husband's recovery through a fundraiser she created before her arrest.
She is hoping to raise $9,000 through GoFundMe.com for hyperbaric oxygen treatments that reportedly helped a man walk and talk again after spending six months in a coma.
"He hasn't shown any progress because he hasn't gotten any help," Adkins-Barras said. "The nursing home doesn't treat that kind of thing."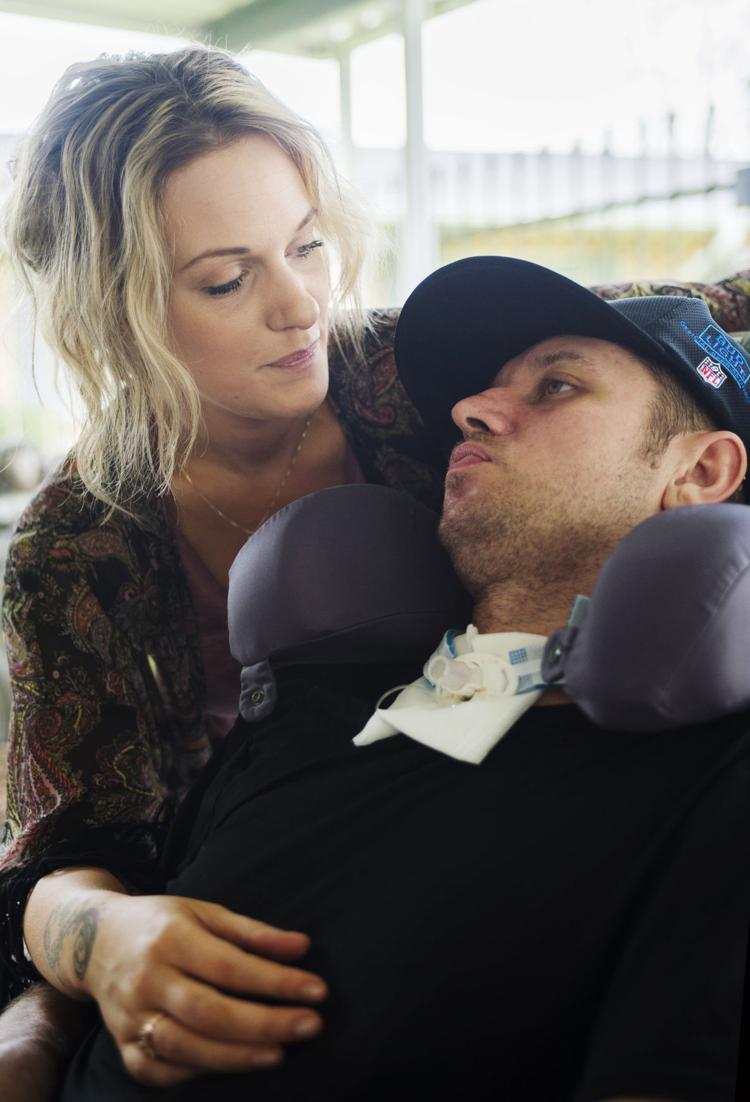 The relationship between Joshua and Adkins-Barras hasn't been perfect. He has had multiple arrests related to drugs and domestic violence.
But she is determined to help him.
Adkins-Barras said she visits her husband every day at the nursing home in New Iberia.
"I love him," she said. "I've never given up on him before. I wouldn't want anyone to just give up on me. He's always been breathing since they found him, so obviously he's been alive for a reason. I just believe he can be cured if he's given a second chance."
Joey Comeaux shared the now infamous Facebook video of a student fight at Acadiana High School that resulted in a mom's arrest as a warning to…