One week can change everything.
A week ago Kari Cormier Khan was driving from Lake Charles to Florida with her newborn baby, a 6-year-old and everything they owned in search of a fresh start.
On Election Day, Khan was moving into a Lafayette apartment with her two daughters.
"I'm extremely excited to be making a home in Lafayette," Khan said. "I feel like I have a whole community here, so many people who want to help. I feel liberated in a sense. I feel optimistic that I'm free to make the best decisions for me and my children."
That trip to Florida never happened because she got in a wreck in Lafayette. Hannah Mason, the other woman involved in the crash, quickly realized how an inconvenience to her day had completely upended Khan's world.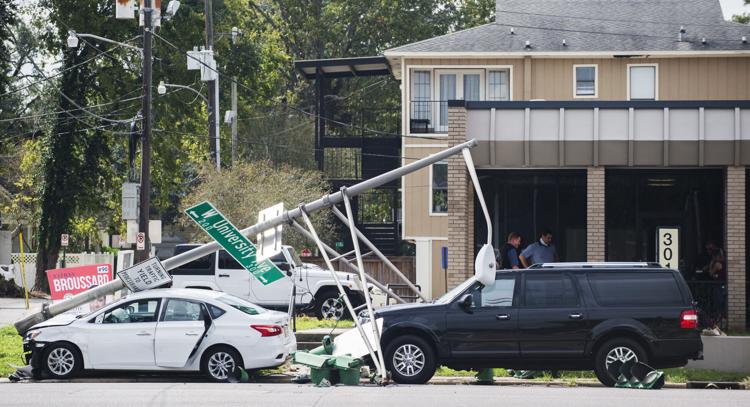 The Lake Charles mother had packed 3-week-old Nova and 6-year-old Lizzie in a rental car after losing her home during Hurricane Laura and her casino waitressing job early into the pandemic.
Mason had help from family and friends immediately after the incident. Khan stood alone with her two daughters.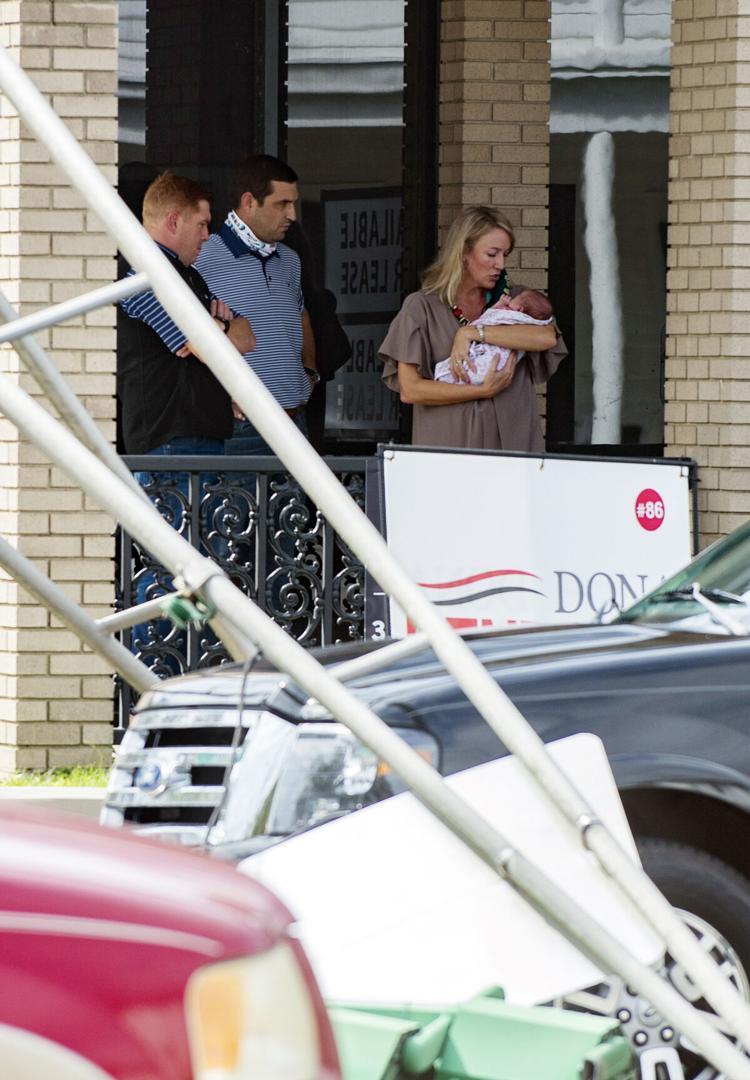 From that moment, Mason made it her mission to help. The mother of three who also serves on the Lafayette Parish School Board started a GoFundMe page.
It's now topped $8,000 in donations.
Once she discovered Khan would prefer to stay closer to Lake Charles instead of moving to Florida, Mason connected with United Way of Acadiana and its partners to help Khan and her daughters settle in Lafayette.
"It's really been incredible," Mason said. "As the world is going crazy over this election, I just wish people could step into my world for the last week. Our community has been absolutely incredible. There's so much aid and so many people who want to help out there. I've just been coordinating everything."
Khan stayed in a Lafayette hotel in the days after the wreck with help from United Way of Acadiana, Beacon Community Connections and the St. Martin, Iberia and Lafayette Community Action Agency.
The fundraiser enabled her to sign a six-month lease on an affordable apartment that includes utilities.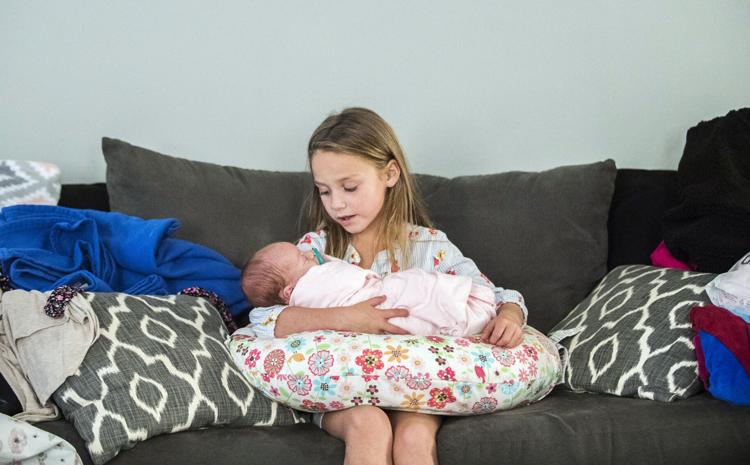 Mason helped Khan enroll Lizzie at Woodvale Elementary School. Her first day at her new school was Thursday.
"I love my new school," Lizzie said. "I made two friends, and I think I'm going to make more friends and learn a lot."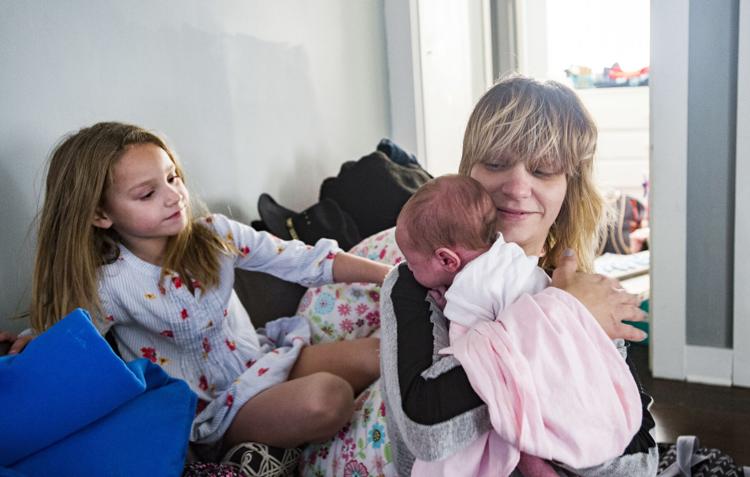 On Tuesday, Bassett Furniture delivered beds, tables, lamps and other small pieces to Khan's new home. It was all at no cost, something the Lafayette furniture store has done for dozens of families in recent years.
When a customer orders furniture delivery, the company hauls away the used furniture, upcycling and delivering them to those in need. That need has become greater this year with the pandemic and hurricanes, said Bryan Nix, general manager of Bassett Furniture who is also a Lake Charles native.
"There are so many people who just can't afford furniture, no matter what the price is. They're just trying to survive," Nix said. "I've been able to help a lot of people, and the community is really helping, by letting me have it when they're able to buy something new. It's so simple. It's so easy. It's really picking up steam this year. We're doing this once, twice a week or more."
Mason has already found a local family to adopt the Khan family for Christmas.
On Wednesday, Khan planned to take the $500 used car she'd purchased from a friend in Lake Charles to Moss Motors for complementary service.
The car runs but just barely, which is why Khan rented a car for the trip to Florida. Her vehicle is on four spare tires, and the check engine light stays on. Mason connected Khan with Sharon Moss in the hopes of providing a safer form of transportation for the family.
The Khan family planned to sleep in their new home for the first time Tuesday.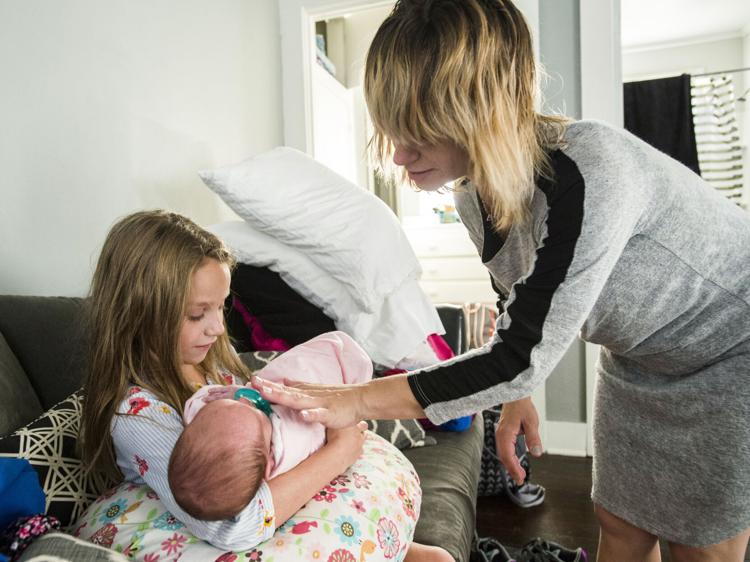 Lizzie's favorite part about her new second-floor apartment is sliding down the handrail of the stairs. Khan said her daughter isn't so sure about having her own room. Lizzie has always slept in the same bed as Khan.
"We've always slept in the same space," Khan said. "I finally got a two-bedroom apartment, and she still wants to follow me everywhere."
Mason said she's thankful for the opportunity to be involved in the Khan family's recovery, but she's also been looking at the bigger picture to determine more ways to connect those in need with those willing and able to help.
"Who can be the 'me' in the next story?" Mason asked. "Who can be the connector in the next story? How can we make sure we always have a connector? It just has me spinning my wheels. How can we ensure success? Not every story like this is a success story."