Amid growing concerns about violent clashes between protesters across the country, U.S. Rep. Clay Higgins on Tuesday suggested in a social-media post that armed demonstrators at Louisiana protests should be met with deadly force.
In a Facebook post Tuesday that featured a picture of Black men carrying assault-style weapons and other tactical gear, Higgins, R-Lafayette, said that anyone arriving in the state "aggressively natured and armed" would have a "one way ticket."
"I'd drop any 10 of you where you stand," said the post, which was removed not long after appearing on Higgins' official campaign account. "Nothing personal. We just eliminate the threat. We don't care what color you are. We don't care if you're left or right. if you show up like this, if We recognize threat...you won't walk away."
Facebook removed the post for breaking the company's "Violence and Incitement" policies, a company spokesperson confirmed late Tuesday. Such action by Facebook against a sitting member of Congress or other high-profile politicians is extremely rare.
The picture Higgins attached was taken from news coverage of an armed group of protesters marching in Louisville earlier this summer to protest the killing of Breonna Taylor during a botched police raid.
"We don't want to see your worthless ass nor do we want to make your Mothers cry," Higgins wrote.
Higgins is a loud champion of gun rights — including the right to openly carry firearms in public, which is legal in Louisiana — and regularly wears a handgun while in the state.
Neither Higgins nor a spokesman for his congressional office responded to numerous messages Tuesday and Wednesday.
The post by Higgins came amid protests in Lafayette over the death of Trayford Pellerin, who was shot and killed by Lafayette police on Evangeline Thruway on Aug. 21. Protesters have also denounced Lafayette Mayor-President Josh Guillory's response to Pellerin's death, expressing no sympathy for Pellerin's family in his initial statement.
Around the time Higgins' post went up, 40 to 50 heavily armed members of a right-wing militia group — the Louisiana Cajun Militia, which formed four years ago to oppose the removal of Confederate monuments — showed up at a Tuesday night Black Lives Matter demonstration outside Lafayette City Hall.
Members of the group said they attended the demonstration to protect protesters, though a man identifying himself as the group's commander, Michael "Sauce" McComas, also told a reporter with the Daily Advertiser that "we're just not gonna let them go around burning flags and intimidating."
McComas also told The Advocate that members of the militia had quarrelled with members of Black Lives Matter in the past over the question of what to do with Confederate monuments.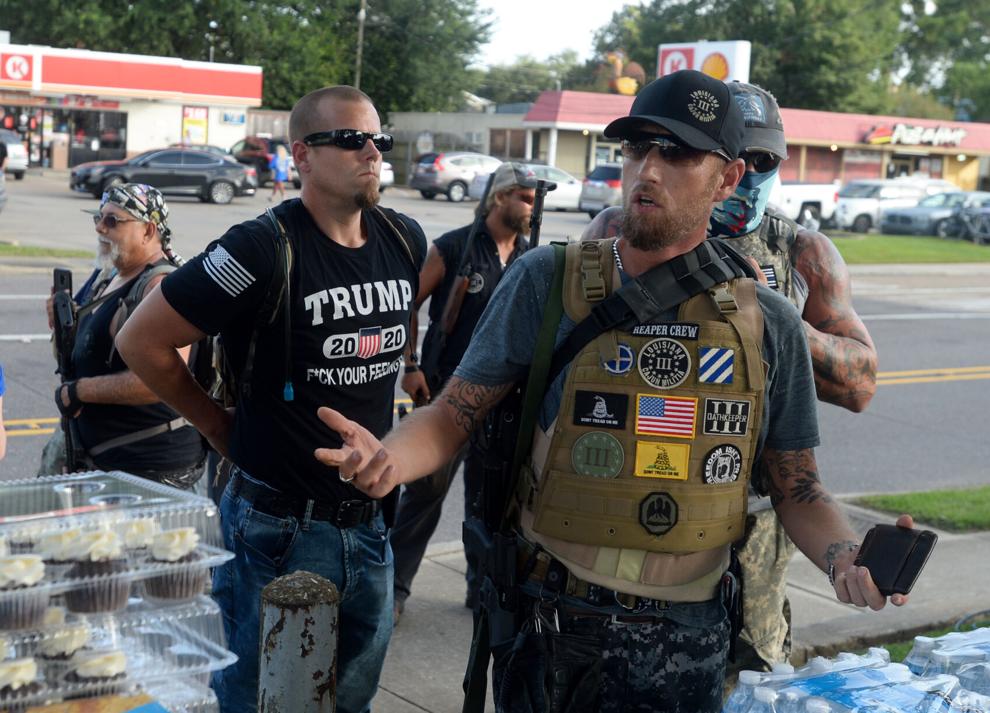 The militia group that showed up in Lafayette on Tuesday evening, composed of White men, was geared up in much the same manner as the Black protesters in Louisville pictured in Higgins' Facebook post.
Higgins made no mention of the Louisiana Cajun Militia group and didn't respond to questions about their presence.
The Black Lives Matter protest outside Lafayette City Hall was a peaceful affair and featured a barbecue, a jab at Guillory after a demonstrator was arrested over the weekend after setting up a grill on the street outside Guillory's house to cook hot dogs and hamburgers in a stunt aimed at luring the parish leader outside to talk.
Protesters in Lafayette and Mayor-President Josh Guillory and his administration continue to be at odds over community response to the police …
Mayor-President Josh Guillory on Monday attempted a do-over of his response to the Lafayette Police killing of 31-year-old Trayford Pellerin, …
U.S. Rep. Cedric Richmond, D-New Orleans, called Higgins' comments "disappointing, but not surprising" and "a clear adolescent ploy designed to stoke fear, incite violence, garner social media clicks and raise money for his campaign."
Richmond said it's "rare that members of the same congressional delegation openly criticize each other" but that "Higgins' dumb and reckless Facebook post requires serious condemnation."
Rob Anderson, a Democrat who's running against Higgins in the November election after unsuccessfully challenging him in 2018, ripped Higgins over the post and said he'd reported it to law enforcement.
"No elected official in this nation in any office should be responsible for drumming up violence where there is no violence," Anderson said in a statement. "What Congressman Higgins has done with his words inciting violence is to rally those who believe his words to arm themselves, and come into our district looking for war."
The Anti-Defamation League also condemned Higgins' "dangerous" Facebook post.
"It's reprehensible that a sitting member of Congress would take to social media and openly advocate for violence," said Aaron Ahlquist, the group's regional director. "This behavior is dangerous and indefensible."
Higgins doubled down on his removed message Tuesday night after it was removed by Facebook and appeared to take aim at the company.
"America is being manipulated into a new era of government control. Your liberty is threatened from within," Higgins wrote in his follow-up post on Facebook. "Welcome to the front lines, Ladies and Gentlemen. I suggest you get your mind right. I'll advise when it's time gear up, mount up, and roll out." That post was removed by Facebook on Wednesday.
Link: Former Opelousas officer who lied to cover for Clay Higgins is now on the congressman's payroll
Higgins, a former policeman and sheriff's deputy in St. Landry Parish, was disciplined by his commanding officer in Opelousas after he struck a handcuffed Black man and then lied about it amid an internal probe. He remains a certified law enforcement officer in Louisiana and currently holds a commission through Attorney General Jeff Landry's office. A spokesman for the Attorney General's Office also did not respond to messages about the post.
-Staff writer Ken Stickney contributed to this report.