For W. Pat Bordes II, there was little doubt five years ago that the new stretch of Ambassador Caffery Parkway between Broussard and Youngsville would be the perfect place for another location of Fezzo's Seafood and Steakhouse.
The area was seeing explosive residential growth at the time, and there were few restaurants nearby to serve the bedroom communities. The Youngsville Sports Complex had recently opened, and he learned that plans were in the works to construct the Broussard Sports Complex at St. Julien Park.
"That really helped us make a decision to build in that area," Bordes said. "And it has proven to be beneficial. The baseball complexes really bring us a lot of business."
What Bordes is describing is the economic impact of sports tourism, one of the fastest growing sectors of the travel industry and one that communities across the country are trying to capitalize on.
It's not just the Broussard location of Fezzo's, which opened in 2018, that is reaping the benefit of sports tourism. The Crowley location of Fezzo's, which opened in 1999, has recently seen a surge in business after a $5 million upgrade at the existing Crowley Recreation Department complex.
"We've noticed a tremendous influx of people coming to Crowley," Bordes said. "Any time there's an event at any of the sports complexes, we have baseball uniforms coming in. Sometimes they have reservations. Sometimes they take a chance."
Sports tourism kept region afloat during pandemic
Sports tourism isn't new.
Regular professional and college sporting events have long drawn people to cities, boosting sales tax revenue as people spend money on- and off-site at nearby hotels, restaurants, stores and other businesses. It's one reason cities are willing to spend millions to host major sporting events such as the Olympics — the expectation of reaping more benefits in return. 
Major spectator sports aren't leading the sports tourism boom in smaller cities such as Broussard, Youngsville and Carencro, however. Youth travel sports are bringing in the big bucks.
In 2019, there was an estimated $22.9 million economic impact through events held at sports complexes in those three cities alone, according to the Lafayette Convention and Visitors Commission. 
"We're almost running out of weekends to have these events," said Ben Berthelot, president and CEO of LCVC. "We're seeing events almost year round, which is huge."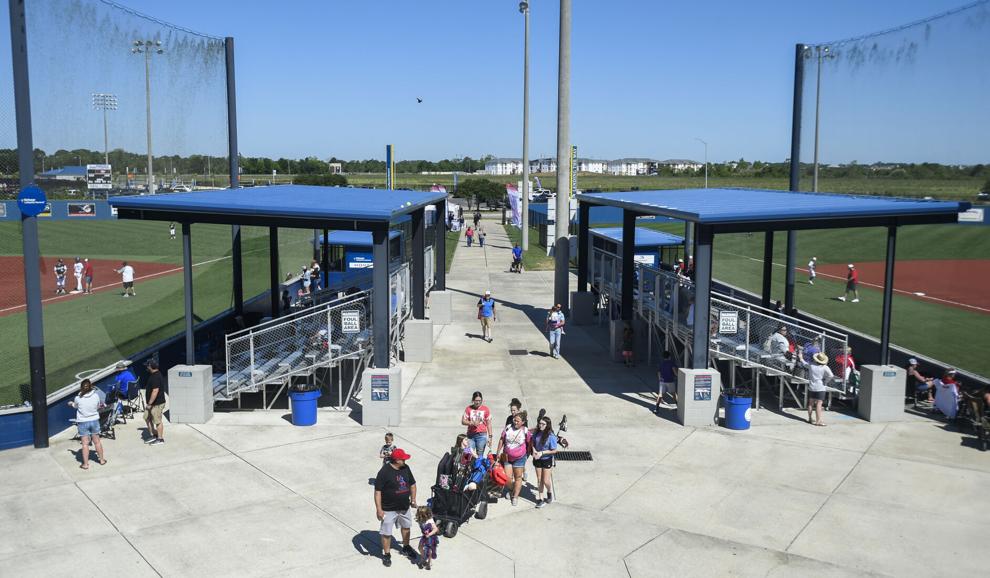 In 2020, the estimated economic impact at the three sports complexes dipped to $12.1 million because of pandemic postponements and cancellations, but outdoor sporting events kept the region afloat during an otherwise bleak time for tourism.
"It really saved the industry," Berthelot said. "Not everything was all rosy. We did lose some, but we really have to think of where we would have been without sports tourism."
The Louisiana Office of Tourism and the Louisiana Travel Association recognized officials at the Broussard Sports Complex at St. Julien Park in March for its economic impact through sports tourism during the pandemic.
"Over the last 12 months, Louisiana has faced numerous adversities including the pandemic, record hurricanes, and most recently winter storms," said Lt. Gov. Billy Nungesser in a prepared statement. "Amid those challenges, sports events have promoted tourism in Louisiana communities and regions, garnering impacts both economically and to our overall quality of life."
Holly Cope-Lynn, tourism director for the city of Broussard, was among those recognized by the state for her work.
The Broussard Sports Complex had an estimated $4.8 million economic impact in 2019, attracting 31,400 spectators to the facility and filling 9,782 hotel rooms in the region, according to the Lafayette tourism commission.
"Parks are not really built to be profitable," Cope-Lynn said. "They're about quality of life, but they're also about generating sales tax revenue."
Turf fields attract regional and national competitions
Youth softball and baseball tournaments have long been the biggest economic drivers at the Broussard Sports Complex at St. Julien Park, Youngsville Sports Complex and Carencro's Pelican Park.
Jonathan Lampl, major event director for Triple Crown Sports, said Lafayette Parish offers everything he's looking for when scoping out where to host a tournament. His team put on a girls fast-pitch softball tournament called the Cajun Classic last month at the Youngsville Sports Complex. He's hoping to grow the tournament in coming years to utilize the Broussard and Carencro facilities.
"This was our first event in Louisiana," Lampl said. "We look for a convention and visitors bureau that wants to work with us. We look for facilities. We look for an area that's easy to get to or has an airport. We look for an area with a college. Lafayette has all that, and it has an even bigger bonus of having turf facilities, which is great in case of rain."
Artificial turf fields are especially important in rainy regions like south Louisiana because they allow teams to continue playing when traditional grass fields would be too muddy.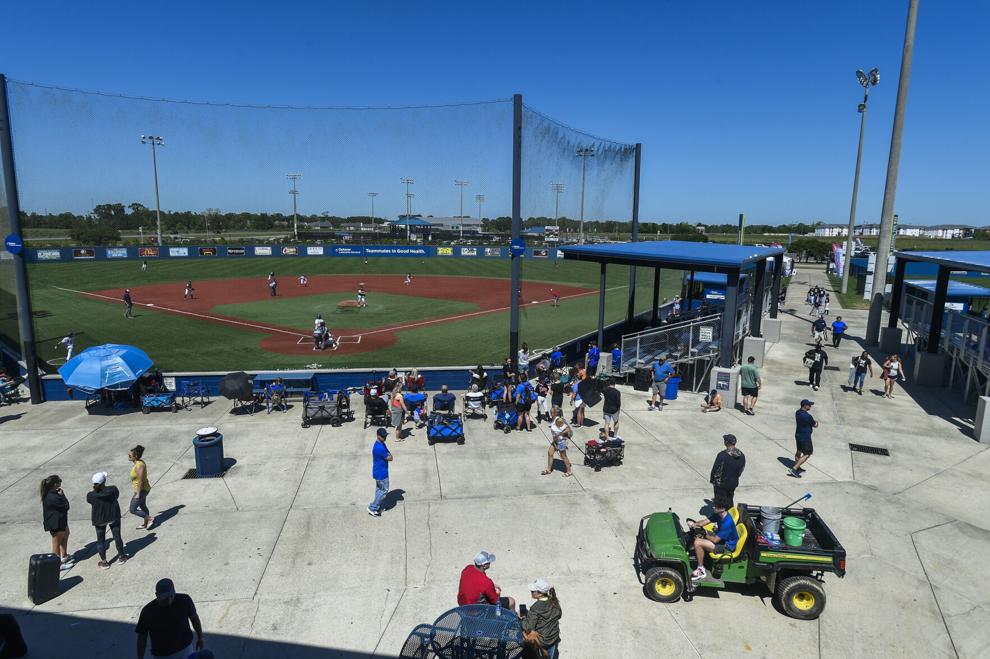 The parish's first turf fields opened in the 1980s at Pelican Park, according to Jim Thibodeaux, the park's longtime director who retired in November.
"It was probably the first turf field in the South," Thibodeaux said. "And the softball players in the '80s and '90s from all over heard about it and wanted to play on the turf because you could play in the rain unless it was lightning."
Local entrepreneur Herb Schilling opened the turf softball complex, in part, because he was tired of playing ball at the muddy fields that existed in the area. He would later be inducted into the United States Specialty Sports Association Hall of Fame for his investment and vision.
Pelican Park was the premiere complex in the region for years. As Lafayette's population expanded south to Youngsville and Broussard, however, those cities announced plans to open their own sports complexes. 
"When we heard Youngsville and Broussard were building their complexes, everybody got nervous because it's competition," Thibodeaux said. "But there is so much to offer at each of the facilities that I don't think it's really affected any of the complexes. I think it's actually become a major reason people come to Lafayette."
Consumer spending skyrocketed in March in Lafayette Parish as the total amount of taxable sales recorded was the highest amount for any month …
The Youngsville Sports Complex opened in 2014 followed by the Broussard Sports Complex at St. Julien Park in 2017. Both showcase turf baseball fields.
With the necessary infrastructure in place, it's become easier for tourism leaders to attract national competitions to the region.
"Now, with three facilities, we can have 150-team tournaments spread out over the facilities," Berthelot said. "And they've done a great job of working with each other to where they can facilitate that."
Local play remains a priority as offerings expand
The Youngsville and Broussard complexes, which are supported by dedicated sales taxes in each city, have since expanded to offer everything from sand volleyball to pickleball.
Pelican Park, also supported by a dedicated sales tax, was completely renovated a few years ago with new turf, lighting and dugouts. Multipurpose fields were added on nearby property along with an indoor complex that features a turf football field.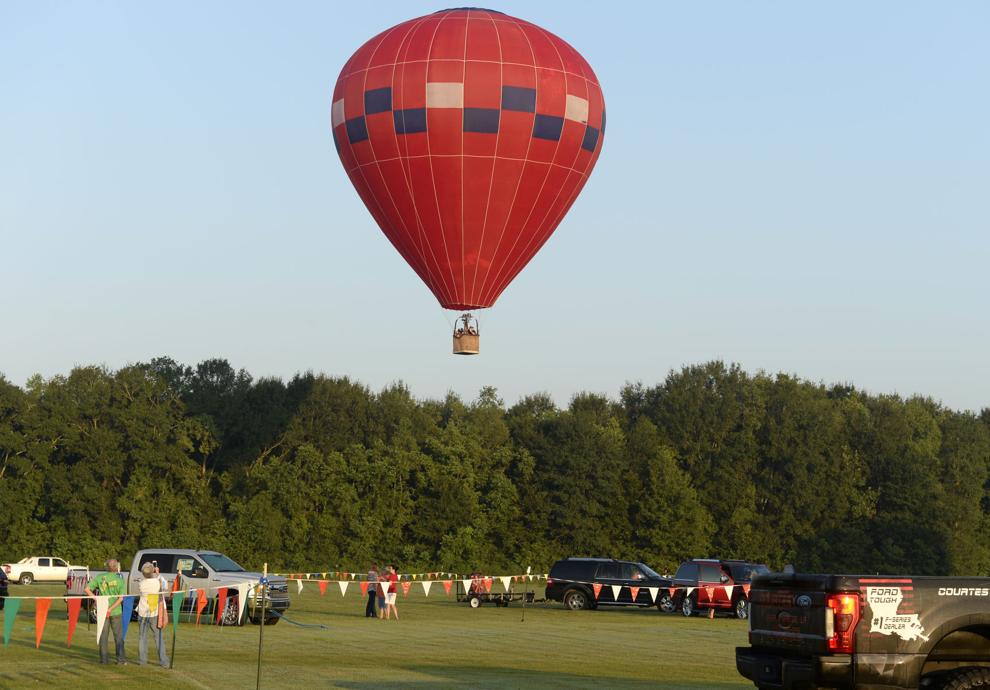 "Sports tourism is our fastest growing market by far," Berthelot said. "There's no question it's growing. To be in the market, you have to have infrastructure, and we have that thanks to the vision and leadership of those in Youngsville, Broussard and Carencro."
With the focus on economic development and travel sports, however, Thibodeaux said he's concerned the facilities might not cater enough to local kids.
"Sports has changed drastically since I was a kid because of travel ball," Thibodeaux said. "I think most park directors are aware of that and have faced that. Kids aren't playing local ball during the week like they once did. It's hurting the neighborhood programs."
Pelican Park has seen a drop in softball and baseball enrollment in recent years, Thibodeaux said. 
That dip could also be the result of the Youngsville and Broussard complexes opening. Although children used to be limited to playing ball at the closest facility to their home address, they now have the option of playing at any facility. Programs at the sports complexes are even open to people who live outside of the parish.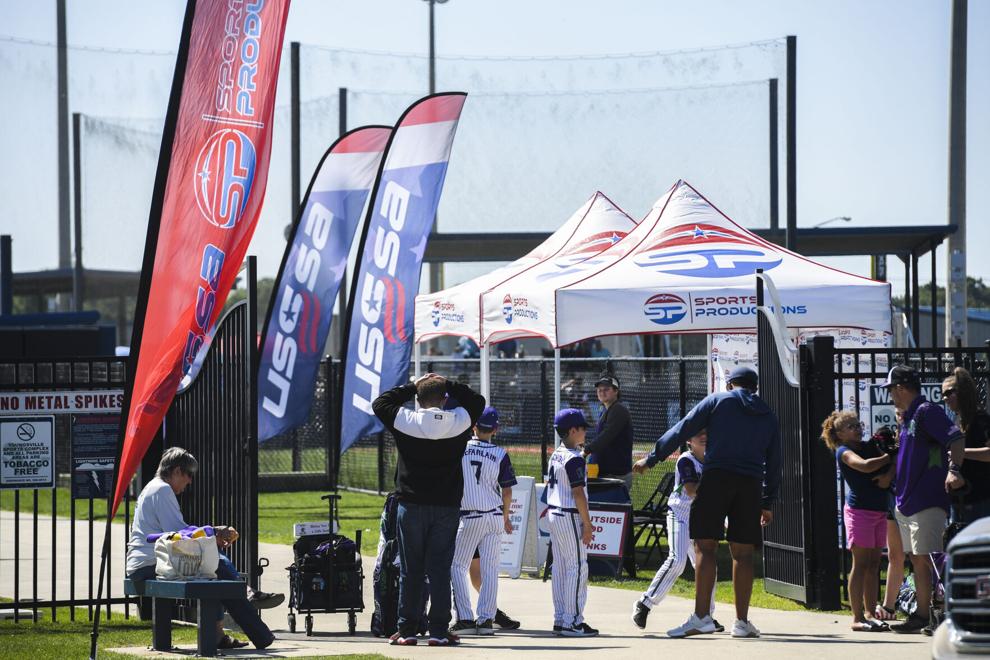 The rising costs and commitments associated with travel sports can also be a barrier for children from low-income families, according to the Aspen Institute's 2019 State of Play. There is a growing disparity of sports participation among lower and higher income households, the Aspen report said, with just 22% of kids ages 6 to 12 in households with annual incomes under $25,000 playing sports compared to 43% of kids from homes with incomes of $100,000 or more.
Those leading the Youngsville and Broussard sports complexes emphasized that local play has always been a top priority. 
"The vision here was really for the rec leagues," said Tim Robichaux, director of the Youngsville Sports Complex. "The local kids have a nice turf facility to play on, and they're here all during the week. We got great support from our mayor and our council and the citizens self-imposing a 1-cent sales tax on themselves, and we all know it wouldn't have come about without that."
Ochsner Health and an Alabama company announced two manufacturing facilities in the Broussard region will manufacture personal protective equi…
About 500,000 people pass through the Youngsville Sports Complex each year, Robichaux said, and the economic impact of that is evident in the restaurants and businesses that have opened near the facility in recent years.
The same is true in Broussard, according to the city's mayor, who was also involved in the complex's development years earlier as a city council member.
"The driving thought was really that we needed to supply a better park for our residents because an improved park would provide a better quality of life," Broussard Mayor Ray Bourque said. "The economy is a broad conversation. We need to be an attractive city, so that when businesses or people are making a choice on where they want to make an investment, we can present a well-rounded package."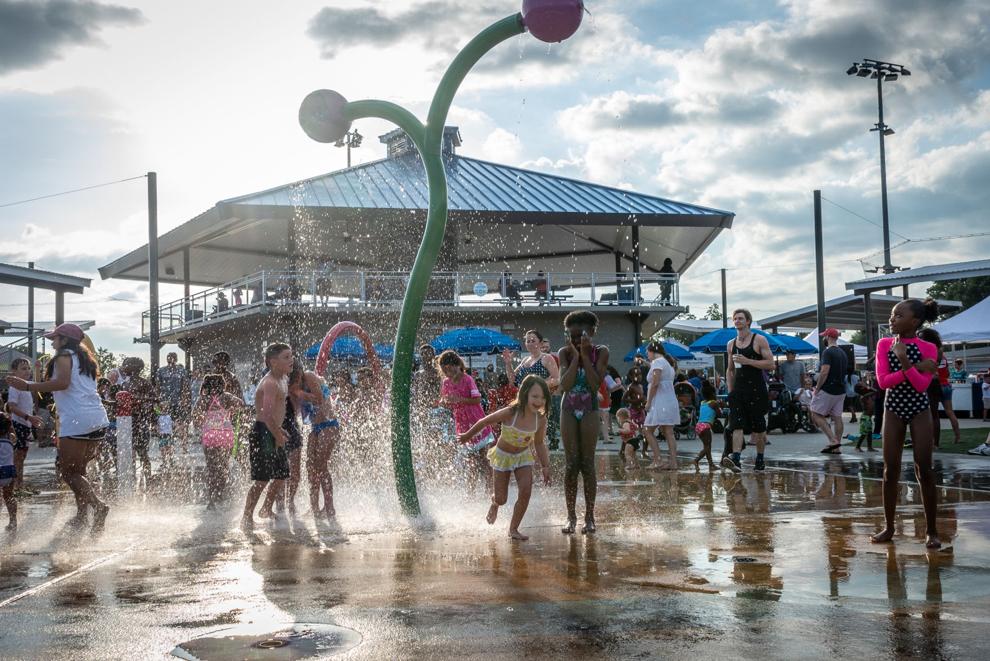 The Broussard Sports Complex pumps an extra 31 cents into the Lafayette Parish economy for every $1 invested, according to an economic impact study by the Lafayette Economic Development Authority. Similar studies have not been conducted by LEDA on the Carencro or Youngsville complexes.
Although baseball and softball continue to generate the most revenue for the local sports complexes, leaders of all three facilities said they regularly evaluate their offerings to keep up with trends in sports tourism. They see flag football, cornhole, pickleball, disc golf and beach volleyball as key trends to capitalize on.
"There is room for growth," Berthelot said. "We're starting to diversify, and I think that's the best way to grow sports tourism, especially in these smaller communities."