Terry Huval, former long-time director of Lafayette Utilities System and fiber operations, defended in a press conference Thursday prices charged to LUS for some fiber services under his leadership, something that is the subject of an internal review by administration of Mayor-President Joel Robideaux.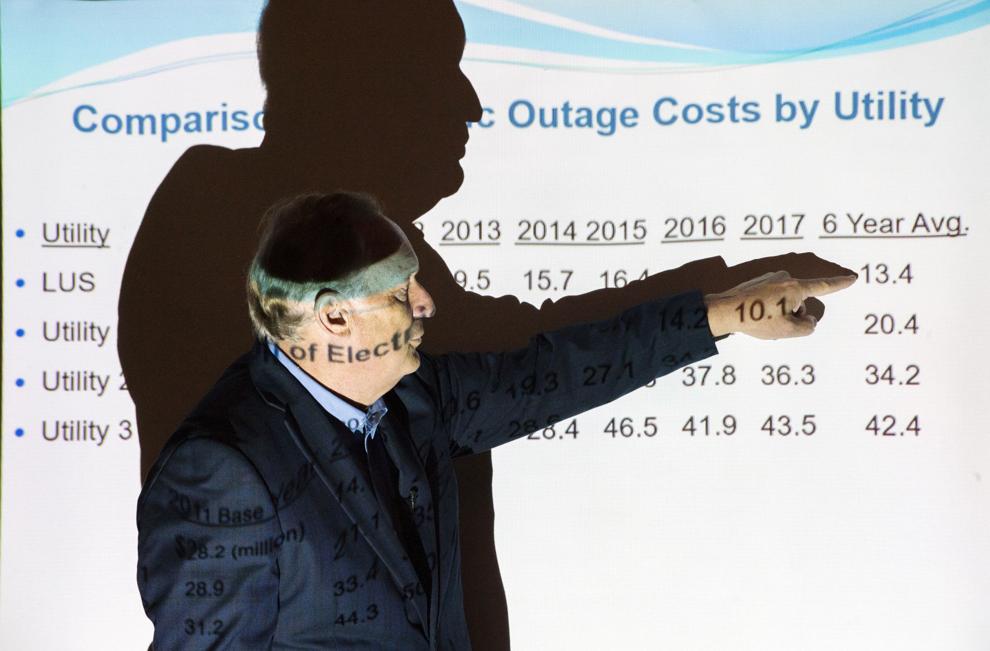 Specifically, Huval explained the process used to determine how much to charge LUS for electric outage monitoring via LUS fiber. It was only the second time Huval has spoken publicly about LUS since he retired in July 2018.
"I read the newspapers and watch the TV news," Huval said. "And it seemed like some things were not being represented clearly."
Huval would not provide specifics about erroneous information he alleged was presented, but said his staff followed the rules set forth by the Local Government Fair Competition Act, enacted by the Louisiana Legislature specifically to regulate local government bodies such as LUS that offer internet, cable and telephone service to keep them competitive with private providers. The pricing for the electric outage monitoring, Huval said, was run through the PSC and auditors, who found no problems.
"Whatever approach they (Robideaux's investigators) want to take may not be consistent with the law," he said.
Robideaux announced Oct. 11, the day before the primary election to replace him as mayor-president, he was appointing Lowell Duhon, CAO of Lafayette Consolidated Government, interim LUS director and Kayla Miles, LUS fiber business manager, as interim LUS fiber director to conduct an internal review of fees LUS fiber charges other LUS and LCG departments for services. Both appointments came with large pay raises, $58 an hour or $122,000 a year for Duhon, who lacks an engineering degree or utilities system experience.
In 2018, before Huval retired, it came to light that LUS was charged for fiber several years that wasn't used, including fiber to sewer lift stations where the final connection had not been completed. LUS self-reported the issue to the Louisiana Public Service Commission and repaid the $1.7 million with interest.
Robideaux raised the alarm in July over a second questionable set of payments by LUS to fiber for power outage monitoring. He said he was concerned that LUS Fiber violated the Local Government Fair Competition Act by using an improper method to set prices it charges LUS. Robideaux said the PSC "requested that a more in-depth and internally unbiased review of all LUS Fiber inter-agency transactions be performed, necessitating the staff changes" he made Oct. 11.
The PSC, as reported by The Current on Oct. 24 and The Acadiana Advocate on Nov. 8, has no record of anyone requesting the internal review as Robideaux claimed in his Oct. 11 news release.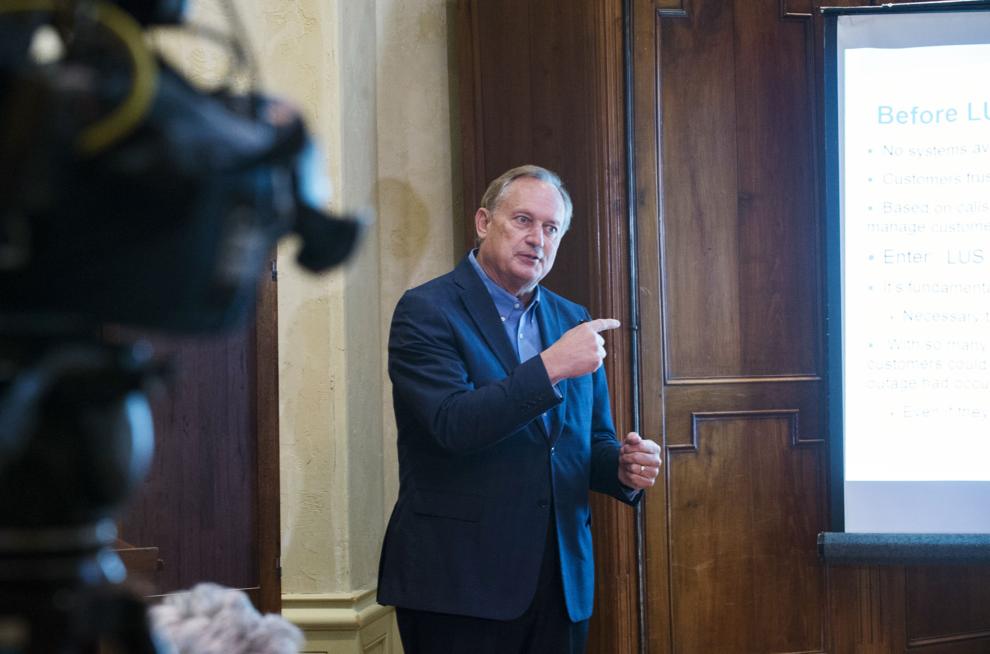 At his press conference Thursday Huval said the Local Government Fair Competition Act requires LUS fiber to assess a competitive price for services it provides other LUS divisions and LCG. Fiber can't overcharge to make too much money off LUS and LCG nor can it undercharge or provide services for free to LUS and LCG, he said.
When looking at setting the price for electric outage monitoring, Huval said, there wasn't a comparable setup, but the Lafayette Economic Development Authority found a U.S. Department of Energy electric outage interruption cost calculator that determined reducing the length of power outages by 20 minutes saves customers about $2 million a year. Cash registers aren't operable so sales stop when a business loses electricity, he said.
To be conservative, LUS proposed set the annual price for the electric power outage monitoring system at half that amount, $1 million per year, Huval said. LCG's independent auditor, using full-cost accounting principles, determined the amount was acceptable, he said.
The plan went to LCG's finance department, CAO, the city-parish council and through budget hearings in addition to PSC audits.
"We never had an issue with that," Huval said.
The motive for the outage monitoring system, he said, was better customer service by reducing the time it takes to identify where a power outage has occurred. Without it, LUS would place notes on a map each time a customer reported an outage, using that map to try to identify the location of the cause of the outage.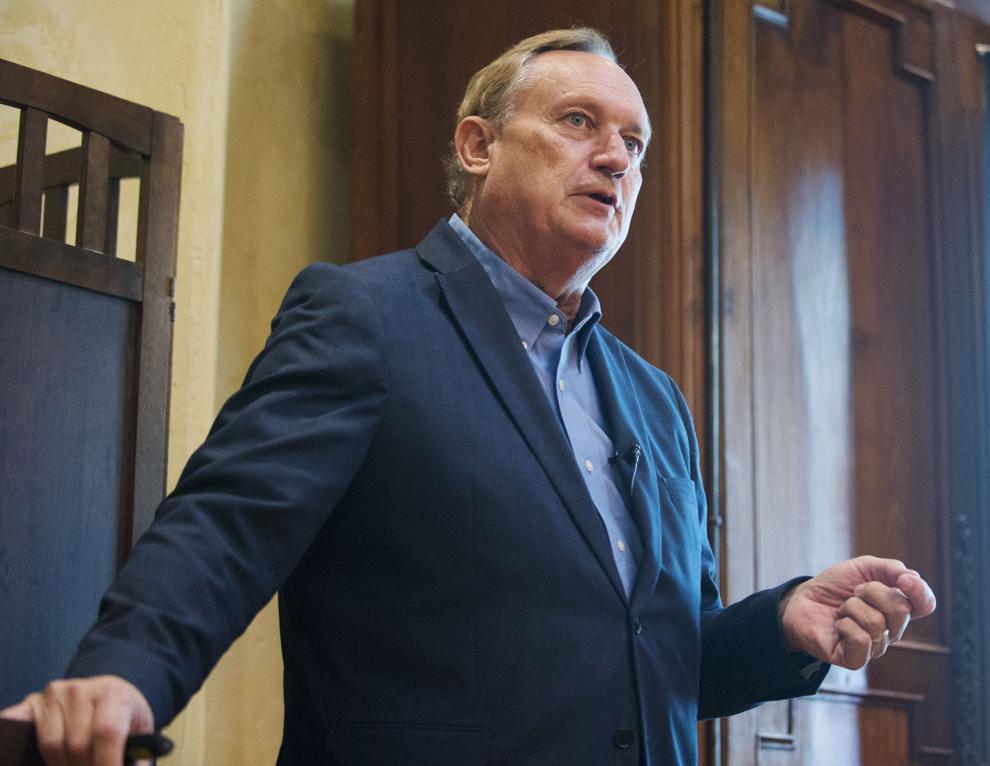 Asked about alleged emails and other correspondence that suggests he was concerned with the financial status of the fiber division and may have charged other LUS and LCG departments too much for fiber services to prop up that division, Huval said he wanted LUS and fiber to be successful, but it's unfair to pick out one or two sentences as evidence of a motive for fiber costs to LUS and LCG.
Fiber has to operate at a profit in order to have money to reinvest and to be successful, Huval said. But he followed the law and made a judgment call on pricing based on strong economic indicators and calculators such at the DOE calculator, he said.
The City-Parish Council and Lafayette Public Utilities Authority are scheduled to meet at 4:30 p.m. Nov. 19 at city hall, 705 W. University Ave., to get answers from Robideaux about the internal review and appointments of interim LUS director and fiber director.