Lafayette loves the limelight — at least when it's for food, culture, music or innovation — but the city seems to be getting national attention for the wrong reasons these days.
While still frosted with ice, Lafayette was the topic of a segment on CBS This Morning for rejecting a local mask mandate and failing to enforce the state's existing mandate. Earlier this month, Lafayette had a headline in The Washington Post after the city's library board rejected a grant for a voting rights program because of "far left" content.
"Frankly, it's embarrassing," said Stephenson Waters, associate professor of journalism at the University of Louisiana at Lafayette. "One of the reasons my wife and I moved here is for the culture and the people and everything, but that's being overshadowed by this. And it's kind of embarrassing when I talk to my friends elsewhere about Lafayette. This is what they see."
On Friday, during a live interview with The Washington Post, Louisiana Gov. John Bel Edwards drew more negative attention to what's happening in Lafayette when he called the city council's rejection of the mask mandate a "basic failure of leadership." 
Lafayette Mayor-President Josh Guillory shot back in a Saturday statement, accusing the governor of being "deeply hypocritical" and blaming the Edwards administration for failing to adequately enforce the state's coronavirus orders, including the statewide mask mandate.
"From a public relations standpoint, it's clearly pretty negative, but it's also accurate," said Lauren Auverset, associate professor of strategic communication at UL. "I mean, these aren't the types of things that you want highlighted for your city."
David Begnaud, a Lafayette native and lead national correspondent for CBS News, said he's been flooded with messages about recent news events unfolding in his hometown.
A few people criticized the journalist on social media for reporting on the mask controversy because it doesn't depict his hometown in the most flattering light.
"They felt like I had embarrassed Lafayette or something," Begnaud said Thursday in a phone interview. "I thought to myself, 'Would you be saying that to me if I wasn't from Lafayette?' Like, don't try and hold me to a different standard just because I'm from Lafayette. This is the news. It's an important story, and the relevancy of it for us was that it was taken up in emergency session a year into the pandemic. That's notable."
Two members of the Lafayette City Council drafted a local mask mandate as an emergency ordinance last month after pressure from a grieving family that says a funeral home wouldn't enforce mask usage. The council rejected the ordinance Feb. 9 with a 3-2 vote along political party lines.
Waters, who worked as a journalist in Florida before earning a doctorate and moving to Louisiana, said it's not the national coverage itself that's embarrassing but the newsworthy happenings themselves.
"We're in a heavily polarized and politicized media climate," Waters said. "And the local officials will reflect that. They will do this stuff for cheap political points because, I would argue, they think they're appealing to their constituents but, in reality, they're kind of doing the opposite. That's the part that's so embarrassing about it is that you either have to be cruel or scientifically illiterate to make these sort of claims. They're ignoring evidence to score some political points, and people notice. It gets attention, and so the media will pick up on it."
Begnaud said he frequently fields requests for coverage from Acadiana residents. Even when he can't report on a topic, Begnaud will often share local reports with his national audience on social media. 
That's all he initially planned to do when he learned about the Lafayette City Council's proposed mask mandate. A CBS producer encouraged Begnaud to report the story after seeing his regular social media posts on the topic.
The CBS crew traveled to Lafayette last weekend to film the segment, which included footage of maskless people pouring into downtown bars and the council's rejection of the mask ordinance, along with interviews with a local doctor and the grieving family who pushed for the local mask ordinance. 
"I am immensely proud of where I'm from," Begnaud said. "I'm proud of being from Cajun Country. I'm proud of not changing my name from Begnaud because it might be hard for people to pronounce. I'm proud of that. But let me tell you something: There are also people who were pleading with me to go to Lafayette to do this story too. And, first and foremost, I wanted to be fair. I wanted to be fair. And I believe that the story was fair."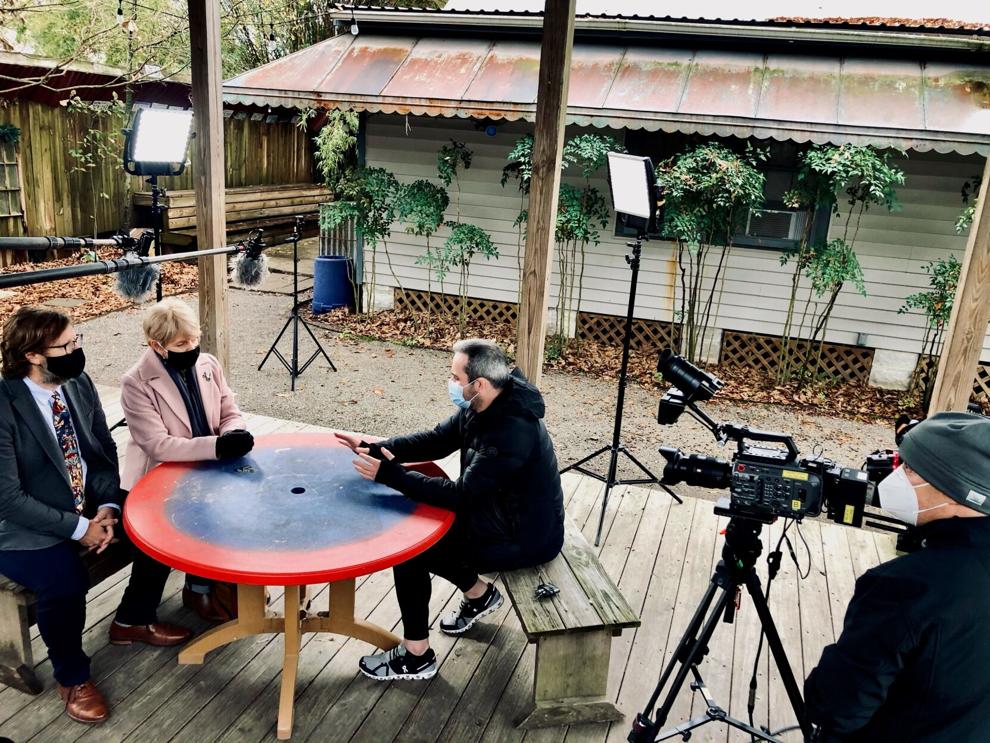 Begnaud has regularly returned to Cajun Country to report on a wide array of topics.
He's covered breaking news events, including the 2015 theater shooting and 2019 plane crash, along with lighthearted features, such as a 2016 segment on a priest offering mobile confessions and a 2018 one about the surprising connection between a grieving widow and a new mother.
"Sometimes I wonder, 'Am I being too Lafayette-centric?'" he said.
Begnaud said he hesitated before sharing local news reports on social media about what's unfolding at the Lafayette Public Library. He wondered if it was the kind of story that only someone from Lafayette would care about, but his followers eagerly engaged with that story too.
"Social media has amplified the ability for stories that would otherwise not be seen far and wide to be seen far and wide," Begnaud said. "That's just what it is."
The library board voted last month to reject a $2,700 grant for books and a presentation about the history of voting rights in America. Board members said during the Jan. 25 meeting that the planned speakers were "extremely far left" and wouldn't present "both sides" of the issue. The board's decision prompted the library system's longtime director to retire suddenly and UL to announce it would accept the grant money and host the event.
The heart of that story is not so different from the council's rejection of the mask ordinance in that both seemingly bipartisan issues became politicized. Public health experts and scientists overwhelmingly agree that masks slow the spread of COVID-19, just as historians overwhelmingly agree that a conversation about voting rights in America should include information about voter suppression.
"Part of me wants to call them out on it. Like, OK, let's hear your other side," Waters said. "Everything is politicized. Media has a role in that we just can't get enough news. We're addicted to it. Everything becomes an issue where you have to fall on one side or the other. Bewildering is the word, especially for the library situation. It's for the public good and public education.
"Lafayette is not this. There's a reason this is getting attention. It's because so many people are angry about it or just sort of bewildered by it."
After reporting across the country on the frontlines of the pandemic for nearly a year, Begnaud said he still has not gotten sick with COVID-19. He credits mask usage, social distancing and other common coronavirus precautions for the reason he's been healthy.
Begnaud said he hopes to lead by example through his reporting and day-to-day life as he follows the recommendations of public health experts and epidemiologists.
He remembered the importance of his actions during his recent trip to Lafayette when his five-year-old niece asked for some alone time to make a COVID-19 mask for her uncle "since he is so serious about it."
Auverset, who holds a doctorate in communication and information science, said Lafayette leaders and residents shouldn't ignore the national coverage the city has been getting.
Instead, she said, the recent headlines should inspire action.
"The issues that they've highlighted are happening. They are truthful," Auverset said. "And the fact that they're negative says that our leaders need to take action and turn those negative situations into a positive situation. That's it. That's the only answer for it, to be frank. If there's a problem, find a solution in positive action."
Staff writers Claire Taylor, Ben Myers and Sam Karlin contributed to this report.