If you haven't gotten out a lot lately because of the coronavirus, you might have missed a few public art pieces that have popped up over the summer.
One is a traffic box in the heart of downtown Lafayette that pays tribute Andrew Lee Vincent, a rising star whose death shook the local theater community two years ago.
"It was great to see this be completed at a time like this when taking a walk and viewing public art is one of the few luxuries we have," said Jaik Faulk, a project coordinator and visual arts director of the Acadiana Center for the Arts.
More than a dozen utility boxes around Lafayette have been decorated with vibrant screen printed designs of local artists since 2015.
This particular art box, near Jefferson and Congress streets, was dedicated last week for Vincent, who died by suicide in September 2018 at the age of 23.
Artist Cayla Zeek designed and executed the project with input from Vincent's family.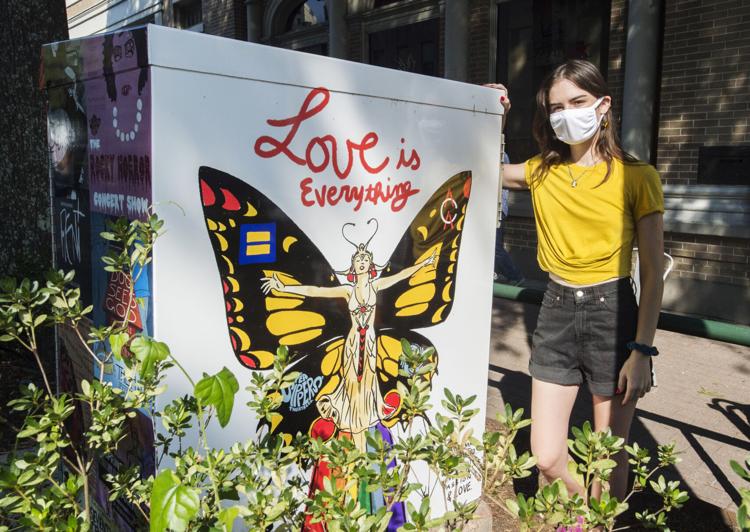 "They sort of channeled everything that they wanted the box to be about," Zeek said. "And so I took all of that and figured out how to make all of these things work as one image. I think it embodies what he stood for — that love is everything, equality — and we need his spirit, that energy."
Zeek said Vincent helped her hang her artwork in a downtown gallery, and she designed one of his play's posters. Hub City Diner, where Vincent worked, funded the public art project.
The art box highlights Vincent's creativity — as an actor, director, dancer, singer, artist and designer — that had been an inspiration to so many. 
Two sides of the box depict poster artwork from plays Vincent was involved in. Another side depicts a vibrant image that once decorated Vincent's room, along with the equality symbol and local theater logos, including the logo of the theater company he started when he was just 14.
"Love is everything" is written across the box in Vincent's own handwriting. Below, in smaller lettering: "A young man that impacted our community with his talent, passion & love."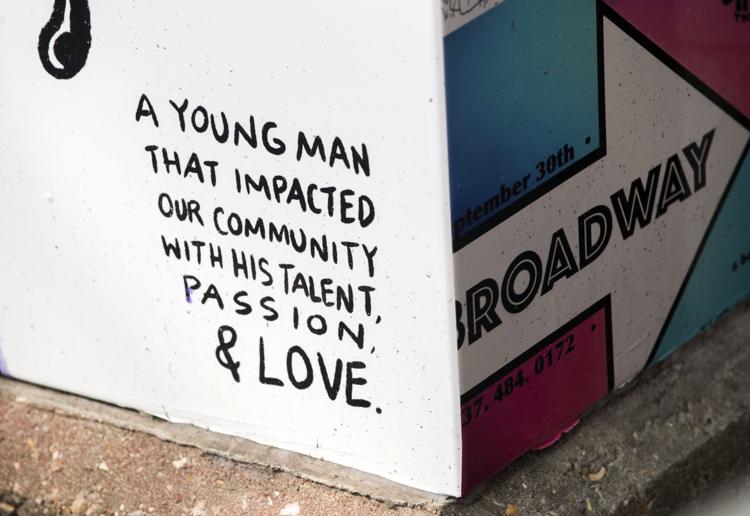 The final side features Vincent walking toward a stage set as New York City, his two cats, Fig and Jack, watching him go.
"That's my baby," said his mom, Ashley Vincent Saizan, through tears during the dedication. "Look at him. He's going to New York."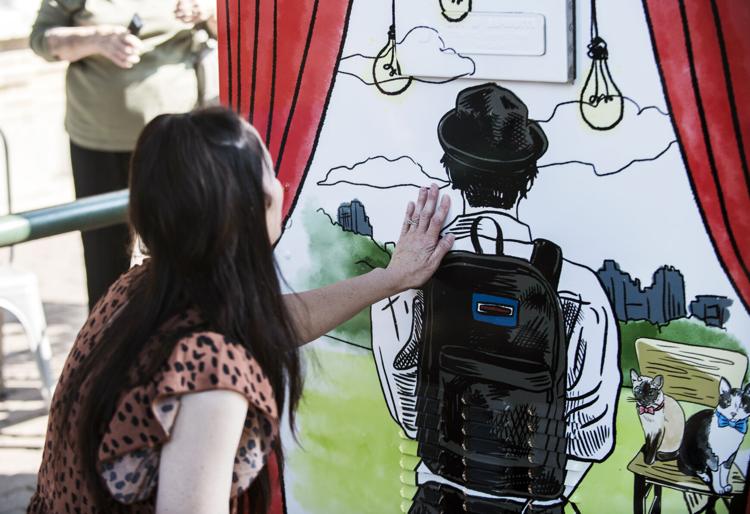 A darkness loomed over Lafayette's once vibrant community theater scene in the months after Vincent took his own life. Many of those who worked closest with Vincent took a break from community theater. Shows were canceled, stages dark.
Last August, Vincent's family and friends donated ghost lights in his memory at three theaters he regularly performed at. Ghost lights, which are a common safety fixture in theaters across the country, provide light after hours to an otherwise dark space. They're also said to provide opportunities for supernatural performances when no one else is around, perpetuating the common superstition that every theater has a ghost.
The ghost lights will illuminate the way for others in the theater community, while the utility box has turned an ordinary fixture into something beautiful for anyone who passes by.
Acadiana Business Today: Lafayette July sales taxes almost double the estimate in city's 2020-21 budget as retail sales surge