When Jose and Angie Medina got married in 2007 the 33 lots in the Gideon Grove subdivision outside Youngsville were still mostly empty. But the developer, Roderick Cawthorne, persuaded them the sparse neighborhood would soon be filled with young families living in custom homes.
"He really painted a pretty picture for everybody," Jose Medina recalled.
Twelve years later, Jose Medina calls that picture an "illusion." On recent visits, unfinished culverts lined the main drag of the subdivision, Gideon Road, which was littered with construction debris. The vacant land surrounding the Medinas' home was pocked with deep holes, and residents said overgrowth in the summer exceeds the height of a person.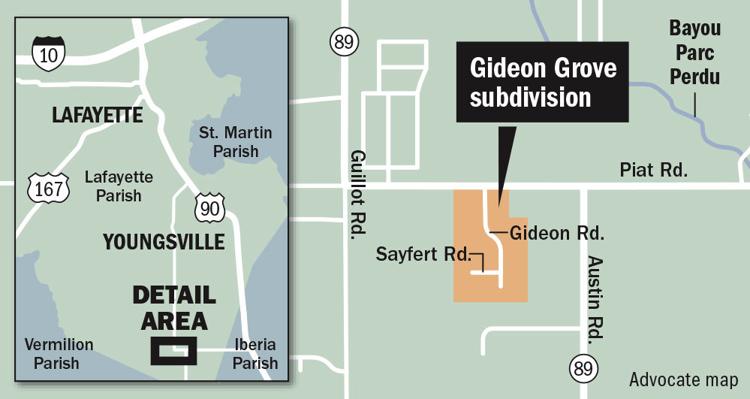 "There's holes all around," Angie Medina said. "My kids keep falling in it."
Chris Bourque, a neighbor, said he won't allow his grandchildren to play outside. He pointed to an unfinished septic tank with a wide open top.
"If a kid falls in there, there's nothing to grab," Bourque said. "They're dead."
The subdivision at the intersection of Gideon Road and Sayfert Road is an anomaly among others in and around Youngsville, which is one of the fastest growing cities in Louisiana a few miles from Lafayette. No more than a half-dozen homes have been completed and inhabited. The Medinas said theirs came with cracks in the ceiling, which they repaired themselves because Cawthorne had disappeared.
"We bought the house, and then he said, 'I'm not the kind of contractor that's here today and gone tomorrow.' Probably two weeks later we couldn't find him," Angie Medina said.
The fiasco at Gideon Grove is not the only blot on Cawthorne's record as a developer. Over the past decade and a half, he has faced a mountain of fraud allegations, state licensing infractions and adverse civil judgments. He has been accused of taking money for jobs he never started or didn't complete, stealing from subcontractors and, in at least one case, improperly using the name of a licensed contractor — an allegation he admits.
Prosecutors dropped a fraud case in Lafayette Parish after four years, while another fraud case in St. Landry Parish has been pending for six years. The Louisiana State Licensing Board for Contractors has also sanctioned Cawthorne on two occasions.
Cawthorne's legal problems haven't been limited to the white-collar arena: He was charged in 2015 with ancillary crimes related to the robbery and beating death of a 73-year-old Jefferson Davis Parish man. Cawthorne's son and namesake, who was 18 when the killing happened, was convicted of second-degree murder and sentenced to life in prison.
Roderick Cawthorne Jr. and an accomplice robbed the victim of several dozen gold coins, which the elder Cawthorne then buried at a work site, according to prosecutors. Cawthorne Sr. testified against his son in exchange for immunity, and was not alleged to have known anything about the crime in advance.
In an interview, Cawthorne acknowledged that he's "had some issues where discrepancies have gone on," but said "the concept I don't pay people is a lie."
"You know how easy it is for a contractor to become a person that, 'Oh he did this illegally, he did that illegally?' All it takes is for the person you are doing the work for to pretty much get displeased with you," Cawthorne said.
An unexpected visit
Though Cawthorne's listed address is near Gideon Grove, the Medinas said the first time they had seen him in at least three years was on a recent morning, when he materialized as they and Bourque gave a tour of the subdivision to a reporter.
Cawthorne, curious, parked a white BMW in the middle of Gideon Road, not far from where the group stood.
"What y'all up to?" Cawthorne asked.
"Just trying to figure out what we will do with this neighborhood," Bourque replied. "It looks terrible."
Cawthorne said overwhelming debt forced him to stop work at Gideon Grove. But he suggested he deserved credit for not selling out to a cookie-cutter homebuilder, which would have built "s—t" homes.
"That's a s—t house right there," Angie Medina retorted, pointing to a house across from her home that Cawthorne started and never finished. She said the Medinas never would have invested in Gideon Grove if they had known what it was going to become.
"Had I known 12 years ago this was going to happen, I would have done something different as well," Cawthorne replied.
What becomes of Gideon Grove is likely out of Cawthorne's hands. A few weeks ago, a federal bankruptcy judge approved the sale, for $850,000, of the 22 lots still under his control.
Alternating between contrition and defensiveness, Cawthorne said the conditions at Gideon Grove resulted from "my actions and my actions alone." But he also blamed the few residents there for talking negatively about him to other potential buyers.
The biggest reason the subdivision failed, he said, was the national housing crash that came not long after he bought Gideon Grove in 2006 for about $1.1 million. 
"I'm not supposed to get affected by all that? I don't come from privilege. I don't come from money," Cawthorne said. "I've worked my ass off to get to where I am."
But Cawthorne was already in trouble even before the housing crash. Two weeks after he closed on Gideon Grove, the Lafayette Parish Sheriff's Office booked him with fraud in connection with an unrelated construction project, accusing him of fleecing homeowners out of thousands of dollars. Cawthorne later pleaded guilty and was sentenced to two years of probation.
The debt Cawthorne complained about to residents came primarily from lenders who appear to specialize in risk who loaned millions to Cawthorne over a decade, despite his repeated defaults. One of those lenders, Colorado attorney Stephen Replin, authored a book titled "Where To Go When The Bank Says No!"
Replin, a Denver City Council candidate who has complained of "stinky developer(s)" on the campaign trail, loaned to Cawthorne "many, many times," he said, because "it seemed like the reasonable thing to do, in each case."
"We just continued to have hope that he was going to do what he said he was going to do," Replin said.
Cawthorne listed $4.3 million debt in his bankruptcy filing, with nearly half of that debt belonging to Replin's companies. 
A violation of trust
Cawthorne found himself in hot water again more recently when, by his own admission, he hijacked the name of a licensed company that belongs to Marcus Bruno, a senior aide to Lafayette Mayor-President Joel Robideaux.
Cawthorne needed a license to repair a flood-damaged home in Denham Springs following the 2016 floods. By then, he had worked with Bruno on Gideon Grove over a span of two years, according to building permits, and he decided to borrow Bruno's license without permission.
The state licensing board in 2014 had charged Cawthorne with working without a license on the Gideon Grove project, and in 2017, the board charged him with the same offense for his work in Denham Springs job, in addition to false representation for appropriating Bruno's license.
Bruno told the licensing board he did not have "knowledge nor approve work performed by Roderick Cawthorne." Then he emailed a city-parish staffer to cancel some permits related to work in Gideon Grove that he had personally sought a few weeks earlier.
In an interview, Bruno said he had applied for the Gideon Grove permits at the request of Cawthorne's brother, attorney Quincy Cawthorne, a longtime friend.
"He contacted me and asked me to help work with his brother on a project," Bruno said. "When I found out that his brother was unlawful, I canceled everything on it."
Quincy Cawthorne, who is representing his brother in the St. Landry Parish criminal case, did not return a call from The Advocate.
Roderick Cawthorne admitted in an interview that he had wronged Bruno.
"I messed up with Bruno when I did the stuff in Denham Springs," Cawthorne said. "I violated Marcus's trust."
'He was nowhere to be found'
Today, a half-built home stands on one of the Gideon Grove lots for which Bruno received a permit, across the street from the Medinas. No work has been done on it for about three years, they said. Angie Medina said her 10-year-old son was injured last year, when he stepped on a nail that punctured his shoe.
"Every day I come in and see that crap across the street," she said. "I don't know if it's going to collapse."
The frame of another abandoned structure, this one with a collapsed wall, stands at the end of Sayfert Road. Cawthorne actually built a home on the lot more than a decade ago, but it burned down in 2008 in a fire that the Lafayette Fire Department determined was set intentionally.
The arson was never solved. Neither Cawthorne nor the buyer held insurance on the property, authorities determined.
Brianne Prejean, who was marketing Gideon Grove at the time, said Cawthorne had an amazing talent for winning people over, and a similar knack for losing them by disappearing.
"I've never met someone so deceitful and so charismatic," Prejean said. "He would go months sometimes where he was unreachable. He was not at his residence; he was nowhere to be found."
What's next for Gideon Grove is unclear. The company set to acquire the remaining land through bankruptcy proceedings wants to put it on the market. Bourque said he wants to stay at Gideon Grove, but for whoever takes it over to better maintain it. The Medinas are hoping to sell, but they are having difficulty attracting interest. 
The Medinas told Cawthorne of their intentions to sell at their impromptu meeting with him in January. He said they have the right idea. 
"Y'all should do that," Cawthorne said. "Y'all should get out."