Like many 21-year-olds, Kristen Hooper had a slim résumé when she was hired as a cadet at the Louisiana State Penitentiary at Angola. She'd spent three months working at Dillard's, two years as a part-timer at Angola's Prison View golf course and four months in a nursing program.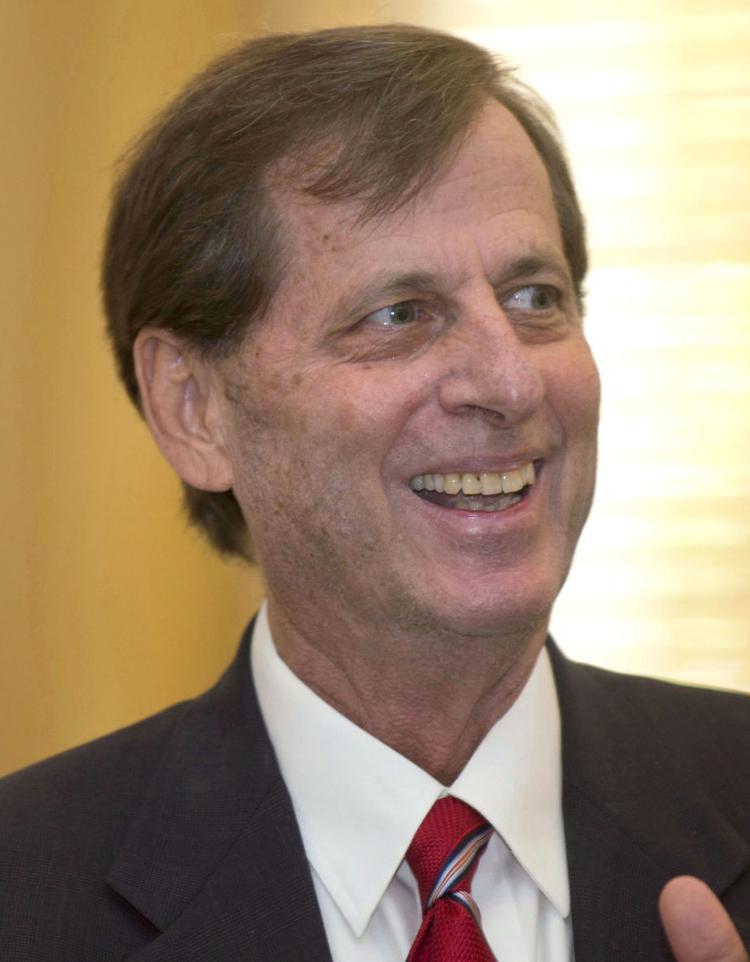 Still, her 2008 job application was eye-catching. Her references included her grandfather, then-Angola Warden Burl Cain; her mother, Amanda Cain Smith, who had recently left corrections after a 15-year career; and her stepfather, Seth Smith, now operations chief under corrections Secretary Jimmy LeBlanc.
Hooper rose steadily to become a captain in investigations at Angola. For one promotion, she provided a reference under the heading "professional": Kenny Norris, a nephew of Cain's by marriage. Norris, an assistant warden over investigations, was her boss.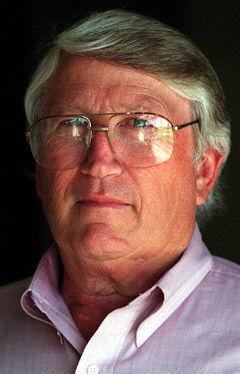 An Equal Employment Opportunity Commission form asked how she found out about the corrections job.
"Family," Hooper wrote.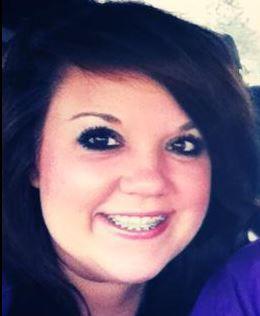 For a generation, the state corrections department has been dominated by two men: Cain, the swashbuckling longtime warden at Angola, and LeBlanc, his unassuming former subordinate and business partner who went on to become secretary, with Cain's forceful endorsement, under two governors.
The pair's ascendance began in the early 1990s, when Cain successfully urged then-Gov. Edwin Edwards to elevate Richard Stalder, another former underling, to secretary, a job Stalder would hold for 16 years before giving way to LeBlanc in 2008.
Over the past quarter-century, Cain and LeBlanc have populated the ranks of the Department of Public Safety and Corrections with friends and relatives, in positions high and low. Other kin and allies have found success in the private sector, supplying goods and services to an archipelago of prisons in a state that keeps more people behind bars than any other.
A series of scandals that began last year has shaken up a department that has historically kept its business outside public view. Cain, warden of Angola for two decades and perhaps America's most famous jailer, retired last year amid questions about his business ties to advocates for two state inmates. Other scandals have ended the careers of Cain's eldest son and daughter-in-law.
But LeBlanc has hung on. In reappointing him as corrections chief earlier this year, freshly minted Gov. John Bel Edwards made an extraordinary bet that LeBlanc can clean up the corruption that largely occurred on his watch.
And that's only the beginning. Edwards views the veteran corrections chief as the ideal man to lead a once-in-a-lifetime makeover of his department, an ambitious effort to end Louisiana's 18-year reign as America's prison capital. It would be a remarkable achievement, given that some of LeBlanc's key allies have benefited from the explosive growth in the state's prison rolls.
The ties that bind
The Department of Public Safety and Corrections is chock-full of relatives and friends of two men who have wielded enormous power there for the last quarter-century: Jimmy LeBlanc, secretary since 2008, and Burl Cain, who until last year was warden of the Louisiana State Penitentiary at Angola. Relatives of Cain and LeBlanc hold positions all over the organizational chart; other close friends and kin work in companies that do business with the department. A look at the connections:
Trouble seeing the graphic above? Click here
A tangled web
The familial connections Hooper cited on her job application are hardly unusual at the corrections department.
A diagram mapping the influence of LeBlanc and Cain shows about 20 of the men's family members stationed all over the corrections department or tied to it. Many hold key positions.
The chart could be mistaken for the invite list to a family Christmas party. Those on it include Cain's two sons — one of whom retired this year — and his son-in-law, who now reports directly to LeBlanc. Meanwhile, LeBlanc, who is entering his 10th year as secretary, has at least five nieces and nephews employed in the department, with one niece recently interviewing with him for a promotion to deputy assistant secretary and another niece serving as deputy warden of the state's prison for women.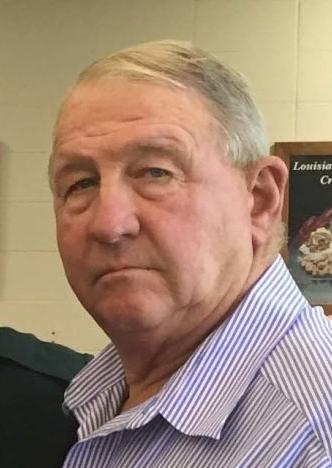 The blood ties in the department also extend to crucial power brokers outside of it. Cain's wife is a cousin of East Baton Rouge Parish District Attorney Hillar Moore, whose brother heads Prison Enterprises, the moneymaking wing of the corrections department. One of LeBlanc's nieces working for the department was, until recently, married to the son of West Feliciana Parish Sheriff Austin Daniel.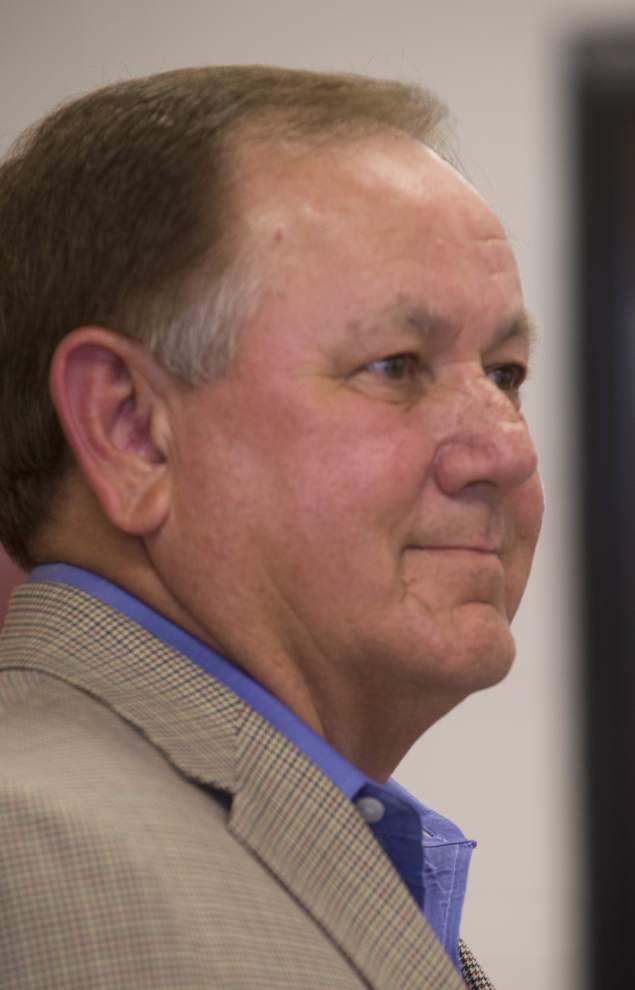 That son, David Daniel, worked for several years as a warden for a private prison company under contract with Austin Daniel's office. That firm, Louisiana Workforce LLC, is owned by Paul Perkins, a friend, former business associate and subordinate of Cain's and LeBlanc's. Perkins' operation, which depends on a steady flow of state inmates, also has employed Marshall Cain, Burl Cain's younger son, as a warden.
Austin Daniel said his son didn't begin working for Perkins until after he got an opinion from the state Ethics Board blessing the arrangement.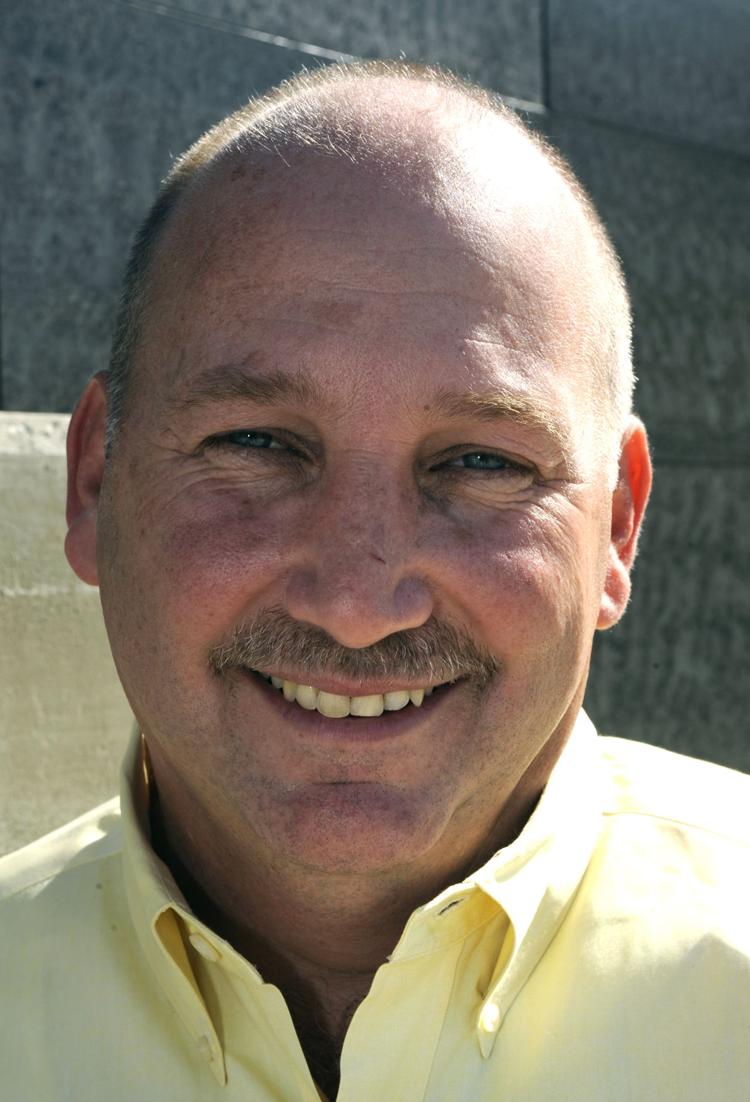 Another of LeBlanc's nieces, meanwhile, is married to Jerry Hebert, the principal of GraceHebert Architects, a large Baton Rouge design firm that has been awarded many projects for the corrections department, most recently the pricey renovation of an old police building in downtown Baton Rouge. Hebert's daughter and son-in-law hold high-ranking positions in the corrections department — in fact, his son-in-law is business manager for Prison Enterprises, which will occupy the building Hebert is renovating.
Beyond that, GraceHebert has made millions from sheriffs and parish governments designing the local jails that house so many of the state's prisoners; its portfolio includes about 15,000 beds in lockups and prisons, nearly a third of the state's capacity. Hebert, LeBlanc and Cain may have seen one another as business partners at one time: In 1997, the trio visited Mississippi to pitch local officials on a private prison.
Most of the entanglements, though head-spinning, do not run afoul of state ethics laws on nepotism. Under Louisiana law, the head of any state agency may not have any of his or her immediate family members serve in any role in that organization. Similar prohibitions extend to private contracts.
Immediate family members are defined as spouses, daughters, sons, mothers, fathers, sisters or brothers, as well as their spouses, meaning daughters-in-law, mothers-in-law and so on. There are no regulations at all on dealings with nieces, nephews, cousins and grandkids, interactions that are commonplace in the corrections department.
The cobweb of kinfolk crisscrossing the organizational chart of Louisiana's correctional department may be perfectly legal, but it's a sore point among employees, many of whom have complained to The Advocate anonymously about relatives and allies of Cain and LeBlanc getting special treatment.
But LeBlanc says no one in corrections, to his knowledge, has gotten a leg up because of a family connection. He says there's a long and benign tradition of generations of families working in corrections.
His wife, Sarah, worked in corrections, and so did many of her relatives, including her grandparents. And LeBlanc was raised in the "prison community" of St. Gabriel, where he got his start in corrections in the mid-1970s.
"After 42 years, probably some of my relatives are going to end up in the department, you know?" he said in an interview.
His boss, the governor, likewise brushes off the glut of relatives in the corrections agency.
"Just like you have multigenerational members of families who go into teaching, or nursing, or in my case, law enforcement: People who grow up in the corrections field in many cases tend to stay in the corrections field from one generation to another," said Edwards, who comes from a family of sheriffs. "I certainly don't believe that's worthy of, or grounds for, excluding someone from consideration from being secretary."
He added that civil service should protect corrections employees from unfair treatment.
But watchdog groups frown on the pattern. Even if it doesn't violate the law, they say, the practice nonetheless can send a toxic message that family members have an inside track.
"A government agency should promote a workplace environment that fosters fairness in hiring, promotion and opportunity, as well as an open ear to constructive criticism," says Robert Travis Scott, president of the nonpartisan Public Affairs Research Council. "A privileged class of connected people in agency affairs would work against this goal, whether intentional or not. There are too many discomforting signs that this may be happening in the spheres of influence of state corrections."
He added: "Just because it doesn't violate the law doesn't mean it's a good government practice."
Scott said he thinks the past year's revelations should register as a red flag to Edwards, and he suggested an independent professional evaluation of both the corrections department and "affiliated institutions" might be in order.
A rough year
The message that some folks have an inside track has gotten a boost from the scandals of the past year, many of which have centered on well-connected people in and around the department.
The revelations started in late 2015, with a report in The Advocate showing that Cain had had large-scale business dealings with people close to two state inmates, in apparent violation of departmental rules.
In one case, Cain had recommended that a double murderer, Jason Lormand, be allowed to work at the Governor's Mansion, typically seen as the likeliest means to a gubernatorial pardon. A couple years later, Lormand's father-in-law bought into in a real estate venture spearheaded by the warden.
That news — which led to Cain's resignation after 20 years as warden — was followed by a steady drumbeat of unflattering stories.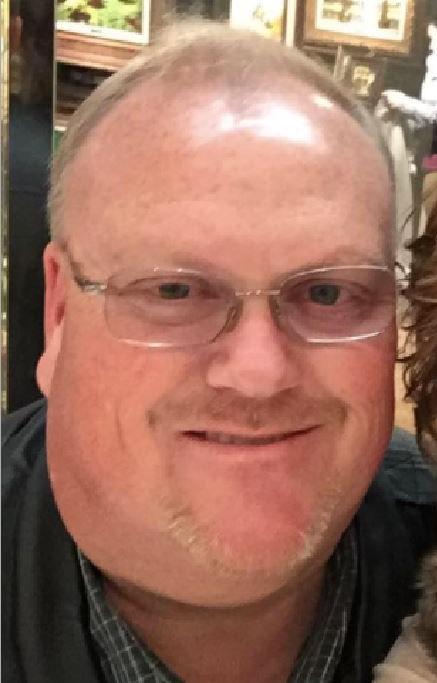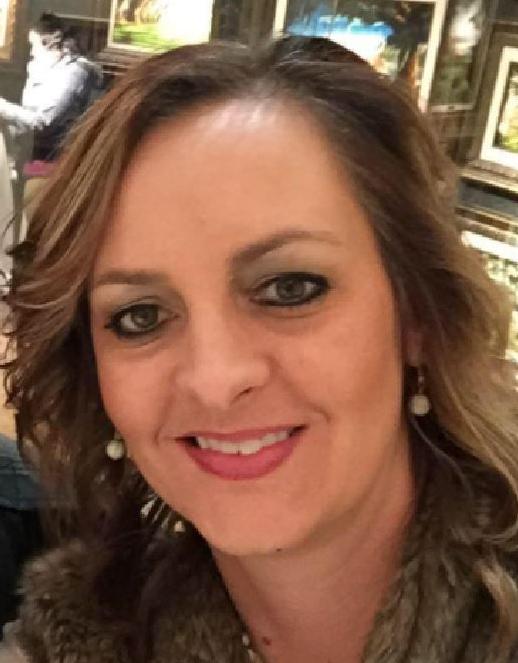 One of the first involved Cain's eldest son, Nate, then warden of Avoyelles Correctional Center, who spent upward of $75,000 with a state credit card to build a house that sources at the prison said he hoped to live in. Nate Cain made the purchases in small increments, thus avoiding bid-law thresholds, in violation of state policy. Corrections officials told the newspaper in May the building was not authorized.
Nate Cain also was accused in June of torpedoing an investigation into a rape accusation against a guard at his prison. Meanwhile, Nate Cain and his wife, Tonia, then the prison's business manager, were separately accused by auditors of using state credit cards — in the names of subordinate employees — on a raft of personal purchases.
And Tonia Cain also has been accused of stealing vending-machine cash that was designated to benefit inmate clubs. An audit said at least $30,000 was missing. A grand jury in Avoyelles Parish will take up Tonia Cain's case on Jan. 19, according to 12th Judicial District Attorney Charles Riddle. Both Tonia and Nate Cain have retired from the corrections department.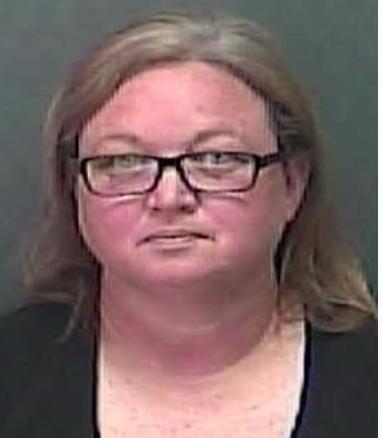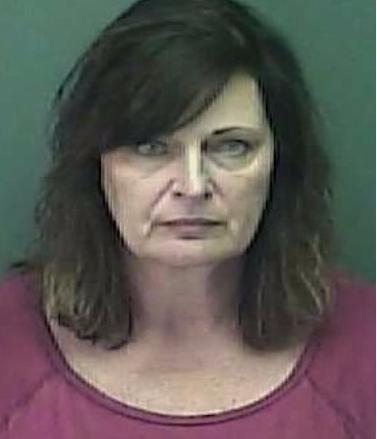 Remarkably similar scandals soon popped up at Angola, where this fall, two high-ranking officials resigned their jobs and stepped down from their positions overseeing a recreational fund benefiting the maximum-security prison's nearly 2,000 employees and their families.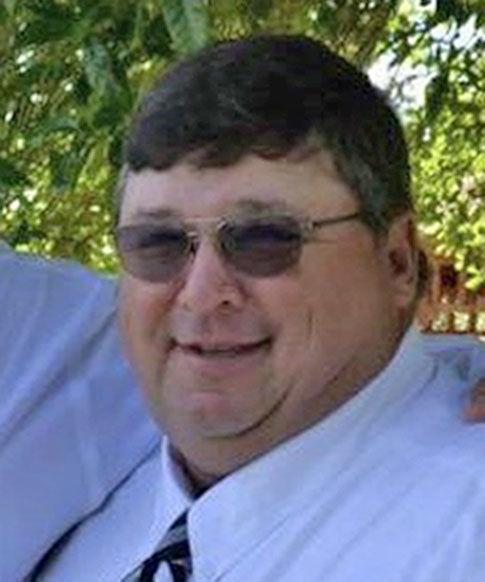 The officials stand accused of looting more than $160,000 from the fund, which took in most of its money from concession sales at the prison's famed rodeo, over a period of years. During the rodeo's October run, the booths for another employee club, the volunteer fire department, were shut down amid allegations that its bank account also had been treated as a slush fund.
Though the accused employees in the recent Angola scandals did not have familiar last names, all three were well-connected to corrections brass. State theft charges have been filed against the two employees fingered in the missing recreation money: former Col. Shirley Whittington and former Lt. Col. Deborah Leonard, both of whom pleaded not guilty in state court on Thursday.
Meanwhile, the FBI has begun its own investigation into some of the same revelations, according to prison sources.
A common theme among the unflattering revelations of the past year is that it has often taken outsiders — whether reporters, auditors or law enforcement — to expose the problems within the corrections department.
LeBlanc, the corrections secretary, said in an interview with The Advocate that he was frustrated to learn about some scandals within the department from the press or from government auditors. Ideally, employees would have reported misbehavior to their superiors.
"Why didn't we know that? I should have known that," he said of some of the revelations of the past year. "Why did I have to have someone tell me that?"
In response, LeBlanc said he has created groups of employees who are supposed to provide unvarnished feedback to brass, to better understand what the rank and file is feeling.
But some employees say privately they don't always trust the leadership to root out misdeeds by pals or relatives. In some cases, officials have seemed to excuse the misbehavior being examined.
For instance, an investigation into possible payroll fraud by Kenny Norris, the former assistant warden over investigations at Angola who is related to Burl Cain, found no wrongdoing even though Norris was recorded as being at work during at least a week when he was in the hospital. Norris blamed Hooper, Cain's granddaughter, for filling out his timesheets incorrectly.
Likewise, a probe into work done on Cain's home by correctional employees came back clean. Investigators found that all of the employees had been off the clock and that Cain had paid them, but two employees told The Advocate they had done work for free — unwillingly — and had never been interviewed by the investigators.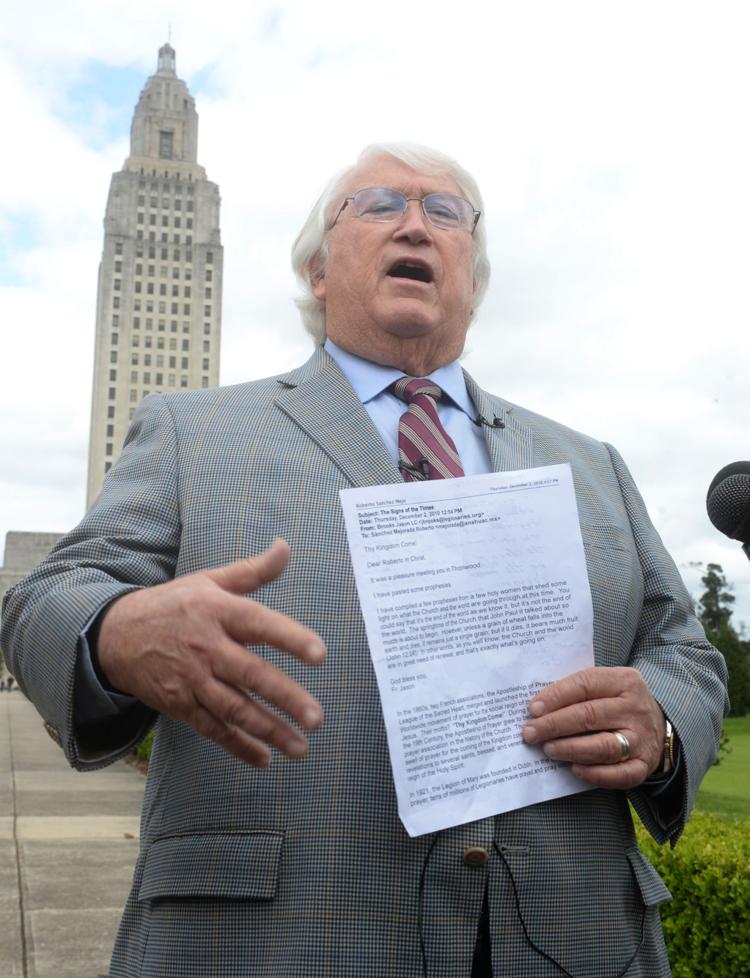 The internal investigation into Cain's business dealings also cleared Cain, even as it conceded that if the rules were read literally, Cain "would appear" to have broken them. And it went on to recommend that in the future, employees be barred from doing precisely what Cain did. The report's justification for clearing Cain was that the wording about "nonprofessional" relationships had long been understood to mean romantic relationships as opposed to financial ones — a finding scoffed at by many corrections employees.
The internal investigation's credibility wasn't helped by the glowing praise heaped on its subject.
"Cain's service is meritorious; he has a distinguished career that shows skill and progressive thinking in the Department of Corrections which has shown vision and experience like no other employee before," the investigation's author, Col. Joel Odom, wrote in one section.
Corrections capital
Amid this climate of audits and probes, there is a major push afoot to rethink Louisiana corrections, and LeBlanc, the embodiment of the department's old guard, is at its vanguard.
The reformers are focused not on ending nepotism or cronyism. Rather, the bipartisan group, with Edwards' enthusiastic support, hopes to dent Louisiana's spectacular imprisonment rate, and LeBlanc has been anointed its leader.
It will be a long journey. On a per-capita basis, Louisiana locks up far more of its citizens than any other state. Louisiana's imprisonment rate is almost a third higher than the No. 3-ranked state, Alabama, according to the most recent data. It's double the U.S. average and exceeds that of any nation in the world.
Trouble seeing the graphic above? Click here
Louisiana also has long led the nation in yet another unfortunate but lesser-known metric: the share of its state prisoners who are doing their time in local jails. In 1986, 21 percent of Louisiana inmates serving state time were housed in local jails; now, it's 54 percent.
It matters because jails aren't required to offer inmates much in the way of rehabilitation. Unlike in prisons, there are generally no job-skills classes in jails and little help with anger management or substance abuse. LeBlanc describes the typical local jail as "lock and feed."
As a result, jails are cheaper. Louisiana taxpayers spend about $52 per inmate per day for a prison bed — far less than most states. But the state pays sheriffs just $24.39 per day for each inmate in a local jail, a rate that hasn't been adjusted in seven years.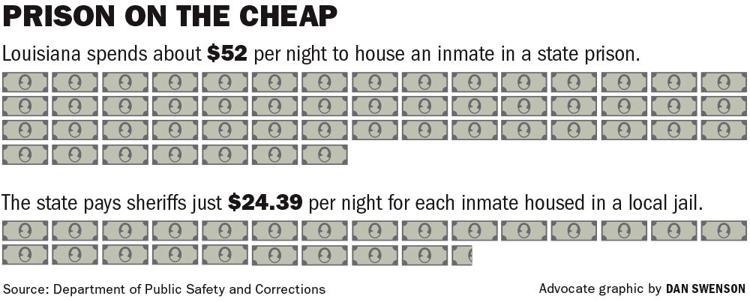 It wasn't always this way. Three decades ago, as Louisiana officials struggled to meet the conditions of a federal judge's ruling that the state's prisons were too crowded, they came up with the money-saving gambit of putting state inmates in local jails.
So the state began signing contracts in which corrections officials promised to fill beds in yet-to-be-built jails, and many Louisiana sheriffs used the deals to get financing for a jail-building boom.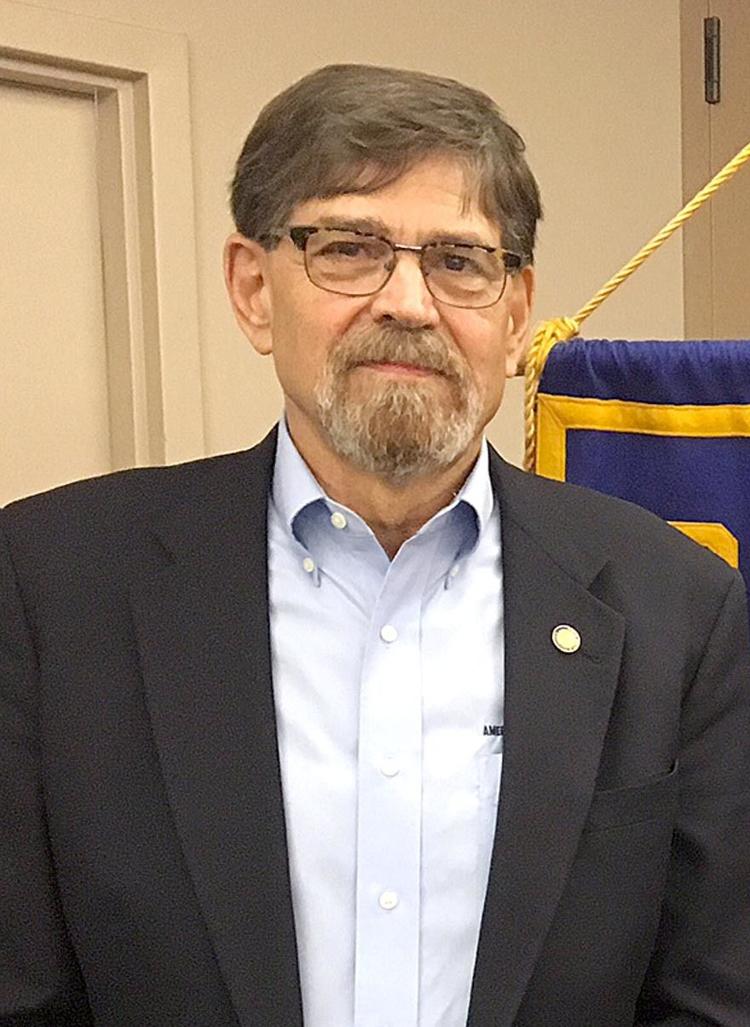 The local-jail solution, largely the brainchild of Stalder, has resulted in closer ties between the corrections department and local law enforcement. So, too, has the growth of work-release programs that allow sheriffs' offices to profit handsomely from the wages of state inmates.
Over the past quarter-century, the Stalder-Cain-LeBlanc triumvirate has enjoyed strong backing from the powerful Louisiana Sheriffs' Association, a key support bloc for most Louisiana governors, including the current one.
After his surprising win last year, the governor chose Mike Ranatza, director of the sheriffs' group, to lead his transition team on criminal justice. Ranatza — whose wife is Sheryl Ranatza, a former deputy of Cain's who now heads the state's Pardon and Parole Board — made an impassioned pitch to retain LeBlanc.
If the sheriffs serve as the corrections secretary's political patrons, they hope in return that they'll have his ear — especially those ones who run jails that depend on a steady supply of state inmates.
For ultimately, LeBlanc controls the spigot, as a December 2015 email from St. Charles Parish Sheriff Greg Champagne to LeBlanc demonstrates.
"I would like to discuss the possibility of receiving more state sentenced inmates," Champagne wrote. "I have resisted complaining about this for some time, but over the past several months it seems that we have been completely shut out from receiving any despite the fact that St. Charles Parish has a cooperative endeavor agreement executed as part of the original package to assist us in retiring our bond debt to build our facility in 2001."
In an interview with The Advocate, Champagne said the state hasn't been coming close to meeting the promise it made him 15 years ago: to keep at least 40 percent of the jail's 600 beds full.
Although an inmate shortage won't bankrupt a relatively well-heeled parish like St. Charles, it causes a real pinch on some small-town sheriffs, said Champagne, who has served as head of the Louisiana Sheriffs' Association and is now the head of the National Sheriffs' Association.
"Those sheriffs in rural areas where the revenues are really limited by agricultural economies — I know they would love to have more inmates because it helps offset their costs," Champagne said.
The change agent?
In the past few years, as a consensus has formed around the idea that locking up so many people is expensive as well as ineffective, Louisiana legislators have passed many reform-minded laws that have helped the state reduce its inmate population, if modestly, for the first time in decades.
A bigger push is in the offing. Edwards has given his full support to the Justice Reinvestment Task Force, a group chaired by LeBlanc and made up of judges, lawmakers, a sheriff and other community stakeholders that has been meeting since June. The group has been working with the help of the Pew Charitable Trusts to prepare a package of reform measures ahead of next year's legislative session.
The goal is to reduce the prisoner count — currently just over 36,000 — by at least 4,500 by the end of Edwards' first term as governor, which might allow Louisiana to shed its mantle as the most-imprisoning state.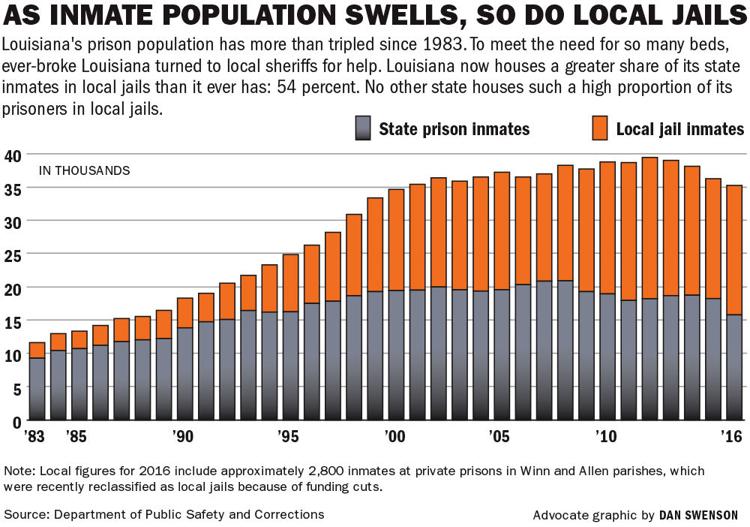 "Having been No. 1 for decades, and I know it doesn't seem like a very lofty goal, but No. 2 looks pretty damn good to me," Edwards said.
LeBlanc, 68, sees himself as the right man for the moment.
He touts his experience advocating for re-entry programs as warden of Dixon Correctional Institute in the late 1990s and early 2000s. He also served a stint running the department's probation and parole section — during which he realized parole officers tended to see their job as catching ex-offenders making a mistake, rather than helping them stay on the rails.
He said he has pushed to change that culture.
"I'm very passionate about this, I am," LeBlanc told The Advocate. "I'm very passionate about re-entry and doing the right thing. I think that drives me. I really want to see it through. I want our state to change."
"I don't want to be the prison capital of the world," he added. "That's horrible."
Others wonder whether someone who is so much a creature of Louisiana's incarceration industry can be the change agent who will fix it. His career in corrections, after all, has coincided with runaway growth in Louisiana's inmate population. And during much of that time, LeBlanc and his allies have been running a department defined by insularity.
"You know, there's a lot of management philosophy that says nobody ought to be in charge of anything for more than about 10 years, because you can form these alliances that can perpetuate bad practices," said Burk Foster, a former professor of criminal justice at University of Louisiana at Lafayette who has written books about the state's correction apparatus. "And that could be true here. There's no influx of outside ideas. If you look at the people making decisions today, it's all people who came up in the department."
The governor, however, is confident LeBlanc is the right man to lead Louisiana corrections to a better place.
"One of the primary reasons the stars have aligned for this comprehensive reform effort is because of Secretary LeBlanc's leadership," Edwards said in a speech to the task force earlier this year.
Asked whether he believes Louisiana's ambitious de-incarceration effort rests on LeBlanc's shoulders, the governor paused before demurring.
"No, I think it rests on my shoulders," Edwards said. "But he's the guy that was at corrections developing the expertise, the experience. He's the chair of the task force. And he's my partner in making sure that we're successful."
Edwards isn't the only supporter of incarceration reform who sees LeBlanc as virtually indispensable. A number of people behind the effort describe the corrections secretary as a committed go-between who boasts unique credibility with groups across the political spectrum.
State Rep. Walt Leger, D-New Orleans, a key Edwards ally who authored the resolution creating the task force, credited LeBlanc with being a "strong leader" who has shared data with the group and invited scrutiny of correctional practices.
"My belief is that as long as he is the secretary, we have a strong advocate in corrections for making the necessary reforms and moving things in the right direction," Leger said. But if LeBlanc could no longer lead the effort, Leger added, "I would expect that the governor would look to find a similar secretary that would share his views on this — that we need to have real reform here."
Some observers, the corrections expert Foster among them, have a hard time seeing LeBlanc as an instrument of change — in part because of his entrenchment in a system he helped to build.
"He has so many associations with so many of these folks, going back for such a long time, that it's hard to see him kind of boldly changing patterns of behavior among his own officials — as opposed to tolerating it," Foster said. "It's also hard to see him as a change agent in terms of the (corrections department's) relationship with the sheriffs — you know, moderating their influence over the system — and with the Legislature, which made the laws that created the system we have today."
Scott, of PAR, wonders if the corrections department is prepared in its current state to implement the ambitious overhaul that the task force seems to have in mind.
"The current situation raises a big question: Is this institution, from top to bottom, ready and flexible enough to do its part in making the transformative changes necessary to lower Louisiana's rates of incarceration and recidivism?" Scott said. "This is an enormous and challenging task."