Joined by her friends, a young woman approached Ja'Kyrie Clark's mother Monday evening at Moore Park where her 19-year-old son had been killed by gunfire four days prior. 
Clark's girlfriend handed his mom a dozen white roses and a custom-made teddy bear with a sound box that said three words in Clark's voice: "I love you."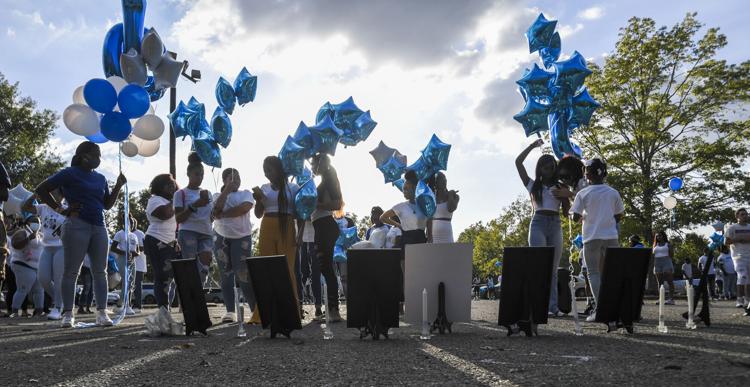 It was one of many moments Monday evening where Cassandra Douresseaux found herself overwhelmed by grief and gratitude. A few hundred people, dressed in blue and white, had gathered at Moore Park an hour earlier to pay tribute to her son's life.
"My baby left me at a young age," Douresseaux said through tears. "I miss my child."
Friends and family spoke and sang, lighting candles beside framed photos of Clark before releasing blue and white balloons into the sky as the sun set.
"This was actually an illustration of what we've been trying to portray, what we've been trying to tell," said a family spokesperson after the event. "This is who Ja'Kyrie was. He was that person that made everybody laugh, and by everyone coming out today — it's just a testament of exactly who Ja'Kyrie was, who he is. And that is what we would like y'all to continue."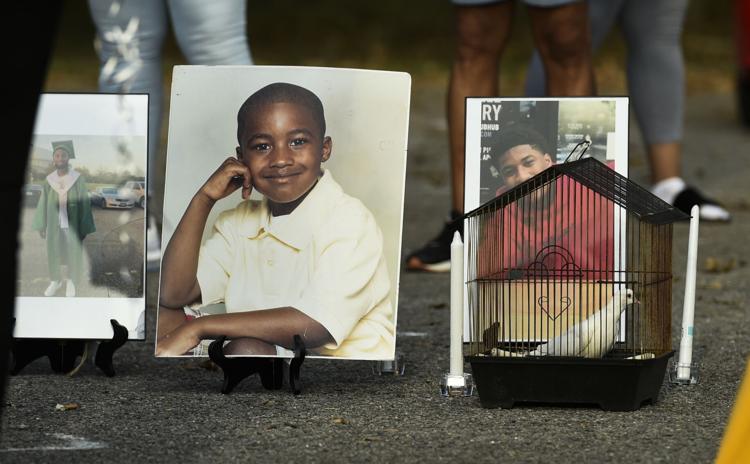 Clark was one of two people who lost their lives in an overnight shooting last week at the soccer park in north Lafayette. Nathaniel Sharply, 18, also of Lafayette, died from injuries at a local hospital. An 18-year-old Opelousas man was also injured in the shooting and was in stable condition at a local hospital as of Thursday while a 20-year-old Lafayette woman was injured and later released from a hospital.
The incident happened around 1 a.m. Thursday on the northern side of Moore Park in a parking lot accessible by West Pont des Mouton Road. Police are still trying to determine how many shots were fired and whether there was more than one shooter. No arrests had been made in the case as of Tuesday afternoon.
Ja'Kyrie Clark's father, James, said a few words to the crowd gathered for his son Monday evening. He said that he, like his son, was shot at the age of 19.
"It's sad because at 19 I was shot in the face; that's why I talk like this," James Clark said. "It's sad because 20-something years later, my child gets shot and died at 19, you know?"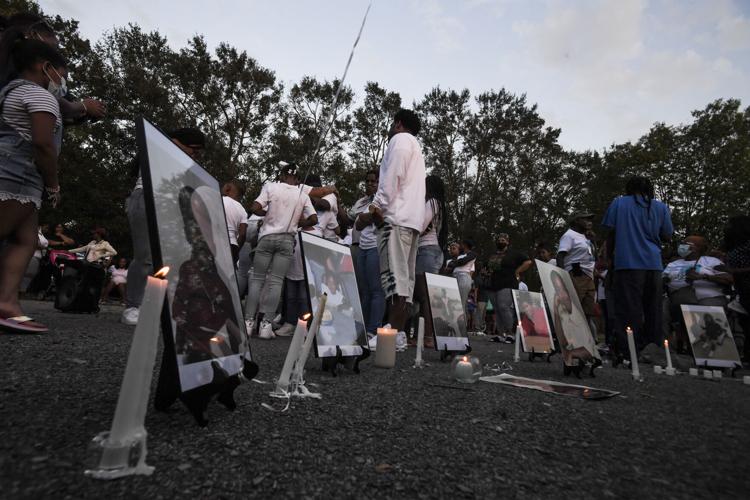 Treles Hubbard, James Clark's sister, said she awoke to a call at 3:25 a.m. Thursday. It was her brother calling to say that her nephew had been shot.
Hubbard remembered her nephew fondly Monday evening, saying his biggest hobby was eating. His go-to restaurants were Waffle House and Raising Cane's. Ja'Kyrie Clark also loved to play basketball.
"He always smiled," Hubbard said. "You'd hardly ever see him with a frown."
Hubbard said her nephew was on "a rocky road" for a while but graduated from Lafayette High School earlier this year and was attending South Louisiana Community College, where he was studying to become a welder.
"Ja'Kyrie was my favorite cousin," one child said into a microphone Monday evening. "We used to talk every day, and I think about him coming back. I text him but get no responses.
"I love you, Ja'Kyrie."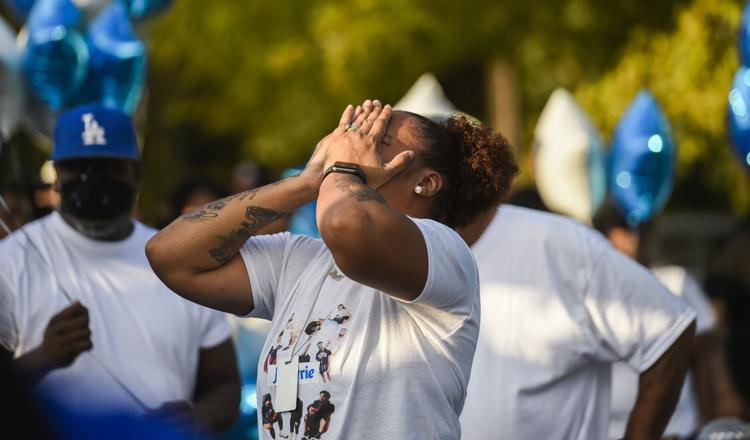 Advocate staff writer Katie Gagliano contributed to this report.
This article has been edited to reflect that Ja'Kyrie Clark graduated from Lafayette High School, not Acadiana High School.