Brycen Stubbs first witnessed a fatal overdose was when he was only 22 years old. 
After a night of partying, he and his friends awoke to find their friend not breathing after overdosing on oxycodone pills the night before.
"I'll never forget it," he said. "Because when the cops came in and got the body, it was like there were no questions. There was no, 'What happened here?' It literally felt like they were just picking up another junkie."
Stubbs, who had been using drugs since he was a teenager and is now in recovery in the Lafayette area, said he knew about 12 people who died from overdosing on opioids.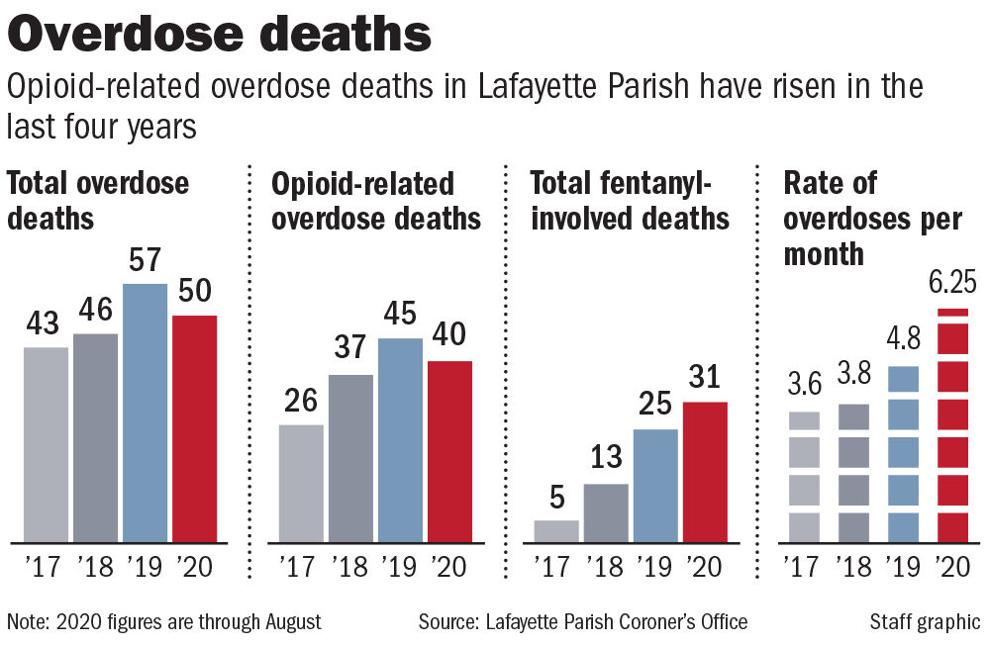 Randy Lambert, also a recovering opioid user in Lafayette, said he has known  dozens who died of opioid overdose.
"It's kind of hard to deal with because the person was there and doing well and then they're now dead," said Lambert. "I mean, it's the empty chair that they sat in at the meeting. It's the coffee shop seat that they were at whenever we were hanging out. It was a restaurant that we used to go to all the time...It's so much more than just a person, and now we're left with the memories of the person that used to be."
Both said they are sharing their stories to bring awareness to deep-rooted issues of opioid addiction. In Lafayette Parish and across the state, opioid-involved overdose deaths are rising, according to data from the Lafayette Parish Coroner's Office. Already there have been 40 opioid-related overdose deaths in the parish through August after 45 were reported all of last year.
Opioid-related deaths make up 80% of the 50 total overdose deaths so far this year, and Lafayette Parish is set to see an increase in overall overdose deaths from last year's total of 57, according to Lafayette coroner Ken Odinet.
The area, he noted, has become a hub for heroin and fentanyl.
Overdoses in Lafayette Parish may also be significantly higher than the data shows, according to Mark deClouet, psychiatric nurse practitioner at Axis Behavioral Health and Recovery, because many overdoses are not fatal. Because the coroner's office only investigates overdoses involving death, there is no record for just how many opioid related overdoses there are within Lafayette Parish.
The number of opioid overdose incidents are much higher, Odinet said. Emergency rooms are seeing overdose victims frequently.
"This is just the tip of the iceberg," Odinet said. "It's much worse than you see here."
The fentanyl factor
Fentanyl, a synthetic opioid that is 80-100 times stronger than morphine and significantly cheaper than heroin, is also creating more opioid-related deaths in Lafayette Parish. Overdose deaths involving fentanyl through August numbered 31, already a 24% increase from the total fentanyl related deaths in 2019, according to data from the coroner's office.
Fentanyl related deaths have climbed rapidly in Lafayette Parish over the past three years, from 11% of all overdose deaths in 2017 to 62% so far this year. Across the country, that number has exploded as well with the number of deaths in 2015 doubling the total in 2014, the CDC reported.
Often what opioid users think is heroin is actually only a small amount of heroin laced with mostly fentanyl, Speranza said. 
It's a big reason why the fatal overdose rate in increasing, Lambert said, since most heroin on the street is laced with fentanyl.
Opioid-related deaths in Lafayette cross many age groups, ranging from 20 to 70. Care Speranza, regional director for Woodlake Addiction Recovery Center, said that opioid users come from all walks of life, from 17-year-olds to soccer moms.
The coronavirus pandemic, and the stress and isolation that came with it, has likely exacerbated opioid use. Many treatment centers were forced to close their doors, and in-person meetings were halted.
"This has been a perfect storm, this pandemic," Speranza said. "We've seen so many relapses and deaths of people with long-term sobriety. Just the stress of this pandemic has resulted in relapses because they have not been able to have their meetings."
Across the nation, states are showing a noticeable rise in overdose deaths during the pandemic, erasing the national decline in the opioid crisis, according to reports from The New York Times. Drug-related deaths have risen 24% in Louisiana, the data shows.
Lambert said about five people he knew relapsed and died from fatal overdoses in the first months of quarantine.
"The repercussions have been astounding," Lambert said. "A lot of people just can't deal with everything being turned upside down," said Lambert.
And while the pandemic has opened doors for telehealth, recovery often relies on fellowship and community, which has been limited to meeting only through Zoom or over phone, deClouet said.
A continuing problem
Across the state, opioid involved overdose deaths went up 25% from 2018 to 2019, according to the Louisiana Department of Health's data. Statistics from the Louisiana Opioid Data and Surveillance System show that drug involved deaths skyrocketed in May during the height of the pandemic, with 185 deaths after reporting 104 in May 2019.
The numbers have been rising for years. Opioid-involved deaths went up 267% between 2012 and 2019, according to data from the Louisiana Department of Health.
Plaquemine mom April Gomez's son, Bryce, died from an opioid overdose at 21. She admitted she never anticipated something like that would happen to her family and when his former girlfriend came to her about Bryce's addiction struggles, she initially didn't believe her.
She has since created a memorial fund in his honor to help other families.
"This can happen to anyone," Gomez said. "If it can happen to Bryce, it can happen to anyone."
Part of the problem, Speranza said, is the lack of education among doctors about prescribing strong opioid medications.
Or, as Stubbs claimed, sometimes doctors can even be the ones using opioids and other illicit drugs. His former heroin dealer, he alleged, was selling to several staffers at a Baton Rouge hospital.
"We live in this community where we appreciate and celebrate culture very regularly," deClouet said. "Growing up around mind-altering substances like alcohol is super common, right?. It's hard for somebody in recovery to exist in this community. So we need to figure out ways in which we can be more accepting and decrease stigma."
More access to care and an overall awareness of opioid abuse is needed to reduce the number of deaths, experts say. Louisiana is behind in terms of providing access to care, deClouet said.
One way is to increase access to buprenorphine, which is used curb the need for opioids in patients and decrease overdose, he said.
Another is addressing the stigma of opioid use and addiction, Speranza said.
"One of the biggest things is taking the stigma off and really understanding that these are individuals with needs and the way to really treat it is with compassion and empathy and making sure that they have services," she said. "You know we don't hide cancer, we don't hide diabetes. We've got to be willing to talk about it."
Recovery, according to Stubbs, is not always just about stopping drug use. Often it requires learning how to "relive" after the 28 days in rehab, and it's the post-rehab days where "the work really begins," he said.
More awareness is needed, deClouet noted, since many of the people struggling with addiction is "your neighbors or your brother or your cousin."
"The community should be asking ourselves," deClouet said, "especially a community like Lafayette who prides itself on figuring out creative ways to solve problems, that we pride ourselves on community and coming together and supporting people through times of need. How are we going to do this with this [the opioid] problem?"