The Diocese of Lake Charles joined its six Louisiana counterparts three months ago in releasing a list of clergymen from its jurisdiction who have been "credibly accused" of sexually abusing minors. The lists were intended to answer nationwide public demands for accountability and transparency.
But although the Lake Charles list named predatory priests, it did so in a way that was less than transparent.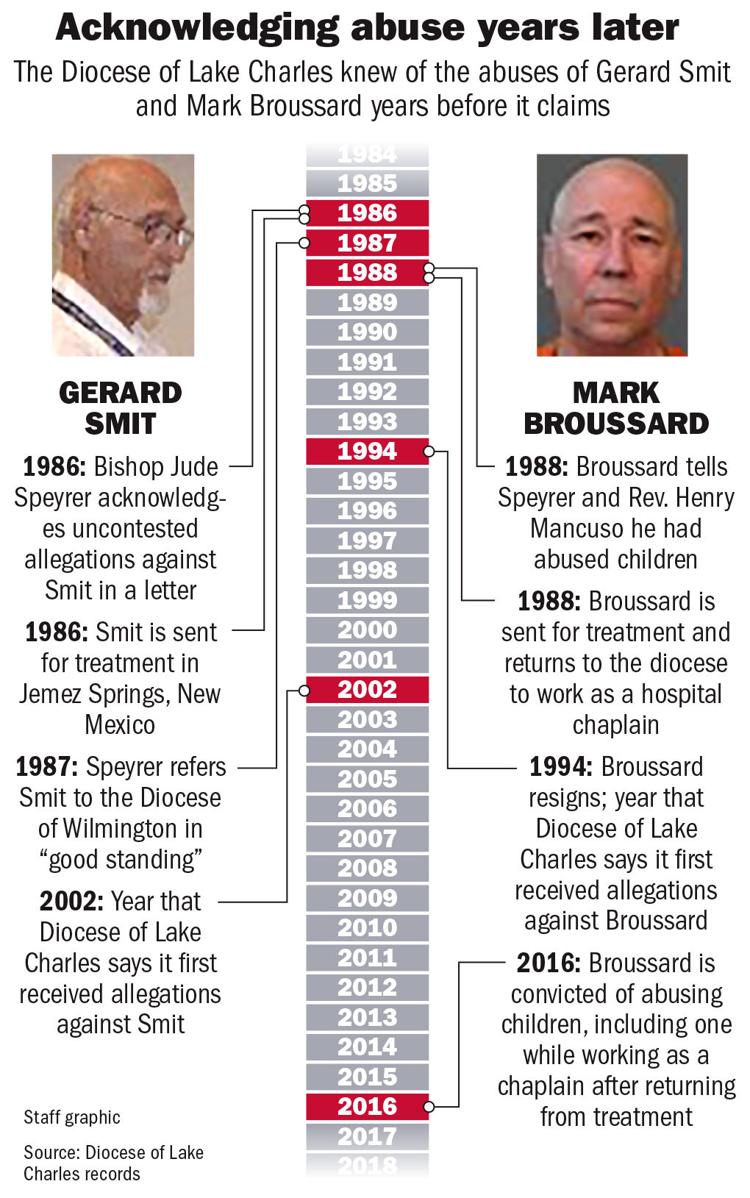 Church officials learned of the abuses of two priests, Gerard Smit and Mark Broussard, years before the dates shown on the new list, records show. The discrepancies conceal periods in which the bishop at that time, Jude Speyrer, and others were aware of allegations and helped abusers continue their pastoral careers.  
Current Lake Charles church leaders say the "dates allegations received" entries reflect when victims put accusations in writing. That threshold was intended to ensure a consistent standard and not to deceive the public, church officials told The Advocate. But it also overlooks clear evidence that the bishop and others knew of abuses and failed to act.
Speyrer, for example, acknowledged in a 1986 letter that he had recently received a complaint that Smit "had been involved in some improper fondling of some small girls about twenty years ago" — in the mid-1960s, in other words — and that Smit did not deny it.
So Speyrer sent Smit to a Catholic-run psychological treatment center in Jemez Springs, New Mexico, and then referred Smit to the Diocese of Wilmington, Delaware, the next year "in good standing."
Nonetheless, the diocese's list says it first received allegations against Smit in 2002, making no mention of the allegations Speyrer received 16 years earlier.
In 1988, two years after Smit was treated in New Mexico, Broussard, the other of the two priests, was shipped to the same facility. That's the year Broussard has said repeatedly that he admitted his abuses to diocesan officials.
However, the new diocesan list says church officials first received allegations against Broussard in 1994, six years after he was sent away for treatment. During that six-year span, Broussard worked as a Lake Charles hospital chaplain and as pastor at St. Eugene Church in Grand Chenier.
Allegations later surfaced that Broussard abused children in both of those assignments.
"To me, the crime is not just what Father Smit did and Father Broussard did and all these others. The crime is also in the cover-up and in the way it was handled," said a woman, now in her 60s, who said she told the diocese in 1986 that Smit had repeatedly molested her and others two decades earlier. She did not want to be named.
"Of course, we haven't seen those lists — of who had a part in covering up, who had a part in making those decisions," she said.
The Catholic Church has improved its handling of allegations since adopting reforms in 2002, but bishops have resisted laying bare the actions they did or didn't take in response to abuse allegations prior to that, according to the National Review Board, a lay advisory panel.
"It remains clear that some bishops have escaped the consequences of their acts of omission regarding abuse, and that little is being done to address this injustice," the National Review Board chairman, Francesco Cesareo, told church leaders in a speech late last year.
Cesareo urged bishops to be transparent about the handling of allegations, in addition to identifying known abusers. The Louisiana dioceses partially heeded that call over the past year, but the lists of accused clergymen include scant information about how allegations were dealt with.
Lake Charles church officials repeatedly declined in an interview to discuss Speyrer's handling of abuse cases, while highlighting that the diocese's current "zero-tolerance" policy ensures automatic removal of credibly accused priests.
"We can't speak to what the previous bishop may or may not have known, and the previous bishop is deceased," said Rev. Jeffrey Starkovich, the diocese's spokesman and vocations director.
Smit and Broussard had been exposed as abusers long before the diocese released its list. Smit has never faced criminal prosecution, but the Diocese of Wilmington identified him on its list of credibly accused clergymen in 2006. Smit landed on the Wilmington list after a man told the diocese that Smit had abused him at St. Anne Church in Youngsville in the early 1960s.
Broussard, meanwhile, was convicted by a Calcasieu Parish jury in 2016 of five counts related to sexually assaulting minors, and he is now serving two life terms plus 55 years at the Louisiana State Penitentiary at Angola.
However, the men who knew about their abuse and allowed them to continue in the ministry have not faced the same public scrutiny. In addition to Speyrer, they include the Rev. Henry Mancuso, a well-known retired priest who comes from a prominent Lake Charles family. Mancuso arranged for Broussard to work as a hospital chaplain after Broussard disclosed to Mancuso in 1988 that he had abused several children, according to Broussard's statements to church officials a decade later.
Mancuso, reached by telephone, refused to discuss his 1988 conversation with Broussard, though he did acknowledge trying to help the predatory priest.
"I did whatever I could do to help him move beyond his time at the place in New Mexico," Mancuso said by telephone.
Asked if that had allowed Broussard to continue abusing children, Mancuso said he didn't know. The Broussard case is "old history," Mancuso said before hanging up.
"He's in jail. He's paid for whatever crimes he's committed," Mancuso said.
'A damn lie'
The New Mexico treatment center and others like it played key roles in a "script" that many dioceses followed in the 1980s to hide abuse, according to the Pennsylvania Attorney General's Office's grand jury report last year. The treatment centers "laundered accused priests, provided plausible deniability to bishops, and permitted known offenders to return to ministry," the report said.
Speyrer requested that Smit be admitted to the treatment center in a 1986 letter that referred to the uncontested allegation of "improper fondling" of young girls.
(See Speyrer's letter to New Mexico treatment center)
It was a precarious time for the young diocese, which had been carved from the neighboring Diocese of Lafayette just six years prior. By then, reporter Jason Berry had exposed a pattern of abuse by the notorious Lafayette priest Gilbert Gauthe, one of the first major child sex abuse scandals involving a Catholic priest.
The bishop was aware of the public outrage.
"Given the current atmosphere about pedophilia in Louisiana, and given the additional fact that I have reason to believe that some other activities may have gone on since then, I have spoken with Father Smit and told him that he should request a sabbatical leave for one year," Speyrer wrote to the treatment center.
On the same day, Speyrer wrote to parishioners at St. Raphael Church in the small Calcasieu Parish town of Iowa, where Smit was pastor, announcing Smit's upcoming sabbatical. The sabbatical was "for professional study and prayer" and "renewal," Speyrer wrote to parishioners, making no mention of the allegations against Smit.
Speyrer also wrote Smit that day, saying he'd "be happy" to refer Smit to another diocese.
"It would be preferable, when the time arrives, to apply to a diocese as far removed from here as possible, in order to avoid any resurgence of the complaints involved, which would cause even further pain both to yourself and to the diocese," Speyrer wrote.
(See Speyrer's letters to Smit and to St. Raphael parishioners)
The woman who says Smit sexually abused her as a child in the mid-1960s says her father informed the pastor at Our Lady Queen of Heaven Church at the time. Smit was gone from their lives soon thereafter, and she assumed for the next two decades he had been removed from the church.
The woman was shocked to learn in early 1986 that Smit was still a practicing priest in the diocese.
She figured records of Smit's past had been lost with the formation of a new diocese, so she arranged a meeting with the chancellor at the time, Monsignor Harry Greig, and made her complaint in person, she said.
Greig assured her Smit would never again be in a position to harm children, she recalled. That's when Speyrer sent Smit for treatment, requesting his admission with a letter that described the uncontested fondling complaint. It was shortly thereafter that Speyrer referred Smit for part-time work in the Wilmington Diocese. Twenty years later, in 2006, that diocese publicly identified Smit on its "credibly accused" list.
Her in-person allegation "was credible enough for you to get rid of him," the woman said. "Not get rid of him from out of the church, but get him out of your own backyard."
In a recent interview, Greig acknowledged knowing the woman but said he could not recall a 1986 meeting with her. As chancellor, Greig said he helped the bishop run day-to-day operations while serving as archivist. He said he was not involved in handling the Smit allegations.
"Bishop Speyrer was not one to share that type of information," Greig said. "It's easy to go back and point fingers, but at the time, I think he did the best he could. He was trying to do what he could to protect parishioners, to protect Father Smit, to protect the diocese."
An independent panel composed of a retired judge, retired sheriff and a lawyer compiled the Lake Charles list, including when the diocese first learned of allegations, said Starkovich, the diocese spokesman. He said the diocese would consider revising those dates if it learned of new documentation or evidence.
Asked if Speyrer's 1986 letter qualified as evidence, Starkovich said, "it's information."
"The information that's in the bishop's letter is the information that's in the letter," Starkovich said.
The woman Smit abused in the 1960s said she felt repeatedly burned by the diocese. Church officials not only looked past her father's complaints in the 1960s, but they also allowed Smit to continue working as a priest after acknowledging her 1986 complaint. She was hurt again in April, when the diocese's list seemed to airbrush her claims altogether. 
The Lake Charles list indicates Smit's abuses occurred in Youngsville and Cankton, both of which are in the Lafayette Diocese. The Lafayette Diocese found those allegations credible, but there is no reference to any abuse in Lake Charles. 
"That's a damn lie," said the woman, who was in Lake Charles when the abuse occurred. "When I read that, I couldn't even believe it."
Smit, now 95 and residing in Delaware, was sentenced to "a lifetime of prayer and penance," which under typical circumstances would mean he hasn't been defrocked and is subjected to church monitoring.
A woman who described herself as Smit's friend and caretaker said he was not able to speak with The Advocate, citing his age.
'Do you really want to go talk?'
The diocese's current chancellor, George Stearns, was one of two Lake Charles church officials present in 1998 when Broussard said he had come forward as an abuser a decade prior, in 1988, but had been discouraged from discussing it. Broussard told Stearns he initially spoke with Mancuso, who had recruited Broussard to the priesthood in the early 1980s while serving as the diocese's first vocations director.
"Henry Mancuso's response was, 'Do you really want to go talk?' " Broussard said, according to a transcript of his statements to Stearns. "I was distraught. I wanted to tell the bishop about this. The bishop was out of town, and (Mancuso) said, 'You really don't want to tell the bishop about this.' He suggested, 'Let's get you help; let's deal with this.' Everybody's response was always that."
Broussard told Speyrer anyway, but the bishop "really didn't want to hear about that," Broussard said, adding that Speyrer "put me under the seal of confession."
(See transcript of Broussard's statements)
Mancuso told The Advocate he too had spoken with Broussard in confession and therefore could not further discuss the 1988 conversation. 
Mancuso's memos from the time show that he took the lead in getting Broussard a chaplain job, working closely with hospital administrators at Memorial and Moss Regional in Lake Charles. The memos are contained in Broussard's personnel files, which law enforcement authorities obtained as part of his criminal case. It's not clear if the administrators were made aware of Broussard's history of abuse.
As a chaplain, Broussard lived at St. Henry Church, and a man later reported that Broussard had abused him dozens of times there when he was 6 and 7 years old. In a 2011 letter, that victim suggested an employee caught Broussard in the act in the St. Henry rectory, describing it as "a very monumental moment in this abuse."
"He thought we were alone until a rectory worker heard my cries and came to the lock(ed) door of Father Mark's bedroom and demanded that he open the door. They instructed me to go home immediately," the victim wrote.
Yet Broussard's assignments in the diocese didn't end there, nor did the abuse allegations. He transferred to St. Eugene Church in Grand Chenier, on the remote southwest Louisiana coast, in 1991. Allegations from that posting resulted in a Cameron Parish indictment in 2014 for molesting a juvenile. The Cameron Parish District Attorney's Office dismissed that charge in 2016, after Broussard's sentencing in the Calcasieu case.
Broussard resigned in 1994, the year the diocese now says it first received allegations against him. The resignation followed a written allegation that Broussard abused a 14-year-old boy in 1981, as Broussard prepared to enter seminary in his mid-20s. The list ignores the admissions made to Speyrer and Mancuso in 1988.
"We can't speculate on the nature of a conversation which was not recorded many years ago," said Starkovich, the diocesan spokesman, by way of explanation. "We are publishing verifiable information that we have about when we received an allegation from a victim."
Asked if there was any effort to talk to Mancuso about what Broussard told him in 1988, the diocese's vicar general, Ruben Buller, said that would have been within the purview of the independent panel.
"What they chose to do or not to do, we can't comment," Buller said.
The Advocate asked to interview members of the panel, but the diocese did not identify or make them available.
Speyrer appointed Greig, the former chancellor, to investigate the allegation that resulted in Broussard's 1994 resignation. Broussard told Greig then that he had admitted in 1988 to abusing children, first to Mancuso and then Speyrer, consistent with his statements to Stearns, according to Greig's written summary.
Broussard also mentioned his 1988 admission in his resignation letter.
(See Greig's summary and Broussard's resignation letter)
The allegation from Broussard's time as a chaplain resulted in one of his convictions. The other came from a man who testified that Broussard abused him in the 1980s while he was a student at Our Lady Queen of Heaven School in Lake Charles, where Smit groomed young girls for abuse in the 1960s. 
Another man testified that Broussard had abused him at Our Lady Queen of Heaven as well.
Another former student during Broussard's time at the school, who did not want to be identified, told The Advocate that Broussard abused him at that time, after the death of a close family member. His parents appreciated that Broussard seemed concerned about him, giving Broussard cover for his advances, he said.
Broussard abused a number of students at Our Lady Queen of Heaven, the man said, adding that school leaders either knew about it or turned a blind eye.
"They saw which kids were spending time with Mark Broussard," he said. "They never said or did anything. They never informed the parents. They never offered to help. They kept it all quiet, and they did all they could to protect Mark Broussard."