Lidiane De Souza trembled with joy at the Lafayette Regional Airport when she realized that her nightmare was almost over. A U.S. Immigration and Customs Enforcement van dropped her off Wednesday afternoon from the LaSalle Processing Center in Jena, where she said she had spent the past five months.
"I crossed the border to seek asylum at the end of April in Tijuana in California before they brought me to Louisiana," she said in Spanish. "I had to wait for so long before my process was completed, but now I have my papers. I still can't believe that I am meeting my family in South Carolina."
De Souza, who left Brazil to escape poverty and violence, was not alone. Every day last week, ICE vans dropped off asylum-seekers at the Lafayette airport. It was part of a new effort to improve the release process from the Louisiana detention facilities that house thousands of immigrants in Louisiana to their families or sponsors — people who accept financial responsibility for asylum seekers while they are going through the asylum process.
In July, the Louisiana detention centers came under fire after ICE officers reportedly dropped off waves of detainees in rural areas at bus stops and local airports in Louisiana without coordinating the releases with families, lawyers or non-profit organizations.
On Thursday, French teacher Djibril Coulibaly, 50, walked quietly out of the Pine Prairie Correctional Center and into an SUV driven by his co…
Some of the immigrants released were people with physical and mental illnesses and disabilities, according to a report by VERA, a non-profit organization led by immigration lawyers.
An ICE spokesperson said the agency makes custody determinations every day on a case-by-case basis, "in accordance with U.S. law and Department of Homeland Security (DHS) policy, considering the merits and factors of each case while adhering to current agency priorities, guidelines and legal mandates."
The first group of 10 women and a man arrived at the Lafayette airport Wednesday. Thirteen more women were dropped off by ICE on Thursday morning. They all had crossed the southern U.S. border in California or Texas, seeking asylum. They were from Venezuela, Brazil, and Cameroon, among other countries, and most had been in detention centers for several months waiting for a credible-fear interview, which is supposed to occur within 14 days,  to determine if they had a legitimate reason to seek asylum.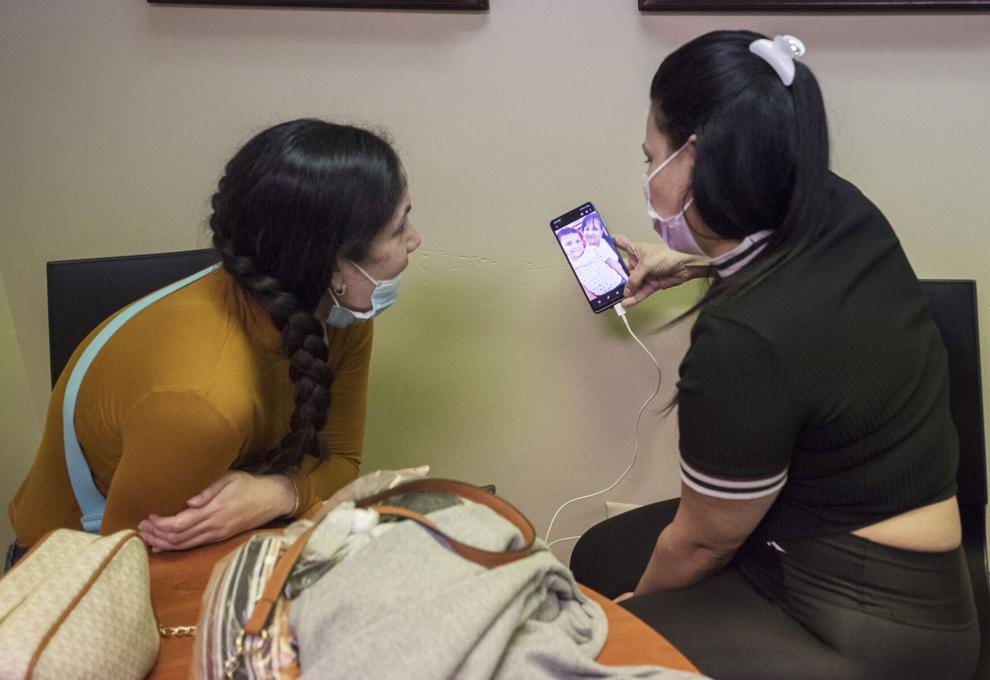 "We were expecting just three women Wednesday morning, but when I got here at the airport, I found more people, and I was just glad," said Patty Prather, a volunteer from Lafayette for Louisiana Advocates for Immigrants in Detention.
LA-AID is a non-profit organization that helps detainees coordinate transportation from the ICE facilities to their families across the country after their release.
"I'm sure this new development can facilitate the situation here," Prather said while helping De Souza and the other immigrants buy one-way tickets to cities where family members waited.
Inside the airport's business center, where the immigrants waited for their flights, tears and smiles weaved together with relief.
Winnie Darphin-Bacque, another LA-AID volunteer in Lafayette, welcomed the new arrivals using a mobile app as a translator. The questions Prather asked in English to coordinate the logistics were often answered in Spanish. Madeleine Moussa, the only asylum-seeker in Wednesday's group who spoke both languages, stepped in to help translate.
One of my favorite verses is Hebrews 13:2. "Be not forgetful to entertain strangers: for thereby some have entertained angels unawares." The v…
"I crossed the border on July 23 from Mexico at the Ciudad Acuna-Del Rio port of entry, in Texas," said Moussa, who is originally from Cameroon.
She was dropped off at the Lafayette airport Wednesday after a months-long journey and several weeks of detention. She first flew to Chile from Africa, where she left her family using the last of her savings. She made her way to the US-Mexico border by bus, mostly traveling alone. She swam across the Rio Grande River, and immediately upon stepping on U.S. soil, she was stopped by a Customs and Border Patrol unit. Theirs would be the first of many interviews.
"The detention center itself in Louisiana was horrible because it is horrible to be detained, but I was not personally treated too bad," she said. "Some officers were nice, some others were super harsh."
She is heading to Kansas to wait for her day in court and, she hopes, to begin a new life. "My dream has always been becoming a pharmacist," she said. "Now I can finally study for it and try to do it."
The volunteer operation to coordinate releases in Lafayette, as Michelle MacFadyen from LA-Aid described it, started almost in silence this week. It might continue for a few months, she said.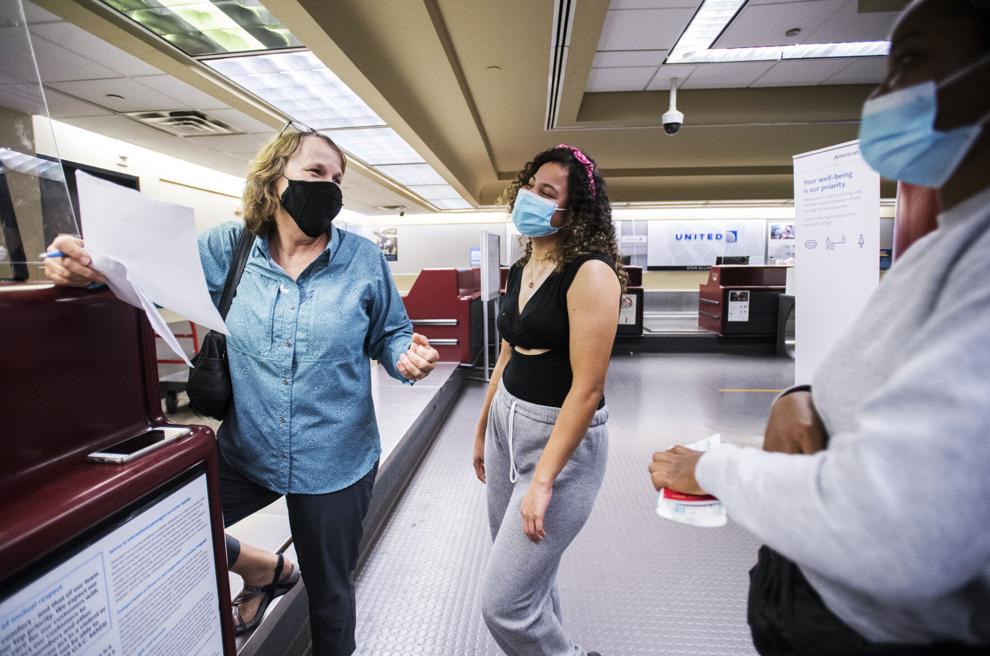 "If you don't come here and personally see the eyes of these women, of these men, you can't understand what they went through to find a new chance in life in America," she said. "Our organization wants to be the strong voice behind these detainees with no power."
MacFadyen said she hoped the coordinated approach would improve the safety of the release process, after months of disturbing reports.
In recent years, the number of asylum-seekers detained in Louisiana has grown as the state has reduced its prison population and private for-profit prisons have set up contracts with ICE to house migrant detainees. As of Sept. 16, there was a daily average of 586 detainees in Winn Correctional Center, in Winnfield, 491 at the LaSalle Detention Center in Jena, 395 in the Jackson Parish Correctional Center in Jonesboro, and 337 in the South Louisiana Detention Center of Basile, according to the data provided by TRAC Immigration at Syracuse University.
In June, the Southeast Immigrant Freedom Initiative of Louisiana, a project of the Southern Poverty Law Center, wrote two letters to the Department of Homeland Security over reports of "abuses and inhumane conditions" at a correctional center in Winnfield.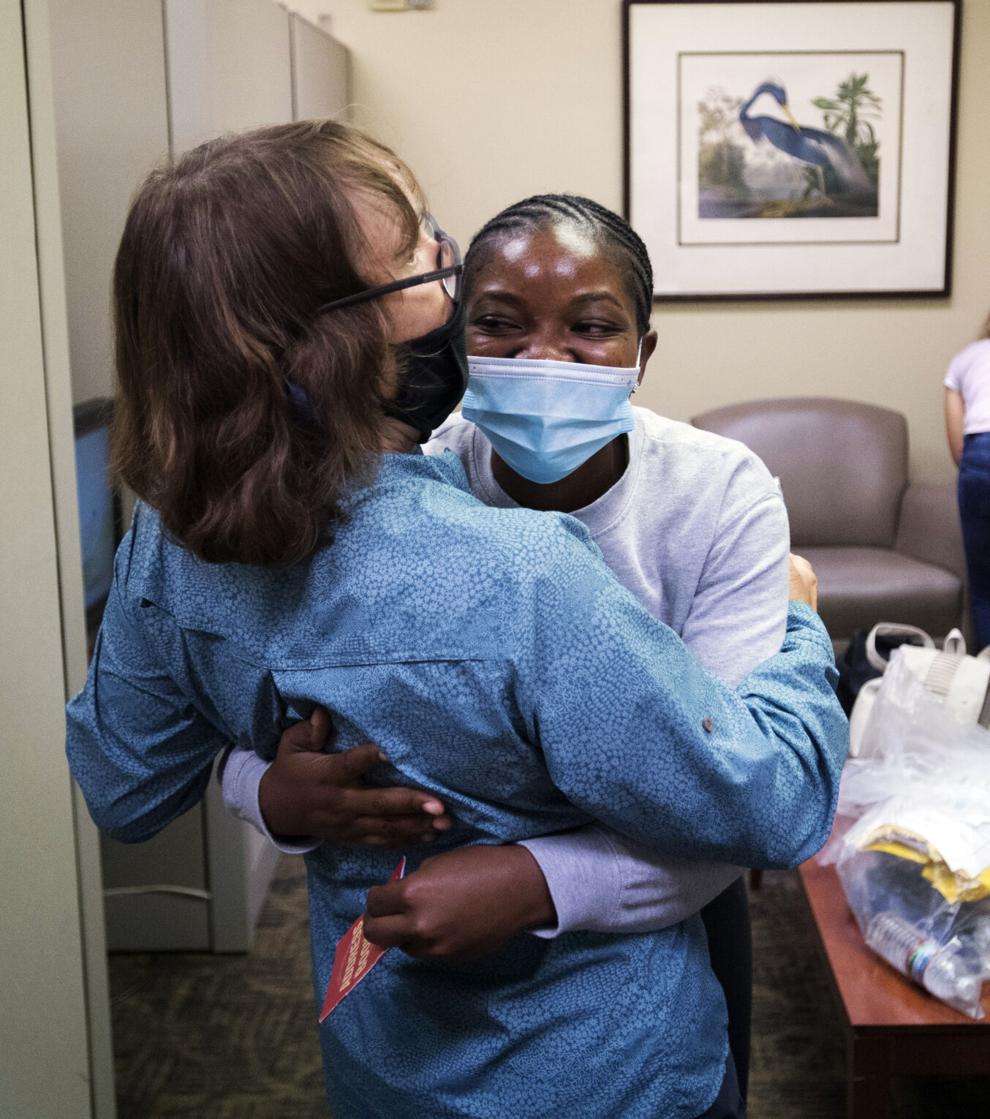 In July, LA-AID submitted a complaint to the Secretary of the Department of Homeland Security, Alejandro Mayorkas, with "grave concerns regarding the blatant violations of the ICE Performance-Based National Detention Standards 2011 regarding release protocols in Louisiana and Mississippi, causing serious harm to the well-being and safety of those being released."
Immigrants report being detained at the centers for months and with little information about their cases. And when released, detainees often had no means to get to regional airports or bus stations, immigration advocates and lawyers said.
"I tried in any way to communicate with the officers at the LaSalle Detention Center, but I often received no listening at all," said Luisana Chourio, 27, from Venezuela. Like De Souza and thousands of others, she crossed the border in Del Rio, Texas. Most of the people in the group she traveled with were not granted asylum seekers status. They were sent back under a Trump-era policy called Title 42, which was invoked at the start of the COVID-19 pandemic, allowing the administration to swiftly expel immigrants.
Chourio was luckier at the border but not at the detention facility.
"I had to wait for six months inside of the LaSalle detention center," she said. "They did not provide me with any information. They never gave me a hypothetical final day." She is now on her way to relatives elsewhere in the U.S.
"The keyword for us is to facilitate," MacFadyen from LA-AID in Lafayette said.
Non-profit organizations have also opened a hotline for detainees, their families, and sponsors. Since its launch, the phones have been ringing non-top, MacFadyen said.
Immigrants have rights, MacFadyen said. "We are here to remind everyone of that."