NEW LLANO — A little-known experiment in early 20th-century American socialism played out a century ago in this rural Vernon Parish community of 2,400, the memory of which is being kept alive at a tiny museum here.
The Llano Colony, which turned into one of the most enduring of socialist "utopian" communities formed in that era, got its start in sunny southern California in 1914. But three years later, a lack of water and other challenges drove its relocation to an abandoned lumber town in western Louisiana, on the edge of Leesville.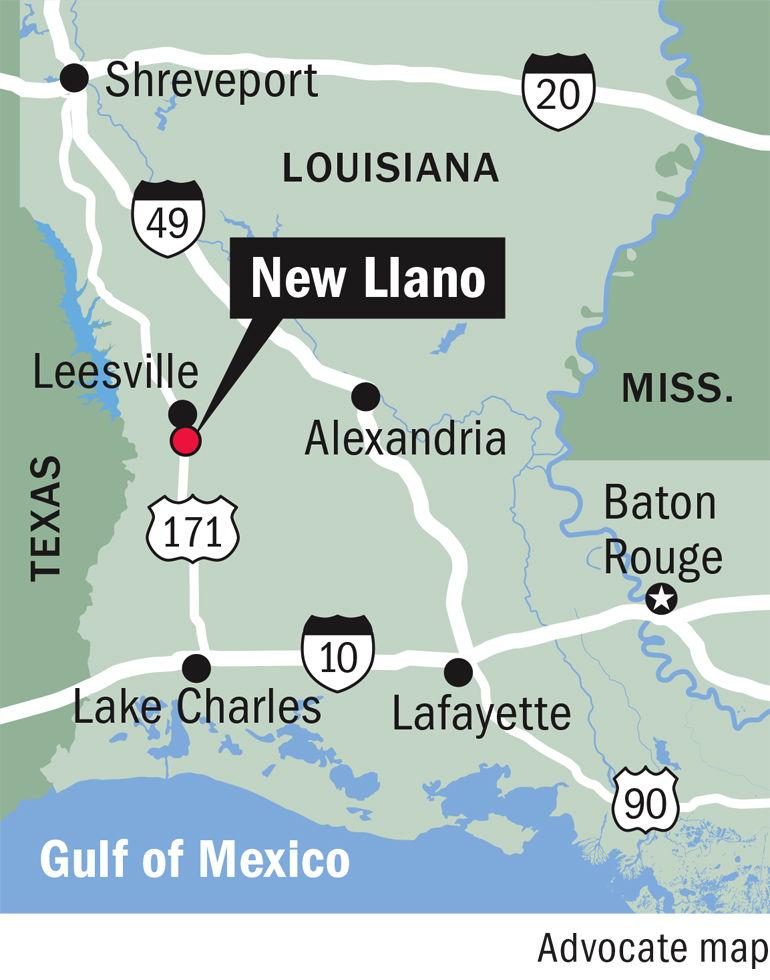 The colony was an initiative of a socialist movement hero who sought to validate his ideals in day-to-day practice. It eventually would meet its demise two decades later amid the throes of the Great Depression — the casualty of debt-driven expansion, authoritarian leadership and internecine rivalries. What had started as a socialist dream eventually ended in a nightmare of corporate mismanagement.
Along the way, though, hundreds of colonists worked at their chosen vocations, lived in quality homes, never wanted for food or health care and enjoyed a rich cultural life filled with music and dancing, according to researchers who have studied the colony. Their children even attended a Montessori-style school.
They made peanut butter and candy, brooms and baskets. They produced paint, fertilizer and artificial flavorings in a chemical laboratory. They owned a bakery, coffeehouse, butchery, general store and a print shop. They ran hotels, a swimming pool and a dance hall. They sold their wares via mail order and served their Vernon Parish neighbors, with whom they harmoniously coexisted.
None of the income went to colonists' pockets. It all went to the Llano corporate entity, of which colonists owned equal shares. Those shares eventually became worthless, as court-appointed receivers foreclosed on Llano property. It was all sold for a song. Colonists who had dedicated their prime working years to the greater good eventually found themselves with nothing to show for it.
"In some ways, it is such a sad story, but there was so much tremendous vitality in that organization," said filmmaker Beverly Lewis, whose 1994 documentary "American Utopia" and accompanying article in Louisiana Cultural Vistas focus extensively on the colony's existence in this state.
'Most of them have never heard of it'
Much of what's written about the colony focuses on its origins in the Antelope Valley outside Los Angeles, a site that is well-trafficked by archaeologists investigating the founding of the Llano Del Rio Cooperative Co. in 1914. But three years later, the colonists relocated to Vernon Parish, renamed their community New Llano and lived out their ideals for another generation.
The modern-day town of New Llano, along with the Vernon Parish Tourism Commission, opened the Museum of the New Llano Colony in 2013 to preserve history that even locals don't seem to recall well, said John Crook, executive director of the tourism commission.
"In a lot of places, local people don't pay too much attention to what's there. We are trying to change that," Crook said.
The museum's displays are mostly contained within one room in the back of the old City Hall building, and Crook said expansions with multimedia demonstrations are planned over the next couple years. New Llano celebrated the 100th anniversary of the arrival of its namesake colony with a two-day festival in June, but it's unlikely the revelers included anyone directly connected to the history they celebrated.
That wasn't the case with an 80th anniversary celebration of a different sort — more of a reunion than a community affair — that lifelong Leesville resident Martha Palmer organized. Palmer, 88, who is regarded as a local historian, grew up alongside kids who lived in the colony. In 1997, Palmer managed to corral some of her old friends from five different states for a homecoming. They all had a good time, Palmer said, and she floated the idea of a 90th anniversary gathering before they parted.
"They all said 'Martha, I'm too old, I live in California, I live in Oregon, I live in Seattle. I just don't think I'll be able in 10 years to make another trip,' " Palmer recalled.
Today, the museum attracts mostly academics and other niche researchers, said Mary Ann Fussell, the museum director. They occasionally stop at stores and ask locals for information, Fussell said, and are met with blank stares.
"Most of them have never heard of it," she said.
In the beginning
Intrigue surrounding the colony's founder, lawyer and charismatic socialist politician Job Harriman, is part of the reason Llano's Louisiana years are often treated as an anecdote.
Harriman ran alongside Eugene Debs in the 1900 presidential election, but his best chance at winning political office came in the 1911 Los Angeles mayoral election. Harriman won a plurality of the primary vote, but at the same time, he was working under Clarence Darrow on the legal defense of James McNamara, a union activist who pleaded guilty to dynamiting the Los Angeles Times building and killing 21 people.
McNamara's confession was read in open court, a few days before the general election. Harriman's electoral hopes flopped.
"That's when he realized, 'You know what, socialism will not win at the ballot box. Let's see if we can set up an example of making it work,' " said Lewis, who produced "American Utopia" with her then-husband, Rick Blackwood.
The result was The Llano del Rio Cooperative Co., situated in the Mojave Desert outside Los Angeles. Members paid hefty fees to join and worked eight-hour days in a variety of industries, in exchange for quality homes, sufficient food and clothing, free health and child care, and whatever else was needed to live.
For a variety of reasons, however, the colonists picked up and moved to an abandoned lumber town in Vernon Parish. The Llano del Rio Cooperative Co. bought 20,000 acres from the Gulf Anderson Lumber Co., and the newly christened New Llano colony consisted of nearly 30 residential, commercial and industrial properties — among them a saw mill, nursing home and filling station, to name only a few examples. At its height, the colony boasted as many as 1,000 members.
Harriman, the colony's elected president, wasn't among them for long. The Louisiana climate wasn't conducive to Harriman's tuberculosis, and he spent most of the first few years seeking treatment elsewhere. It wasn't long before he was back in California permanently, and his vice president lasted only a couple years at the helm. The leadership vacuum opened the door for a different sort of leader.
Rise of a strongman
New Llano's early years looked bleak with Harriman out of the picture. Then came George Pickett, who, after effectively running New Llano operations for about five years, was formally elected general manager and president upon Harriman's death in 1925. He would rule New Llano for the next decade, until a May Day coup of sorts in 1935, as the colony was breaking apart.
Pickett was the inverse of the ideologically pure Harriman, who adhered to strict democratic governance. Pickett, on the other hand, bulldozed opposition to get done what he wanted to get done, in the traditional mold of a Chicago mayor.
"It went against everything they really kind of stood for," said Fussell, the museum director. "On the face of it, he did hold meetings. They did hold elections. But somehow he always arranged it so he would get what he wanted out of it."
But if Pickett's governance offended some colonists' sensibilities, others appreciated his effectiveness, Fussell said. He was undoubtedly a bully, but his quick decision-making kept New Llano humming in a way that Harriman never could. Harriman, Fussell said, "may have been too democratic at times" back in the early years in California.
"Sometimes their board meetings would go all night, because everybody got to say everything they wanted to say," Fussell said. "There was even at one time a wheat crop that was never harvested because nobody could make the decision to go out and harvest it."
An exclusive colony
Exactly what drove the West Coast idealists to relocate to rural Louisiana isn't exactly clear, but water challenges in the Mojave Desert are frequently cited.
"An earthquake fault diverted much of the water the colony had counted on for growth. Surrounding land barons refused to sell water to the colony," a McNeese State University historical abstract states.
That refusal may have stemmed from what Lewis says was an underlying motivation for departure: social and political pressure, driven in part by Harrison Gray Otis, the anti-union owner of the Los Angeles Times.
"The California colony had big power lined up against them," Lewis said. "At a certain point, the writing was on the wall; it was just not tenable to stay."
In any case, the migrating colonists found a sympathetic local population in Vernon Parish and surrounding areas, where the Industrial Workers of the World had organized lumber workers. DeRidder is one of the few places where striking workers managed to fight off attacks by lumber barons during a multistate revolt in 1907, according to Facing South, the online magazine of the Institute for Southern Studies. DeRidder went on to elect a socialist mayor in 1912.
Despite the natural symbiosis, there was one point of apparent difference with the local Industrial Workers of the World strikers: racial unity. Southern labor leaders intentionally fostered solidarity among Caucasian, African-American and Native American workers, according to Facing South. The colony, on the other hand, was whites only, according to a San Bernardino Arts Council exhibit.
Lewis said she encountered a letter illustrating the colony's racial and ethnic exclusivity while researching her documentary. The letter, written by a colonist, appeared to respond to an outside inquiry concerning who was allowed, she said. The respondent said the colony had "enough people of the Jewish persuasion," Wilson said, reciting the letter from memory, "and just so you know, we don't accept Negroids or Mongoloids."
'Pretty close to hell'
For a few years, it all worked under Pickett's strongman leadership. He traveled relentlessly, drumming up donations and new members. There were dances, theatrical productions, comedy routines, concerts and other entertainment, attended by colonists and outsiders alike. People streamed in from around the world to be part of New Llano.
Palmer, the lifelong Leesville resident, remembers New Llano as a friendly, joyful place.
"They just were friends. I came to birthday parties here," Palmer said during a visit to the Museum of the New Llano Colony, "and they came to my birthday party."
Pickett pushed an expansion agenda, and soon the colony had acquired a sugar plantation downstate, a fruit orchard in Texas, a ranch in New Mexico. Colonists were sent to work at these off-site locations, sometimes despite their objections. He financed these acquisitions with debt, even though New Llano had never paid off the train it chartered to move to Louisiana.
New Llano struggled to keep up with its bank notes. The stock market crashed. Colonists grew impoverished and turned on one another.
"When you see your economic stability eroding away, it gets real personal, fast," Lewis said.
Colonists began to trickle out, leaving the industries understaffed. To fill the ranks, Pickett began accepting new colonists who couldn't pay the membership fee. This only further turned older colonists against Pickett, who was a divisive figure from the start. "Brush gangs" — so named because of their secret meetings in the brushes — plotted against Pickett.
Finally, on May 1, 1935, Pickett's nemeses elected a new board and general manager while Pickett was off-site. Pickett fought the move, but Vernon Parish courts refused to recognize the authority of either the new or the old boards, according to Fussell. New Llano declared bankruptcy in the next year, and a court-appointed receiver sold off all the properties in 1939 for a few thousand dollars.
"The colony assets were so grossly undervalued and undersold at the receiver's sale in 1939 that lawsuits ensued over the next 40 years," Lewis and Blackwood wrote in their Louisiana Cultural Vistas article.
The ever-determined Pickett stuck around, living alone in a hut on the New Llano site, according to the 1988 book "Two Hundred Years of American Communes" by Yaacov Oved. Pickett suffered in those years, as evidenced by letters to his attorney that Palmer brought to her recent visit to the museum.
"I have held the fort for a long time, all alone," Pickett wrote. "It's been pretty close to hell."