Iconic Lafayette Cajun restaurant Randol's Restaurant & Seafood Processing closed its doors Saturday after the owner sold the land, reports indicate.
Randol's, at 2320 Kaliste Saloom Road, announced Sunday afternoon it was closing, noting that "we weren't expecting it so soon," according to a Facebook post. The restaurant, with its iconic dance hall, had just celebrated 50 years this year.
Owner Frank Randol received an offer recently to sell the land to an unnamed buyer, according to a report in the Gulf Seafood News. Randol also closed his seafood processing business.
The report did not indicate how many people it employed, but all were transferred to other restaurants in the Lafayette area, a spokesperson said. The processing plant employs seasonal workers whose jobs were ending the first of December.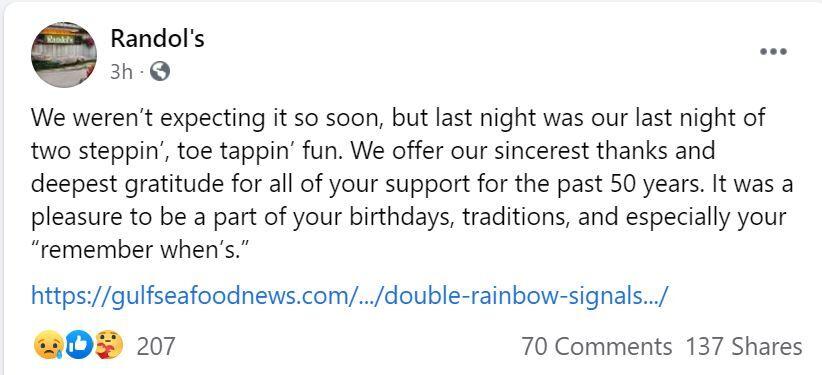 The offer came out of the blue, Randol said. The sale of the property should close next week, the spokesperson said.
"It was hard for me to see the restaurant go, but it was the best for my family," Randol said in the report.
Randol's is famous for its authentic old-time dance hall feel and is a destination for tourists. Approximately 60% of visitors are from out of town with many being European and French-speaking.
The restaurant was on its fourth dance floor, Randol said last year with an interview with Jan Swift, with the first having been constructed from pine and the past three out of oak. Crowbar parties were used to replace each of the floors, with dancers using crowbars to remove the planks over three nights while they kept on dancing, he noted.
"One of my fondest memories is watching four generations of a family passing a good time on the dance floor," Randol said. "There's nothing better than seeing our Cajun heritage on full display and playing a role in handing it down to younger generations."
The seafood processing facility ships seafood across the country. It first began shipping to the East Coast and at one point was shipping 5,000 pounds of crabs to Baltimore every night. He has also supplied major markets like Chicago and Las Vegas.
In the 1980s, Randol launched his "Cajun Fest," introducing Cajun food and culture to major markets across the country. He has served as the secretary of the Gulf Seafood Foundation and on the boards of the Crawfish Processors Alliance, the Louisiana Restaurant Association and the Louisiana Seafood Promotion & Marketing Board.
Randol testified before the U.S. Senate Small Business and Entrepreneurship Committee in support of the Gulf seafood industry. He has also partnered with LSU's engineering department on growing Louisiana's aquaculture business by duplicating the saltwater environment found in the Gulf of Mexico to produce softshell crabs.