True story: The first Saturday after Jennings native Nick Darbonne moved to Colorado, he was invited to a crawfish boil.
You may think crawfish in the Rocky Mountain State makes as much sense as a 40-degree August evening in Louisiana, but it's true. Recent data shows Colorado has become home to a rapidly rising number of college-educated Louisiana residents since 2000.
Darbonne, a 2002 graduate of Northwestern State University, moved to Colorado Springs in the spring and began a job with Takeda Pharmaceuticals on May 6. And it didn't take long for him to discover he wasn't alone as a Louisiana ex-pat living abroad.
Like the time he saw a guy at the gym with a fleur-de-lis tattoo on his leg.
"I said, 'Where you from?'" said Darbonne, 41. "He was from New Iberia. He was in oil and gas. He said, 'I got this tattoo the first week I was here because I knew I was never going home.' Then a girl tapped me on the shoulder and said she was from Metairie. There's a ton of Louisiana people up here."
Colorado is an outlier as far as being a magnet for Louisiana residents since it's not located nearby. Between 2007 and 2017, only Texas pulled away more people from Louisiana than Colorado, with Louisiana having a -4,415 net migration rate with Colorado, according to data compiled by Gary Wagner, Acadiana Business Economist at the University of Louisiana at Lafayette, for The Advocate.
Among ages 25-54 and between 2000 and 2017, Louisiana's net migration to Colorado was minus-7,242, which ranks behind only Texas and Florida, data shows.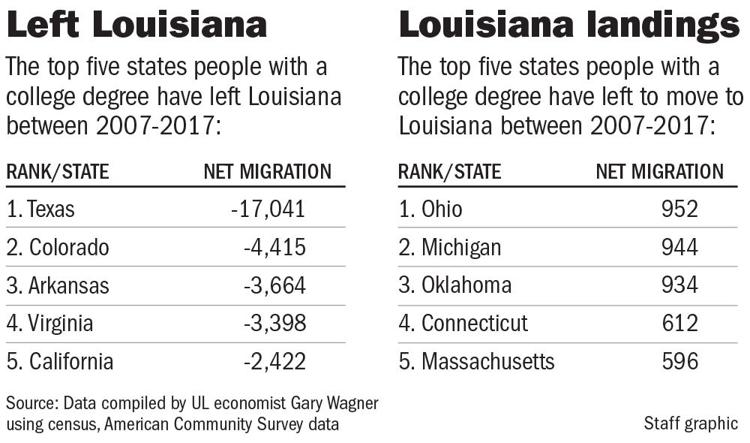 Colorado has become a hotbed of medical innovation in recent years, Wagner said. The Boulder area ranks high in the number of patents with just over 120 per 100,000 residents. Since 2010, the state's real GDP growth is at 30.6%, a mark that's fifth-best in the country.
Louisiana's GDP growth in that time was the worst in the United States. It actually shrank by 5.6%.
"The Boulder area has really been booming in the last 20 years, especially in medical innovations," Wagner said. "I think Boulder is actually one of the metro areas in the country that has one of the highest rates of patent innovation. In Louisiana, we almost have none. We're just not very innovative compared to a lot of other places."
Darbonne hopes to stick with the momentum in Colorado, which led the nation in net migration of college-educated residents from 2007 to 2017 per 10,000 residents. But it's also the lifestyle that he says will keep him and his family — his wife of 10 years, Rachel, and their three kids — in Colorado. Their adopted hometown has about 150 municipal parks, he said, and they enjoy being outdoors.
"I love Louisiana," he said. "I love the culture, and my family is still there. For me, that was the toughest part — leaving my family. But you can bring culture anywhere. I really don't see myself moving back down to Louisiana."