With their hiatus in full swing, the Lost Bayou Ramblers appear to live in one of M.C. Escher's "impossible constructions" where, in this case, the music never stops because the musicians don't either.
And that was the plan all along.
"The plan was never to do nothing. The plan was to give the Ramblers a little break from live performing," said Louis Michot, lead singer and fiddler of the band he co-founded with his brother, Andre, on accordion/lapsteel. "And that's what we're doing."
Well, except for the Celebrating Christmas gig Dec. 13 with the Acadiana Symphony Orchestra at the Heymann Center.
And there's also recording a score for soundtrack of a feature film, not to be confused with the documentary on the band's Grammy trek, "On Va Continuer!" (We Will Continue!) by Worklight Pictures that will be released in February.
Then that should be it for the band until spring. Anyway, do recall in January, after 20 years of bending notes and crunching chords, the progressive Cajun band announced its hiatus from touring.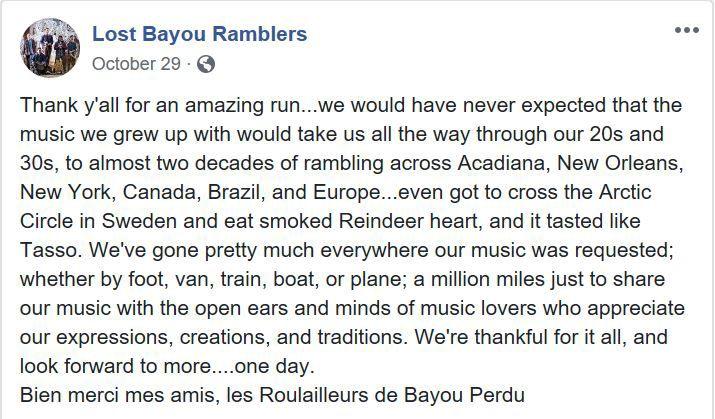 The next month, the Ramblers' "Kalenda" won the Best Regional Roots Album Grammy. So the "Farewell (for now) Tour" was expanded a tad.
Still, the break did arrive late October and should end March 30 in New Orleans at the Hogs for the Cause event, a major funding source for pediatric brain cancer outreach services in the U.S.
"We're already looking forward to being back," Michot said. "But it's like as soon as we got a break, we've already actually been in the studio recording a movie score.
"So it's really not like we got much of a break – which is really a good thing. It's a nice change of pace."
In the course of the break-ish, with and without other Ramblers, the musicians — Johnny Campos (electric guitar), Bryan Webre (electric bass), Eric Heigle (electronics, acoustic guitar) and Kirkland Middleton (drums) and the Michots — continue to make and play music. 
When I caught up with Michot on the phone a couple of weeks ago, he was heading to New Orleans for a vinyl release show for Michot's Melody Makers' "Blood Moon." The band includes Middleton, Bryan Webre and Mark Bingham.
By the way, you can expect new releases from Michot's Nouveau Electric Records.
And in September, Campos' Carbon Poppies band with Allison Bohl and Peter DeHart released "Rain On My Face."
Already, Andre Michot and Heigle as Lost Bayou Duo have hit the road on their "Take Me To The River Tour."
So the timing for a break was right, of course, but a bond had to be in place, too. And it was through the shared hard work over years and "a great positive attitude" that brought the band to the same place at the same time.
"I think that's why we're able to take a break and function as a band," said Louis Michot. So that means to "be there for the Ramblers," he said, "but also have other things going on that keep you going as well."
It's all just a part of the process for the group.
"It's natural," Michot said. "I think, especially for every creative group or artist, you need to be able to shift gears and create different projects to keep things fresh and to allow yourself to keep expanding your creativity. I think it's important to take a break."
"National artists will release an album, tour the album and then take a break until the next album. Whereas, Louisiana bands, we just play nonstop."
Until now, that is.
"This is our first try of trying to think about a different kind of balance," Michot said. "It's also nice to give yourself time to kind of work on some new stuff – not that we have any plans to record or anything – so, yeah, just to give yourself a break, just kind of try a new fresh approach."
But what happens come the end of March and a Rambler or two decides to ramble in a different direction?
"Being in a band for 20 years now, we've seen our fair share of people having to make life decisions and go on their own," said Michot. "When members have to do that, you just got to wish them well and know that they're that making the right choice for their life."