Walk-On's has terminated its franchise relationship with a Lafayette businessman for a Facebook post that prompted public outcry for racial implications.
Brandon Hargrave posted a video on Facebook on Thursday night that showed African-American children taking handfuls of candy from an unattended bowl while trick-or-treating. Hargrave, who is white, called the children derogatory names and "the cancer of this planet" in the Facebook post.
Walk-On's issued a public apology Monday morning, and Hargrave issued one shortly after. By Monday afternoon, Walk-On's had terminated its affiliation with Hargrave, who operated the Covington location of the sports bar and had a franchise agreement to open several more in the Houston area.
"We have built our company's foundation on core values of inclusion and equality, and we find any actions or statements to the contrary unacceptable," Scott Taylor, president and COO of Walk-On's, said in an emailed statement. "As a result of recent events surrounding an offensive social media post by Walk-On's franchisee Brandon Hargrave, Walk-On's Enterprises is terminating its franchise relationship with Mr. Hargrave, effective immediately."
A transition plan for the ownership and operations of the Covington location of Walk-On's is "currently in process," Taylor said.
Hargrave's Facebook post at the center of the controversy was edited about 30 times before it was deleted.
"Turn the volume up," Hargrave wrote in one version of the post, which also included a video. "You can even hear these little hoodf***** reading the sign that says 'please take one so everyone gets one' aloud while picking their heads up like thieves on the lookout and taking it all.
"Starts off with simple sh** like candy, then eventually escalates to stealing guns out of (people's) cars, selling drugs, joining 'the system' and eventually being jailed, shot, killed, etc. This mentality is how it all starts. Immaturity?? Nah. Why didn't any of the other kids do this??? It's not a kid thing, it's a culture thing. Same culture that lands their 8x10 on the front of Auntie's airbrushed t-shirt while Auntie cries and claims what a perfect person they were their entire life. Lack of character — the cancer of this planet."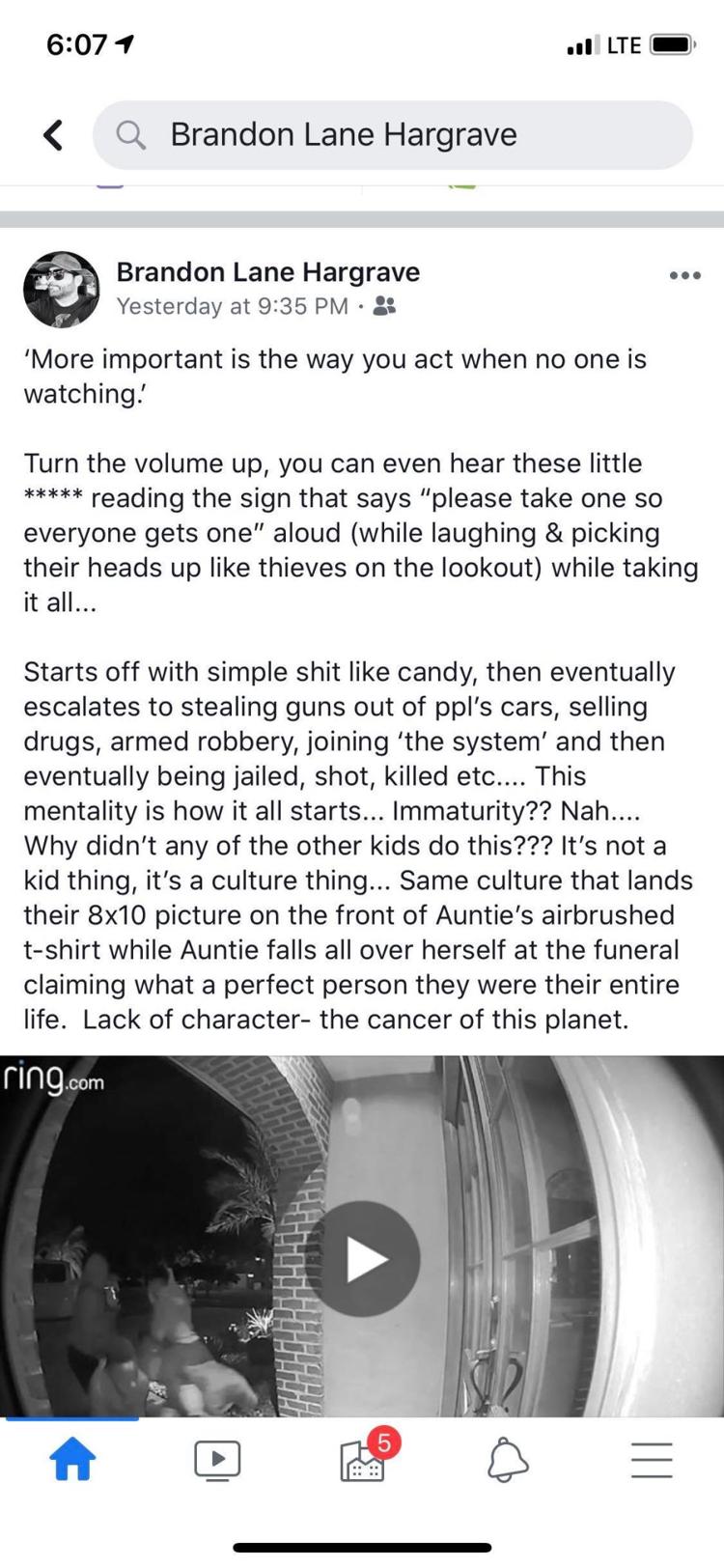 The Facebook post prompted public outcry almost immediately.
"I think he's very crafty and clever with the way he manipulates his words," said Lafayette resident Jerline Duffy, who is African-American. "He doesn't come straight out and say the n-word, but you know exactly what he's talking about. He took something that was supposed to be fun — trick-or-treating — and made it something racist."
In addition to Walk-On's, Hargrave has had franchise and ownership interests in a number of other businesses, including City Bar, CC's Coffee House, Planet Fitness and Rickey Meche's Donut King.
Many people said this isn't the first time Hargrave has posted something racially offensive on Facebook. They also said his views are evident at some of the businesses he operates.
Andrès M. Landor, a retired Lafayette Police officer and Iraq veteran who is African-American, reached out to Walk-On's to express his concern over the post. 
"Being that this involved kids and trick-or-treating and Halloween and everything, I was just shocked that he went that hard," Landor said. "He stereotyped a whole race of people by using little catchphrases about the actions of kids."
Although Hargrave initially defended his words through Facebook comments, he eventually issued a public apology after Walk-On's issued a statement to WAFB-TV.
"We have been made aware of the social media post made by Brandon Hargrave, the franchise owner of the Covington location, on his personal account and remain shocked by its offensive nature," the Walk-On's statement said. "We do not condone this type of behavior and although Mr. Hargrave's location is independently owned and operated, we have urged him to make a formal apology. As a franchise system, we pride ourselves on providing a welcoming environment throughout the communities we operate, and are therefore addressing this issue with the utmost attention."
Hargrave's apology followed.
"I want to reach out and sincerely apologize for the inappropriate social media post made on my personal account over the weekend," Hargrave said in an email to the Baton Rouge TV station. "I am regretful for making the post and am deeply sorry for the offense and pain it has caused. This regrettable action is not a reflection of my values or who I am as a person, my role as an active community member, or as a local business owner — anyone who knows my heart will know this. I respect and value all members of my community. I am remorseful for my thoughtless words, and ask for everyone's forgiveness."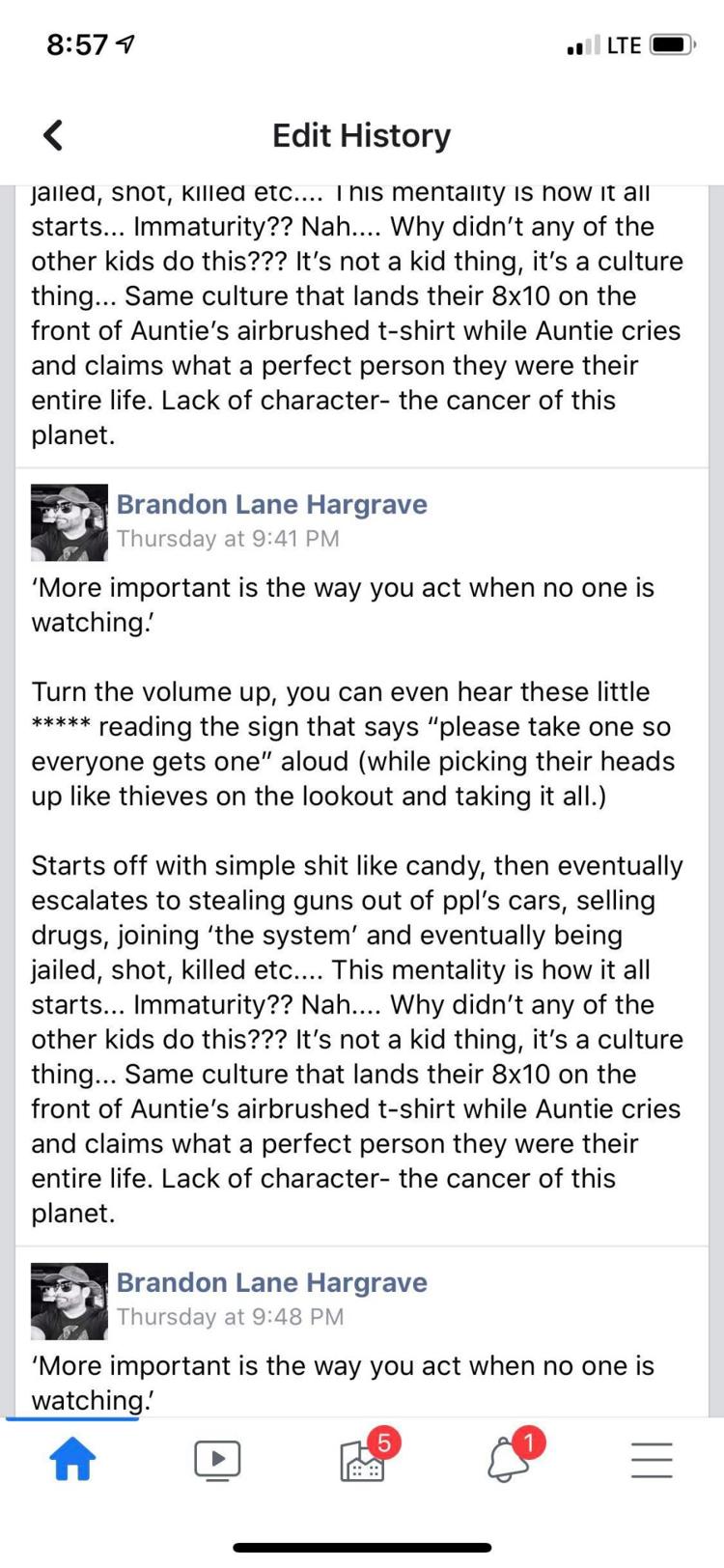 Landor said he witnessed discriminatory practices at City Bar on multiple occasions. 
"It was apparent that they were being instructed by someone because no matter what night and no matter what bouncer was at the club, you got the same thing: 'You can't come in wearing cargo pants.' And then 'What about that guy in cargo pants?' And they'd get security to escort the black man off the property," Landor said.
Prathap Krishnamoorthy, who is Indian-American, said he didn't notice the issue for years when he would go to City Bar with his group of white friends. 
When he went to City Bar with a group of his black friends, however, the experience was completely different.
"We immediately walked up to the bouncer, and before we took our IDs out or anything, he immediately said 'No, your jeans are baggy' and 'You can't come in,'" Krishnamoorthy said. "I said 'Look at my jeans, dude, they're not baggy.' And my friend is younger than me by four years, and you know how the younger guys wear the tight jeans now? That's how his were."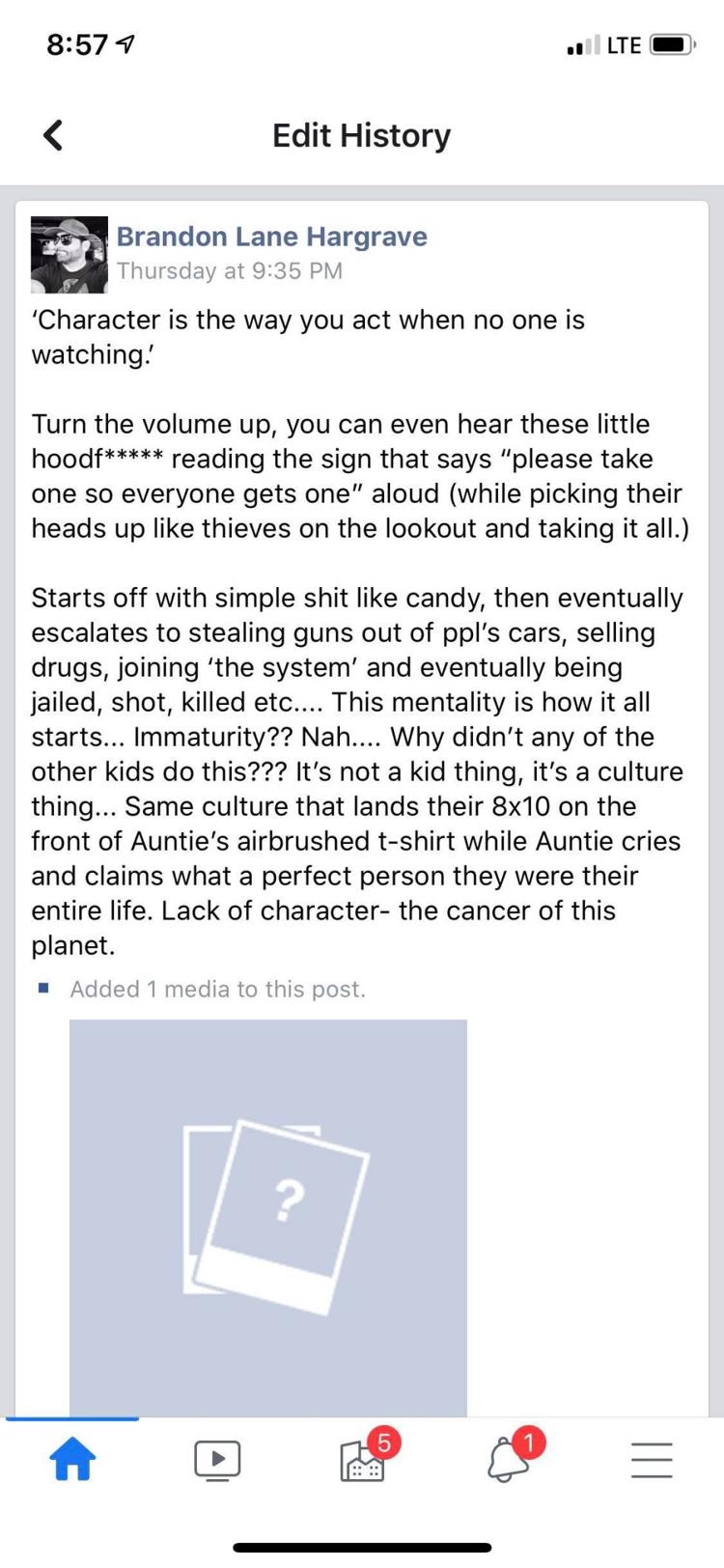 Krishnamoorthy said he later spoke with a friend who worked as a bouncer for the bar that told him there's an "unspoken quota" among City Bar employees for how many minorities, especially African-Americans, are allowed into the bar on any given night.
Marcus Allen, a Lafayette lawyer who is African-American, doesn't know Hargrave personally but said he has a reputation for these kinds of discriminatory practices. Allen represents multiple bars and clubs, but not City Bar.
Like many, Allen said Hargrave's apology didn't seem authentic because it was only made after Walk-On's publicly apologized for the post.
"It begs the question: Without the corporate office letting him know or suggesting to him that he apologize, would he have even apologized?" Allen said. "If it's really and truly an apology and not just an attempt to salvage his business, what will he do to fix this? We'll see."
Duffy said Hargrave's actions speak louder than his words.
"If he meant it, he would stop, but he's constantly doing things like this. Constantly," Duffy said. "All of our money is the same. Nobody's is better than anyone else's. We are all equal, and it takes something like this to mess up the world. If anyone is the cancer, it's him."
Krishnamoorthy said he would like to see Hargrave acknowledge a problem beyond the words he wrote on Facebook.
"He could acknowledge there was a problem at City Bar,"  Krishnamoorthy said. "This isn't a secret by any means, and that would be his first step in forgiveness. We should be able to forgive him if he's willing to change and if he's grown and understands better now. If he's changed his thoughts and attitudes, that would be OK, but after a post like that on Facebook, it seems like he hasn't changed at all."
Correction: An earlier version of this story said Hargrave was affiliated with a bar called Poets. He was not.
Acadiana Business Today: Walk-On's terminates relationship with Lafayette businessman for racist Facebook post; What does the IberiaBank deal with First Horizon mean? Check out the numbers