There's a little Cajun café about a 10-minute walk from the beach in southern California that goes all out for its annual Crawfish Fest each spring.
Ragin Cajun Café owner Steve Hodges orders about 1,500 pounds of crawfish from a supplier in Lafourche Parish. He has them overnighted via Southwest Airlines to his restaurant in Redondo Beach. It's all to bring in the people — often they're Louisiana natives or from Mississippi or east Texas — for a big party.
And they come. California has pulled people away from Louisiana since 2000 — especially those ages 24 and under in recent years — and he'll see many of them in the restaurant.
"I know we definitely get them pretty regularly," said Hodges, initially partnered with Steven Domingue of Lafayette with the restaurant. "Our crowd is not a younger crowd. A number of people I've talked to said they moved out here after Katrina and never left.
"I get a lot of people on social media saying, 'Are you legit? Are you fake Cajun?' No. We're real Cajun. A lot of our recipes are from Lafayette."
Data compiled by Gary Wagner, Acadiana Business Economist endowed chair with the University of Louisiana at Lafayette, shows Louisiana's net migration with California of residents with a college degree between 2000 and 2017  was -2,422 and trailed only Texas and Florida.
Net migration with California for ages 24 and under between 2012 and 2017 was -759 and trailed only Texas, data shows. It was also fifth-worst for all ages for 2007-2017 (-2,422) and for ages 25-54 for 2000-2017 (-4,265).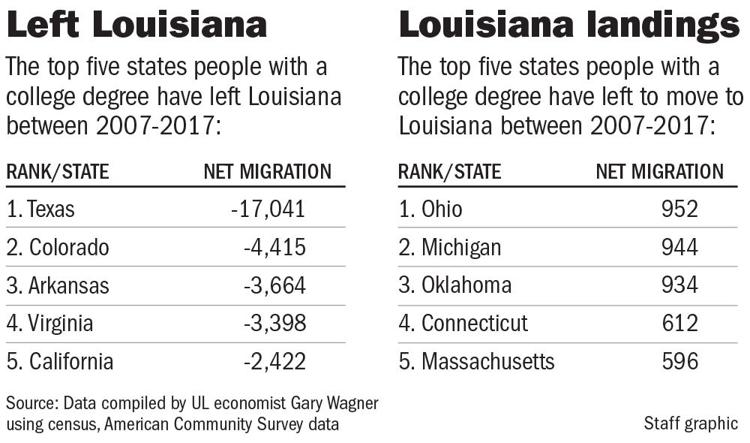 New Iberia native Quin'c'allen Jones is among them. A 2013 graduate of Centenary College with a degree in vocal performance who later earned a master's degree from the University of Texas at Arlington in social work, he works as a clinical social worker at a psychiatric hospital while living in Los Angeles.
"I've met a lot of people from Louisiana randomly," Jones said. "Some people relocated after college, (including) a couple of people who I went to college with. I do miss (Louisiana), but I kind of always expected at some point I would leave Louisiana. I always thought at some point I would relocate out of state."
He has also frequented the Ragin Cajun Café, including a recent visit when he ordered fried alligator. Hodges, whose brother went to school at LSU, credits the restaurant's success to the chef, a Hispanic guy named Ricky, they hired right after it opened in the early 1990s and was mentored by the head chef back then.
"I'll put him up against anyone in Louisiana," Hodges said. "He was taught by a chef out of Lafayette. He's really good."