A month after contracting the novel coronavirus, Bishop Alton Gatlin led his congregation in worship on Easter Sunday.
Gatlin, pastor of Gethsemane Church of God in Christ, knows all too well the toll COVID-19 is having on the black community in Louisiana.
Not only is the Lafayette man still recovering from the virus himself; he's also mourning the loss of his mother and one of his deacons, both of whom died from COVID-19. 
"So, my brothers and sisters, those of you who have lost a loved one, those of you who have loved ones in the hospitals, on ventilators or maybe sheltered at home and they are fighting for their lives, let me encourage you that the master became the first of those who were resurrected," Gatlin told his congregation during his Easter sermon. "And if we lose anybody, they too shall be resurrected."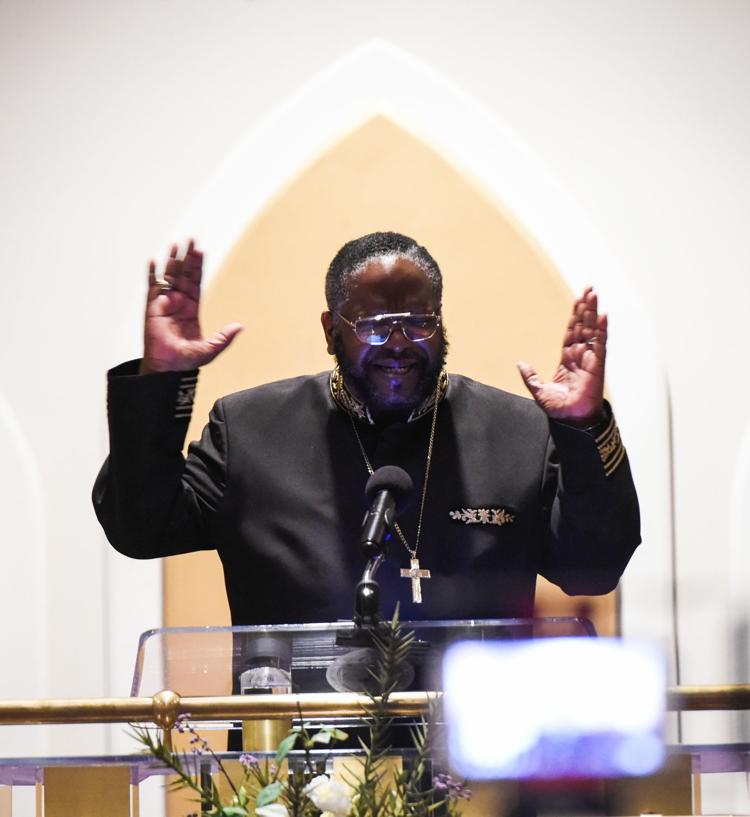 Gatlin took to the pulpit Sunday morning with fewer than 10 people in the church — just those helping to make the digital service a reality — to share the biblical message of hope during a time of pain.
He'd just gone through one of the hardest months of his life. His mother died just one week before, on Palm Sunday, in a Shreveport hospital. Because Gatlin still has not tested negative for the coronavirus, he could not visit her in the hospital or attend her funeral service.
Instead, he was allowed to say goodbye during a private visitation ahead of the funeral.
"It is so difficult," Gatlin said in an interview after Sunday's service. "It is so difficult because, you know, in the African-American community, funerals were a way of expressing your love and your concern for your neighbor. And now, even that has been taken away."
Gatlin, who wore a Saints-themed face mask before and after the Easter service, said he is one of many people who have tested positive for COVID-19 after attending a predominately black conference March 12-14 in Shreveport. Willis Curley, a deacon at Gethesemane, also tested positive and later died from the coronavirus.
After returning home from the conference, Gatlin said he immediately had symptoms of the virus. During his March 14 sermon, Gatlin became so short of breath he had to sit down, saying he felt as though he were "having a heart attack."
Gatlin, who turns 63 on Wednesday and has high blood pressure and diabetes, qualified for testing at the Cajundome. His March 17 test came back positive one week later.
"You cannot catch your breath," Gatlin said. "That's been the scariest part is when you can't breathe and you don't know why. You get up and you walk 10 steps to the bathroom, and you've got to stop and hold the wall to catch your breath before you even make it there. It's scary."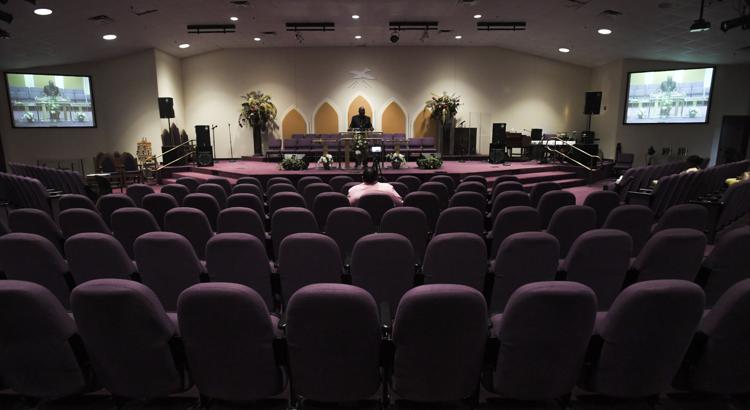 The Lafayette pastor has not required hospitalization, but it's taken weeks of isolation at home for him to recover. He's lost 17 pounds in a month. He still gets short of breath easier than normal, but he only coughs when laughing. His temperature, which has been as high as 104 degrees, has finally returned to normal. 
Gatlin, under the guidance of his doctor, plans to test again for COVID-19 this week to be sure he is cleared of the virus.
The coronavirus is claiming a disproportionate number of black and Latino patients across the country. Of those who have died of COVID-19 in Louisiana, 7 of every 10 have been black. About 32% of the state's population is black.
It's something Gatlin hopes will change the conversation surrounding health care in Louisiana and the United States.
"There are still a number of people in the hospital and who are at home sick fighting for their lives," Gatlin said. "I'm hoping we continue to see this kind of unity that we're seeing now with everybody working together after this is over.
"If we could find a way — and it is possible — to bring about some equity in terms of health care for everybody, regardless of your color or how much money you make, then maybe we can fix this."
Gatlin said that while he misses preaching to a packed room of people on Sundays, he also appreciates that his message is reaching more people through different means through Facebook live videos of his church services.
Although he doesn't hear the immediate feedback from the congregation, those same exclamations of praise pour in through social media.
Hundreds of comments popped up on the Easter Sunday Facebook video:
"Teach us, Bishop."
"I can face tomorrow because He lives!"
"Hallelujah!"
"Amen!"
Gatlin's message served as a reminder to viewers that black people have overcome many adversities and will also overcome the coronavirus pandemic.
"We are going to make it," Gatlin said during the sermon. "I am saddened this morning. I am broken this morning. I am wounded this morning. I've been crying all week long, but when I think about the goodness of Jesus and the fact that he got up from the grave, I am encouraged that I will get up one day. I'm encouraged that my mother will get up. I'm encouraged that Brother Curley is going to get up."