While many have complained about all they've missed out on over the last year, it would seem that June DeVall could one up anyone.
The 97-year-old woman, who is physically active and mentally sharper than ever, has been largely confined to her apartment at an assisted-living facility for the past year. Yet the only real complaint DeVall has is that she can't dine at her favorite restaurants or shop at the mall.
"I am not the kind of person that dwells on the bad things because there are too many of them. I mean, I would be overwhelmed," DeVall said. "And so the last year has been the same as all my years. My activities did not change much. My attitude did not change. I did what I have always done. And in my mind, I know it's a very, very serious situation, but I've never been a worrier. I continue to seek God daily for his wisdom of what to do in this crisis."
DeVall has not only kept a positive outlook during a year of isolation; she's also inspired those around her to do the same.
She spends her days reading the Bible, solving sudoku puzzles, scrolling through Instagram, calling family members, going for walks and taking fitness classes.
"Miss June is great," said Monah Folse, executive director of The Blake at Lafayette. "She sits out in the sun every day for vitamin D, shares Bible study with both assisted living and memory care. Walks away from negativity. She's a genuine, positive and cool person."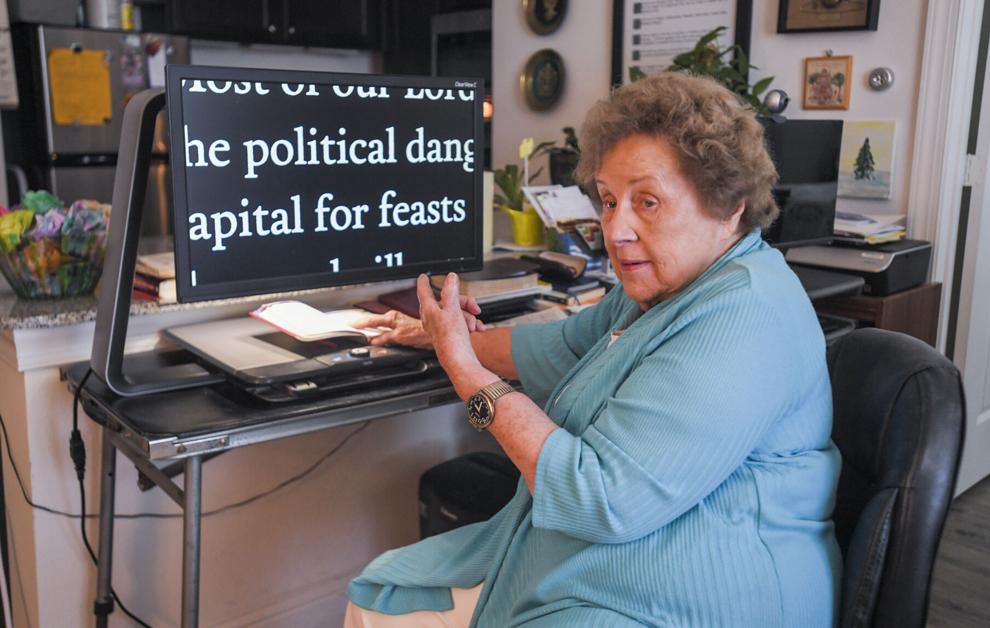 Dr. Britini Hebert, a Lafayette internist who specializes in geriatric medicine, has been continuously inspired by her patient, especially during the pandemic.
"This whole past year, there was a lot of, 'Oh, well. They're old. They were going to die anyway.' That sort of thing," Hebert said. "I think she really encapsulates that you can have a beautiful, meaningful, enjoyable life at any age and that we all will want the years that we have left."
Hebert has pushed the community to take the pandemic seriously from the start. She's spent a good deal of her time fighting misinformation on social media surrounding the virus, mask usage and vaccines. She also traveled to New York City last spring to help treat coronavirus patients at a field hospital and launched a COVID-19 vaccine scheduling hotline earlier this month.
The doctor said that older people have not only suffered from more serious illness and greater isolation during the pandemic, but also from discrimination.
"Disposable. That's how people have treated them. That's been heartbreaking," Hebert said. "And then I see someone like her; and she's managed to keep a good attitude. She's extremely bright, just a very insightful person."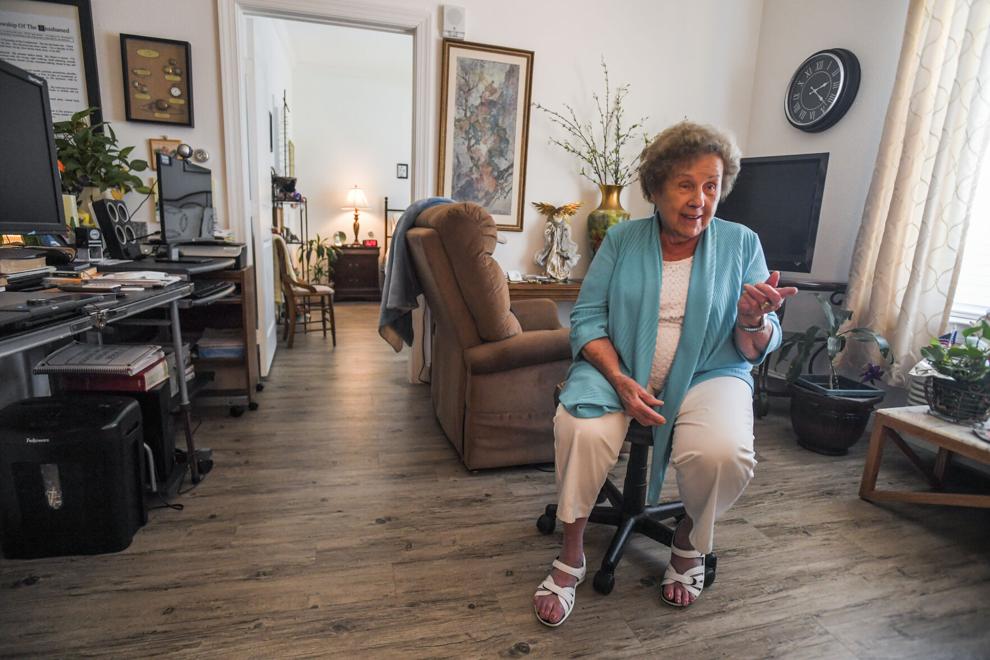 DeVall, who has significant vision and hearing loss but is otherwise healthy, isn't just surviving a pandemic. She's thriving. She's even writing a book.
A few questions from her great-grandchildren at the beginning of the COVID-19 quarantine sparked the idea. Her granddaughter is sending her prompts and compiling her writings into a full-fledged book.
"I said, 'Let's do one writing prompt every week, and you'll write it up and mail it to me so I can compile it into a book,'" said Leslie Karamitas. "And she's a take-charge kind of person. She sometimes doesn't go with my prompts and decides to write her own. And now she has a title for the book and titles for all the chapters."
DeVall's book is called "Light in the Darkness: Rays of Sunshine for Days of Darkness." She's planning to have 52 short chapters — one for each week of the year — that can serve as an inspiration to others.
Karamitas, 39, said the project has been a special way to connect with her grandmother at a time when she's been unable to see her in person. 
Although Karamitas grew up in Africa and now lives in Georgia, she has always been especially close to her grandmother. The two grew even closer after the 2007 death of Diane DeVall Ottenweller, mother to Karamitas and daughter of DeVall, and the 2008 death of Leslie DeVall, grandfather to Karamitas and husband to DeVall.
"She is my hero, my best friend, the other pea in my pod, my spiritual adviser, the president of my fan club, the place I call 'home,' and one of the greatest treasures I have ever been given by God," Karamitas said. "She is impressive to everyone who knows her."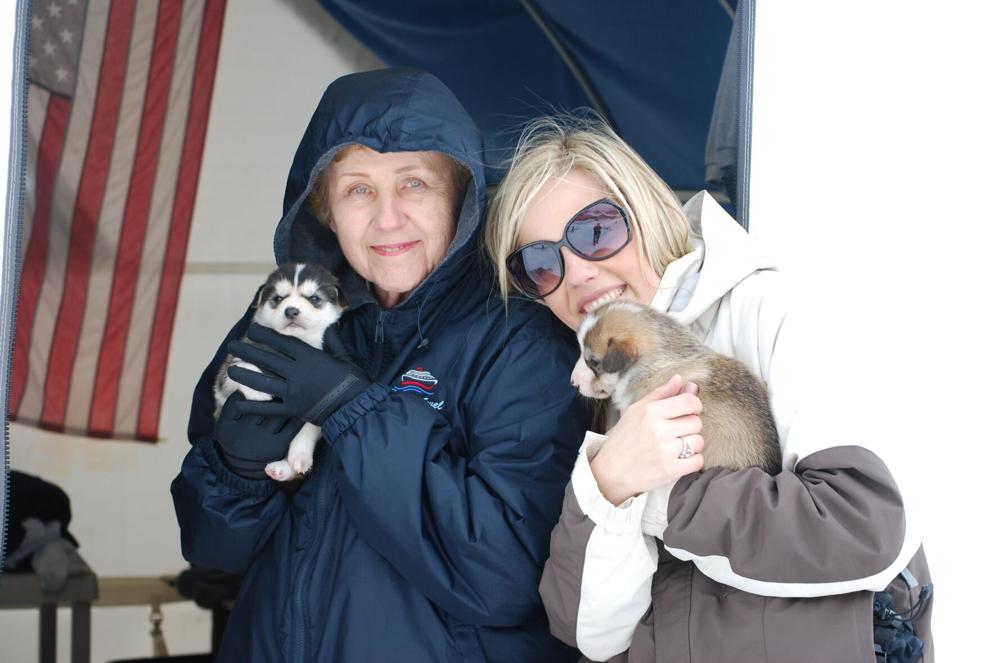 Both Karamitas and DeVall have an adventurous spirit they say is unmatched by anyone else in the family. That bond was solidified 12 years ago when the duo went dogsledding during a trip to Alaska.
Karamitas said she still vividly remembers disembarking from the helicopter onto a glacier with her grandmother. With steel-spike shoes on their feet, Karamitas said she worried that her grandmother, then 86, might slip and fall on the icy ground.
"But she was unafraid. She was just living a dream," Karamitas said. "It was just so magical to do that with her. I don't know how to describe it. It was the perfect day and the perfect experience together, just one of the greatest moments of my life."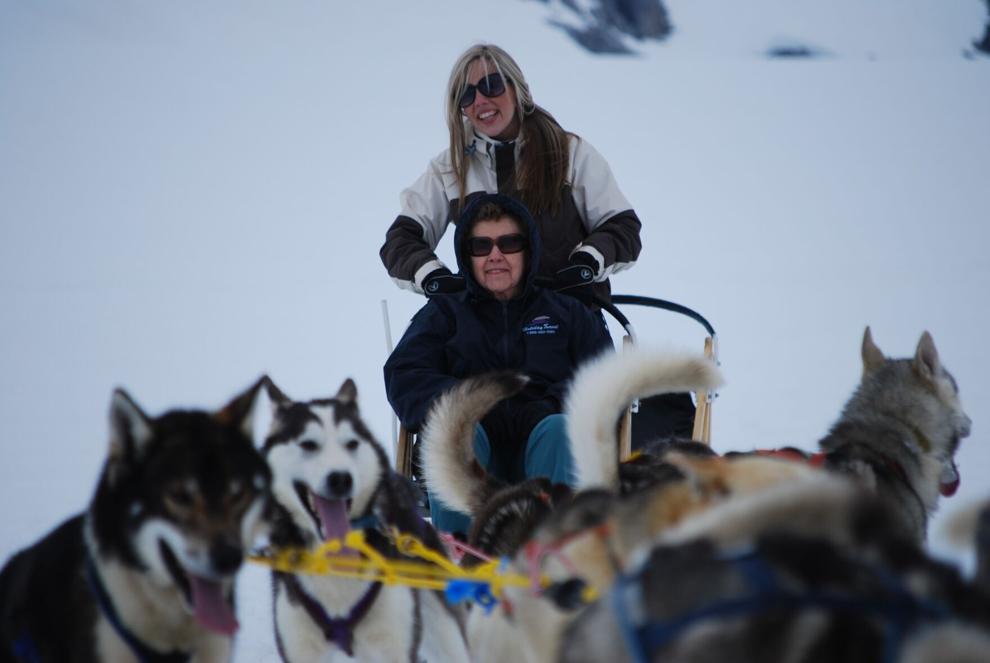 Karamitas, who grew up overseas as the daughter of missionaries, said the elderly are often viewed less favorably in America than other parts of the world.
"Old people in the U.S. are seen as very disposable. They're people we see as a burden or irrelevant. Their wisdom is dated and no longer pertinent to us. We see them as a hindrance to us in many ways. We don't see much that they can give us," Karamitas said.
"But growing up overseas, specifically in Africa, the elderly were a treasure. They were your greatest treasure. They were the source of the greatest wisdom, the deepest wisdom. They're highly respected, more than anyone else in the community.
"I think we've seen these values reflected with our approach with COVID. People get weary with protecting older people, like they're not worthy of the protocol. There's not a village mentality. It's about me and my freedoms. It's not about protecting everyone in our community."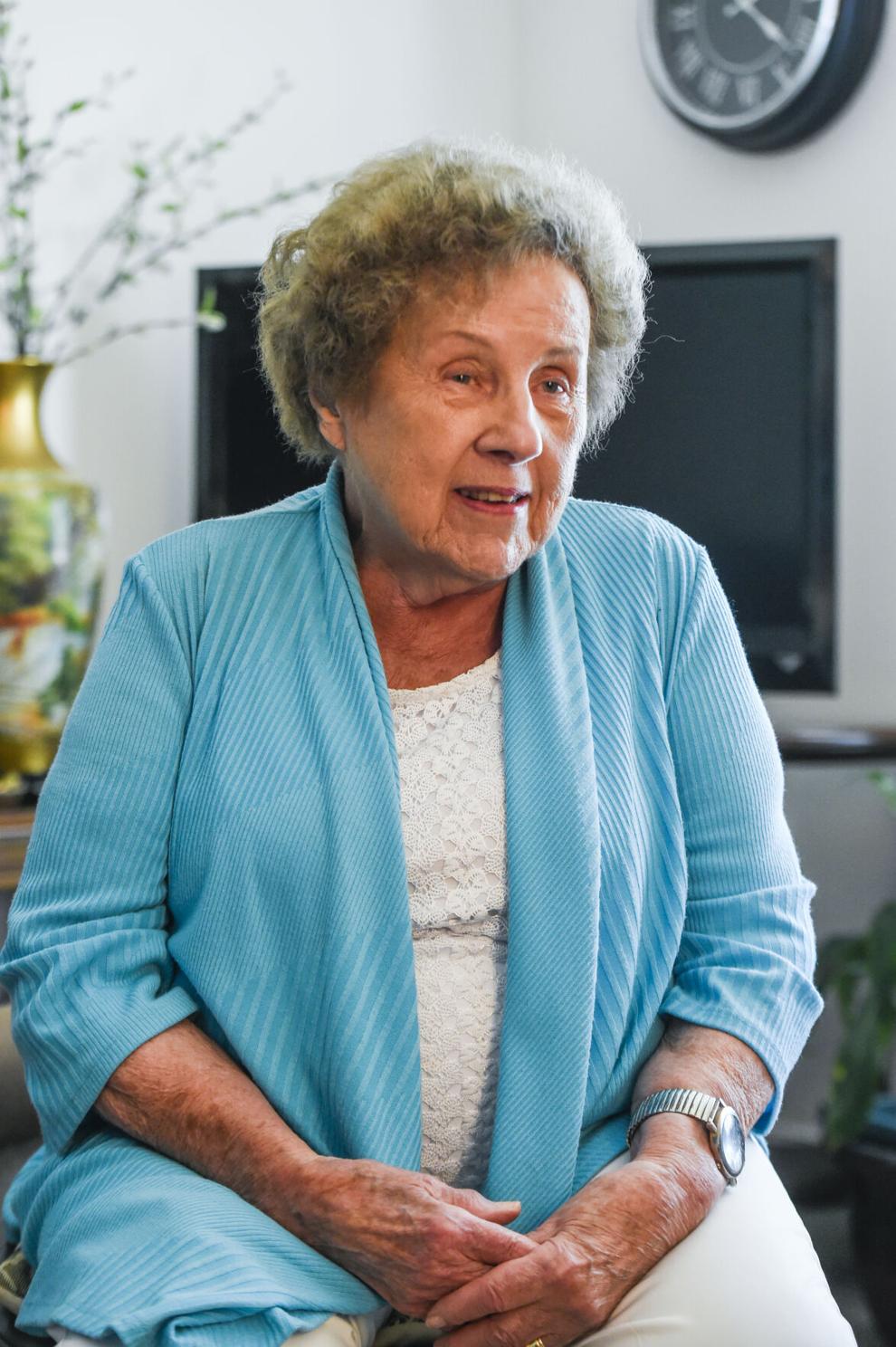 DeVall and her family have managed to survive the pandemic without becoming sick from the novel coronavirus. They're cautiously optimistic that the worst is over now that vaccines are widely available in Louisiana. 
Three residents of The Blake at Lafayette were sick with COVID-19 during the past year, according to a company spokesperson. Two of the three died.
Louisiana recently loosened visitation restrictions at communal living facilities, including The Blake, where 90 out of 91 residents have been fully vaccinated.
"What changed with visitation was a direct result of the vaccines," said Caroline Barry, spokesperson for The Blake. "We had three different vaccine clinics. They didn't have to get on a list or leave to get the vaccine."
Now, with nearly all of the residents and staff fully vaccinated, Barry said The Blake is planning to offer clinics for friends and family members of The Blake.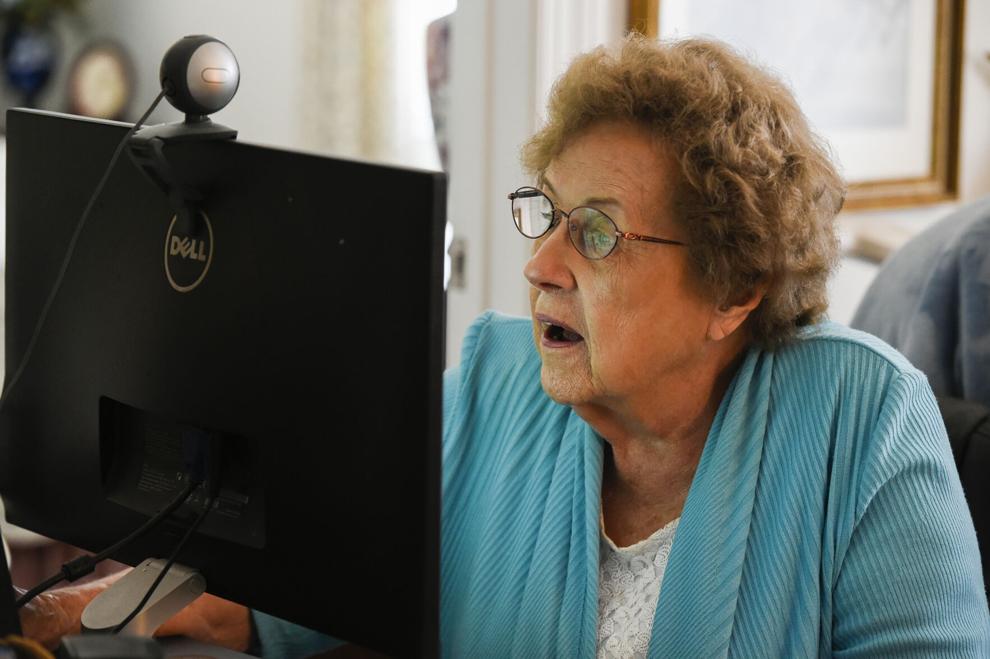 Like most of her neighbors, DeVall is now fully vaccinated against COVID-19 and can hug her loved ones again. She's planning to dine at her favorite restaurants and shop at her favorite stores in the coming weeks.
DeVall also recently embraced her daughter Cindy DeVall for the first time in nearly a year.
Cindy DeVall, of Scott, has taken her mother to and from doctor appointments and has delivered groceries to her apartment during the pandemic, but those interactions can't replace a real hug.
"She's shrunk," Cindy DeVall said with a laugh as she remembered the moment she finally embraced her mom again. "You have this little person that you wrap your arms around, and you just smell her hair, and you touch her skin — this person who gave you life — and you're just thinking, 'What a warrior this person is who can have this positive attitude.'"
Tears replaced Cindy DeVall's laughter as she spoke. 
"I'm 74 years old, and my mother is still alive," Cindy DeVall said, her voice breaking. "It makes me feel so blessed. I've had her for 74 years, and her memory is great. I guess I just took it for granted that I'd be able to walk into her apartment any time I wanted. You don't think about it until you can't do it."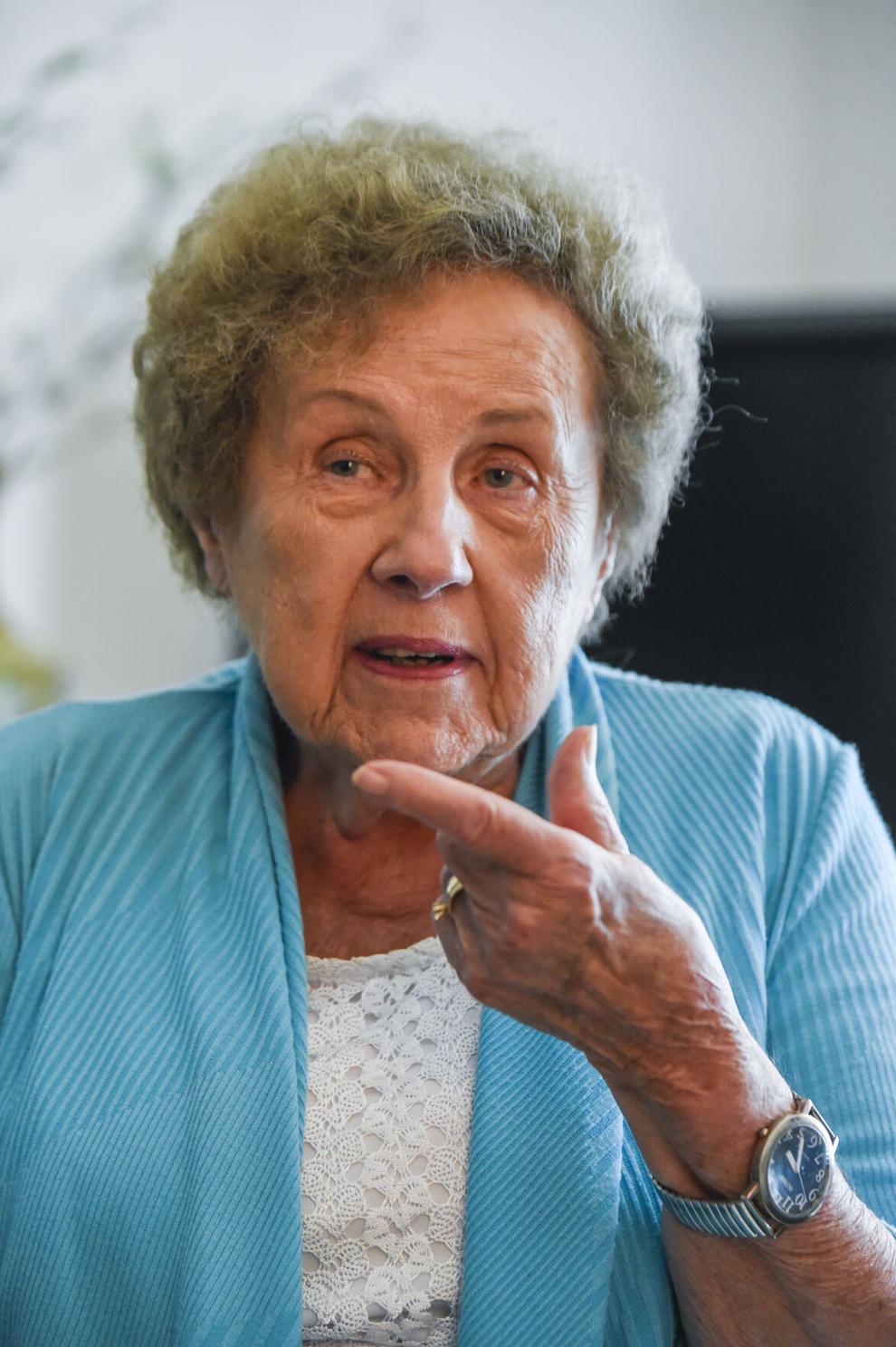 It's been well over a year since Karmitas has been able to embrace her grandmother. Aside from video calls, Karmitas has only seen her grandmother once during the pandemic — through a glass window last year while traveling to a funeral.
Karmitas had booked a trip to Lafayette for March 2020 but had to cancel it as the country shut down at the beginning of the pandemic. She's hoping to reschedule that trip in the coming weeks as long as it is safe to do so.
As for June DeVall, she's planning to continue living her life to the fullest and inspiring those around her to do the same.
"People talk about how they're going down mentally, and they say, 'Oh, I am so old,'" DeVall said. "I say, 'Look, age is just a number. It's how you feel. I'm glad I'm this old.'"
Acadiana Business Today: Developers behind Trappey's site want to turn it into riverfront development, 'something we just don't' have'