Abi Bordelon was beyond careful during the final weeks of her second pregnancy as the novel coronavirus spread across Louisiana.
When she started to feel sick two weeks before her due date, she was certain it wasn't COVID-19. After all, she'd been on lock down at home for weeks, even using a curbside service to pick up groceries. The only time she left her home in Hamburg, a rural community in Avoyelles Parish, was to go to her OB-GYN appointments in Lafayette.
"We literally were blown out of the water when we found out that I tested positive because we were so, so careful about everything," Bordelon said. "We were truly terrified. I never would have thought that we, of all people, would be the ones to face this."
Bordelon, 22, woke up feeling sick on April 7, just two weeks before she was scheduled to be induced. She had a runny nose, body aches and low-grade fever. She visited an urgent care facility in Marksville that day to be tested, just to be on the safe side. Three days later, the test result came back positive.
Although her temperature never got higher than 100.4 degrees, she did lose her sense of smell and taste, along with her appetite, as the days went on.
Bordelon's doctor recommended that she stay isolated at home until her April 21 induction appointment at Our Lady of Lourdes Women's and Children's Hospital. Her water broke at 3:30 a.m. that day, a few hours ahead of her induction appointment.
When she arrived at the hospital, she was taken into a negative pressure delivery room and tested again for the virus. Everyone who entered her room wore personal protective equipment from head to toe and treated her as though she had the virus because her test result wouldn't come back for 24 hours.
Her 9-pound, 1-ounce newborn boy named Remington was whisked out of the delivery room as soon as he was born. He, too, was tested and treated as though positive for the virus. Remi was kept in an isolated nursery and cared for by health care workers in full, protective gear.
"Everyone who came into my room had a plastic gown on, mask, gloves and a face shield," Bordelon said. "Even though I know they were so uncomfortable wearing all of that, they never complained and always made sure I was OK."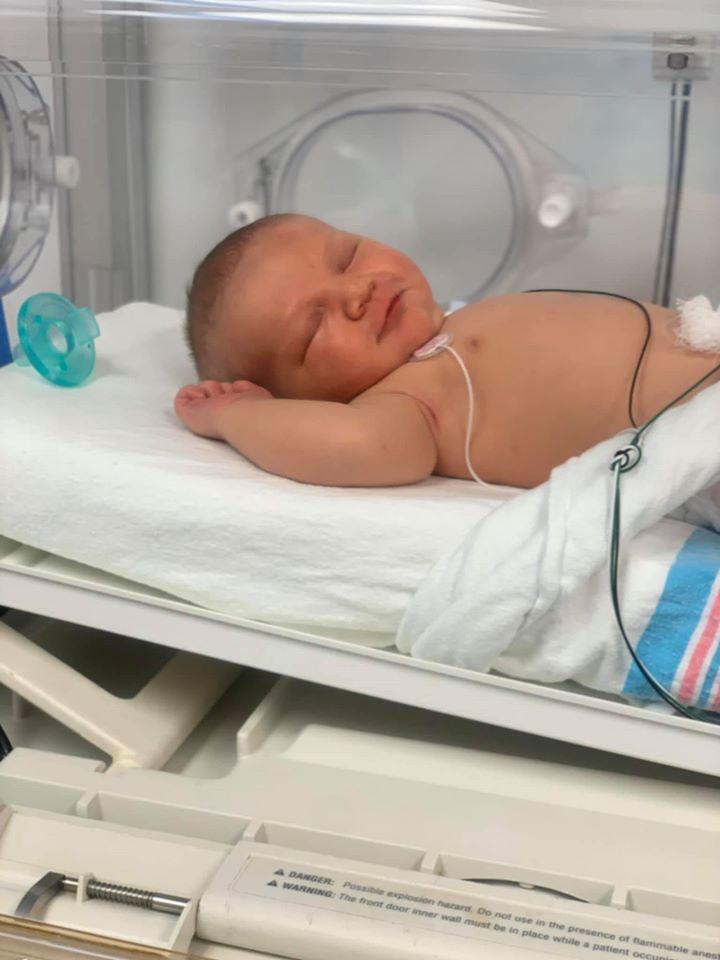 Bordelon's test came back positive the next day and again 24 hours later. Her baby's 24-hour and 48-hour tests both came back negative.
That meant mother and baby had to stay separated, both in the hospital and again after returning home, until Bordelon tested negative for the virus. Although she understood why it was necessary, it didn't make it any easier.
"It was rough, but I knew it was best for my baby," Bordelon said. "I didn't get any contact with him at all."
That's when the nurses at Women's and Children's stepped in to make a difficult situation a little easier.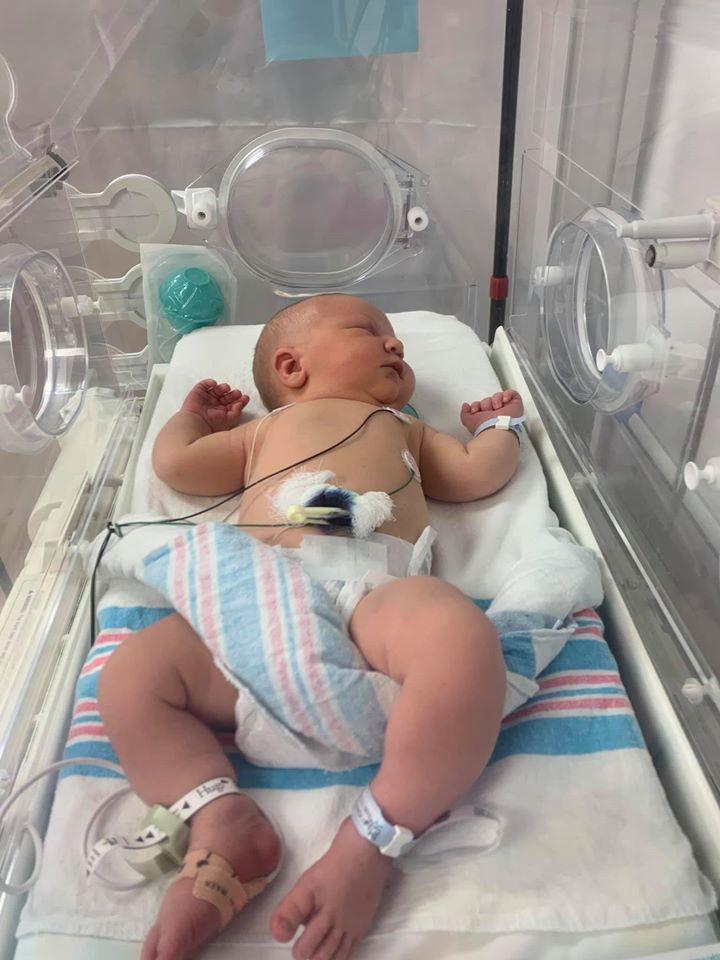 One nurse placed Bordelon's phone in a plastic bag, brought it into the nursery and took photos and videos of baby Remi for Mom to see. Another wrote a heartfelt letter to Bordelon on the day she was discharged to let her know the baby was being loved on her behalf.
"I just fed your precious baby boy Remington and he is the sweetest," Brittany Prevost wrote. "After his feeding, I held him, snuggled him, and cuddled him, and then I cried! I cried sad tears for you because I couldn't even imagine how hard it must be for you. I cried sad tears for him because he has not gotten to love on his mommy. I cried happy tears because out of all of this craziness, he is a beautiful healthy baby boy."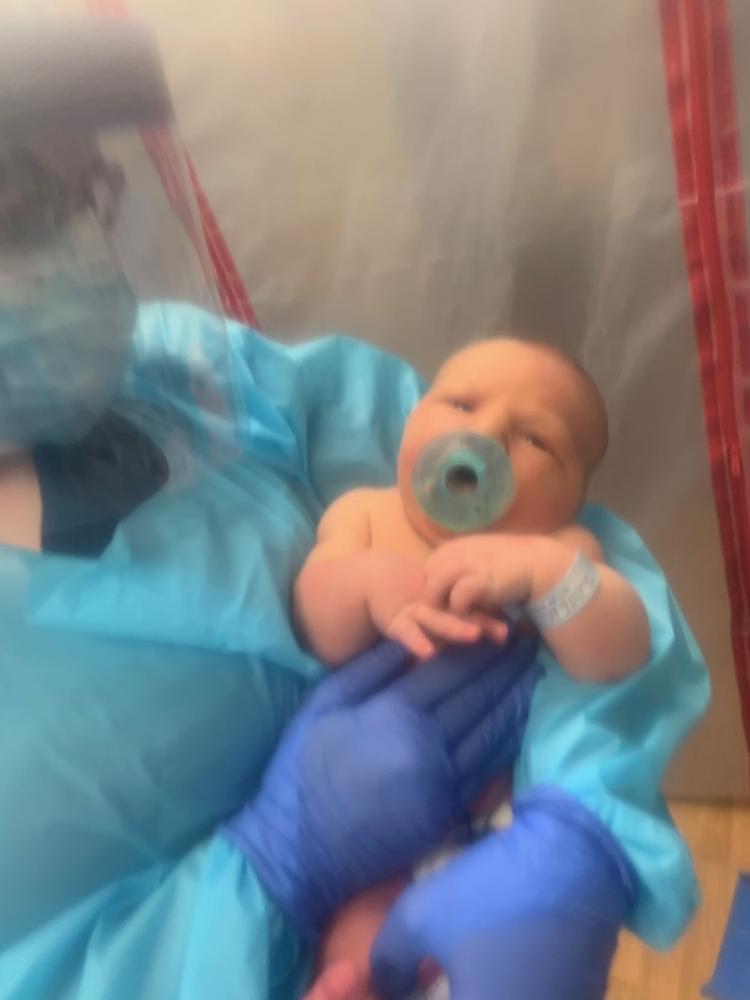 The words from the nurse, who also has a young son, brought comfort to Bordelon.
"I immediately called her from my hospital room crying and thanking her so much for loving on my baby since I couldn't," Bordelon said. "She is the absolute sweetest. My husband also got to meet her that day."
Bordelon snapped a photo of the letter and shared it to Facebook, and it was soon being shared around the world — something Prevost never expected would happen.
"I was so shocked," the nurse said. "I'm still overwhelmed with all of it. I wrote it not thinking that anyone else would see it. It's crazy how quick it got around to everyone."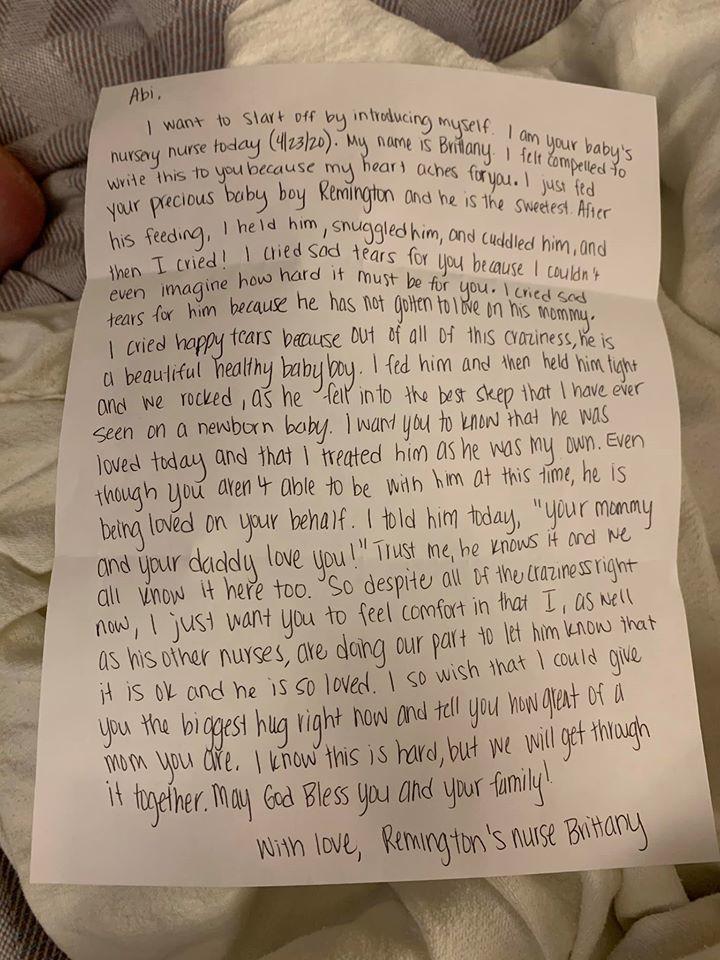 Prevost has worked as a registered nurse for Women's and Children's for about eight years, but she's never written a letter to a patient before this. Health care workers try to limit their visits to rooms where a patient is positive for the coronavirus, so a letter seemed like a good way to let Bordelon know her baby was in good hands.
"I have a son, and I just know how emotional it would be not to be able to hold him," Prevost said. "After I fed Remi, I just held him because he had been kind of fussy all morning, and he fell asleep. I started crying and just thinking how hard this must be for her. I just felt like a letter was really the only way I could communicate with her to help her through this situation."
Because Bordelon was still testing positive for the virus when she was discharged from the hospital, her husband had to bring home baby Remi in a separate vehicle. He and their two sons stayed isolated from Bordelon during their first few days back at home.
A week after giving birth, Bordelon finally tested negative for the coronavirus and was able to hold her baby for the first time.
"I cried my eyes out, of course," she said. "My husband gave me the biggest hug ever when I walked through the door, and I sat on the floor and held my 2-year-old until he wouldn't let me anymore."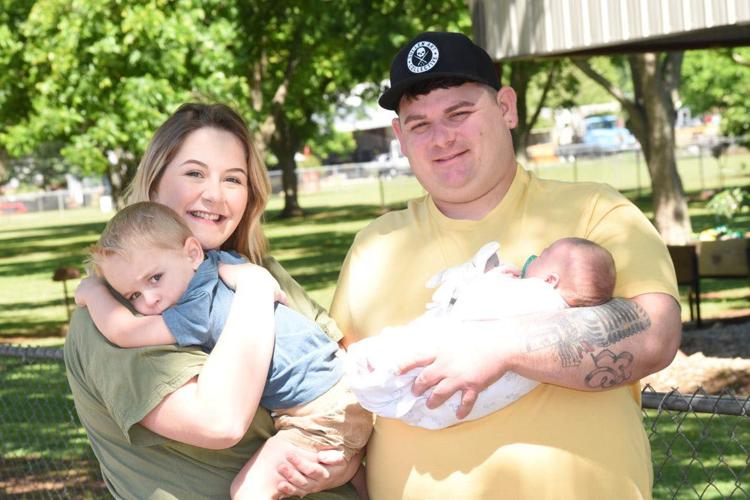 It was the best Mother's Day gift Bordelon could receive.
"It is literally like the weight of the world is off of my shoulders now," she said. "We made it. I am so thankful and blessed that I wasn't actually that sick with the virus, but I wouldn't wish even this on anyone. This virus is nothing to be messed with. It shows no bias. It is real and it is hard to conquer."
Bordelon has been sending Prevost text messages with updates and photos of baby Remi. The two hope to meet each other in person one day after the coronavirus restrictions ease up.
"I feel like I got a friend out of it," Prevost said. "It's been awesome. She's so sweet and an inspiration to me because of what she went through."
As for Prevost, the overwhelming support and appreciation people have shown her because of her letter came just in time for National Nurses Week, which happens May 5-12. Prevost said she couldn't be more thankful.
"It's hard for the nurses having to put on all this gear and not being able to breathe under masks, but we love what we do so much," she said. "We do it every day for these patients. To have people just thanking us randomly for what we do has been so rewarding. It's just a reminder that you're in the right place and you're doing what you need to do."
Prevost said she'll be thinking of Bordelon as she catches up on baby snuggles and celebrates Mother's Day with her family this weekend.
"What I've been thinking about was how any mom could have been like, 'No, give me my baby,'" Prevost said. "But she did the right thing to protect her baby, even though it was hard for her. She put her baby first, and that's the definition of a great mother."