Christine Savoie sat down at her sewing machine last weekend for the first time in more than a month. 
In mid-February, she was adding colorful fringe to a costume ahead of a rural Mardi Gras celebration. This time, she was making face masks to donate to hospitals as the novel coronavirus pandemic depletes medical supplies.
"My family is Cajun French," Savoie said. "And learning to sew is basically a family tradition."
Like many in rural Acadiana communities, the 24-year-old Crowley native learned how to sew from her mother and grandmother. 
It's a household skill that, although not as vital as it once was, remains especially useful during the Mardi Gras season.
After all, you won't find the costumes worn during rural chicken chases at big box stores or department stores. And even though formal Mardi Gras ballgowns are easier to purchase, there are often alterations to make and sequins to add. 
It's perhaps why many in Acadiana still own sewing machines and have the skills needed to sew cloth face masks for regional medical providers.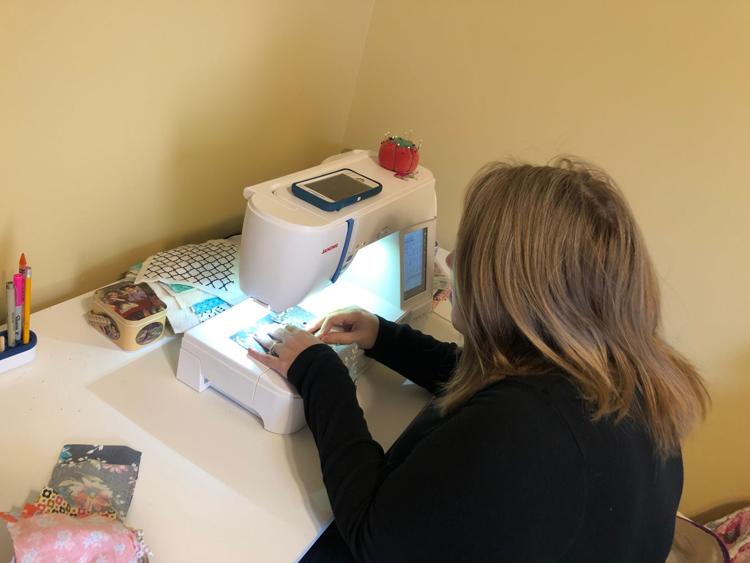 Lafayette hospitals began accepting handmade mask donations last weekend as the number of known cases of COVID-19, the disease caused by the new coronavirus, in the area continued to grow.
Savoie said she received a call from a representative at Our Lady of Lourdes Regional Medical Center soon after filling out an online donation form.
"They called me on Sunday and asked when I could have them ready," Savoie said. "They told me they were running desperately low and needed them for testing sites and after-hours clinics."
Savoie and her mom worked until midnight to make two dozen face masks for the hospital, which they packaged individually in resealable plastic bags and left in their mailbox for a volunteer to pick up.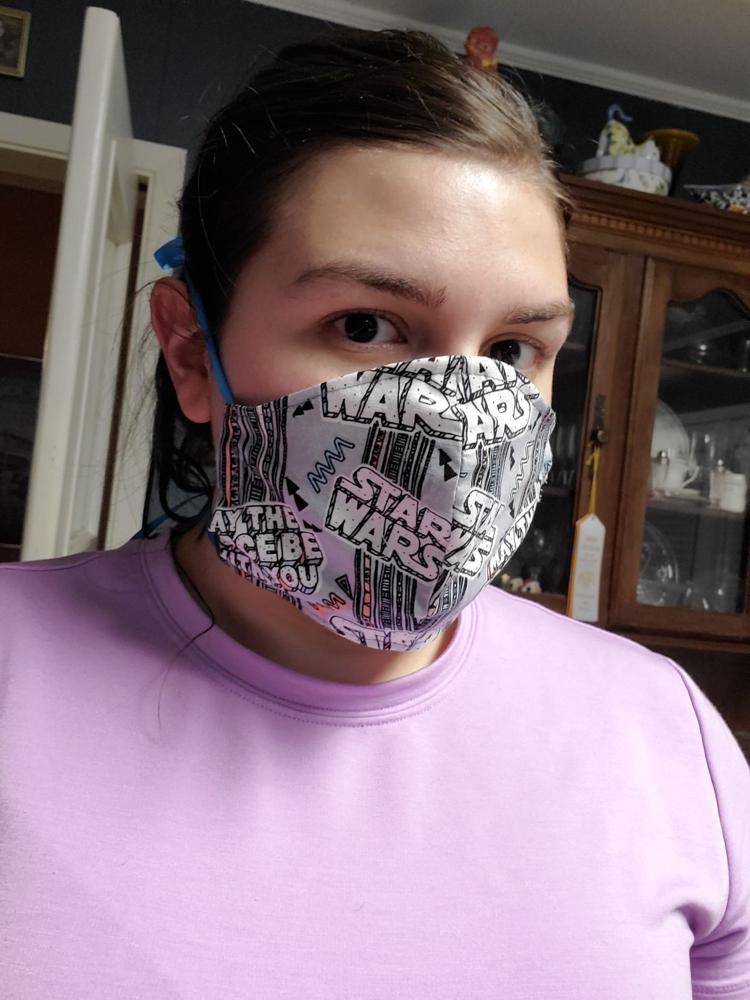 "We've been very blessed," said Trevis Badeaux, a spokesperson for Lourdes. "Acadiana by nature is a very giving and supportive community, and it's in challenging times like this that our residents really shine. The donations are letting our team members know that we're not alone right now."
Although hospital administrators have publicly said there is not a shortage of disposable surgical masks, they are preparing for the possibility.
They have called for donations of disposable surgical masks and N95 masks in addition to the handmade cloth masks.
"Our health care systems are not out of personal protective equipment," said Patricia Thompson, spokeswoman for Lafayette General Medical Center. "However, given the surge that other areas are experiencing, and knowing that the whole world is competing for the same supplies, we thought it was a good idea to start accepting donations early on when people started offering."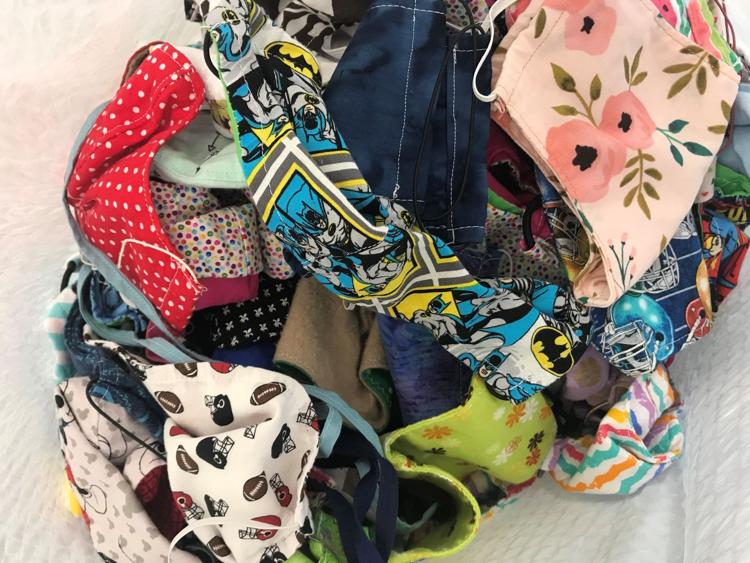 Handmade face masks are recommended for use by health care providers caring for patients with COVID-19 only "as a last resort," according to The Centers for Disease Control and Prevention.
The CDC recommends exercising caution when considering the use of homemade options because their protection capability remains unknown, instead recommending their use in combination with a secondary face shield.
At this time, Thompson said the handmade masks are not being used by doctors, nurses and other medical professionals working directly with patients who are suspected to have COVID-19.
Instead, the reusable cloth masks are primarily being given to patients recovering at home and their caretakers.
They're also being used by medical professionals who are not in close contact with patients suspected to have the virus, such as hospital receptionists.
The handmade masks are helping to stretch out the remaining supply of medical-grade masks.
"I think Cajuns by nature are very resourceful," Thompson said. "I can remember learning about The Great Depression and asking my grandmother about it, and I remember she told me, 'We were already poor. We didn't miss anything because we were already there.' So I think some of what we're seeing from crafters and makers here is a result of our history: You make do, and you learn how to be resourceful."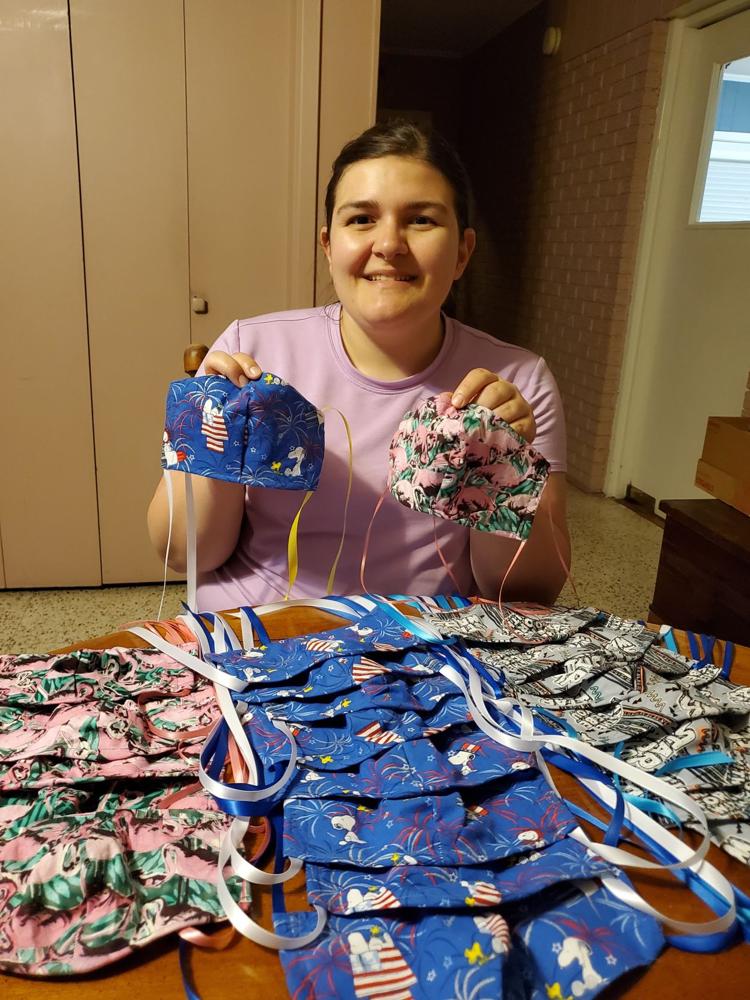 Savoie and her mom have been able to make a few dozen masks per day.
Each mask is made of cotton and lined with flannel. Ribbons are attached to secure the masks in place.
Unlike the typical disposable masks, most of the cloth masks are bright and colorful.
"I like using cute fabrics that are still within the guidelines," Savoie said. "I think it's less intimidating for someone who might be scared, whether it's a caretaker or patient who is wearing one. It's my hope that whoever wears one of my masks will be cheered up."
Savoie's masks include patterns inspired by the "Star Wars" sci-fi movie franchise, "Harry Potter" fantasy book series and "Peanuts" newspaper comic strip.
A few thousand handmade masks have been donated this week to health care providers through newly established donation sites, including the United Way of Acadiana, Lola Pink Fabrics and A&A Sewing Center.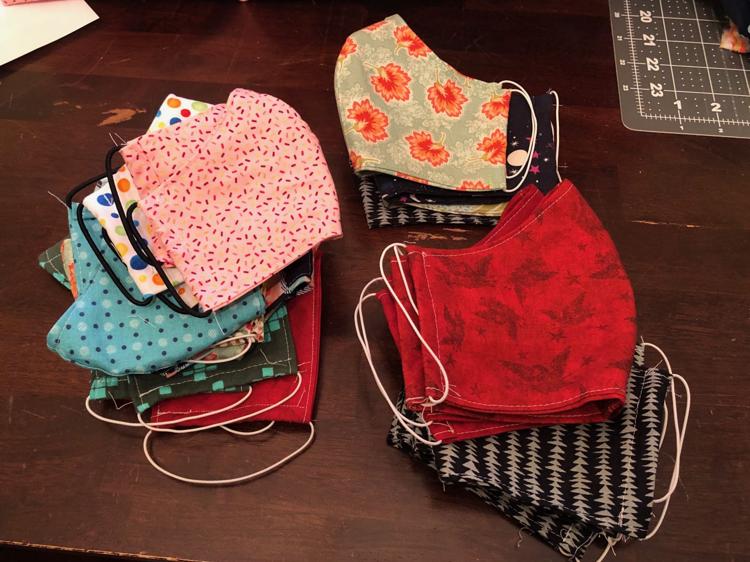 And it's not just home seamstresses who are busy sewing masks.
Clair Champagne of A&A Sewing Center has also been making cloth masks alongside her mother at their Broussard shop.
They've made a few hundred so far and have collected additional donations from their regular customers, who are busy making masks from their homes.
Although many people have reached out about purchasing masks, Champagne has instead made tutorial videos so others can make their own. Champagne said she wants to make as many masks as she can for those most in need.
"I feel like our calling is to fill the needs of those who are on the front line," Champagne said. "No one wants to profit from a disaster, so we aren't selling any of what we're making."
The cause is close to Champagne's heart because she has multiple friends who work in the health care industry. Champagne said they're telling her that wearing a reusable cloth mask with a paper mask is helping to prolong the life of each disposable mask. And those disposable masks are becoming more precious with each passing day.
"It's horrifying that it's come to this. It's horrifying," Champagne said. "But we all have a weird opportunity right now to do something. I don't think anybody is going to turn away any kind of mask at this point."
Want to contribute?
Visit Lafayette General's Facebook page for a pattern and instructions on how to make a mask, or reach out to Lourdes through the online COVID-19 donation form for specific instructions. 
Handmade masks can be dropped off between 8 a.m. and noon at the United Way of Acadiana's warehouse at 215 E. Pinhook Road. Donations are also being accepted at A&A Sewing Center, 1209 Albertson Parkway Suite J, and Lola Pink Fabrics, 123 Arnould Blvd.
Acadiana Business Today: Oil and gas is 'done' for 2020, energy economist says; gas as low as $1.29 per gallon in Louisiana; Stimulus bill could 'help us be able to bounce back' from coronavirus, Acadiana business owners say