A highly anticipated federal lawsuit filed Monday morning claims that Lafayette Police officers violated 31-year-old Trayford Pellerin's constitutional rights when they shot him to death on Aug. 21.
Those claims are based on evidence shown to Pellerin's parents, Cedrick Pellerin and Michelle Pellerin, who are the plaintiffs. They say the evidence casts doubt on two justifications that authorities issued in the days after the shooting: that Pellerin held a knife, and that tasers were properly deployed but ineffective.
The only publicly available evidence is a bystander video showing several officers converging on Pellerin and shooting him as he attempted to enter a gas station convenience store on NE Evangeline Thruway around 8 p.m. A woman is heard saying "that man got a knife" a few seconds before the officers open fire, but it is not discernible from the video if Pellerin is holding one.
Lafayette Mayor-President Josh Guillory last month arranged for the Pellerin family to view selected evidence, above the objections of lawyers representing three unidentified police officers who obtained a temporary restraining order that was later dropped. Descriptions of that evidence provided by the Pellerin family's lawyers is the only window into the shooting that has been afforded to the public.
The Pellerin lawyers maintain that Pellerin's killing was unjustified regardless of whether he held a knife, since police failed to use non-deadly force such as batons or pepper spray. What is more, they say, Pellerin was never a threat to anyone but himself.
"You never see him physically engaging with any police officer at all," said Ron Haley, a lawyer representing the Pellerin family. "He does not make a threat to any officer or any person. You clearly can see that."
The family and their lawyers were shown 20 minutes of footage from one officer's body camera, three still photographs and four recordings of disturbance calls to police, according to Haley. None of that evidence shows Pellerin holding a knife, he said.
The only knife contained in the disclosed evidence is a still photo of a knife on the ground, Haley said. But he said the black handle and the length of the blade looked like knives that two police officers used to cut off Pellerin's shirt while rendering aid after the shooting.
Haley said officers can be heard on the body camera footage ordering Pellerin to drop his weapon in the seconds before they shot him. But he said they may have assumed Pellerin held a knife based on initial disturbance calls. The callers reported seeing Pellerin with a knife, but they also told dispatchers Pellerin had put the knife back in his bag. Dispatchers asked the callers if Pellerin threatened anyone, Haley said, and they replied that he had not.
Guillory arranged the viewing on Sept. 18 as an olive branch after public outcry over his initial response to the shooting, in which he described Pellerin as a "knife-wielding suspect" and did not offer condolences to Pellerin's family.
"The way it was described to us, this was not to give the family all the answers. This was to give the family some semblance of peace to see what happened, to answer some of their questions," Haley said, describing the circumstances of the viewing. "One of the main questions they had, was there something else that could have been done, other than shoot Trayford. 100 percent that is yes."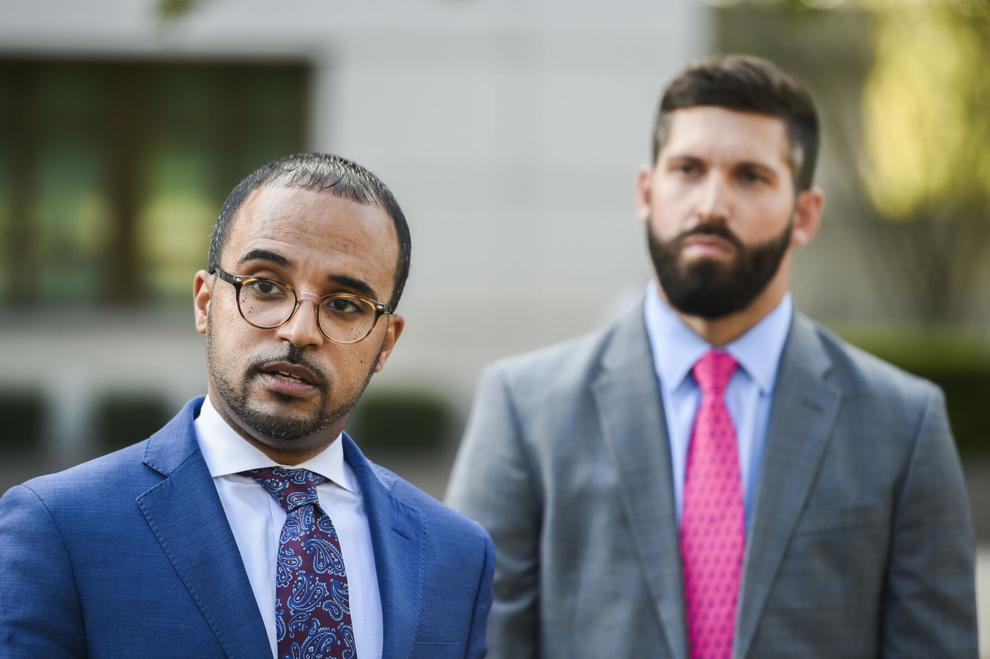 The Pellerin family's legal team previously described evidence in a statement to The Current, drawing criticism from the officers' lawyers, who said in their own statement that "piecemeal dissemination of evidence in ongoing investigations is never prudent."
"We previewed the audio/video shown to the family and their attorneys and unequivocally state that points provided by the family's attorneys are generalizations, false and show a lack of understanding of the reality of the situation the officers were faced with — a violent situation created and exacerbated by Pellerin's noncompliance — and split-second tactical decisions they were forced to make to protect the safety of the innocent store patrons," lawyers Allyson Prejean, Brett Grayson and Jordan Precht wrote in a statement.
Chase Trichell, another attorney representing the Pellerin family, said during a Monday afternoon press conference that he welcomes conversation with the officers' lawyers.
"I'll start a narrative. We welcome them to come speak up," Trichell said. "The thing is, the Pellerins didn't volunteer to be in this situation. They've been forced into this situation, and it's completely tragic. So if the city government or the officers or their attorneys want to speak and tell their side, we welcome that. In fact, that's all we're requesting at this point. We would love transparency. The only reason the lawsuit is being filed at this juncture is because we haven't gotten answers to these questions. So if it's a lopsided narrative, we welcome them to come tell their side of the story. We're open ears."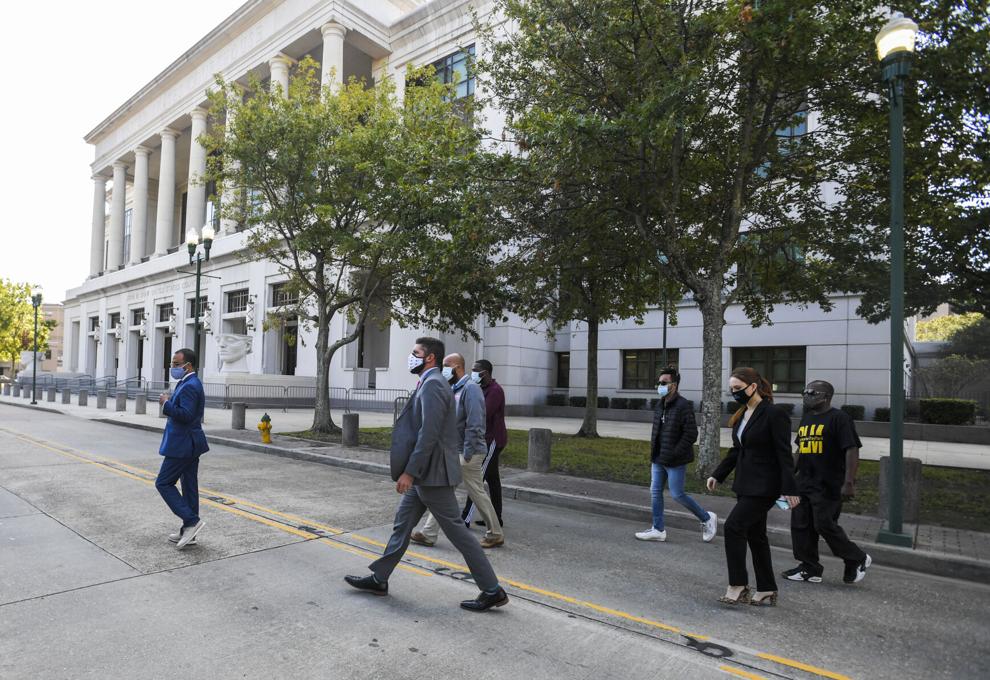 The officers' lawyers declined to comment or issue a statement for this story, citing the pending litigation.
The initial disturbance calls pertained to a man acting strangely and bothering customers at a different convenience store, about half a mile from the one where Pellerin was shot. Three calls came from a store clerk, who called a non-emergency number. Another came from a customer outside the store who called 911, Haley said.
Both callers reported seeing Pellerin holding a knife while in the parking lot, after he left the store, but that he put it back in his bag, Haley said. He said both callers averred that Pellerin did not threaten anyone.
The body camera footage provided to the family came from the first responding officer, who arrived to the store where the calls were made. The footage shows Pellerin walking away and the officer, who was ordering him to return, Haley said. Pellerin exchanged words with the officer with his hands in the air, Haley said, and the video clearly shows his palms and fingers not in possession of a knife.
Pellerin turned and walked away from the officer at a normal pace, Haley said, and the next six minutes shows the officer walking behind him. At no point can Pellerin be seen reaching into his bag, where the callers said he had put his knife, Haley said.
The pursuing officer fired a taser that appeared to hit Pellerin's bag, Haley said, describing a still photograph of the taser shot. Haley also noted that an autopsy commissioned by the family showed no evidence of Pellerin being struck with a taser. The results of the Lafayette Parish Coroner's Office autopsy have not been released.
Pellerin stumbled to the ground twice while crossing the divided road to the gas station, and by that time several officers — the total number is unclear — aided in the pursuit. After the shooting, one of the officers can be heard on the video saying he had also fired a taser but missed.
"If he was one of the converging officers on him, that means he made the right decision in trying to de-escalate at that time," Haley said. "What if the other five or six other officers would have done the same thing?"
The Pellerin family's lawsuit is against 10 unidentified Lafayette officers labeled as John Doe 1-10, along with interim Lafayette Police Chief Scott Morgan, the Lafayette Police Department, Lafayette Consolidated Government and two insurance companies identified as ABC Insurance Company and XYZ Insurance Company.
John Doe 1 is thought to be the initial responding officer, and John Doe 2, 3 and 4 are thought to be the officers who fired their weapons at Pellerin, the lawsuit says. 
John Doe 5 was the direct supervisor of the first four officers; John Doe 6 was the watch supervisor and John Doe 7 was the watch commander the night of Pellerin's shooting.
John Doe 8, 9 and 10 arrived at the gas station before the shooting but did not attempt to intervene, deescalate the situation or use nonlethal force, "such as maneuvering their police vehicles to block Mr. Pellerin or strike and immobilize him," the lawsuit says.
"All defendants acted jointly and in concert and conspiracy which led to the death of Mr. Pellerin," the lawsuit states.
The lawsuit claims police and city-parish leadership did not adequately train officers on proper police practices, such as how to deescalate a situation, how to properly deal with citizens suffering from mental illness and when to use deadly force.
Typically, police and other government officials have qualified immunity from civil lawsuits unless a plaintiff can prove a clear violation of constitutional rights that any reasonable person would know. 
"A lot of this has to do with making sure we got past qualified immunity," Haley said. "You have to show patterns of practices. We have the big picture based on what we're able to see in the body cam videos, but a lot of the details referencing the supervising, or lack thereof, will be forthcoming when we get into discovery."
Suggesting Pellerin's case is not unique, the lawsuit points to statistics published by the Lafayette Police Department that "show a pattern, custom, and practice of excessive use of force, including improper use of lethal force."
Lafayette Police submitted 1,172 use of force reports between 2010 and 2019, which equates to about one every three days, the lawsuit says.
During the same time period, there were 107 civil lawsuits filed against the Police Department, the lawsuit says.
Examples cited in the Pellerin family's lawsuit include civil suits concerning a 2009 alleged killing of a black man suspected of auto theft, a 2011 traffic stop in which a motorist's arm bone was allegedly snapped "in half," a 2012 incident in which police allegedly tackled a woman from behind while handcuffed, and 2013 and 2016 incidents in which men were allegedly shot in the back while fleeing.
"The LPD's excessive use of force and improper deadly use of force cases show a clear pattern of excessive and improper use of force, including lethal force, against African-Americans like Mr. Pellerin," the lawsuit says.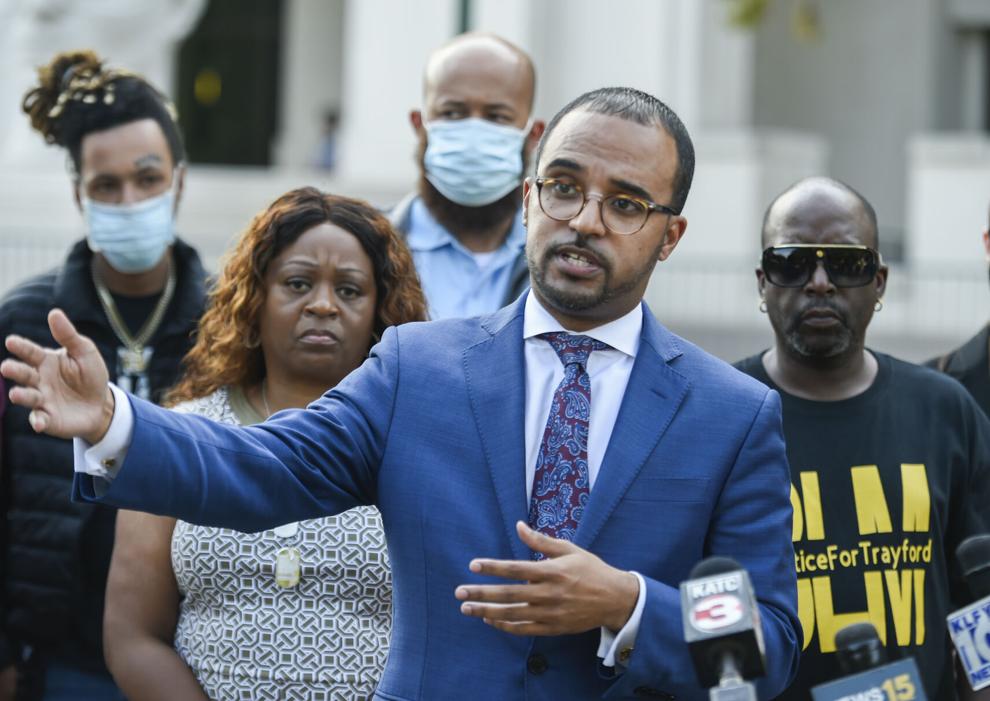 The Pellerin family is not suing for a specific amount of money, although federal lawsuits require a dispute to exceed $75,000 because smaller claims are settled in lower courts.
Instead of a monetary figure, the family is suing for justice, according to Haley.
"Justice is transparency," he said. "Justice would be 48 to 72 hours after a critical incident, such as this, that if the request is made by a family, if the request is made by the public, by the media, that footage is released. That's the first part of justice. Justice looks like transparency."