The name Gus Walker still inspires dread in some older black residents of Iberia Parish.
"I always associated it with evil, and it's not just me," said Phebe Hayes, a retired professor and dean at the University of Louisiana at Lafayette who grew up in the parish.
The chilling allegations against Sheriff Louis Ackal that resounded across the parish in 2016, lodged by a parade of former deputies who admitted to abusing perhaps hundreds of mostly African-American residents, rang familiar to Hayes and others who grew up black around New Iberia.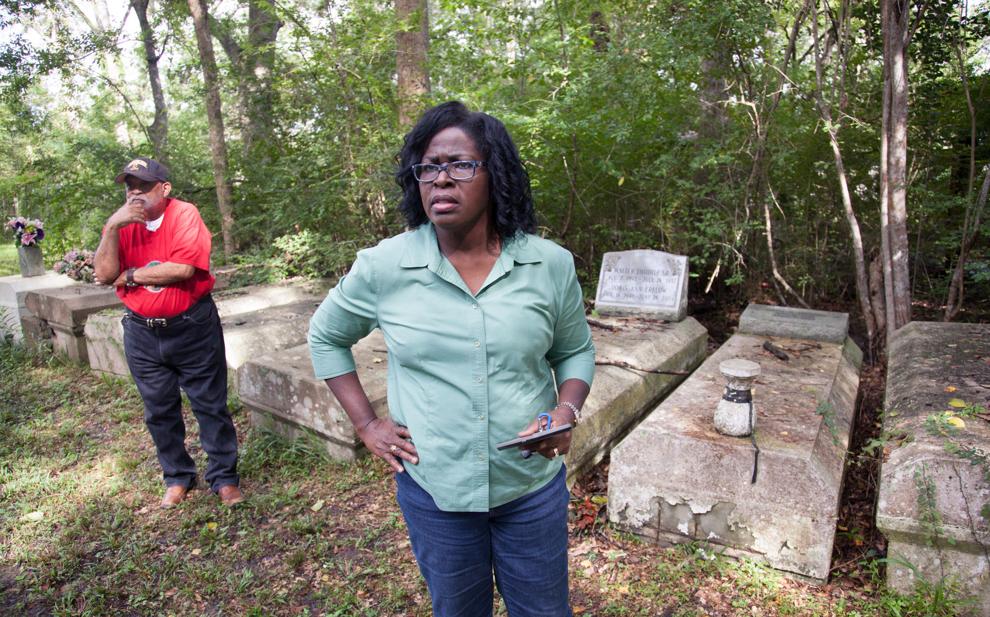 To those with long memories, the Ackal case was a modern echo of the time before the civil rights movement, when Iberia lawmen were a blunt and brutal instrument of white supremacy.
In fact, Iberia Parish decades earlier had been a locus of early federal efforts to protect black citizens from a police force that terrorized rather than protected them. That effort, like the probe of Ackal two generations later, showed its limits.
Walker was a high-ranking sheriff's deputy in the 1940s and the subject of grisly stories overheard by children who stayed up too late. He was a real-life loup-garou — the swamp creature of Cajun folklore — with a gun and a badge, and a heavy dose of racism. The moral of any Gus Walker story was simple: Don't mess with white lawmen.
"Let me tell you what we were taught, what black people would tell their children, what my grandfather told my young uncles," said Adam Welcome. "It was: 'I'm-a whip your butt so the white man don't have to whip you.' "
A few months before his death in March at age 81, Welcome sat in a weathered recliner in his den and unspooled one of the bloodiest Gus Walker stories in the canon — and the one that struck closest to home for him.
It was about a shotgun blast that left Roosevelt "T-Boy" Theodule dead in his front yard on an early spring morning in 1941.
Welcome's wife, Barbara, stayed quiet in the next room. Theodule (she pronounces it "toe-deal") was her uncle, the handsome Creole man she knew only in a frame on her grandmother's mantel.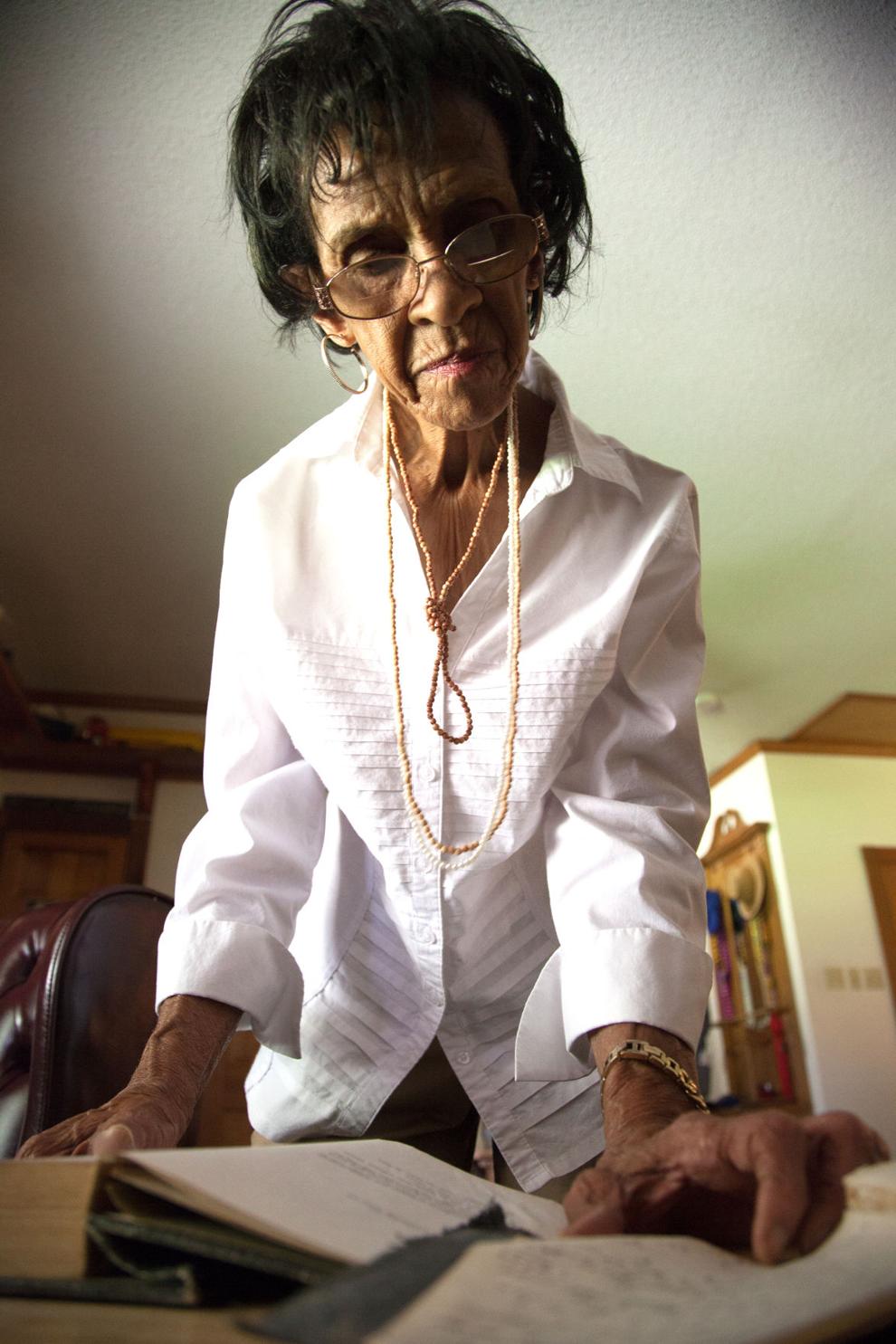 His killing, at age 27, happened before she was born and remained a mystery, she said, until she heard about it from her husband.
He said he heard details from "the two young boys that were first to make it down the road when that happened," and from his wife's grandmother, Adelle Theodule, in a quiet moment.
She rarely spoke about her son, who was gunned down in front of her, Welcome said.
'Say your prayers'
Walker was married with two stepdaughters. On the side, he ran a corner store with a gambling outlet, employing Roosevelt Theodule as a card-cutter, Welcome said.
But when Theodule, a divorced father, began dating one of Walker's stepdaughters, the deputy wasn't pleased. Rumor had it he offered to pay Theodule to leave for Texas and "told him if he would ever catch him, he would kill him," Welcome said.
The girl stayed out one night. Walker sat waiting on his porch.
"He saw a car drop her down some distance from the house. And I'm told that he attacked her, and she told him who she was out with, and at sunrise the next morning, he drove down to T-Boy's grandmother's house."
They lived in Olivier, an enclave just outside New Iberia, down Old Spanish Trail.
"(Walker) honked on his horn. Adelle come to the door. He said, 'Tell T-boy I want to talk to him.' He was taking some time so (Walker's) patience was getting short. She says, 'He's putting on his shirt.'
The eighth episode of the New Orleans Advocate's weekly podcast, "The Neutral Ground," is available for download. 
" 'Tell him he doesn't need his shirt.' And he came out," Welcome said.
"And when he got close to the car, Gus Walker got out of the car with his Winchester and told him, 'Get on your knees; say your prayers,' and shot him in the heart," Welcome said.
Two men who hung out at Walker's store told people they heard Walker call Gilbert Ozenne, the sheriff, and tell him, "I just killed a n*****." Walker called a funeral home and "told 'em he wanted them to pick up the body, and he'll pay for it," he said.
Welcome, a U.S. Army veteran, taught trades to black high schoolers before the Iberia Parish schools desegregated in 1967, and then worked for Exxon as a corrosion technician. Behind him, signs reading "colored men" and "colored women" adorned the door to a small washroom.
Barbara Welcome walked into the room when the story was done. She had been out of sight but listening.
"I can't imagine how painful that must have been for her," she said of her grandmother. "And I'm sure she had to stand there and see that bullet go into her child's body, and (Walker) turned and walked away."
Public records confirm some details of the killing. Theodule's death certificate, held in the State Archives, lists the manner of death as "homicide" and the cause as "gunshot wound of left chest."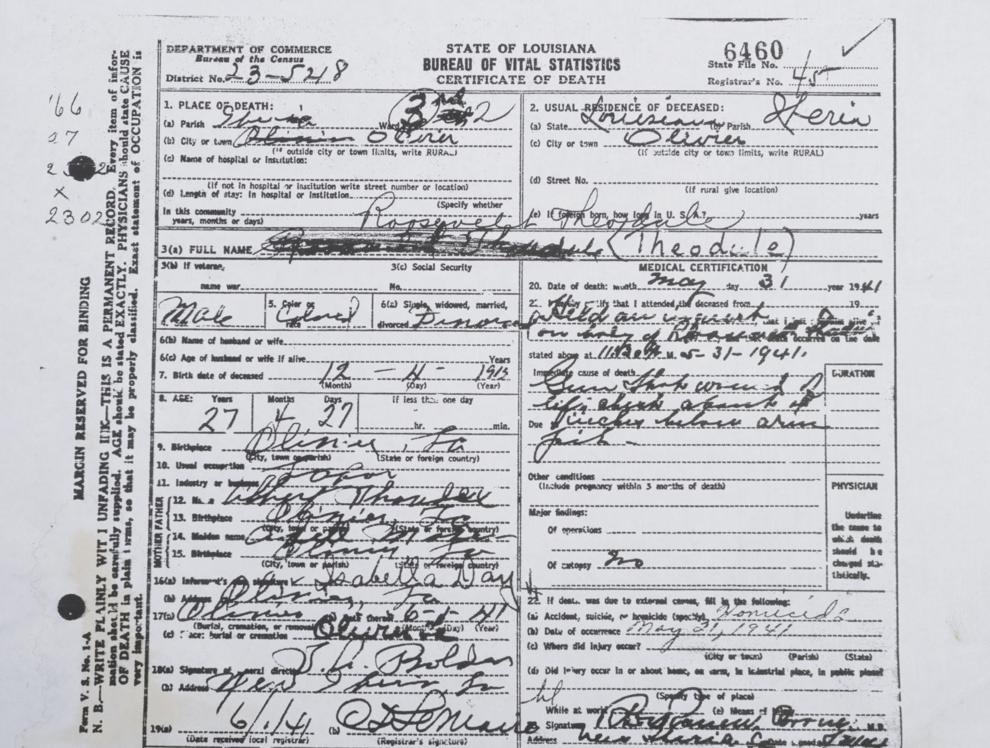 The fact that Walker killed Theodule was never in doubt. The coroner held an inquest 10 days after the death. Called to testify were Walker, one of his stepdaughters and Theodule's father, who claimed he hadn't seen or heard anything.
Walker's stepdaughter claimed that Theodule dragged her out of her house and tried to rape her. Walker, meanwhile, testified that he fired in self-defense after going looking for Theodule.
"Mr. Walker said he called Roosevelt Theodule out of his house about 5 a.m. and told him to walk on as he was taking him to jail," a summary of the inquest says.
"Mr. Walker testified that Theodule attempted to take his gun from him, Walker shoved the negro, who again attempted to reach for the gun. Believing the negro was making a third attempt to secure his weapon, Mr. Walker stated that he shot the negro."
Five inquest jurors deemed it a justifiable homicide, clearing Walker.
Theodule's tomb is unmarked, Barbara Welcome said, resting near his mother's in an overgrown clearing behind an abandoned church on the road to Jeanerette.
The fatal shooting only burnished Walker's violent legend. He would become known as "Rough House Walker," or just "Killer Walker."
"I heard it on my end of town about Gus Walker: 'Gus Walker was a bad man.' 'Gus Walker shot a man,' " Adam Welcome said.
'Don't come back'
Three years later, in 1944, Walker would become a central figure in a notorious episode of violence in New Iberia that garnered national headlines and prompted a federal investigation: the beating and expulsion of four prominent black residents, including two doctors, in a racist backlash over a push to start a federal welding program for African-Americans.
J. Leo Hardy, president of a newly formed local branch of the NAACP, was agitating for black voting rights as well, and he was the first one beaten. Ozenne, the sheriff, doled out the punishment himself, Hardy wrote in an affidavit that was forwarded to the FBI.
The sheriff and the Iberia Parish schools superintendent, Lloyd Porter, had confronted Hardy and given him until 10 the next morning to leave town.
But Hardy lingered after the deadline, until four deputies picked him up that night a block from his house for a trip to the Sheriff's Office. There, Ozenne "began slapping me on both sides of the face, then using his fist very forcefully — kicking me two or three times. I can't count the times he pummeled me in the face, talked about killing me and my kind."
Can't see video below? Click here.
Hardy was driven to a gravel road a mile outside of New Iberia. One deputy grabbed his necktie and punched him repeatedly in the face, he said. He was told to walk fast, and one deputy fired a pistol. "Don't look back," they told him. "Don't come back."
The next day came more expulsions: Herman J. Faulk, the treasurer of a federal credit union; Dr. Ima Pierson, a dentist; Dr. Luis Williams, a physician who ran a public clinic for black residents inside the parish courthouse by the tracks.
Each man said he was beaten, driven out of town and told never to return.
Faulk explicitly named Walker as one of two men who came to his front door, on Field Street in the city's West End.
"Upon arriving at the door Gus Walker said, 'Herman, we would like to speak to you.' I opened the screen door and said, 'Come in, sir.' Walker said, 'No, we only want to see you about a sick cow,' " Faulk wrote in an affidavit.
"As I stepped off the porch the other gentleman put a revolver in my back and said very quietly, 'Walk to that car, n*****, and don't make any noise.' "
Walker drove. The other deputy cuffed him and belted him with a club, Faulk said.
"Both threatened to kill me when we got to our destination," about five miles outside New Iberia.
"I was clubbed over the right eye, knocked to the ground and stomped in the face by Gus Walker," Faulk alleged. "Blood began running from my nose and mouth."
The deputies released Faulk and told him to "run until I was tired, then continue walking until I was out of the state of Louisiana."
Williams, the 31-year-old doctor, said he was "struck several times with a loaded stick while one of the men held a gun on me." He described his assailants as driving a Plymouth sedan.
Pierson, the dentist, also described being picked up in a Plymouth sedan by two deputies posing as FBI agents that night, wanting to question him "about trouble between the colored and white people of New Iberia."
Pierson, 46, identified Walker as one of the three men who drove him outside the city and punched him repeatedly. Another deputy pistol-whipped him, he said.
Welcome said he came to know Pierson as a patient, outside of New Iberia.
"Dr. Pierson had a plate in his head" from the beating, Welcome recalled. "If I tell you, 10 years later, he appeared to have been nervous working in my mouth."
The expelled men stayed away. One moved to the West Coast. Hardy would die months later as a result of his beating. Several other black residents of New Iberia, including two doctors and the welding school instructor, quickly fled the city.
Two NAACP lawyers, A.P. Tureaud, of New Orleans, and Thurgood Marshall — the future U.S. Supreme Court justice — pressed the U.S. Justice Department to prosecute, and the FBI launched a probe.
Accounts at the time described a "reign of terror" in Iberia Parish that caused "volcanic reactions" across Louisiana. But many witnesses refused to get involved, and a federal grand jury declined to issue an indictment.
'Power of life and death'
Adam Fairclough, a British historian who has written extensively about the civil rights movement in Louisiana and the South, wrote that the episode provides "a fascinating case study of the first, fumbling attempts by the federal government to protect the civil rights of black Southerners."
Fairclough chronicled the expulsions and beatings of the four black New Iberians in his 1995 book, "Race & Democracy: The Civil Rights Struggle in Louisiana, 1915-1972."
"This was going on everywhere. This was not just Iberia Parish," he said in a recent interview. "What happened, the use of deputy sheriffs as enforcers, was just how it was done across the South."
He described three "circles of power" in what he described as the enforcement of white supremacy: federal, state and local.
"Really the sharp end of the stick was the county or parish level. There, your sheriff did the dirty work. You can focus on these brutal deputies. Let's not forget who they're working for, who they're taking orders from, who winks or even encourages their brutality. It's inconceivable Walker could have been doing what he did without Ozenne approving it.
"The sheriff is a very intimidating figure for black Southerners. He has the power of life and death."
Parallels with the recent federal investigation into Ackal, the current sheriff, and several of his former deputies aren't lost on Hayes, the retired college professor.
Hayes said the enduring stories about Gus Walker hint at a reservoir of mistrust that has built up among black New Iberians toward law enforcement over generations.
It's why black parents teach their children "not just how to drive but how you survive in case you encounter a deputy or a police officer with a badge or a gun," Hayes said.
"You can't separate what's happening now from historically what has happened. Because if people can do that kind of evil and get away with it, what does that tell you about your power?" she said.
"These old people, they had to live here and take whatever happened. There was distrust; there was fear probably, and it gets handed down," she said. "There's a division, and some of these acts of violence, they're the cause of this — this lingering distrust, this lingering gap between blacks and whites in the community."
Ozenne would stay on in his post after the scandal.
He died of a heart attack in 1951, at age 55, shortly before a state grand jury indicted the town marshal, a deputy marshal and a deputy sheriff on corruption charges over illegal gambling and brothels in New Iberia. Ozenne's wife, Camilla, won a special election to succeed him.
It wouldn't take long before Tureaud, the civil rights lawyer, would field more allegations against the Iberia Parish Sheriff's Office.
In 1958, several black residents complained in sworn statements that Sheriff Gerard Wattigny had browbeaten and threatened them over their support for a candidate he opposed for district attorney. Wattigny was up for election the following year, and he was accused then of ordering the arrest of two men who opposed him, on vote-fixing charges.
In both cases, the sheriff's accusers also implicated a high-ranking deputy who they said acted as his muscle.
The same deputy had once stood trial on battery charges, accused of striking two men while trying to seize their weapons during a nasty labor strike in 1952 at the Jefferson Island Salt Co.
That deputy was Louis G. Ackal, and his then-9-year-old son would one day be sheriff — and, like his father, walk away free from a trial.