A hiker known as "Mostly Harmless" whose body was found in the Florida Everglades in 2018 has been identified as a Lafayette man whose family still lives in the area.
The Collier County Sheriff's Office announced on Tuesday the identity of "Mostly Harmless" as Vance Rodriguez, a New York information technology worker with Louisiana roots.
Two hikers discovered Rodriguez's body on July 23, 2018, at a small campsite deep in Florida's Big Cypress National Preserve. The man, who was known simply as "Mostly Harmless" by fellow hikers and those who worked to solve the mystery of his identity, had no identification, phone or computer with him. An autopsy did not indicate foul play in his death.
Detectives with the Collier County Sheriff's Office quickly exhausted all traditional efforts to identify the man and asked the public for help.
"Mostly Harmless" had encountered several people from 2017 until his death as he trekked south from New York to Florida along the Appalachian Trail.
By all accounts, the man was reserved. He told people he was from Baton Rouge and that he worked in tech in New York. Most people knew him as "Mostly Harmless," but a few knew him by other aliases, including Ben Bilemy. No one knew his real name.
The case gained widespread interest outside of Florida among hikers and novice detectives who worked to solve the mysterious identity of "Mostly Harmless" through conversations in Facebook groups and Reddit threads.
Last summer, in an attempt to generate renewed interest in the case, the Sheriff's Office released a podcast that detailed the final pages of the hiker's writings before his body was discovered.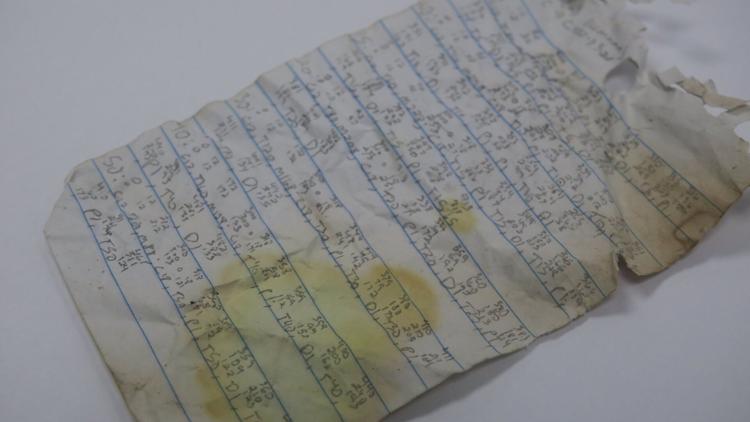 The Sheriff's Office also partnered last year with Othram, a DNA lab in Texas that works exclusively with law enforcement to solve cold cases through forensic genealogy. 
The genetics lab last month publicly confirmed "Mostly Harmless" as being Cajun with roots in Louisiana. That bit of news generated even more interest among Louisiana web sleuths who had been following the case.
One of those was Port Barre native Windy Maitreme, who was stunned by the resemblance between "Mostly Harmless" and her own family.
"It's crazy how much he looks like my family and how much they have in common," she said.
Maitreme posted photos of her dad and brother in a Facebook group dedicated to solving the mystery of the hiker's identity, and before long, the founder of Othram contacted her. The resemblance was so uncanny that the genetics lab overnighted her a DNA kit to see if there might be a match between her and the then-unknown hiker.
There wasn't.
The identity of "Mostly Harmless" was ultimately confirmed this month after a former co-worker of Rodriguez saw a photo of the unknown hiker and reached out to the Sheriff's Office. The co-worker provided authorities with the hiker's name and additional photos.
The Collier County Sheriff's Office reached out to the Lafayette Parish Sheriff's Office, and Lafayette deputies made contact with Rodriguez's family, who provided a DNA sample to Othram. The genetics lab confirmed a match based on the provided sample.
"We are glad to have solved this case," Collier County Sheriff Kevin Rambosk wrote in a Facebook post. "And we want to thank the community for their interest and for circulating the information that eventually reached the right person."
On Tuesday, upon learning that "Mostly Harmless" had been identified as a Lafayette native, Maitreme had mixed emotions.
"I am so happy that he has been identified and his family has been notified of his passing," she said. "The thought of his remains just sitting in a cooler for years kept me up at night. I have prayed for his soul to find rest since I first read his story. However, it is a little bittersweet. I mean, how did no one in his family know he was missing?"
Rodriguez was born in 1976 near Baton Rouge, according to an article by Wired. 
His friends told Wired that Rodriguez tried to kill himself at the age of 15, but would survive a self-inflicted gunshot wound to the stomach. He would be emancipated by a Lafayette court by the age of 17, Wired reported.
Rodriguez attended the University of Louisiana at Lafayette, then the University of Southwestern Louisiana, but didn't graduate, according to Wired. He eventually started working as a coder for an e-commerce company based in Baton Rouge called Shoppers Choice.
The man had troubled relationships with women, according to Wired, and eventually moved in 2013 to New York City, where relationship problems continued.
In April 2017, he headed into the woods, leaving behind his passport, wallet and credit cards, along with unopened food, in his New York City apartment.
"Vance cut all ties and left," Rodriguez's friend told Wired. "Everyone assumed he would show back up."