A trail of physical and technological evidence led local, state and federal investigators to an Opelousas man who was arrested Wednesday in connection with fires at three historically black Baptist churches in St. Landry Parish, arrest reports show.
Holden Matthews, 21, was arrested on three counts of simple arson of a religious building, Louisiana State Fire Marshal H. "Butch" Browning confirmed at a news conference Thursday. He said Matthews is suspected of setting fire to three St. Landry churches over 10 days.
Each count carries a maximum 15-year penalty, he said. A judge denied bond for Matthews and instead a bond hearing has been set for May 2, court records show. 
Matthews was arrested in connection with the March 26 fire at St. Mary Baptist Church in Port Barre; the April 2 burning of Greater Union Baptist Church in Opelousas; and the April 4 blaze at Mount Pleasant Baptist Church in Opelousas.
Based on sales records, video footage and cell tower data, authorities identified Matthews as a probable suspect early Wednesday and arrested him within 12 hours. They considered Matthews an immediate threat to public safety and "averted what could have possibly been other fires," Browning said.
---
Can't see video below? Click here.
---
Browning would not elaborate if plans for other fires were discovered.
"This community is safe again. We are extremely, unequivocally confident that we have the person who is responsible for these tragic crimes on these three churches," Browning said.
St. Landry Parish Sheriff Bobby Guidroz said Matthews has no known history of violence or prior arrests. Investigators are not actively looking for other suspects.
Information from Matthews' arrest affidavit tells of multiple evidence trails linking him to the crimes.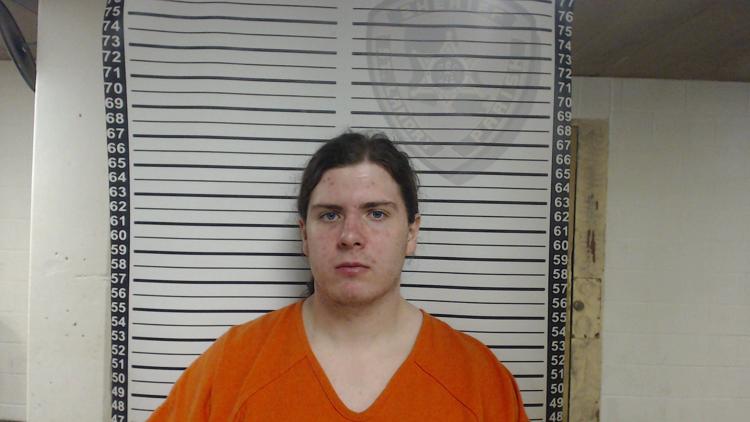 A crucial piece of evidence was a red Scepter-branded gas can found among the debris at one of the fire scenes.
Agents with the federal Bureau of Alcohol, Tobacco, Firearms and Explosives identified Walmart as a seller of that brand. They discovered a Scepter gas can was purchased, along with shop towels and a lighter, at the Opelousas Walmart just before midnight on March 25, three hours before the first fire was reported, the affidavit said.
Purchase records show the debit card used in the purchase was registered to Holden James Matthews. Matthews was also required to submit his photo ID for the purchase and video surveillance shows him buying the gas can, lighter and towels.
Photos from the Opelousas Walmart show him driving a gold or beige Ford. A beige 2002 Ford model 6000 pickup truck is registered to his father, Roy Matthews, arrest documents show.
One person has been arrested in connection with the fires at three historically black Baptist churches in St. Landry Parish, multiple media so…
A similar pickup truck was seen at the site of the second fire, according to the documents. Surveillance footage from businesses and a home near Greater Union Baptist Church showed a pickup truck driving in front of the church, then pulling into the church's parking lot, the affidavit said.
The truck remained for about 20 minutes. Minutes after the truck pulled away, a glow of a fire could be seen inside the church. The truck returned to the church again, stopping in front of the building as the church burned, the affidavit says.
The truck remained in the area even after 911 was called.
Additionally, a St. Landry Parish firefighter said the pickup truck in surveillance footage matched a truck he saw near the scene when he responded to the April 2 Greater Union fire.
Other videos show a light colored extended-cab truck like Matthews' consistently traveling back and forth near each crime scene, the documents show.
Finally, cellphone tower data placed Matthews' cellphone at the scene of all three fires.
Matthews' father is St. Landry Parish sheriff's deputy Roy Matthews, Sheriff Guidroz confirmed. Guidroz said Deputy Matthews, who was not involved in the fire investigation or fire response, was "shocked and hurt" when he learned his son was a suspect.
While Deputy Matthews did not turn his son in, he did bring him to a neutral location so officers could apprehend him, Guidroz said. Holden Matthews didn't resist.
Officials said they have yet to determine Matthews' motivation, however Browning said Matthews was associated with a type of music called "black metal," which is "associated with church burnings."
Holden Matthews' Facebook page lists him as the lead singer and songwriter for a black metal group called the "Vodka Vultures." Some sects of black metal have ties to white supremacist activity and neo-Nazi movements, but Browning and federal authorities would not say if they've discovered ties between Holden Matthews and these groups.
The Facebook group "Followers of the old ways" denounced him Thursday. The group has over 75,000 members.
"Due to actions taken outside this group Holden Matthews is no longer a member of this group. We as admins condemn his actions and do not approve of them. While he has not broken any of the group rules for use of our page, his actions outside of this page shows that he is not worthy to be a member of FOTOW," page administrator Henrik Balslev Jørgensen said.
Next week, Christians will mark the most solemn string of days on the church calendar, when the devout recall the grim pageant of violence tha…
Investigators would not confirm if race was a motive in the burnings, but the fires were reminiscent of historical targeting of African-American churches. Thirty predominantly African-American churches were burned across the United States in 1996, including five in Louisiana.
"Any questions as to the potential motives of hate are continuing to be vetted by federal authorities," Browning said in a release.
Eric J. Rommal, special agent in charge of the Federal Bureau of Investigation's New Orleans office, said agents would continue gathering evidence before making any declarations.
The Rev. Gerald Toussaint, of Mount Pleasant Baptist Church, and the Rev. Harry Richard, of Greater Union Baptist Church, said they can sleep soundly now that their churches are out of harm's way. Their relief was palpable during interviews Thursday.
Richard said he doesn't know what inspired Matthews to attack his church, but he urged him to turn his troubles to God and allow the Holy Spirit to lead him.
"I would just like to ask him why he would do such a thing. I don't know his motives," Richard said. "I would like to see his heart and talk to him and let him express to me what it is that I've done, or anyone in our churches have done, to cause the pain or whatever it is he's feeling toward us that he would do such a thing."
Richard and Toussaint said their focus will now shift fully to rebuilding their communities and ensuring their congregants feel supported.
The three targeted churches have been active in the community for over 100 years, and families worshipped in the buildings for generations. Congregants at several churches said they've never worshipped anywhere else, and they're struggling to grasp that a source of solace and constancy in their lives is gone.
Law enforcement agencies threw considerable manpower behind the investigation of the fires, even as they hedged expectations by saying results could take months.
Browning told worshippers from Mount Pleasant Baptist Church at a service Sunday that roughly 200 people were working on the fire investigation, including "literally all of the state fire marshal's resources," the ATF and the FBI.
Toussaint said he was pleased with the law enforcement response to the arsons.
"Lately, law enforcement has been given a black eye but today it showed that they are real, and they're good, and they supported and helped us. Many of them didn't have to, but they did," he said. "We've developed a good relationship with them. I hope that relationship continues throughout our country, and not just in Opelousas and St. Landry Parish."