Five churches in Crowley have been the target of vandalism in less than four months, and local police plan to get federal authorities involved due to the nature of the crimes.
All of the targeted churches had either a window or glass door broken with a heavy object — a brick, piece of concrete or padlock — during the quiet, overnight hours. Each of the churches is located in a section of the city that's predominantly occupied by African Americans. Three of the five vandalized churches are historically black.
"The reason we're saying it's a hate crime is because we've got churches in all sections of our city, and this is the only section that's getting hit," said Crowley Police Chief Jimmy Broussard. "And, of course, in the wake of all of the burnings in St. Landry Parish, we're taking all of this very seriously."
Three historically African American Baptist churches were burned to the ground earlier this year in St. Landry Parish. Holden Matthews is accused of setting fire to the churches between March 26 and April 4. His trial is scheduled for Feb. 10, 2020.   
A Baptist church in Lake Charles was burglarized and set on fire last week.
Broussard said that even if racial motivation is ruled out in the vandalism case, the person or people responsible will be charged with hate crimes because churches have been the targets of the vandalism.
"We cannot say they're racially motivated," he said. "But we can't say it's not racially motivated, either.
"We believe it's the same person or group because it's the same M.O. every time. They're not going inside. They're not ransacking the churches. They're not stealing anything. They're just basically throwing a brick or a piece of concrete at the glass doors. They haven't even touched churches with wooden doors, really. It's just been those with glass doors."
The most recent vandalism incident was discovered Monday morning at Jerusalem Baptist Church, where a brick was thrown into the church's glass door.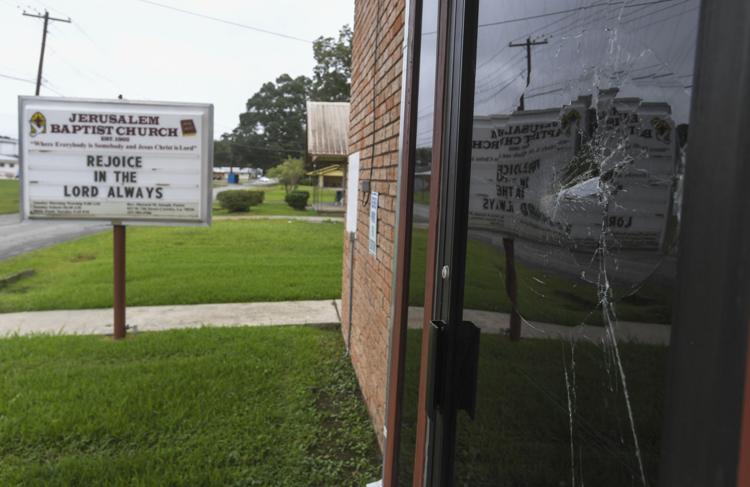 It was the second time the church's pastor had to deal with vandalism in less than a week.
The Rev. Sherard Marlon Joseph serves as pastor of both Jerusalem Baptist Church and Morning Star Missionary Baptist Church, which was targeted last Wednesday in the same way — with a brick thrown into one of the church's glass doors. Both are historically black churches.
"The response from our congregation here at Jerusalem has been, 'Man, they got us too,'" Marlon said. "It's sad, but all we can do is just laugh and shake our head. They got us too."
Vandalism was also discovered last Wednesday at First Church of the Nazarene, which has a predominantly white congregation. Again, a glass door was broken by a brick or piece of concrete.
Another glass door was found shattered by a brick or piece of concrete on Oct. 11 at St. Theresa Catholic Church, a historically black church.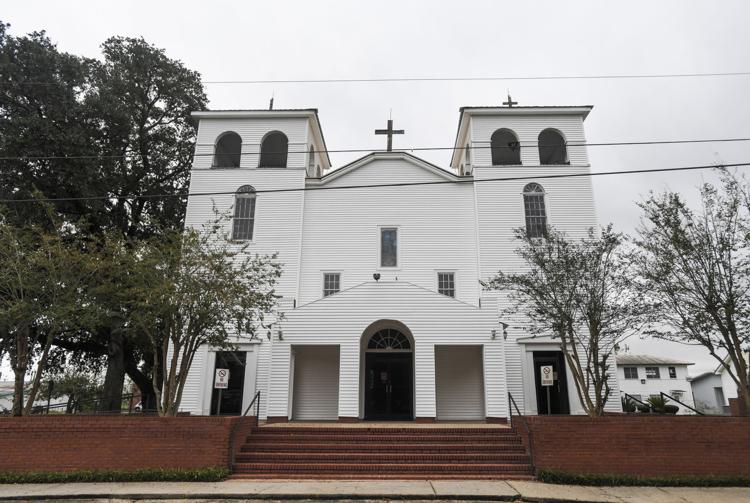 The first incident happened in early July. In that case, someone threw a padlock into a stained-glass window at First Lutheran Church, which is a predominantly white church.
The Crowley Police Department will be turning over the case to federal authorities within a week or two because the vandalism incidents are happening more frequently and seem to be linked, according to Broussard.
"I would venture to say, and I'm making an educated guess on this, that this is the work of juveniles for this reason: Even your most hardened criminals or drug dealers were still taught by their mothers and grandmothers to respect God's house no matter what denomination it was," the police chief said. "They might do a lot of stuff, but they're not going to mess with the church."
If Joseph could speak directly to the person or people involved in the vandalism, his message would be this:
"They are just eluding the authorities or the congregations that are affected now, but they will never elude God," the pastor said. "We just need it to stop. We just need it to stop. And if they never get caught, then that's something they'll have to deal with God."
Anyone with information about any of the vandalism incidents is urged to contact the Crowley Police Department at (337) 783-1234.