Five people died and four were injured Saturday morning when a small airplane struggling to take off crashed less than 2 miles from the Lafayette Regional Airport. Aboard the twin-engine aircraft was a group of LSU fans headed to Atlanta to watch the Tigers play in a college football playoff game.
One of the victims was the daughter-in-law of Steve Ensminger, offensive coordinator for LSU, which played Oklahoma on Saturday in the Peach Bowl. Louisiana sports reporter Carley McCord, 30, was married to Steven Ensminger Jr., who confirmed her death Saturday afternoon.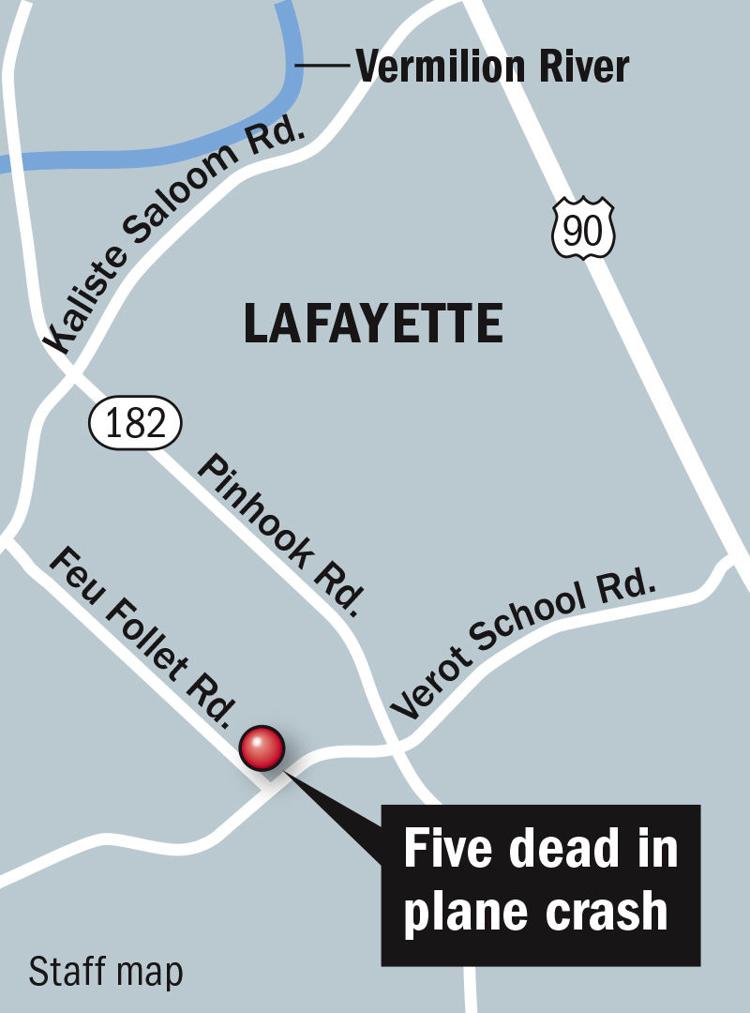 After learning of the tragedy, Ensminger made the difficult decision to coach in the game. He went on to lead LSU's offense in a bittersweet but record-breaking win in the Peach Bowl. Ensminger called the plays as Heisman Trophy-winning quarterback Joe Burrow threw seven first-half touchdown passes in the Tigers' 63-28 victory over Oklahoma.
Also killed in the crash were the pilot Ian Biggs, 51; Robert Vaughan Crisp, 59; Gretchen Vincent, 51; and her son, Michael Vincent, 15. One person on the plane suffered injuries: Stephen Wade Berzas, 37, was listed in critical condition at Our Lady of Lourdes Hospital, officials said. Three people on the ground were also hurt.
Several of the victims had ties to a family-owned Lafayette tech company, Global Data Systems. Crisp was the company's vice president of operations; Biggs was a pilot for the company. Gretchen Vincent and Michael Vincent were the wife and son of the company's president, Chris Vincent.
The plane took off from Lafayette Regional Airport about 9:20 a.m. and was headed to a small airport near Atlanta for the Peach Bowl game. It was due to arrive shortly after noon Eastern time.
Residents at the Retreat of Acadian Point apartment complex, near the crash site at the intersection of Verot School and Feu Follet roads, said they could hear the low-flying plane circling the complex and having engine problems before it went down.
The pilot "lifted up just enough to miss the apartment complex," said Scott Graham, who was visiting his mother at the complex for the holidays. Graham said he ran outside just as the plane hit a power line. He ran into the field to find a devastating scene.
"There was just bodies all over," Graham said.  Many "were bent up in multiple positions." 
Graham's mother, Michelle Rawls, said she followed him and saw three fires, one in the field and two just across the street. She ran toward one, which turned out to be a car that exploded in front of her about 30 feet away.
"You could hear a lady screaming," Rawls said. "She was saying, 'Help me, help me, help me.'"
Danielle Britt, store manager of Andy's Jewelry was in or near a car close the crash site.  She suffered life-threatening burns to about 30% of her body and was transported to University Medical Center New Orleans Burn Center, where she remains in critical condition.
Two others inside a nearby U.S. Postal Service office suffered smoke inhalation, but their injuries were not severe.
The plane crashed in an open field adjacent to the post office shortly before 9:30 a.m. Firefighters extinguished a fire involving the plane and the nearby vehicle.
About 200 nearby residents temporarily lost power.
The plane, an eight-seat, two-engine turboprop owned by Cheyenne Partners LLC, took off at 9:20 a.m.
It wasn't known which runway the pilot used for takeoff. The crash site was 1.7 miles southwest of the end of Runway 22L. The plane began to lose altitude within 16 seconds, after reaching 850 feet. It reached a top speed of 221 mph.
Dense fog prompted aviation officials to warn pilots to use instruments. National Weather Service data from Saturday morning show that visibility at the time of the crash was about three-quarters of a mile.
Its flight plan said it would fly at 293 mph at 23,000 feet for 522 miles to DeKalb-Peachtree near Atlanta, which handles private planes. Arrival was projected at 12:16 p.m.
An activity log showed that the plane had last flown Lafayette Regional Airport to Houston on Dec. 17, a 49-minute flight, and returned the next day.
Fire Chief Robert Benoit said investigators with the National Transportation Safety Board were due to arrive around 9 p.m. Saturday.
"The next step now is we have to heal," Benoit said. "It's going to be a slow process."
Some video of the scene on Verot School Road involving a plane crash. We're told power is out in the area, including the Wal-mart on Pinhook. pic.twitter.com/npDPXERIxu

— KATC TV3 (@KATCTV3) December 28, 2019
Brooks Kubena, Wilson Alexander and The Associated Press contributed to this report. Stay with theadvocate.com for more updates.