The man accused of shooting and killing a Lafayette police officer this week was a troubled individual who struggled with depression, could be belligerent and had difficulty holding a job, a neighbor and others who knew him said in interviews.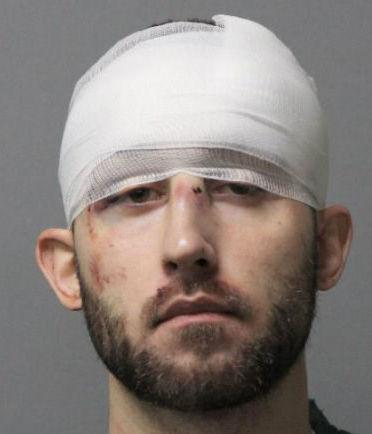 A few days before the shooting, Ian Howard showed his neighbor Farrah Daigle his gun. She said he'd told her he suffered from depression and had been using drugs. Howard's father has said that his 28-year-old son is "obviously very ill."  
Daigle said she was accustomed to speaking with Howard over cigarettes as Howard passed by her door in their Tulane Avenue apartment complex.
Howard's depression was a recurring subject, and Daigle recalled him telling her he did not like taking medication he had been prescribed.
Howard seemed outwardly composed, Daigle and two other neighbors said, but he often confided in her that he was not OK.
"He would tell me, like, 'Man I had a bad night, I hope you didn't hear me because I was going nuts up there last night,'" Daigle said. "I kind of kept it at that. I really didn't want to know what he was yelling at."
Then recently, only two or three nights before the Sunday night shooting at a north Lafayette convenience store that killed Cpl. Michael Paul Middlebrook, Howard did something that made Daigle less inclined to interact with him: he lifted his shirt to show her a silver gun in his pants.
This occurred after some University of Louisiana at Lafayette students illegally parked behind Howard's Ford SUV, which was parked in the lot in front of the apartment complex. Howard called out to them as they got out of their car, Daigle said, but they continued across the street, promising to come right back. With the students out of sight, Daigle said she tried to assure Howard they would only take a minute. But he wouldn't let it go and continued talking in a belligerent manner, she recalled.
"It wasn't angry. Just stupid talking, kid talking," Daigle said. "I guess it aggravated him." 
Then Howard revealed the gun, and Daigle said she immediately turned around and went inside. A couple nights later, on the night of the shooting, another of Howard's neighbors remembers passing him in front of the complex as Howard was leaving. They exchanged "hi and bye," Isaac White said, and all seemed normal until Howard left in the SUV.
"He put the vehicle in reverse, he pulled out, and he just shot out. He left really quick," White said.
A short time after that exchange, about 10:15 p.m. on Oct. 1, Middlebrook and another officer responded to a shooting with multiple victims at the Big Boy Discount Zone on Moss Street. The officers exchanged fire with the assailant upon their arrival, according to the State Police, which is handling the investigation.
LAFAYETTE — A Lafayette police officer was shot and killed Sunday night when a gunman opened…
Middlebrook was fatally hit. The gunman also fired at another officer before being taken into custody, according to a State Police report. It's not clear if those shots occurred at the scene or an undisclosed nearby location where Howard was apprehended after what police say was a brief flight from the crime scene. The two other shooting victims were treated for injuries that were not life threatening.
Howard is being held without bail at the Lafayette Parish Correctional Center on a count of first-degree murder of a police officer. He is also booked with two counts of attempted murder and attempted murder of a police officer.
Middlebrook is survived by his wife, daughter and two stepdaughters and earlier this year received the Heart of Law of Enforcement recognition for distributing help to people in need. Lafayette Police Chief Toby Aguillard on Tuesday night described Middlebrook as "the cradle of compassion."
"His career was a phenomenal one," Aguillard said, addressing the Lafayette City-Parish Council. "He was an officer's officer and one that was looked up to."
Funeral services will be held Friday for Cpl. Michael Middlebrook, the Lafayette police offi…
The day after the shooting, Howard's father expressed his "deepest sympathies to Cpl. Middlebrook's family and the whole police department."
"My son is obviously very ill," Edwin Howard said.
Ian Howard betrayed little outward sign of illness to neighbors who spoke to The Advocate, other than what he revealed in conversations with Daigle.
"He wasn't a drama king," said White, his neighbor. "He looked like he had no lack of control."
But Howard told Daigle he had recently started using cocaine, she said, and that he had lost his job. Howard's job at Ground Pat'i Grille & Bar on Kaliste Saloom Road ended within the last month, according to a manager at the restaurant who did not want to be named. Howard worked there for less than six months, the manager said, declining to say whether Howard had been fired.
Howard returned to the restaurant during open hours on two occasions after his employment ended, the manager said, and Howard's actions prompted him to call the Lafayette Police Department. The manager declined to further describe the incidents. He and another manager have thus far elected not to file charges, he said.
"This has been about a three-week ordeal," the manager said. "He really did not have a friend base here."
A Lafayette police public information officer has not responded to multiple inquiries since Monday concerning Howard's previous interactions with the department.