The person hired to work security at a Moore Park party last week that ended with a fatal shooting said it was one of the most traumatic experiences of his life.
Donnell Lewis, 37, is a military veteran and former police officer who has spent the past 15 years working security at nightclubs and other events. He's no stranger to violence. The overnight shooting, which happened at about 1 a.m. Thursday at the soccer park, was different.
"That was one of the worst things I've ever seen, and I've been to Iraq twice," Lewis said. "I've never seen nothing like this. It was like hell. This was a whole bunch of kids. That was like my little brothers and sisters out there."
Lafayette residents Ja'Kyrie Clark, 19, and Nathaniel Sharply, 18, died from injuries suffered in the shooting. An 18-year-old Opelousas man was injured and was in stable condition at a local hospital as of Thursday while a 20-year-old Lafayette woman was injured and later released from a hospital.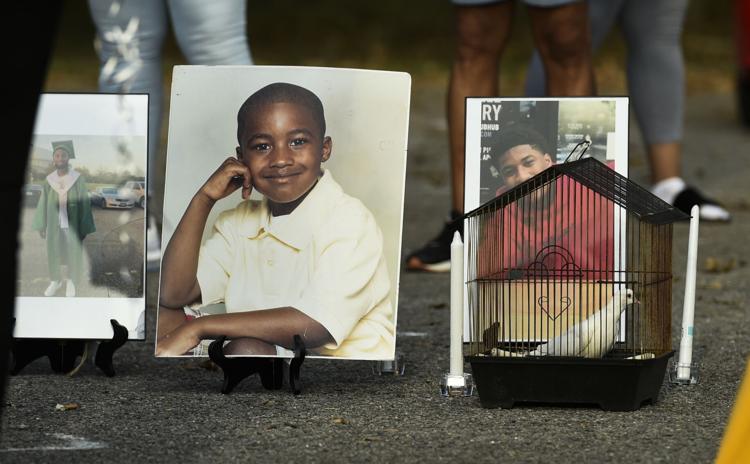 Police are still trying to determine how many shots were fired and whether there was more than one shooter. No arrests have been made in the case.
Lewis captured video, which he posted to social media, as the incident was unfolding on the northern side of Moore Park in a parking lot accessible by West Pont des Mouton Road. Lewis said he did not use his weapon to intervene because he could not determine who had a gun, and he didn't have backup security or police to assist.
"I don't want to get hit by any one of these kids," Lewis said. "And I'm definitely not trying to shoot an innocent kid either. There was so much stuff happening in the parking lot."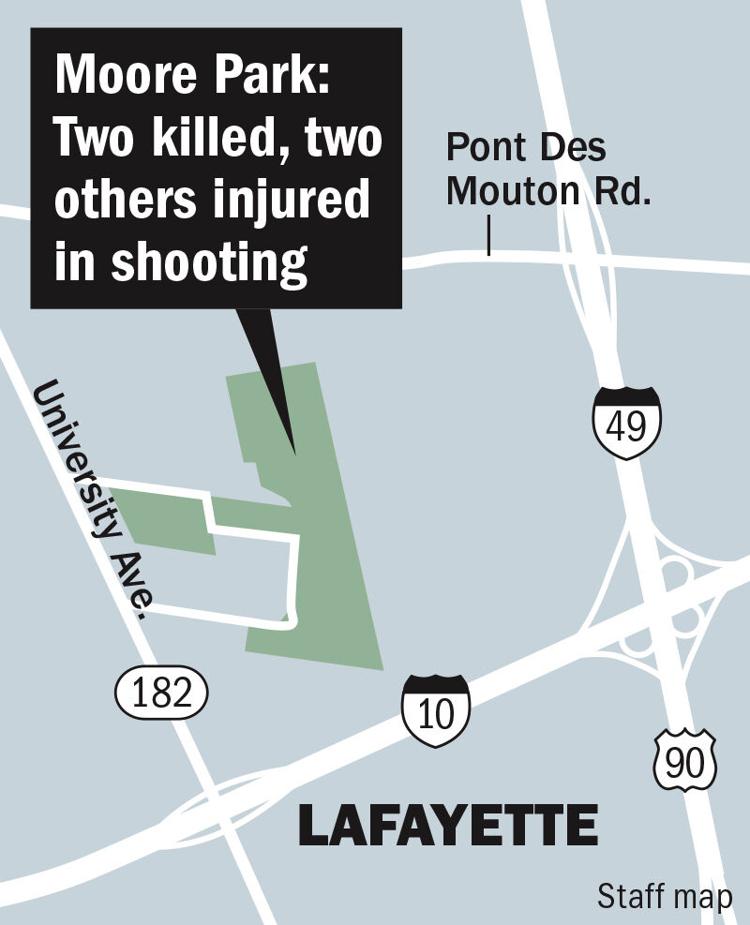 Lewis estimates that between 20 and 30 shots were fired, which he believes came from at least two different weapons. He said the weapons sounded like an assault rifle and a handgun, and he said he thinks two people were shooting at each other.
His video footage shows a large crowd and a DJ booth in a park pavilion beside concession stands about an hour before the shooting. In a video posted about two hours later, first responders are seen performing CPR on a man lying on the ground as a number of people stand in small groups nearby, giving information to officers, crying and holding one another. Minutes later, an ambulance is shown taking the victim to the hospital.
When Lewis accepted the gig to work security at the party, he said he expected about 50 people to be at the park. He estimates that between 500 and 600 people were there, which Lewis said would require at least five more security guards to manage.
"I'm seriously not trying to exaggerate, but there were 500 to 600 people," Lewis said. "I work at a lot of clubs in downtown Lafayette and the rest of the area, and I've never seen that many people at a party."
At first, the teens and young adults were dancing to music played by a disc jockey after the Wednesday night Ragin' Cajuns football game, Lewis said. A Lafayette Police officer showed up around midnight, which prompted about half of the party-goers to disperse, according to Lewis, who noted the parking lot was "still packed."
About an hour later, gunfire erupted. 
"At big events like that, I always realize something is going to happen," Lewis said. "I've been doing security for 15 years, and every year, I'm involved in two or three shootings. I've seen so many people get killed. I don't think I'm going to do another teen party again. I don't like seeing kids get shot."
Lewis said he helped police rope off the crime scene and find bullet casings early Thursday morning. He would later go by the Lafayette Police Department to show investigators the video footage he had from that night.
Lafayette detectives and a K9 officer conducted a sweep of the park Thursday searching for new evidence, marking off several bullet casings with small traffic cones in the parking. There were at least a dozen cones marking evidence areas Thursday morning. Some detectives dredged a nearby creek with magnets in search of disposed weapons after learning some party attendees fled toward the interior of the park after the shooting, while others walked the wooded perimeter of adjacent soccer fields.
The parking lot where the shooting happened was littered with empty daiquiri go cups, shattered glass liquor bottles, discarded face masks and shoes left behind as bystanders fled the area. One parking space was stained with blood and strewn with empty gauze rolls, medical gloves and packaging from emergency gunshot wound adhesive bandages.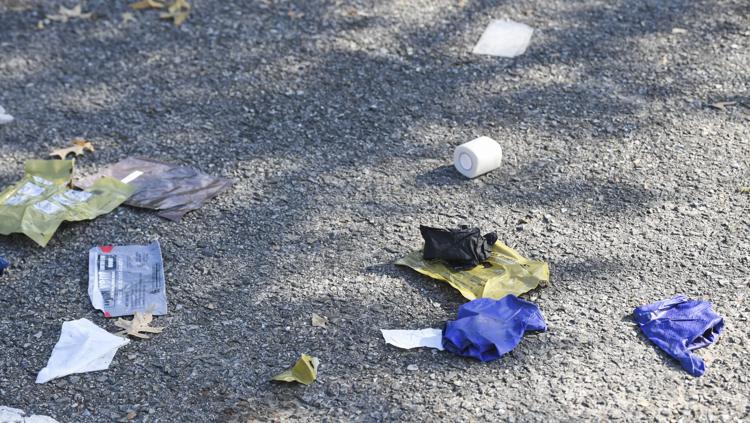 It wasn't until a day or two after the shooting that Lewis realized he knew one of the victims, Ja'Kyrie Clark. Lewis used to work for Clark's father.
"I'd like to send my condolences to the family members and those who lost their loved ones," Lewis said. "That was the craziest thing I saw right there. Out of all those kids, some of my cousins were out there, and it could have easily been one of them. I wouldn't want to see nobody's family go through that."
Lewis said he's never heard of Moore Park being a spot for parties, although he said the DJ told him it wasn't the first time one had been held at the soccer park.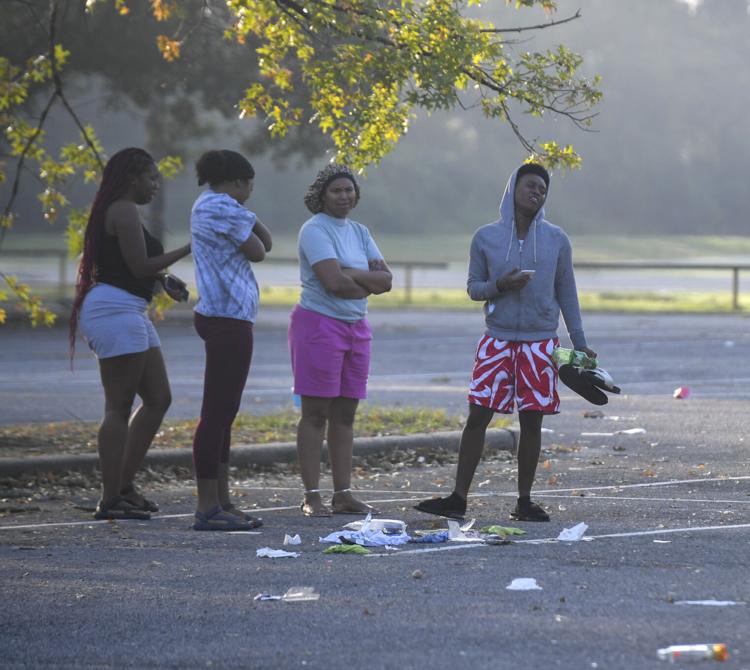 As of Tuesday, there were no arrests made in the case. The public is urged to contact police with any videos of the party that may be on social media or other evidence. Witnesses can submit photos and videos to lafayettepd.evidence.com/axon/citizen/public/moorepark and are asked to include their name, date of birth and phone number on the secure page.
Lafayette Police are currently responsible for patrolling all of Lafayette's parks, according to a spokesperson for the department. Mayor-President Josh Guillory's 2021 budget cut about $325,000 in personnel salaries for the Park Police chief, along with all five officers. It was part of a larger cut that eliminated 37 positions in parks and recreation and aimed to close for rec centers. The Police Association of Lafayette criticized the cuts to park security, as well as others in Guillory's budget, in a July statement. The Park Police chief, Oscar Benoit, retired in August.
Lewis, who is a father to four boys between the ages of 3 and 16, said he doesn't want to imagine his children attending any party after what he witnessed last week.
"It's like I don't even want my kids to go to parties after witnessing this," Lewis said. "I'd rather stay home and play Call of Duty with them."
Advocate staff writer Katie Gagliano contributed to this report.