Suspicious fires at three historically black churches in St. Landry Parish in a 10-day span have State Fire Marshal H. "Butch" Browning Jr. recalling another rash of fires at black churches in Louisiana.
Browning was with the Baton Rouge Fire Department on Feb. 1, 1996, when the unthinkable happened. Fires burned three black churches and a fourth church building on the same night: Cypress Grove Baptist in Zachary, and St. Paul's Free Baptist, Sweet Home Baptist and St. Thomas Chapel Benevolent Society hall, all in Baker.
"Clearly those fires were set and all at the same time," Browning recalled Friday. 
At first, Browning said, there was no proof of a hate crime. But six months of investigation led authorities to a group of young adults who specifically targeted black churches.
"It was, in fact, a crime of hate," Browning said.
A January 2000 report by the National Church Arson Task Force says the perpetrators brought tires and gasoline to the churches. One fire was started with a Molotov cocktail.
The Louisiana fires were among 30 fires that burned black churches in the United States in 1996.
It's too early in the investigation of the three St. Landry Parish church fires to determine the motives. All burned under suspicious circumstances and Browning said he believes there are similarities. Officials won't release details.
All three churches were at least 100 years old, in rural areas and burned at night. The first to burn was St. Mary Baptist Church off Highway 103 in Port Barre on March 26. On April 2, Greater Union Baptist Church on Highway 742 in Opelousas, burned. The latest was Thursday, when Mount Pleasant Baptist Church on Highway 182 south of Opelousas, burned.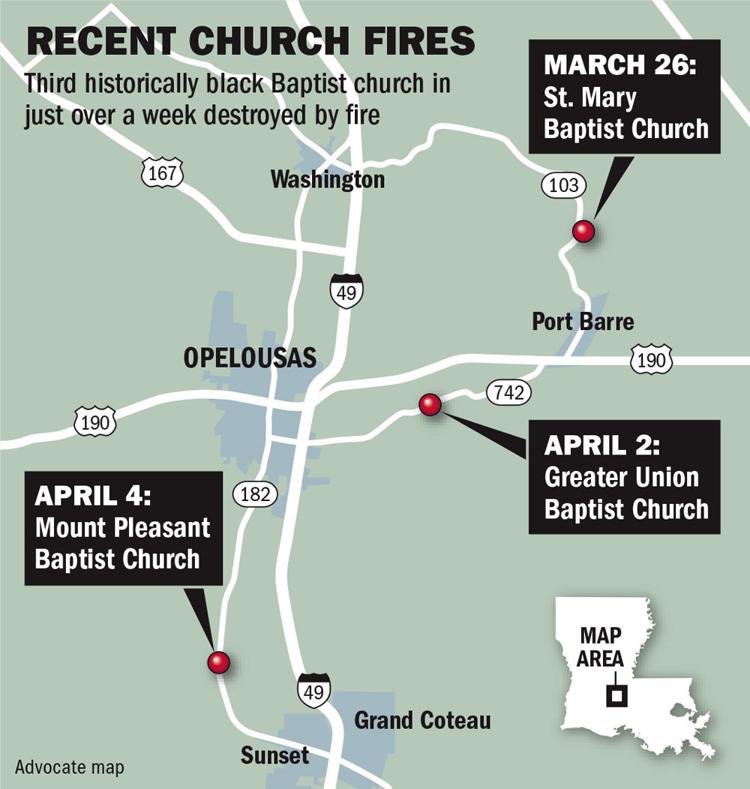 Whether the St. Landry Parish fires will rise to the level of being hate crimes remains to be seen. Browning explained the majority of church fires in Louisiana in the past 20 years that were intentionally set were to cover up other crimes, such as burglary or vandalism. There have been other sporadic fires in places of worship, he said, but most were accidental.
Rick Swanson, a University of Louisiana at Lafayette professor and civil rights researcher, said Saturday if the St. Landry Parish fires turn out to be racially motivated, "It would be very consistent with a pattern of terrorism used against black churches" and black movements in the past.
At times in U.S. history when race has been at the heart of a tragedy, or at times of political and social upheaval, including the Jim Crow era and civil rights era, black churches were the targets of hate in the form of fires and bombings. In 2015, days after Dylann Roof shot and killed nine people at Emanuel African Methodist Episcopal Church in Charleston, South Carolina, fires were reported at a string of black churches in the South.
"Historically, the church was considered the primary or strongest institution for African American communities, where people dealt with their problems," John Milton, a Lafayette attorney and pastor, said.
Slave revolts were planned in black churches. Civil rights demonstrations in the 1960s were organized in black churches. Black churches taught their worshipers leadership and how to fight for political representation, social justice and educational improvements. That made black churches the target of those who wanted to disrupt those movements.
Burning black churches, Milton said, would cause a scattering of that community. It was intended to intimidate and had a chilling effect, he added.
"We're certainly going through a very politically polarizing time," maybe as polarized as the civil rights era, Swanson said. He attributed it to a combination of the mass media, social media and so many media outlets that perpetuate one side of the story. That, he said, allows people to live in bubbles where they hear only the news they want to hear.
"Your opponent becomes evil," Swanson said, and that increases the tendency for violence.
Local, state and federal agencies are investigating the St. Landry Parish fires and local law enforcement agencies have increased patrols around other black churches in St. Landry Parish.
The Lafayette NAACP has been asked to look into the fires because Opelousas does not have an NAACP chapter, said Milton, who is religious affairs chairman for the Lafayette group.
"Hopefully they can find some answers before anybody gets hurt," he said.