Two people are dead and two have been injured after a late-night party in the Moore Park soccer complex in Lafayette, according to Lafayette Police.
LPD spokesperson Sgt. Wayne Griffin said a woman and three men were shot.
Jakyrie Clark, 19, of Lafayette, and Nathaniel Sharply, 18, of Lafayette, died from their injuries at a local hospital. An 18-year-old Opelousas man was injured and is in stable condition at a local hospital while a 20-year-old Lafayette woman was injured but has been treated and released.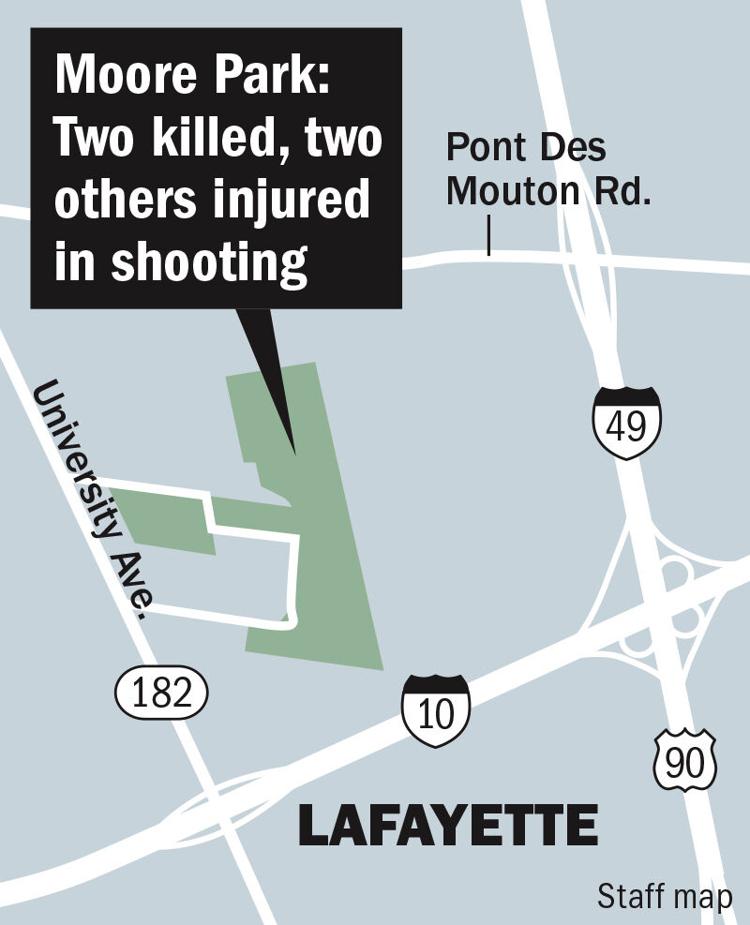 Griffin said about 300 people attended the party following the University of Louisiana at Lafayette football game after word about the party spread via social media. At some point during the party, there was an argument and shortly thereafter there was gunfire. Officers were dispatched about 1 a.m. after getting calls about the gunfire.
The shooting happened on the northern side of Moore Park in a parking lot accessed by West Pont des Mouton Road. Investigators are still trying to determine how many shots were fired and whether there was more than one shooter.
Detectives and a K9 officer conducted a morning sweep of the parking lot and surrounding park area searching for new evidence, marking off several bullet casings with small traffic cones in the parking. There were at least a dozen cones marking evidence areas Thursday morning.
Some detectives dredged a nearby creek with magnets in search of disposed weapons after learning some party attendees fled toward the interior of the park after the shooting, while others walked the wooded perimeter of adjacent soccer fields.
The parking lot where the shooting happened was littered with empty daiquiri go cups, shattered glass liquor bottles, shoes left behind as bystanders fled the area and discarded face masks. One parking space was stained with blood and strewn with empty gauze rolls, medical gloves and packaging from emergency gunshot wound adhesive bandages.
Griffin said there are no suspects and urged the public to contact police with any videos of the party that may be on social media or other evidence. Witnesses can submit photos and videos to https://LafayettePD.evidence.com/axon/citizen/public/moorepark and are asked to include their name, date of birth and phone number on the secure page.
A Facebook video posted at midnight by a man who said he was at the party showed a large crowd and a DJ booth set up in a park pavilion beside the concession stands. In a video posted roughly two hours later, the man described hearing many gunshots and told officers he thought he heard both a handgun and an automatic weapon.
Police were not able to confirm the weapons used in the shootings Thursday morning. 
The video shows first responders performing CPR on a man lying on the ground as a number of people stand in small groups nearby, giving information to officers, crying and holding one another. Minutes later an ambulance is shown taking the victim to the hospital.
LPD is currently responsible for policing all of Lafayette's parks, Griffin said.  Mayor-President Josh Guillory's 2021 budget cut about $325,000 in personnel salaries for the Park Police chief, along with all five officers. It was part of a larger cut that eliminated 37 positions in parks and recreation and aimed to close for rec centers. The Police Association of Lafayette criticized the cuts to park security, as well as others in Guillory's budget, in a July statement. The Park Police chief, Oscar Benoit, retired in August.
Staff writer Ben Myers contributed to this report.