Editor's note: This story includes details of a violent crime and may not be suitable for all readers.
Faith Roussel bolted awake from a nightmare around 6 a.m. Sunday.
Roussel, 26, dreamed she was being chased, that someone was trying to murder her. 
"That woke me up out of a dead sleep," she said. "My adrenaline was pumping."
Roussel picked up her cell phone and noticed 10 missed calls from her parents. That's when she entered into a real-world nightmare she hasn't been able to escape.
She learned through voicemail that her 18-year-old brother, Holden White, was hospitalized. Roussel assumed her brother had been injured in a car crash.
Instead, Roussel would learn, White had been mutilated and left for dead during a Grindr date gone wrong. He is still fighting for his life at Lafayette General Medical Center.
"I was confused. I was frantic. I was vomiting," she recalls.
Roussel and her family are calling it a hate crime because they believe the person charged and jailed for the crime targeted White because he is gay. 
Chance Seneca, 19, was arrested and charged with attempted second-degree murder in the case. He is being held at the Lafayette Parish Correctional Center on a $250,000 bond.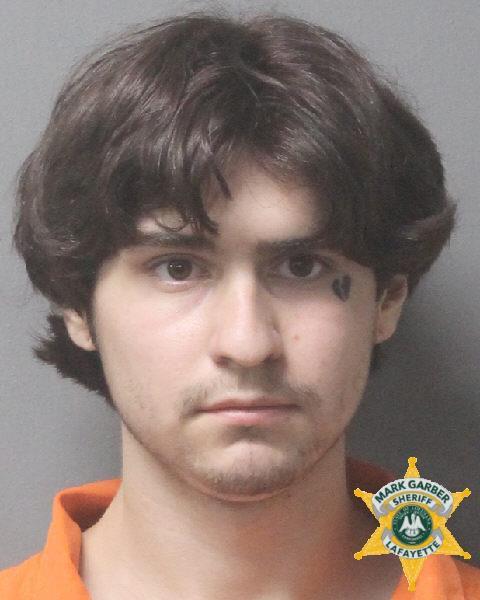 Sgt. Wayne Griffin, of the Lafayette Police Department, said the incident is not classified as a hate crime.
"There were several indicators that point us to the direction that it was not a hate crime," Griffin said. "I know the mom has been posting on social media, and we've had all kinds of people calling the PD asking us to classify it as a hate crime. It's just because of the sensitivity of the case, we cannot go into any more about it, but it's not going to be classified as a hate crime."
Roussel and her family have questioned authorities' reasoning.
They believe White was targeted because he is gay, but they also expressed concern that Seneca has a photo of Jeffrey Dahmer as his profile picture on Facebook. Dahmer was the infamous serial killer who admitted to murdering and dismembering 16 men and boys from 1978 to 1991.
Roussel said her brother thought he was going on a date with someone he had been talking to on Grindr, a social networking app targeted to gay, bi and transgender people, but instead he was tortured until he nearly died.
"In my opinion, this is nothing but something filled with hate," Roussel said. "I feel, just given who his profile picture was and the sick and evil things he did to my brother, this was absolutely a hate crime."
Roussel and her mom expect to meet again with detectives at the Police Department this week to learn more about the case, but here is their understanding of the events that unfolded:
White had been talking to Seneca on Grindr for about a week.
White and Seneca planned to meet up in person Saturday.
Seneca picked up White at his apartment and took White to a residence on Maryview Farm Road in Lafayette.
Seneca tortured White for an unknown amount of time.
Seneca called 911 and said he had murdered a man.
White was discovered in a bathtub with stab wounds to his neck, strangulation wounds, blunt force trauma to the back of his head and cuts so deep into his wrists that his hands were nearly severed.
Lafayette Police have not disclosed details about the incident, given a timeline of what happened or offered a reason the case is not being classified as a hate crime.
Griffin said a "verbal altercation ensued and Seneca produced a knife and ended up stabbing Holden in the neck."
Seneca, who was not injured, is not expected to face any additional charges, according to Griffin. White is not facing any charges.
Griffin said he was not sure if Seneca placed the 911 call Saturday night. He confirmed that Seneca was at the scene when officers arrived at about 11:45 p.m. Saturday to the 400 block of Maryview Farm Road.
Seneca was interviewed before he was put in jail, but police are not disclosing any details or a motive at this time.
Lafayette Police do not expect to classify the incident as a hate crime at a later date, even though the family's account of what happened seems to fit the legal description. Hate crimes, which are often violent, are those motivated by prejudice on the basis of race, religion, sexual orientation or other specific criteria.
"There's nothing tell us that we need to go that route at this time," Griffin said.
Roussel, who works as a nurse, wasn't able to see her brother until midday Monday because of visitation restrictions in place to slow the spread of the novel coronavirus.
She said the visit gave her hope.
White was able to shake his head yes or no in response to questions and express feelings through making facial expressions, rolling his eyes and shrugging his shoulders.
A nurse told the family that White's condition did a "complete 180" at exactly 11 a.m. Monday, the same time Roussel said she would pray for her brother outside of the hospital and had invited others to do the same.
If White had not been the victim in this case, he would have likely been the first to speak out against it, his sister said.
"He was just in the middle of the riots speaking out against discrimination," Roussel said. "He was so against hate against any one color or sexuality or anything, no matter what it was. He wanted all people to be treated equally. He'd be appalled. He'd be on the front lines right now. He'd be trying to uplift the victim.
"He probably would have come to my house and told me how terrible it was, asked me for a big sister hug and wanted me to tell him everything is going to be OK."
White, a native of Kaplan, has a small stature and a big, bubbly personality. He had been studying education at LSU Eunice.
He's undergone surgeries for his wrists and was weaned off of sedation Monday. Roussel said one doctor is hopeful for his recovery, although the prognosis is still grim. At the very least, White will require several months of physical therapy and trauma counseling. 
Roussel started a GoFundMe page to offset medical expenses for White. It has raised more than $27,000 in a day.
In addition to the monetary donations, the family has received an overwhelming amount of emotional support from friends, strangers and organizations from across the country.
Roussel said she knew her brother was gay from the time he was a small child. She watched him blossom from an insecure boy who wrestled with his identity into a confident young man who was finally comfortable with himself.
"He had some difficulty throughout his adolescence. He was in a really rough place for a while," Roussel said. "The fact that he'd finally got to a place where he was self confident to express who he is and not fear the judgement that comes with it —"
Roussel let her voice trail off as tears took over her words.
She said she thinks of her younger brother as almost more of a son because she is eight years older than him.
"One doctor thought he has a small chance," Roussel said. "But he's going to have a very long road ahead of him."