The campus of the former Immaculate Heart of Mary School was again filled with energy and laughter Friday as the Louisiana Endowment for the Humanities celebrated the opening of its second Prime Time Head Start location in Lafayette, a project that saw the revitalization of a landmark for Black Catholics and the northside community.
The new Head Start campus, at 812 12th St., opened March 3 and serves 3- to 5-year-olds from low-income families. The school currently has 46 students enrolled and has slots for up to 231 children, Dena Thomas, Acadiana Head Start director said.
The number of slots devoted to each age level is flexible based on what the community needs. The school has 16 classrooms total and is adding staff as enrollment rises. New students are welcomed onto campus each Wednesday, Thomas said.
No matter the age group, students will receive tailored instruction based on the Frog Street curriculum, a Tier 1 pre-K curriculum. Outside the classroom, advocates will work with families to connect them to needed social services to help them create the most solid foundation possible for the children they serve, she said.
"If the family has everything they need at home and the child is in a good, safe home environment, getting good nutritious meals and all those basic needs are taken care of, that allows that child to be free at school and really immerse in the education and the environment we have for them here," Thomas said.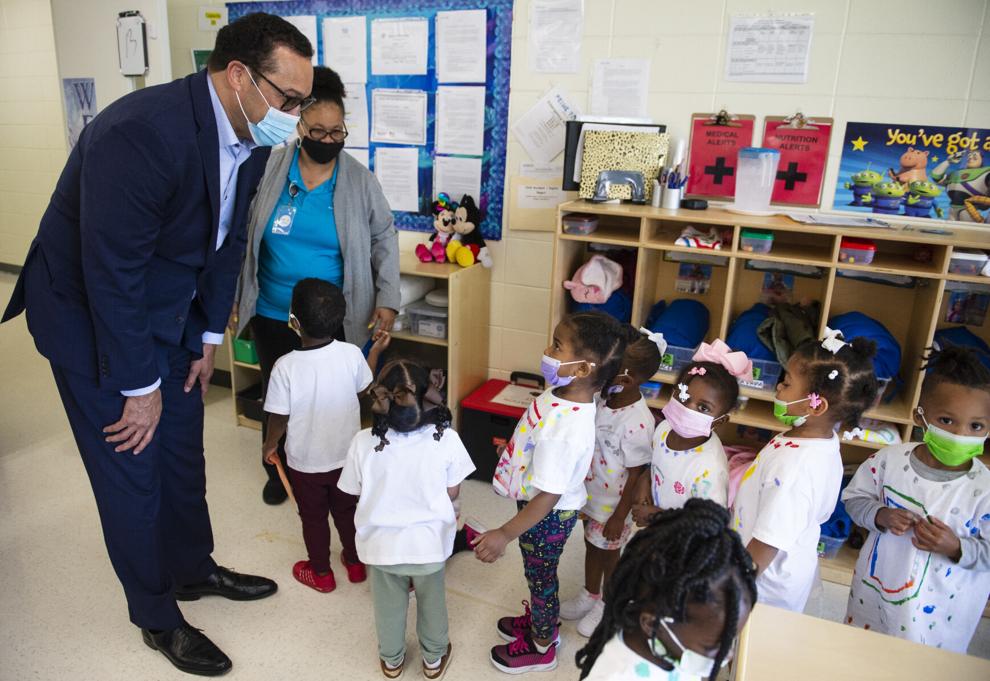 While not a Catholic school, Prime Time's mission of empowering children and families dovetails with the goals of the church where the pre-K program resides, Immaculate Heart of Mary pastor Fr. Gus Wall, SVD said.
When Wall joined the congregation's leadership in 2019, he said he fretted over what would become of the closed campus. The building was kept from decay, but the 1960s-structure was clearly in need of an overhaul the church parish didn't have the resources to accomplish alone.
The Immaculate Heart of Mary School first opened in 1934. The school closed ahead of the 2016-2017 school year after the Diocese of Lafayette announced the campus did not have the enrollment numbers, financial support or needed academic performance to continue operating.
Ideas for the site were floated by Wall, but most required more resources than they could commit and just weren't the right fit, he said.
Enter the Louisiana Endowment for the Humanities, a nonprofit with its headquarters in New Orleans dedicated to highlighting Louisiana's culture and history and creating opportunities for lifelong learning through the humanities.
In 2020, LEH's child and family education arm, Prime Time Inc., was awarded a federal grant to operate Head Start and early Head Start programs in Lafayette and Iberia parishes. The group already operated several Head Start centers in Ouachita Parish in north Louisiana.
Prime Time took over from a temporary contractor who ran the local programs after SMILE Community Action Agency, the longtime local Head Start provider, was stripped of its grant funding in 2017.
Miranda Restovic, LEH president and executive director, said after they assumed the grant's management they decided to look beyond previously used Head Start facilities to find homes for their campuses. They wanted places that felt fresh but also grounded in the community.
"Physical space matters. It projects to not just the community but the children how much you care," Restovic said.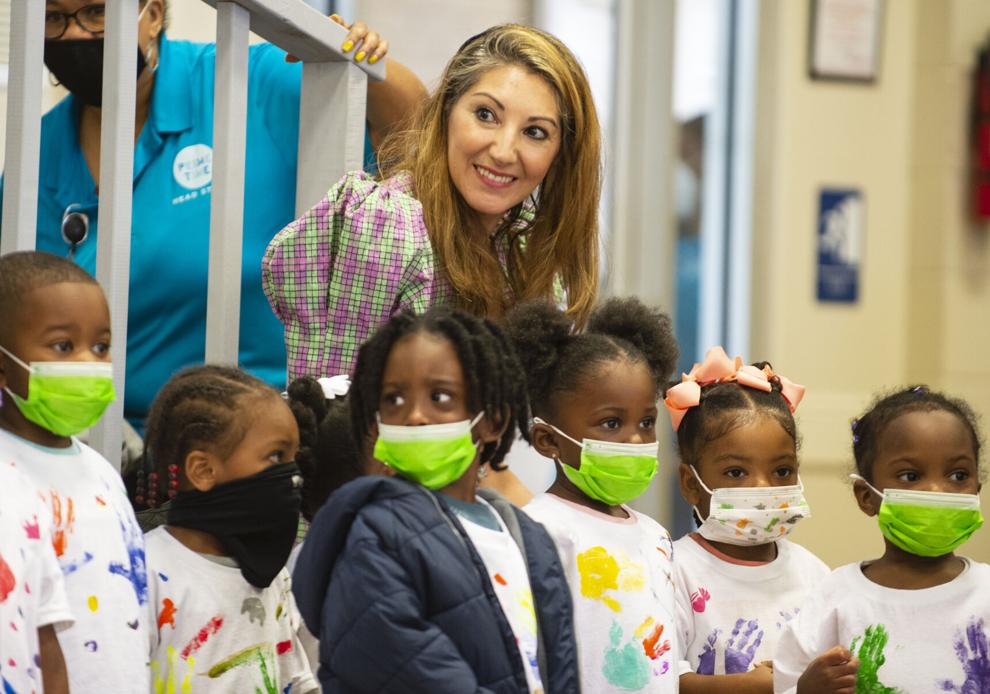 Finding the Immaculate Heart of Mary site was luck and good timing, she said.
The site was pitched by Rae Gremillion, wife of LEH board member Mark Gremillion, and when the group did a brief drive around the school in fall 2020 Restovic said she immediately got the feeling the school was where they needed to be. Soon after they set a meeting with Wall.
"I wondered if this was just one more idea but then as I learned about them and I learned from Sen. Boudreaux, I was delighted because they have the wherewithal and the commitment to help us," Wall said.
After the meeting with Wall, state Sen. Gerald Boudreaux, a trustee of Immaculate Heart of Mary Catholic Church, was one of the group's first calls. Within minutes Boudreaux was on board, the LEH team said.
Boudreaux has been a member of Immaculate Heart most of his life. He grew up eight blocks from the church and school and his grandparents were active members in the parish. He's served as an usher, volunteered on committees and now is a parish trustee.
Like Restovic, Boudreaux had a feeling this was the right fit.
"When the school closed I never accepted that it was going to be something permanent. I always knew we would repurpose the school. It's on sacred ground. When you're operating on sacred ground, you might have to hit the restart button. I knew that was a call that the Lord had connected, bringing another group to provide some resources in our community," Boudreaux said.
Finding the right partner wasn't just about resources, but about who would best carry forward the legacy of the Immaculate Heart of Mary property.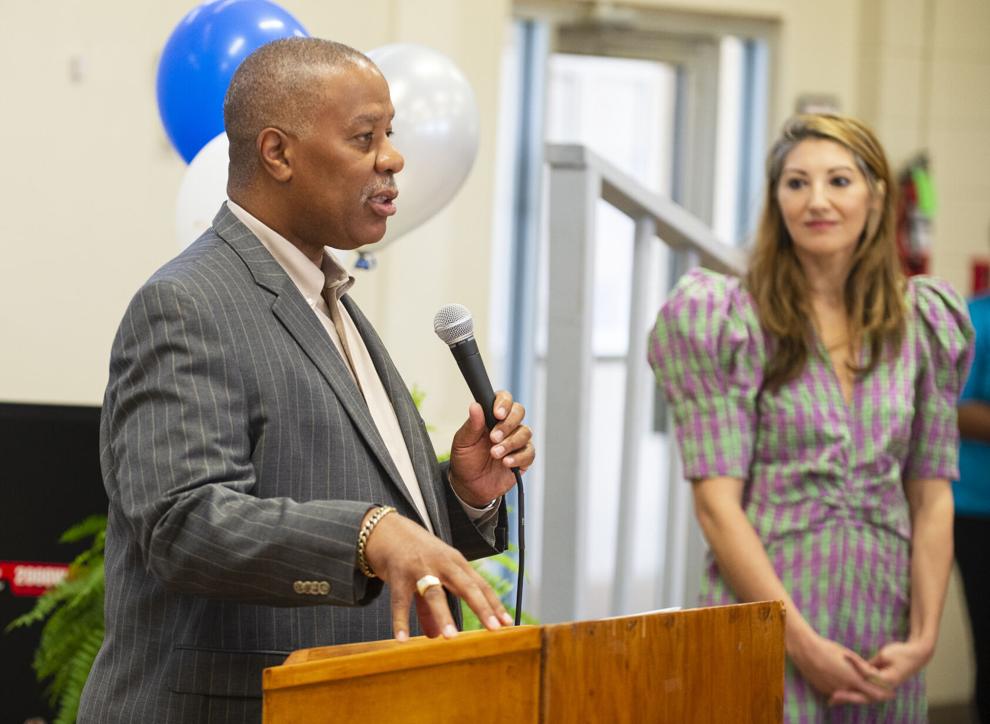 In 1934, the church parish and school were created to be the home for the first four Black priests to be trained and ordained in the United States — Frs. Anthony Bourges, Maurice Rousseve, Vincent Smith and Francis Wade. Coming out of seminary, the men were turned away by other dioceses when it was learned they were Black, Boudreaux said.
But Immaculate Heart wasn't only a center for Black Catholic life in Lafayette — it was for everyone, he said. Sitting squarely between the McComb and Veazey neighborhoods, the church property became a gathering place for community meetings, health unit pop-ups, rallies and all manner of events.
"One of the things we've always prided ourselves on is that you don't have to be Catholic to be part of the community. We look at it today as being the heart of the community. We want to make sure we have opportunities for all of our people regardless of their religion to understand our outreach," Boudreaux said.
Restovic said the preciousness of the property's history was at the forefront of her mind as she and other LEH members courted the trust of the community.
"We're almost borrowing on the trust of that history, so when we're out there recruiting families to ask them to send their kiddos here it matters that it's a place that matters to the community and that it has that deep connection…There's a responsibility with that which means you have to really deliver the services and you have to be the place that's representative of the values of the community," Restovic said.
The school is still parish property. Prime Time is leasing the campus from the church parish, with oversight from the diocese, at no cost. In exchange, Prime Time and LEH are responsible for all costs associated with operating and maintaining the grounds. 
Pat Carrier, LEH's chief operating officer, said $650,000 in federal funds were used to overhaul the campus, with additional philanthropic and other funding sources bringing the renovations to nearly $1 million.
Carrier said the buildings required remediation for asbestos and lead paint, a new roof was installed on one of the buildings, the walkway canopies were redone, the school's foundation was cut into to add plumbing and sewerage lines so each classroom could have its own bathroom and attendant sink, and all areas were given a general facelift.
The work took roughly 15 months to complete, he said.
Mark Gremillion, an LEH board member from Lafayette, said he choked back tears while acknowledging dignitaries and elected officials present at Friday's ribbon cutting. Representatives from social services groups, philanthropic foundations, law enforcement, nonprofits and the business sector from across the parish were there to show support.
Gremillion said when they asked for help on the project, no one said no.
"I've been on projects before where you have to work to put things together and then there are others that just are meant to be, where you have intentions and needs on both sides that align with each other — [Immaculate Heart of Mary] instantly fell together," Gremillion said.
Now that the main school is complete, LEH is setting their eyes on another major project: rehabilitating a gymnasium on the property.
The historic facility was brought to Lafayette from Bay St. Louis, Mississippi, where it was part of St. Augustine Seminary. The seminary was founded as a dedicated seminary for African American men and the "first four" attended there before serving in Lafayette, Wall said.
Funding for the project will be separate from any Prime Time operations. LEH is working with partners to find other funding avenues, kicking things off Friday with a $50,000 donation from First Horizon Bank. Restovic said they're hopeful the gymnasium will become a key community gathering place again.
While Friday's celebrations were a milestone, the real exciting part – educating Lafayette's youngest children – is just beginning, she said.
"This is a place of happiness. These are the smallest of our little ones and they deserve a safe, beautiful place to learn, to have fun, to make friends, to feel part of the community and that's what we're here to do," Restovic said.
While the pre-K has only been open a few weeks, Wall said the change it is bringing to the area and the parish's grounds has been immediate.
"We thank you [Lord] for [the children's] life, for their laughter, for their joy, for their hugs, for their smiles and all the vibrant joy they have brought to our campus once again. It's so beautiful to see them out on our property and enjoying themselves with their teachers," the priest said.