For students at nine Lafayette schools, playing in the dirt isn't only allowed, it's encouraged as students plan, grow and harvest their own produce.
Around 80 students, teachers and gardening enthusiasts gathered recently at Charles Burke Elementary, excited to learn about healthy living and successful plant cultivation as part of the LSU AgCenter's school gardening program. The initiative is entering its eleventh year in Lafayette, LSU AgCenter agent Charles Hebert said.
The gardens are operated by students, teachers and volunteers with the Lafayette Parish Master Gardeners Association. The adults provide guidance and information on research-based techniques, Hebert said, but  students take the lead, gaining confidence and building teamwork and problem solving skills.
The students learn to measure, plot data, track changes over time, and plan and execute designs. The learning possibilities also extend to subjects like English and history, Hebert said, where students learn about the origins of plants and their incorporation into American agriculture.
The possibilities are endless, he said.
"It's been great to work with the schools to link curriculum to nutrition education and the garden because not all kids learn the same," Hebert said. "Bow, you're giving them a hands-on, experiential opportunity to get out the classroom."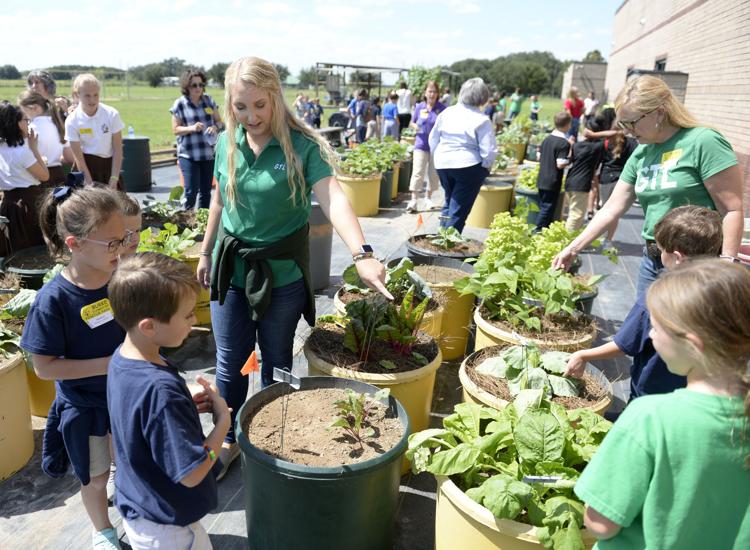 The nine schools participating this year are Alice Boucher Elementary, Charles Burke Elementary, Cathedral-Carmel School, Ernest Gallet Elementary, Our Lady of Fatima Catholic School, Judice Middle, Green T. Lindon Elementary, L. Leo Judice Elementary and Ridge Elementary. Cathedral-Carmel and Fatima are new additions to the program, he said.
Returning schools receive $750 and new schools receive $1,000 in grant funding supported by the National 4-H Council, Farm Bureau, the Lafayette Master Gardeners Association and Woman's Foundation. Each garden is jump started with 16 pressure-washed, recycled feed tubs filled with plants, with room for additional planting, Hebert said.
The program serves varying groups in each participating school; some gardens are tended by entire grade levels while others are managed by a single class. Indirectly the school gardens serve about 1,500 students at member schools, Hebert said.
The indirect service stems from students sharing their knowledge with other grades through special presentations, garden tours and reading to younger students about garden-related topics, he said.
Students are required to cook in their classes as part of the course's education on healthy living and balanced eating. Seeing the food develop from a seed to a fully formed plant, and then to a plated food, makes it more appealing, even to picky eaters, Hebert said.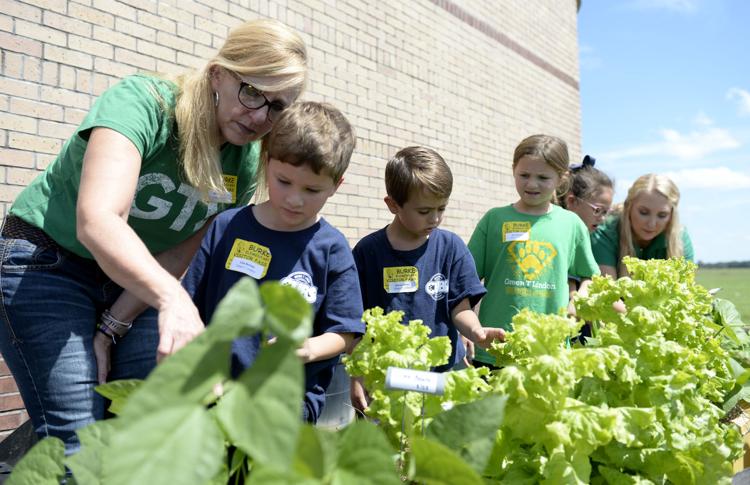 To up the ante, the program hosts a cooking competition each spring. The Ridge Elementary team, led by English language arts teacher Dione Stutes, won the 2019 competition. Stutes said the students' joy and excitement after the win was contagious.
The second grade teacher said she didn't have a green thumb before joining the garden. When the founding teacher announced she was transferring, Stutes knew she didn't want Ridge to lose the garden and volunteered to take over. She's been running it for two years, and the benefits to the kids are obvious, she said.
"It helps them to be well-rounded students and follows them into adulthood," Stutes said.
Kai Newton, 7, said he's thrilled to be one of Ridge Elementary's new garden ambassadors. The second grader said he plans to encourage his fellow team members, educate others about the difference between cucumbers and pickles, and harvest produce for the lunch ladies to use in their meals.
Cathedral-Carmel sixth grader Olivia Dore was similarly thrilled about the prospect of working in her school's new garden. She said she's particularly excited about the cooking element, and thinks it will incentivize her peers who are hesitant about getting down in the dirt and trying something new.
That link was exactly why Cathedral-Carmel physical education teacher Nanette Cook decided to bring the program to her school. Cook has participated in the cooking contest twice in her role as a city-parish council member and was impressed by the students' learning and open-mindedness.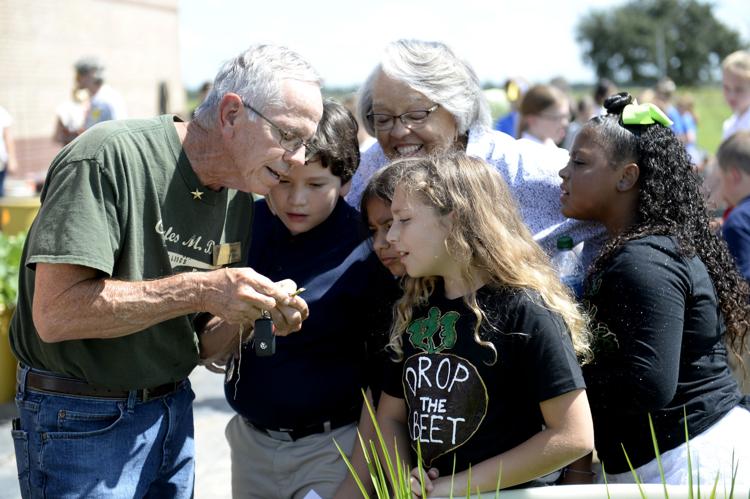 "They're learning information about the healthy nutrition of their bodies in relation to what they put in it. That's a great connection they're going to make, to know, 'If I put something healthy into my body, I'm going to be healthy. If I put something into my body that's not as good, I'm not going to feel as good,'" Cook said.
Olivia said the garden is a fun addition to the classroom and presents many problem-solving opportunities. It's also a good lesson in responsibility, the 11-year-old said.
"If we didn't know how to grow a plant right, it would be pretty hard to know how to raise a dog or a fish or a family," observed Olivia. "If you didn't know how to feed a plant and get it what it needs to grow, how are you going to get your child what it needs?"