There may not be a place on Earth more far-flung or further away from Paul Jones' New Iberia childhood home than Kauri Cliffs Golf Course on the banks of the Pacific Ocean near Matauri Bay, New Zealand. Yet there was Jones, tapping in on the 18th hole with the Pacific in the background at one of the world's renowned courses.
"Fifteen holes view the Pacific Ocean," Jones said. "Six of them are alongside cliffs that plunge down to the sea. It was just spectacular."
It was also meaningful.
Kauri Cliffs was the fourth course that Jones played on his trip to New Zealand, and the second that holds a spot on Golf Magazine's prestigious list of the world's top 100 golf courses. That 18 holes, preceded by playing at fellow top-100 layout Cape Kidnappers on the same trip, meant that Jones checked off the final course on that list and has now played all 100 courses on Golf Magazine's rankings.
It was an odyssey that unfolded over two decades.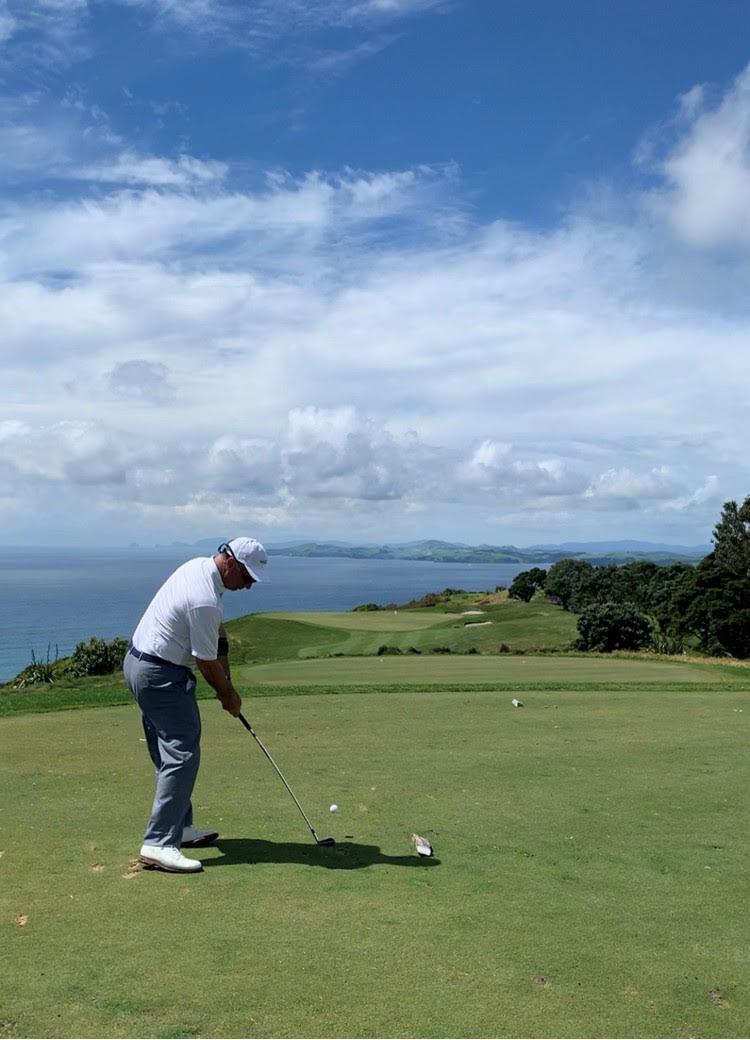 How rare is the feat? Since the magazine began ranking a "world" list in the 1970's, and of the estimated 70 million golfers worldwide, only 54 golfers have ever played all of the top 100 courses.
"The joke from my friends is I'm the only one of the 54 to be married to the same woman all that time," Jones laughed. "But Dawn and my family are great when it comes to this. They know that golf is a passion. I don't hunt, I don't fish, I don't go to bars. The only time I drink anything is after I'm finished playing a round of golf."
One of those drinks came on the 18th green at Kauri Cliffs, a champagne bottle that he and long-time friend Mike Eldridge shared after Jones reached a goal that he had no idea even existed in 2001. That year, Jones reached out to local professional and long-time Acadiana golf fixture Teddy Sliman and expressed his desire to play the famed Pebble Beach course in California.
Read more: UL's quarterback situation just took another hit during spring practice
Sliman, Jones' uncle and former next-door neighbor in New Iberia, was looking to celebrate an August birthday, and the pair and Sliman's son Theo — a former professional and UL's golf coach for the past 15 years — decided to make a West Coast golf excursion.
Paul Theriot, a Delcambre native and long-time PGA professional, was the pro at Diablo Hills Golf Course in Walnut Creek, Calif., and was able to set up tee times and join the threesome for loops around the San Francisco area's most revered layouts — Cypress Point , Monterey Peninsula, San Francisco Golf Club and the Olympic Club among others.
"My wife and daughter were out of town on a girls' trip, so the three of us said let's do a guys' trip," the elder Sliman said. "We had a connection with Paul (Theriot), and the four of us just played golf for several days and had a great time. I think that trip kind of spurred Paul on to play some more of the top courses."
Before that trip, Jones' golf outings had mostly been limited to Acadiana  courses and those in the Atlanta area where he worked with Microsoft. But the West Coast trip lit a spark.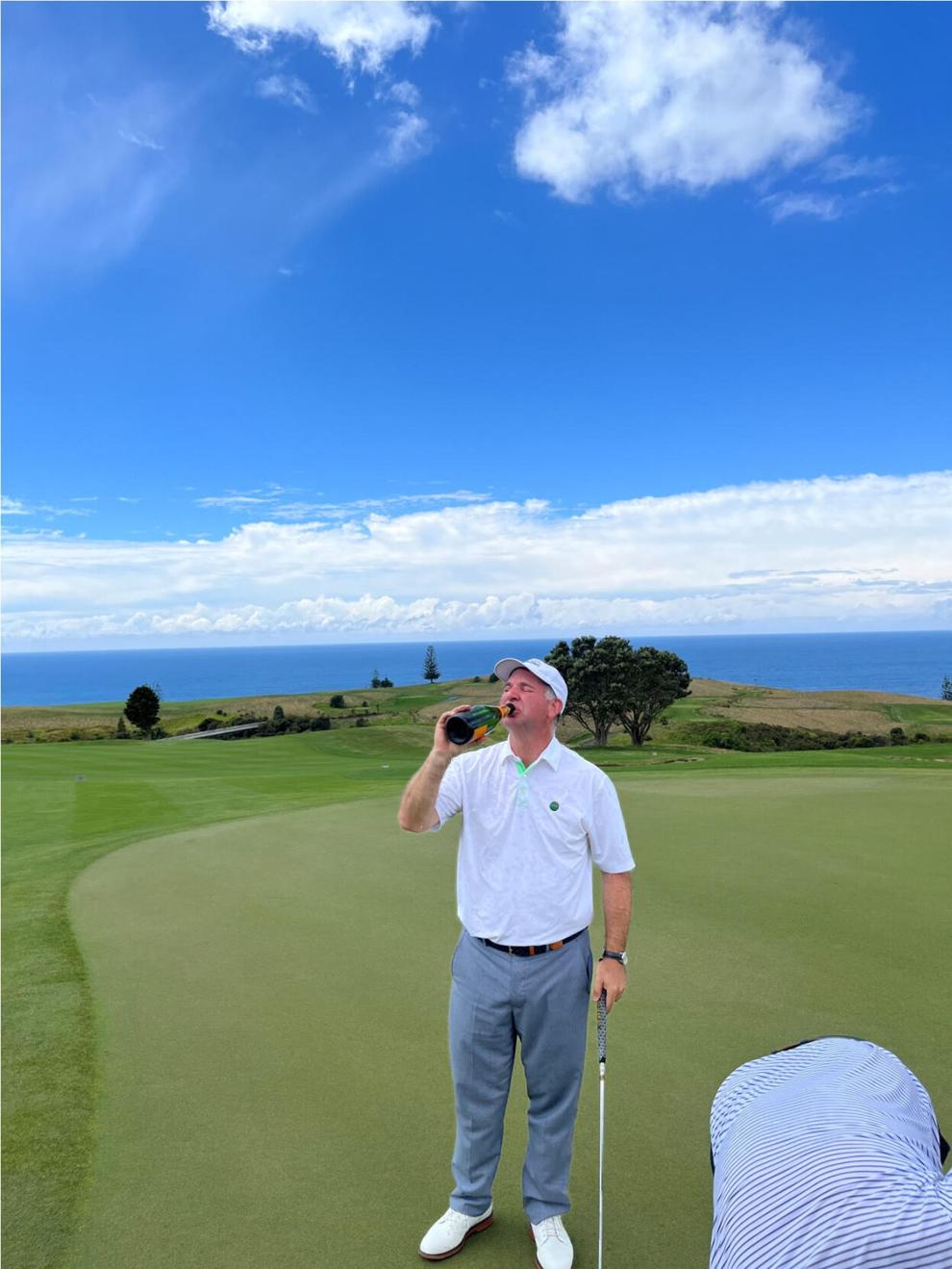 "That opened my eyes," Jones said. "The golf there was so different than where I was playing down here. That's when I started looking at and trying to play a lot of different places."
Those different places now include courses in Australia, England, France, Ireland, Japan, Mexico, Portugal, South Africa, South Korea, Spain and nearly a dozen other countries. Jones has been steadily checking off international courses since he finished Golf Magazine's Top 100 in the United States list with a round at Augusta National in 2016.
A 2020 trip to the Dominican Republic for he and Dawn's 20th anniversary was to Casa de Campo and its famed "Teeth of the Dog" layout. It was on that trip that Jones and his wife decided that finishing the world 100 was a doable proposition, and over the next two years Jones played 15 courses on the list in 10 different countries.
Last year Jones made a trip all the way to South Africa for one round of golf at Durban Country Club to mark off his 97th course. He played that round in a group with a friend who was completing his 100th course that day.
The magazine's list is always changing, with courses joining and falling off in each two-year cycle . With his rounds at Kauri Cliffs and Cape Kidnappers, Jones has played all 100 courses from the magazine's 2009 and 2011 rankings, and is only one course away from finishing off the lists from 2005 and 2007. He hopes to finish those on a July trip to London and a planned round at Wentworth West.
Jones' first goal was playing the U.S. Top 100, which he accomplished seven years ago at Augusta's famed layout after serving as a Master's volunteer that year (those who are accepted as week-long volunteers get to play the course at some point following the tournament). That completed the 2007 and 2009 U.S. lists, and a few years ago he traveled to play the Rock Creek Cattle Company Course in Deer Lodge, Montana, to finish off each of the U.S. lists since 2007.
Read more: Why the number 16 is so motivating for UL linebacker K.C. Ossai
They may not have required as much travel, but many of the courses on the U.S. list weren't easy to check off. Jones had to make a return trip to Hawaii when a tee time at Charles Schwab's private Nanea Golf Club didn't happen as scheduled. Ultra-exclusive Chicago Country Club requires all foursomes to have one of its strictly-limited 125 members playing. Getting on the famed Oakmont course near Pittsburgh ("the most difficult course I've ever played," he said) required a donation to the First Tee Foundation.
"Cypress Point," he said without missing a beat when asked about his favorite course. "You start off playing in the dunes, you go over through the forest and you finish along the bay. The 16th at Cypress Point (a par-3 described by one publication as "the most exhilarating tee shot in golf") is the most spectacular and beautiful hole ever. But the greatest experience was playing at Augusta National. That was worth waiting for."
Originally, that list's completion was going to be the end of the journey. But the spreadsheet Jones keeps for every course he played showed that by the time he finished the U.S. list and with the international courses he'd already visited, he'd played at 86 of the magazine's top 100 .
A few memorable trips later, including a journey to Japan and South Korea that Jones describes as his greatest trip ever because of the people, culture, food, history, traditions and golf, he only needed to embark on one more marathon expedition. That's the one that took him "down under" earlier this spring and to some of the Pacific Ocean's most southernmost shores.
On that trip, he also returned to one of his favorite courses at Royal Adelaide in Australia and had a memorable round with five birdies ("I also had a couple of doubles," he said). But Kauri Cliffs was unforgettable.
"That will always have special meaning to me," he said. "The club brought out a very nice bottle of champagne and sprayed me on the 18th hole. With that spectacular view, it's something I'll never forget."