Louisiana voters will have extra incentive to cast their votes in the fall primary and general elections thanks to a new commemorative sticker created by a Lafayette artist.
Lafayette artist Tony Bernard became emotional while addressing a group during the sticker's unveiling Tuesday morning at the Hilliard University Art Museum on the campus of the University of Louisiana at Lafayette.
"I was George Rodrigue's assistant for more than 25 years and had my hand in designing the Blue Dog 'I voted' sticker," the artist said. "And so when they called me, it was almost like winning the lottery but better. I'm just humbled that I was chosen to do this."
---
Can't see video below? Click here.
---
Louisiana's 2016 election stickers, which featured Rodrigue's Blue Dog, became an instant internet sensation. Many took to social media to share pictures of their stickers, and some even sold them online.
That was the first and only time the Louisiana Secretary of State's office commissioned artwork for election stickers until now. This year's election stickers are the result of voter demands, according to Secretary of State Kyle Ardoin.
"Voters were very vocal when we did not come up with a sticker for the 2017 elections," Ardoin said. "And so we heard their words loud and clear."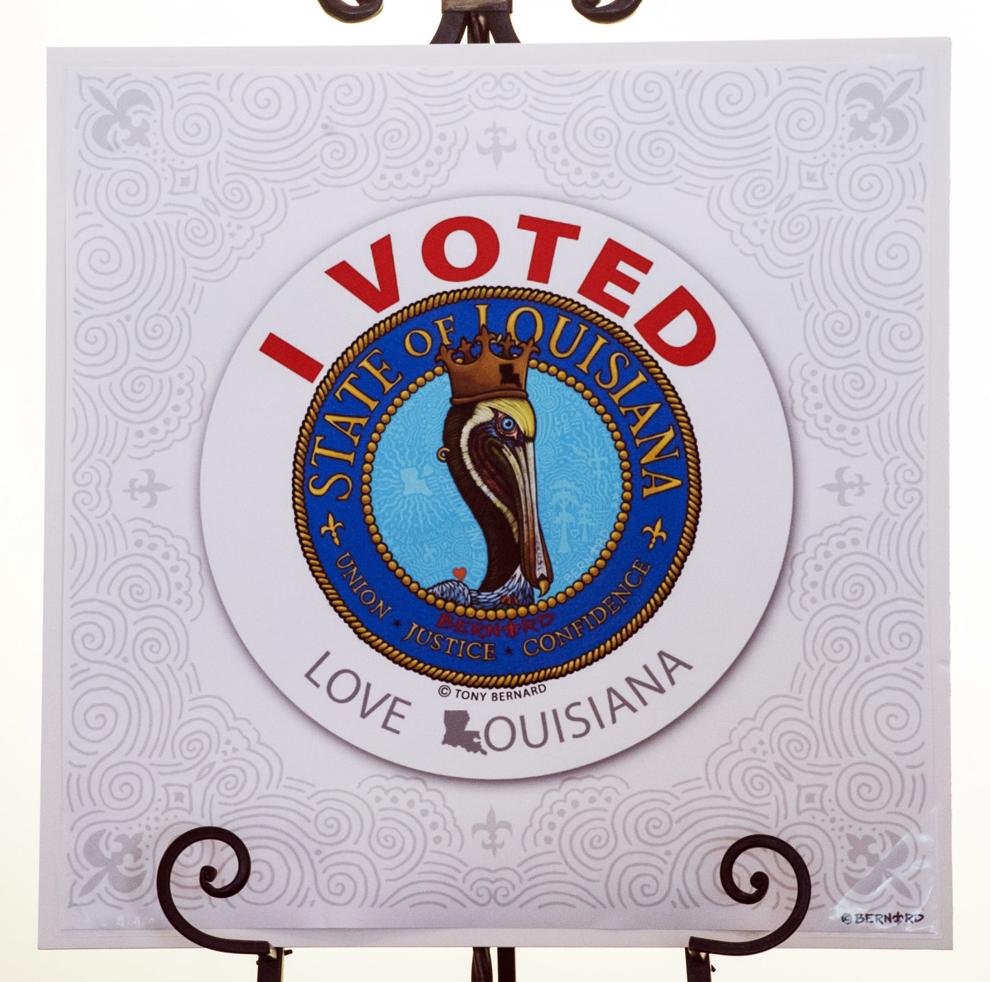 Bernard said God gave him the vision for the painting, which is called "In Love with Louisiana," that is printed on the stickers. 
The piece features a rendition of the state bird and seal. 
"A lot of my paintings represent Acadiana," Bernard said. "But I felt that I needed to, you know, spread the love throughout the whole state."
The pelican on the sticker is actually a familiar friend not so different than Rodrigue's Blue Dog. Many of Bernard's paintings feature the pelican, which he affectionately calls King George.
The new "I voted" stickers will be available to voters during the Oct. 12 primary election and the Nov. 16 general election. They'll also be available during early voting for both elections.
"I would love to run out," Ardoin said. "That would mean more people voted than we anticipated, and that would be awesome."
The Louisiana Secretary of State's office printed about 4 million Blue Dog stickers for the 2016 presidential election. Although there was more than enough to go around, voters in some regions were disappointed when their polling places ran out of the commemorative stickers.
Only 3 million stickers will be printed this year because voter turnout is lower during gubernatorial elections. 
About 1.1 million people voted in the 2015 gubernatorial election. Another 1.15 million voted in the runoff election that year.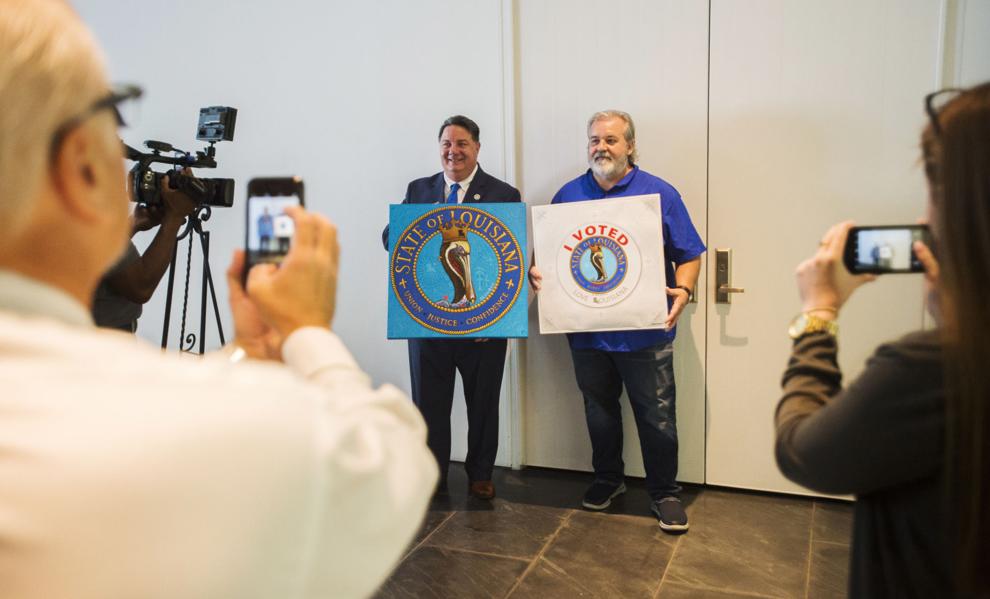 About 3.2 million people in Louisiana are registered to vote out of an eligible 4.1 million residents.
Ardoin said he hopes to work with more Louisiana artists to commission future election stickers to encourage greater voter turnout.
"Voting is an integral part of democracy," he said. "And the stickers will be a visual representation of a vote cast."