Last week brought endorsements for both candidates for Lafayette mayor-president, but the prospects of a head-to-head debate before the Nov. 16 election are uncertain.
Carlee Alm-LaBar, running as a no-party candidate, criticized opponent Josh Guillory, a Republican, for declining to participate in forums or debates in the runoff. She said five groups attempted to schedule events. She was available or willing to adjust her schedule, she said, but she was told Guillory declined or wasn't free for four of them.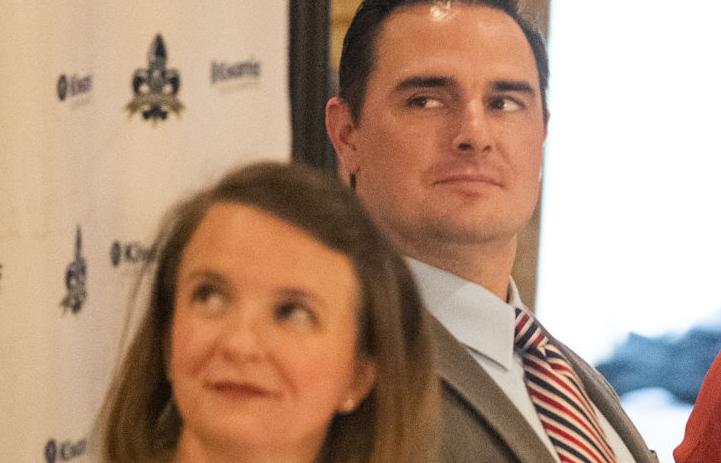 A spokesperson for the Kiwanis Club of Lafayette said Friday that Alm-LaBar indicated she was interested in a forum they planned but Guillory's camp did not respond to several requests to schedule the event.
Guillory told The Acadiana Advocate last week only one group reached out about scheduling a forum. His schedule was full on the dates proposed, he said, but he would "do my best."
An attorney in Lafayette, Guillory said he's still working. Alm-LaBar resigned from her position at Southern Lifestyle Development last summer to run her campaign.
"I've got children. I've got a wife. I've got a business. I've got clients," he said. "I don't know what one more hour of canned answers can give voters."
Alm-LaBar disagreed.
"I don't think the opportunity for a forum at this point with only two candidates is canned," she said. "I think there's the opportunity for voters to better understand the decision in front of them. They deserve to hear from us in a setting where they can compare and contrast who is ready for the job."
Typically, the front-runner in a race doesn't want to debate because he or she  has more to lose, Pearson Cross, associate dean of liberal arts and an associate professor of political science at the University of Louisiana at Lafayette, said Friday.
Without a poll to indicate otherwise, Guillory is considered the front-runner because he received more votes than Alm-LaBar in the Oct. 12 election than included five candidates.
"Front-runners tend to not want to do debates," Cross said, "because they're wary of making a mistake in a race they appear to have in hand, whereas people who feel like they need to gain ground are nearly always willing to participate in a debate because they hope to push their opponent to make a mistake or want to increase their appeal with those not supporting them yet."
Forums or debates at this point in the election cycle may not be worth much anyway, he said, because most people don't watch them.
Both candidates last week picked up endorsements.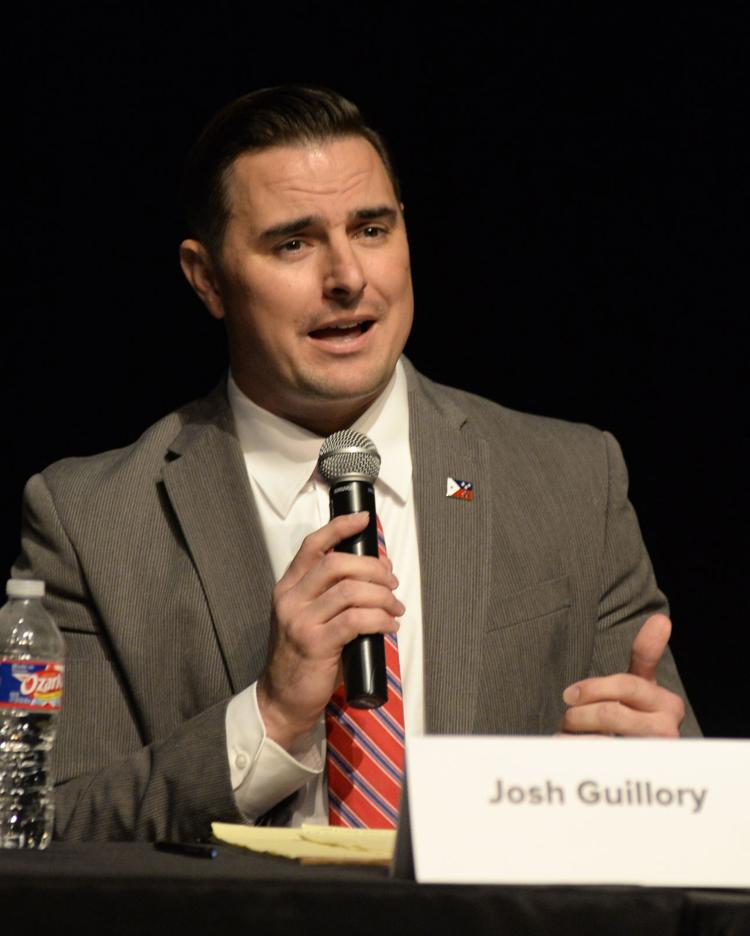 Guillory was endorsed by U.S. Rep. Clay Higgins, a Republican from Lafayette, who Guillory ran against in 2018 during Higgins' re-election campaign for the 3rd Congressional District of Louisiana. Guillory previously was endorsed by Simone Champagne and Nancy Marcotte, fellow Republican candidates for mayor-president eliminated in the Oct. 12 election.
Alm-LaBar last week was endorsed by two Republicans, Lafayette Parish Tax Assessor Conrad Comeaux and former U.S. Rep. Charles Boustany, who represented the 3rd Congressional district from 2005-2017. She also was endorsed by 17 local business leaders in an open letter to voters.
Carlos Harvin, the lone Democrat in the Oct. 12 primary, announced Wednesday he would not endorse either candidate in the Nov. 12 runoff.
Mayor-President Joel Robideaux announced in April he would not seek a second term after a series of political missteps, including in 2018 secretly signing an agreement that allowed a private company, Bernard Capital Partners, to investigate whether it wanted to buy or manage the city-owned Lafayette Utilities System. Alm-LaBar announced in March she would oppose Robideaux, her former boss at Lafayette Consolidated Government.
Robideaux has not officially endorsed either candidate in the race. But Guillory confirmed Wednesday that Robideaux is providing him with advice on his campaign. Two people closely associated with Robideaux, state Sen. Page Cortez and Hillary "Joe" Castille, also are assisting Guillory in the runoff.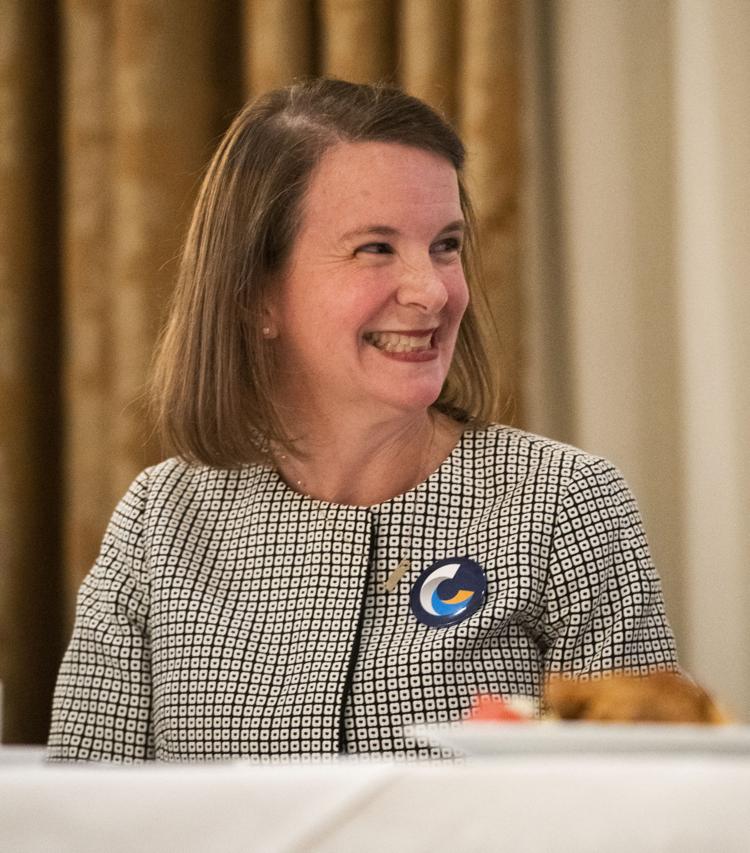 Alm-LaBar said she's not surprised.
"I decided to run against Joel because I was worried that he was not providing the type of leadership that Lafayette needed to address our challenges," she said. "So obviously I didn't always agree with Joel's politics. It would make sense that some of his advisers are now advising my opponent."
Cortez, a Republican from Lafayette who served with Robideaux in the state Legislature and is a close friend, is advising him, Guillory said, "pointing me in the right direction to talk to people."
Castille was Robideaux's campaign manager during the election four years ago. Robideaux continued to pay him $3,000 a month earlier this year per a consulting agreement. Castille joined Guillory's campaign late in the primary, Guillory said.
"Yes, he is helping us with certain aspects of it," he said.
Guillory said Castille is making social media buys for his campaign and is an administrator of Guillory's campaign Facebook page.
Castille played a role in an incident during the 2015 race for sheriff that ended up with charges filed against suspended City Marshal Brian Pope. Castille also has been living in a Holden Avenue house owned by Robideaux. 
A campaign finance report filed Sept. 12 by the Lafayette Parish Republican Party Executive Committee shows the group paid Castille $1,000 in July and $955 in August for political consulting. His address was still listed at the Holden Avenue home owned by Robideaux.
Endorsements mean something, Cross said, but probably less than most people think. An endorsement doesn't mean voters will switch to another candidate based on the endorsement, he said.
"It doesn't hurt, but you have to have a very strong belief in the person" making the endorsement, Cross said. 
Generally, the power of an endorsement is based on how well you know the person making the endorsement, he said. Some people, like President Trump, may have more endorsement influence than most.
"He is an unusual politician for the level of antipathy and support" he generates, Cross said.
The runoff election is Nov. 16. Early voting is Nov. 2-9 except Sunday, Nov. 3, at the Lafayette Parish Registrar of Voters Office, 1010 Lafayette St., in downtown Lafayette.