Chemical tankers, cargo trucks and a passenger vehicle collided in multiple crashes in the westbound lanes of the Atchafalaya Basin Bridge on Monday afternoon, killing one person, injuring at least five others and snarling traffic in both directions as a column of smoke from a burning logging truck rose above the treeline for hours.
The fire burned so hot and so long that officials were concerned whether the bridge would hold under the stress.
I-10 West remains closed at Mile Marker 125 (Atchafalaya Basin Bridge) due to a multi-vehicle accident. Traffic is being diverted at LA 415 North (Lobdell) to US 190 West. Congestion is minimal.

— Baton Rouge Traffic (@BR_Traffic) August 27, 2019
"They're still shooting water on it, but we just don't know how long it's going to tie up the interstate," Iberville Sheriff Brett Stassi said in the late afternoon. "With a fire that burns that hot, they'll be checking the stability of the bridge to make sure it's not deteriorated in any way before they open it back up."
By early evening, the fire had largely been subdued, though crews continued to shoot water at the smoldering wreckage.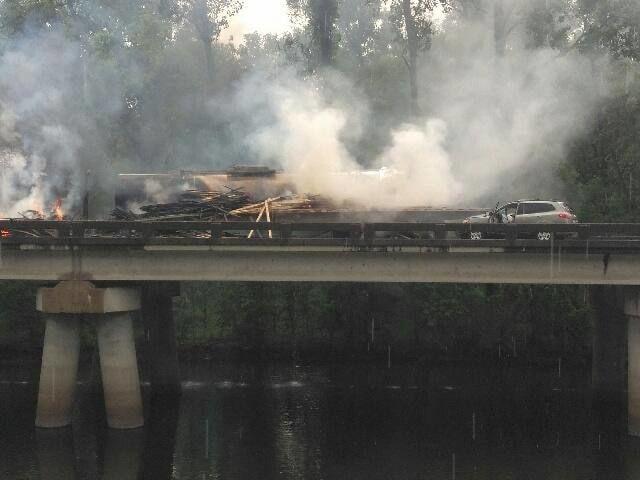 State Trooper Thomas Gossen said a burned body was been found at the scene and that a coroner was summoned. The identity of the driver has not been confirmed, though Gossen said late Monday the victim is from out-of-state and authorities are attempting to contact their family.
---
Can't see video below? Click here.
---
Acadian Ambulance spokesman Justin Cox said ambulances transported five people from the scene of the multi-vehicle crashes, though there were others hurt who refused assistance.
All lanes of Interstate 10 were closed on the Atchafalaya Basin Bridge following a fiery crash involving multiple 18-wheelers Monday afternoon.
The crash happened in the westbound lanes of I-10 at mile marker 124.5 between Whiskey Bay and Butte La Rose on the Atchafalaya Basin Bridge. Traffic was diverted onto U.S 190 between Lafayette and Baton Rouge.
The initial crash involved two 18-wheelers and one vehicle, according to Gossen, and two other crashes occurred in the area later. Before highway crews could shut down the interstate, three tankers and two cargo haulers, two of which carried flammable material, were involved in the crashes. He did not identify their specific contents.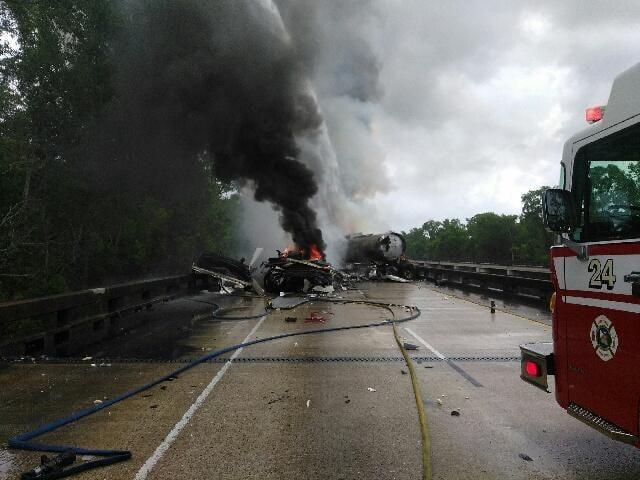 Early reports indicated a flammable marine pollutant erupted in flames as a result of the crash, Gossen said. Troopers on scene later discovered a logging truck in close proximity to one of the flammable tankers was on fire instead of a tanker.
The Department of Environmental Quality joined emergency crews on the scene to monitor for volatile organic compounds and hydrocarbons.
"We did some monitoring early on and didn't get any hits for anything – it was all non-detect," said Department of Environmental Quality spokesman Greg Langley.
Langley said monitors could not take readings close to the area because the fires were still burning when DEQ staff arrived, and they had to later vacate the area for first-responders. They will likely take additional readings after the fire burns out, he said.
The area is extremely remote, but Gossen said people were ordered to stay at least a half-mile away from the crash site, which is what required officials to close the eastbound lanes of I-10.
Gossen was not sure Monday evening when the highway might reopen. At 7 p.m. Monday Gossen said traffic was still being diverted both east and west. He added that hazmat technicians were still assessing the scene and cleaning crews were on standby to begin clearing the area.
"It could be 24 hours or two hours," Gossen said. "We have no clue whatsoever."
Video courtesy of Acadiana Ambulance.