Thousands of Acadiana residents remained without power Sunday morning as a result of Tropical Storm Barry.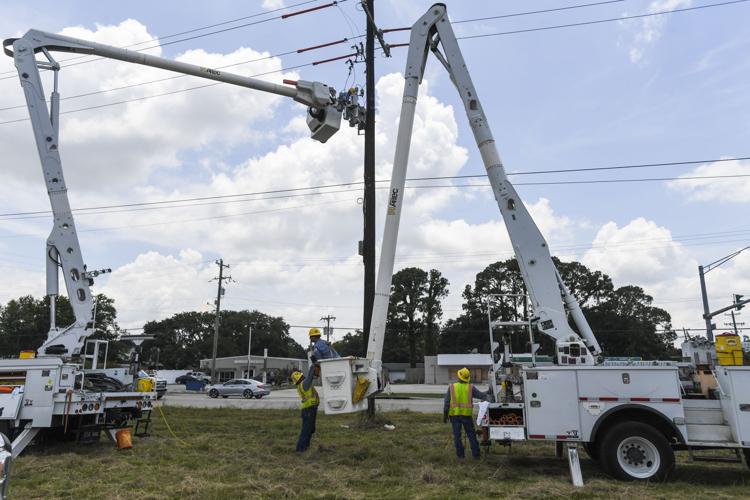 Nearly 12,000 Slemco customers were without electricity across Acadiana, Mary Laurent, communications manager, said. That included about 5,000 in Lafayette Parish and 3,200 in St. Martin Parish. By Sunday afternoon, hundreds of Slemco customers were back online. In Lafayette Parish, 2,836 were still in the dark, 306 in Acadia Parish, 702 in St. Landry Parish, 2,133 in St. Martin Parish and 521 in Vermilion Parish.
"The wind hit that side of our system harder," Laurent said. "It's toppling trees with the saturated ground" and the trees are falling on power lines."
Every line that is down should be treated as if it is energized, she said.
Slemco crews along with out-of-state contractor crews and co-op crews from Oklahoma and Florida are working to restore power as quickly as possible, Laurent said. 
"As long as the winds stay down, they're going to work," she said.
Laurent reminded residents not to run generators indoors or in a closed garage due to the possibility of carbon monoxide poisoning.
Also, she said, residents should not plug generators or appliances directly into the breaker box because it can back-feed the power line and injure or kill electrical workers.
More than 9,000 Entergy customers were without power Sunday morning in Acadiana, including about 1,612 in Lafayette Parish, 3,210 in Iberia Parish, 1,012 in St. Landry Parish, 1,899 in St. Martin Parish and 1,776 in Vermilion Parish. By Sunday afternoon, nearly 2,000 customers were back online, including 1,352 in Vermilion Parish. But, according to its online outage map, additional customers were without power in Lafayette  and St. Landry parishes.
Lafayette Utilities System Interim Director Jeff Stewart reported as of about 9 a.m. Sunday about 200-300 customers remained without electricity. At the peak of the storm Friday afternoon, about 1,100  of its 68,000 customers lost power, he said.
"It wasn't as catastrophic as it could have been," Stewart said, "and I'm thankful for it."
LUS electric crews and contract crews from Florida are working on restoring power and Stewart expects most of the work to be finished by Sunday evening.
Morgan City Mayor Frank Grizzaffi said in an online update Sunday morning that restoration of electrical power has begun. Power to the entire city was shut down Saturday to prevent damage to the system after about 80 percent of customers had already lost power.