Kimothy Guy was on full display Tuesday afternoon as he hung clothes from a line in the living room of his hurricane-ravaged home in the Terrebonne Parish village of Cocodrie.
Hurricane Ida had swept away the roof and side of his home, leaving rooms exposed as if in a dollhouse. With both sets of stairs destroyed, Guy and his wife used a 20-foot ladder to transport photos and clothes bit by bit down from the house, which sits about 16½ feet high on piers along the Bayou Petit Caillou.
"When the roof took off, it was just like someone took your hat off your head," Guy said. "The whole thing just took off in one big gust."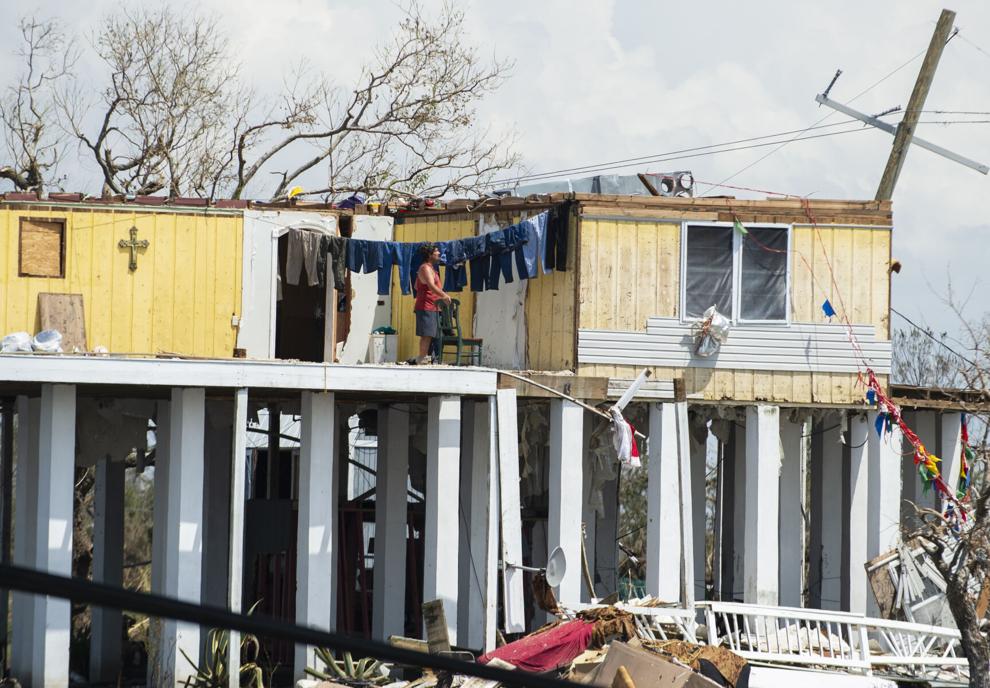 Guy, 57, is one the few people who did not evacuate from the coastal shrimping, crabbing and fishing community ahead of Ida's arrival Aug. 29. He and three others in the immediate vicinity rode out the storm on their fishing boats in an attempt to save their livelihoods.
Instead, the commercial fishers barely lived to tell the tale, as their boats snapped free from the ropes tying them to the shore and flipped over during the Category 4 hurricane.
"We had four of us, me and three others, that had stayed to try to save our boats, but we didn't save none of them," Guy said, noting that if he knew then what he does now, he would have evacuated. "Now I know we don't have nothing to stay for. We don't have no more house. We don't have no more boat."
Ezequiel Calloway, of Houma, moved to his daughter's place for a few days to avoid Hurricane Ida's devastation.
Guy and his wife are living with their son in Thibodaux until they can rebuild their home and boat, which they owned outright and did not have insurance for.
Cocodrie is lined with similar raised homes and camps, most of which are not occupied year round like Guy's home. After hurricanes Katrina and Rita flooded the region in 2005, many of the village's permanent residents accepted buyouts for their houses and relocated. Others, like Guy, accepted assistance to raise their homes by about 12 to 16 feet.
Instead of taking on 7 feet of floodwater during Ida, the raised homes were ripped apart by winds in excess of 140 mph.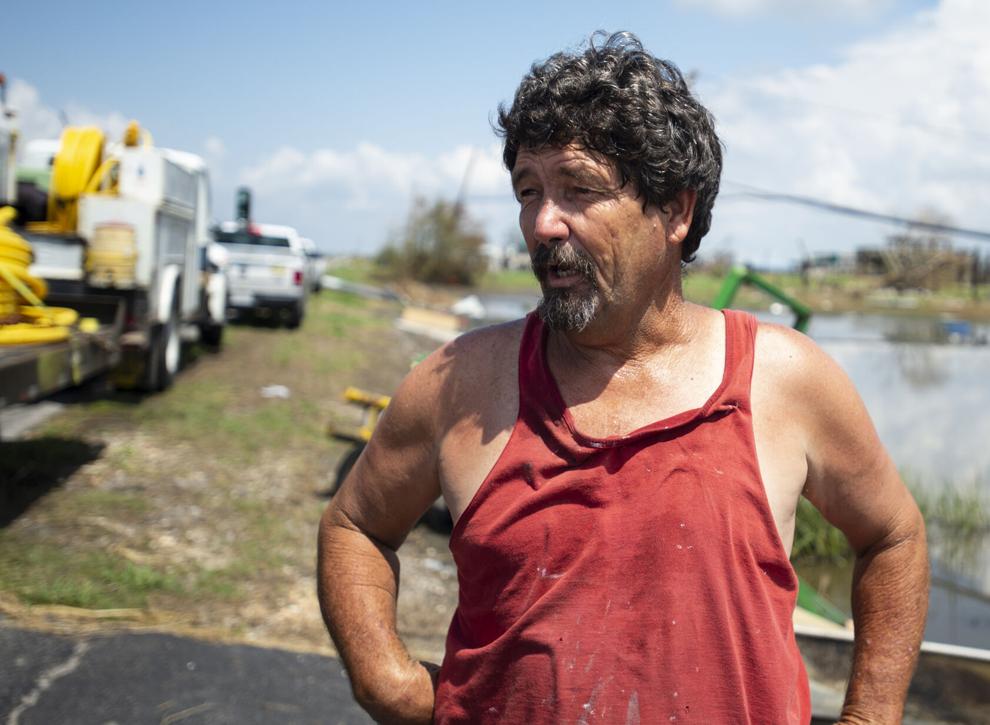 Still, Guy has no plans to leave his home behind and start somewhere new.
"I ain't got no choice. I have to stay," Guy said. "That's all I ever did all my life, commercial fish. That's what I do for a living. I'm a water person. I need the water to survive."
Guy said the Bayou Petit Caillou had debris whizzing upstream at about 100 mph as 7-foot waves crashed against the 55-foot steel hull boat he built with his father 20 years ago. Eventually, all 12 of the ropes tying him to the shore snapped like rubber bands and the boat flipped with him inside of the cabin.
The good news is that the water was still running and cell service was partially back up Tuesday morning. The bad news? In the largest shelter…
After being thrust across the boat, Guy said he landed hard against a window and blacked out for a short time. He roused to find the only way out — an open door about 15 feet above where he'd landed as the $150,000 boat rocked on its side. Guy climbed cabinets and eventually made it out of the door, where he sat for more than an hour as the storm raged on.
"I was like, 'I'm not dying now. I passed the worst. I'm surviving,'" Guy said.
Eventually, he would repeat those words to the three others who made it out of their fishing boats alive during the hurricane. The four fishers managed to claw their way through floodwater and into a small shed on Guy's property as hundreds of crab traps flew "like kites, not like tumbleweeds" across the sky.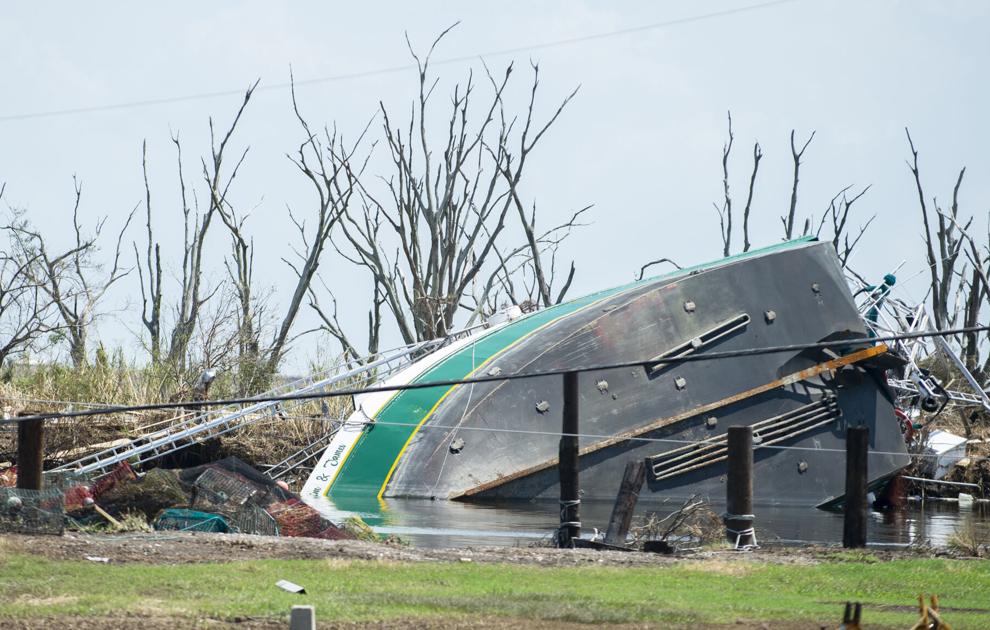 "I couldn't walk far, and the other little fella, he could hardly breathe, saying 'I don't think I'm gonna make it in that shed.' And I said, 'I didn't die across the bayou, and I didn't drown across the bayou, and I'm getting in that shed,'" Guy said. 
They managed to make a call on the one cellphone that wasn't lost in the bayou and were rescued late that night from the property.
On Tuesday, as Guy and his wife tried to salvage the remnants of their home, a FEMA representative arrived. It's not the first time they've gone through this process, and it likely won't be the last.
"We'll survive," Guy said. "I just needed to save that boat, but I couldn't save it. I'm just thankful to be alive."